« Where's the Coverage? Egyptian Presidential Campaign Rally Vows to March on Jerusalem | Main | BBC Justifies Self Censorship in the Face of Threats of Violence »
May 08, 2012
Ministry of Defense Rectifies Misinformation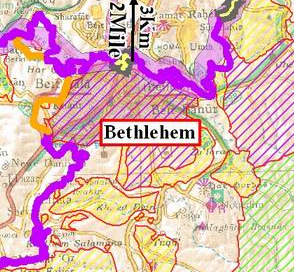 A map of the security barrier around Bethlehem from the Ministry of Defense website.
After an inquiry from CAMERA, the Israeli Ministry of Defense has rectified erroneous information that it apparently gave to 60 Minutes regarding the security fence. In a segment about Palestinian Christians that aired on April 22, 2012, "60 Minutes" reported that the security barrier built to stop suicide bombers coming from the West Bank "completely surrounds" Bethlehem when, in fact, it does not.
Harry Radliffe, producer for the segment in question subsequently reported that 60 Minutes got its information about the security barrier from the Israeli Ministry of Defense. CAMERA contacted the Ministry of Defense, which has issued the following statement.

Unfortunately, due to a misunderstanding in the Administration of the Seam Line at the Ministry of Defense, it appears incorrect information was passed on by officials regarding the nature of the security fence in the Bethlehem region. Bethlehem is not surrounded by the security fence.
It is unfortunate that the reporters at "60 Minutes" did not subject the incorrect information it received from the Ministry of Defense to the same level of scrutiny it reserved for Ambassador Michael Oren.
The onus is now on "60 Minutes" to issue a correction regarding the security fence. Its source for the misinformation it passed off as fact has now retracted its statement.

Posted by dvz at May 8, 2012 12:52 PM
Comments
Guidelines for posting
This is a moderated blog. We will not post comments that include racism, bigotry, threats, or factually inaccurate material.
Post a comment