« Advocacy Journalism Means Never Having to Report What You Don't Want to Report | Main | A Gross Manipulation »
May 30, 2012
Ha'aretz Retracts Headline on Alleged Arabic Ban
Ha'aretz's headline proclaiming last week that the Kfar Saba hospital has banned its teaching staff from speaking in Arabic has made its indelible mark upon the Internet, though yesterday the print edition ran the following correction: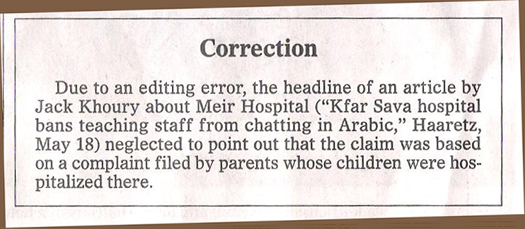 As Maurice Ostroff noted at the time of the tendentious headline:
But the facts are very different. Contrary to the impression created by the headline, the Arabic language is encouraged and is spoken widely and freely throughout Meir Hospital and the allegation, that the use of Arabic is restricted, irresponsibly provokes racial tensions. . . .

Later in the small print Haaretz presents facts that contradict the headline. It reports that the Education Ministry which operates the education department in the Meir Medical Center insists there was no instruction forbidding teachers to discuss things in Arabic and said the allegations were untrue. "Every Arabic-speaking child receives treatment and lessons from Arab teachers, according to his needs", ministry officials said.
Moreover, even if the three sets of parents who charged they witnessed one specific staff person instructing another not to speak in Arabic are correct, the English headline is still wrong. It suggests an across the board policy handed down from hospital management, when the article itself only relates to one specific case involving one staff person.
And, as we pointed out, the English headline is another example of Ha'aretz's Lost in Translation epedemic: the Hebrew headline made clear that the parents' allegation was just that -- a claim.
Also, though the online headline has been fixed, the subheadline stills states the parents' claim as fact. Here is the original headline:

Here is the current, improved headline, which is still accompanied by the original problematic subheadline:

Finally, the notion that the hospital categorically bans the use of Arabic among its teaching staff is refuted today by another parent whose child was recently admitted there. David Frankfurter, of Ra'anana, has the following letter in Ha'aretz today:
In response to "Kfar Sava hospital bans teaching staff from speaking in Arabic," May 18

The "facts" in this article run contrary to my own observations, when my son was recently hospitalized at the same Meir Medical Centerin Kfar Sava. We went to the hospital's education department to work on his mathematics homework. We are obviously Jewish - our skullcaps being a giveaway. A charming young Muslim teacher (her hijab also being a giveaway ) told us, in perfect Hebrew, about the facility and offered to assist my son with his homework. When I declined - wanting to spend some father-son time helping him myself - she was disappointed, but understanding and returned a couple of times to make sure that I was doing an adequate job.

Meanwhile she turned her attention to a young Arab child and her parent, speaking to them in Arabic, and to a third family whom she addressed in reasonable English. She conversed with the patients and with the other staff, including her supervisor, in whatever language was most appropriate for the situation, with no self-consciousness on the part of anyone in the room.

This real coexistence was an oasis of calm for all of us who were somewhat stressed by the fact that our children were unwell. Credit goes to everyone who are responsible for that facility: the Ministry of Education, the hospital and the dedicated staff of its education department.
Posted by TS at May 30, 2012 02:43 AM
Comments
It has become an all to common practice for leftist leaning Israeli newspapers to publish inaccurate (perhaps even untruthful) headlines and articles that cause untold damage to the State of Israel and when these newspapers are "caught out" they either remain silent or, as in this case, publish some meaningless apology usually printed in some hidden away section of their publication.
Posted by: John Cohen at May 30, 2012 08:39 AM
Unfortunately, I believe that Ha-Aretz editorial policy is the present Israel in as negative a light as possible.
I cancelled my subscription two years ago.
Posted by: Clap Hammer at May 30, 2012 10:15 AM
When the history of this era is recorded, "Freedom of speech" will be described as the most abused "Freedom" of the period. Whether or not Haaretz is still around, it will go down as an example of how the abuse of this freedom harmed the very country it was supposed to be concerned about and how it undermined the State of Israel by abusing the expected rule of honesty in reporting the events of the day.
Posted by: RussellG at May 30, 2012 11:12 AM
Haaretz is an anti-Semitic Palestinian newspaper printed in Hebrew
Posted by: Stop Haaretz Treason at May 30, 2012 03:02 PM
Guidelines for posting
This is a moderated blog. We will not post comments that include racism, bigotry, threats, or factually inaccurate material.
Post a comment