« Presspectiva Letter in Ha'aretz on Teaching Peace | Main | Another Call for Standing by the Facts »
May 17, 2012
Church Bureaucrazy About Israel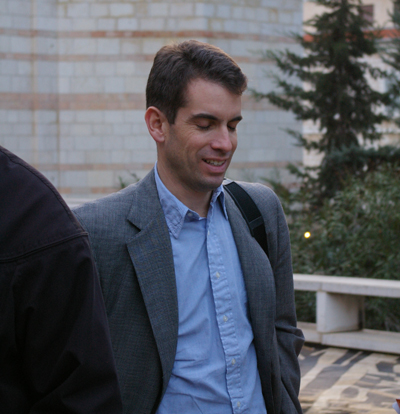 Eyes Wide Shut: Peter Makari, Executive for the Middle East and Europe of the Common Global Ministries Board of the United Church of Christ and the Christian Church (Disciples of Christ)(Photo: Dexter Van Zile)
One of the charges CAMERA levels at mainline Protestant churches in the U.S. is that they exhibit a monomaniacal focus on Israel while ignoring the misdeeds and human rights abuses of its adversaries in the Middle East. This assessment is typically based on the resolutions submitted to the national assemblies of these churches. The problem is not limited to resolutions approved or debated at national church gatherings, however. Another place where this monomaniacal focus can be seen is on the newsfeeds of the churches.
Probably the worst offender is the Common Global Ministries of the United Church and the Disciples of Christ. This organization, which is the overseas arm of the two denominations mentioned above, sends missionaries and activists to countries throughout the world.

Theoretically, Global Ministries is, well, a global concern, but you would not know that from its newsfeed which links to articles produced by denominational leaders and staffers, and so-called peacemaking groups such as Sabeel and Churches for Middle East Peace and para-church organizations such as the National Council of Churches and the World Council of Churches. Serving as a news aggregator, the Global Ministries newsfeed focuses a huge amount of attention on the conflict between Israel and the Palestinians while ignoring other conflicts where many more people are killed.
During all of 2011 and the first four and a half months of 2012, the Global Ministries newsfeed linked to a total of 593 articles, 208 which deal with the conflict between Israel and the Palestinians. (One article, posted today, talks about the creation of a "national UCC Palestine/Israel Network.")
In other words, approximately 35 percent of all the articles listed on the Global Ministries newsfeed since Jan. 1, 2011 and today were related to Israel.
During this same period of time, the newsfeed linked to approximately 10 articles, (less than two percent of the total) related to Syria, where approximately 12,000 people have been killed in fighting between the Assad regime and anti-government rebels during the past 15 months. Nigeria, where Christians have been routinely attacked, is hardly even mentioned in the newsfeed during 2011 or 2012.
And Egypt, where dozens of Coptic Christians have been killed by Muslim extremists and government soldiers since the beginning of 2011, merited only 28 links -- less than five percent of the total -- on the Global Ministries news feed during this same time frame.
This is kind of odd given that the Global Ministries Executive for the Europe and Middle East is Rev. Dr. Peter Makari, an Egyptian American who wrote a book Christian-Muslim relations in Egypt! Couldn't he throw some links to his fellow Christians in Egypt?
Apparently not! Talk about Eyes Wide Shut!
Don't believe us? Go look for yourself, here.
Just start scrolling down. And keep scrolling down. You can go all the way back to 2005!
And just tick off how many times you see the "[Israel-Palestine]" tag next to an article!
You'll see for yourself. These folks are obsessed.
Start counting.
Posted by dvz at May 17, 2012 04:33 PM
Comments
I've been reading a bit about 19th and early 20th century Lebanon recently, specifically Robert Kaplan's The Arabists, Meir Zamir's The Formation of Modern Lebanon and William Harris' The Faces of Lebanon. The early Protestant missionaries did not do well there, and one gathers with the Copts and the Assyrians - it was like meeting a branch of the Roman Catholic Church - too many icons and rituals. The Protestants set up the Arab University of Beirut and created a relationship through hospitals and schools with Sunni and Shia Muslims - in opposition to St. Josephs which was allied with the Maronites and the Catholics in France.
It's just a hunch but I suspect that the same dynamic carries over to the present and the Protestant United Church just doesn't care much for Catholic style Christians in the sense that they don't see it as their problem. And vice versa.
I'm not convinced that I am right here or how strongly one can apply the idea, but it's a hypothesis to keep in mind. If one were to test it out one should emphasize the sectarian link and see if the response from the related group changes.
Another source for insight might be Ambassador Oren's book Power, Faith and Fantasy: America in the Middle East: 1776 to the Present
I also highly recommend Prof. Hannibal Travis's recent Genocide in the Middle East as a regional overview.
Posted by: L. King at May 17, 2012 11:22 PM
It seems that China currently holds about 6.8 million prisoners in forced labor camps, i.e. in the so-called Laogai system. Do these nice liberal Christians worry about that at all ?
For more info., Google "Laogai".
Posted by: Werner Cohn at May 24, 2012 04:24 PM
Guidelines for posting
This is a moderated blog. We will not post comments that include racism, bigotry, threats, or factually inaccurate material.
Post a comment