« April 2012 | Main | June 2012 »
May 30, 2012
Where's the Coverage? Senate May Try to Find Out How Many Palestinian Refugees Are... Refugees

On May 24, 2012, the U.S. Senate Appropriations Committee passed an amendment to the fiscal year 2013 State Department and foreign-operations appropriations bill.
The amendment, proposed by Mark Kirk (R, Illinois) requires the State Department to inform Congress about the use of taxpayer funds donated to the United Nations Relief and Works Agency for Palestine Refugees in the Near East, or UNRWA. America donates nearly a quarter of a billion dollars annually to support the Palestinian refugees.
But are they all refugees? As Daniel Pipes writes:
Of the nearly 5 million official refugees served by UNRWA ... only about 1 percent are real refugees who fit the agency's definition of "people whose normal place of residence was Palestine between June 1946 and May 1948, who lost both their homes and means of livelihood as a result of the 1948 Arab-Israeli conflict." The other 99 percent are descendants of those refugees, or what I call fake refugees.
The Kirk amendment would require the State Department to report to Congress how many recipients are actual refugees and how many are descendants. It would not limit or eliminate the funding. It would only require an accounting. So, why is this important? Pipes answers:
Because, were the State Department compelled to differentiate real Palestine refugees from fake ones, the U.S. and other Western governments (who, together, cover over 80 percent of UNRWA's budget) could eventually decide to cut out the fakes and thereby undermine their claim to a "right of return" to Israel.
Keep in mind that all other refugees from all other conflicts around the world are served by the office of the United Nations High Commissioner for Refugees or UNHCR. None of them can pass their refugee status on to their descendants. This special privilege is reserved only for Palestinians. Acknowledging this fact and its ramifications could be the first step in solving one of the major issues in the Israeli-Palestinian conflict.
The amendment was important enough to generate a reaction that Jennifer Rubin described in her "Right Turn" blog as:
...a hissy fit from the State Department, which, in a letter signed by deputy secretary of State Thomas Nides, declared that the Kirk language would be viewed in the world as a U.S. attempt to "prejudge and determine the outcome" of the "sensitive" issue of Palestinian refugees. (Forking over money and declaring generations of Palestinians who never lived in and never fled from Israel is apparently not "prejudging.") Then, to prove the point of the legislation, Nides goes on to declare that there are "5 million refugees" (well, if you call the great-grandkids of original refugees who now live in the West Bank "refugees"). Nides also decries any decrease in funding for UNRWA, which has nothing to do with Kirk's call merely to gather accurate data. Thankfully, the Senate Appropriations Committee ignored the hysterical and grossly dishonest plea.
Yet, the Kirk Amendment got very little attention in major media outlets. The Wall Street Journal tacked it on to the end of an article headlined "U.S. Cuts Pakistan Aid." There were a few articles in the Jewish press, in Israel, in blogs and specialty publications but in a media search, CAMERA was able to turn up precious little in the mainstream press.
On a subject this potentially important, one has to ask, where's the coverage?
To see an interesting video on the subject of refugees, click here.
Posted by SC at 06:12 PM | Comments (0)
PA to Honor Terrorists
From the Jerusalem Post:
The Palestinian Authority leadership is planning to honor the remains of Palestinian suicide bombers and terrorists with full military services in Ramallah.

The IDF will deliver the bodies to representatives of the PA on Thursday, PA Minister for Prisoners Affairs, Issa Qaraqi, said.

He said that the PA would hold a "national rally" in the Mukata presidential compound in Ramallah in honor of the "martyrs." The rally will be attended by PA president Mahmoud Abbas, PLO leaders and families of the Palestinians ...

... The list also includes Abdullah Badran, a suicide bomber who killed four Israelis at Tel Aviv's Stage nightclub in 2005, Hiba Daraghmeh, the female suicide bomber who blew herself up at a mall in Afula in 2003, killing three people, Hassan Abu Said, the Islamic Jihad terrorist who blew himself up at an open-air market in Hadera in 2005, killing five people and Labib Azzam, who in 1995 murdered five Israelis and injured 23 others in Ramat Gan.
Does the New York Times consider this glorification of anti-civilian murders to be an important subject? Or does the newspaper at least consider it important that Israelis consider it an important subject?
History would suggest the answer to these questions is no. But you can ask @nytimes.
Posted by GI at 01:42 PM | Comments (0)
Citizen Klein and the East Jerusalem Citizenship Stats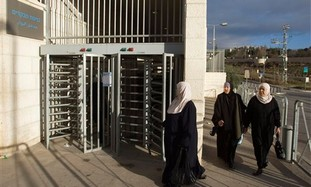 East Jerusalem Arabs outside the Ministry of Interior. Increased numbers are applying for, and receiving, Israeli citizenship (Photo by AP)
Menachem Klein, a political science professor at Bar-Ilan University who in the past has accused Israel of practicing apartheid and following a "classical colonial approach" in Jerusalem, of all places, the Jewish people's historic capital, continues to mislead on Jerusalem. In Ha'aretz, he wrote May 25 that following Israel's annexation of eastern Jerusalem after the 1967 war:
it did not automatically grant Israeli citizenship to the Palestinians who live there. Up until the early 2000s, they could apply for citizen's status - though few did - but since Israel amended its citizenship law, it's almost impossible for them to attain it. (Emphasis added)
Further on, he reiterates his assertion that citizenship is practically unattainable for Arabs living in eastern Jerusalem:
But should they desire to obtain Israeli citizenship, their way is almost completely blocked because the government is worried by the demographic implications this would have for the country being a Jewish state and Jerusalem being its capital. (Emphasis added.)
It is unclear what amendment to the citizenship law Klein has in mind, but the B'Tselem board member would have benefited from checking B'Tselem's own site:
Permanent residents are permitted, if they wish and meet certain conditions, to receive Israeli citizenship. These conditions include swearing allegiance to the State, proving that they are not citizens of any other country, and showing some knowledge of Hebrew. For political reasons, most of the residents do not request Israeli citizenship.
In any event, the statistics do not bear out Klein's claim that in recent years, it has been impossible to obtain citizenship. As AP reported last year:
Over the past five years, about 3,000 Palestinians applied for Israeli citizenship, and about 2,300 received it, according to the Interior Ministry. The number of Palestinians granted Israeli citizenship has increased each year during that time, from 147 in 2006 to 690 in 2010.
In other words, more than three-quarters of those Jerusalem Arabs who applied for citizenship received it. Too bad the political science professor didn't/couldn't do the math.
But, if he doesn't trust the Israeli Interior Ministry, he would have done well to check an article that appeared a few short days ago on the +972 blog, whose ideological outlook is quite close to his own. There, Riman Barakat, the Co-Director of the Israel-Palestine Center for Research and Information (IPCRI), wrote:
As an East Jerusalem resident, I am struck by a recent trend: many of my friends and acquaintances who hold Jerusalem identification cards – documents of permanent residency rather than Israeli citizenship – are quietly applying for and obtaining Israeli passports. It's not immediately clear why. Current residents of East Jerusalem – numbering over 350,000, or 38% of the city's total population – already go about their daily lives, shop at Israeli malls, use Israeli services, frequent Israeli restaurants and bars, send their children to study at the Hebrew University of Jerusalem, and receive Israeli social and health benefits.
Posted by TS at 07:35 AM | Comments (1)
A Gross Manipulation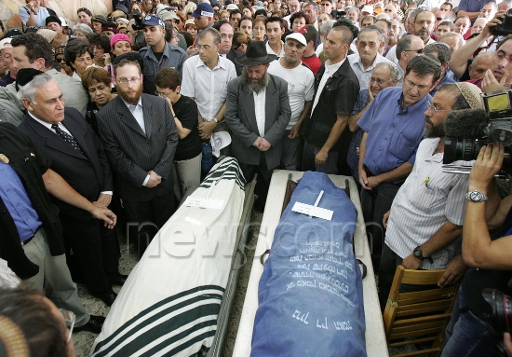 The July 24, 2005 funeral of Rachel and Dov Kol, gunned down by a Palestinian who was subsequently killed (Photo by Yoav Lemmer/AFP)
Tel Aviv University's Aeyal Gross redefines the meaning of "manipulation" in his Ha'aretz Op-Ed yesterday ("Security for Israeli settlers, not for Palestinians"). In his column he suggests that the just as the Citizenship Law prevents Palestinians from moving into Israel due to security reasons, so too it should prevent Israelis from moving across the Green Line "in light of their proven tendency to steal Palestinians lands and act violently toward Palestinians," as he puts it.
After he explains that the two recent incidents of shootings near Yitzhar are among
the many other instances of settler violence towards Palestinians, some of which are what are known as "price tag" incidents, including stone-throwing, incursions into Palestinians villages and arson.
He then provides a concrete figure pointing to Israeli violence:
According to statistics provided by the human rights group B'Tselem, since 2000 Israeli civilians have killed 50 Palestinians in the territories, in addition to perpetrating many other non-fatal instances of violence.
Fifty is quite a high figure. (Let's leave aside, for a moment, the fact that it is much lower than the number of Israelis killed by Palestinians in the same time period). Given B'Tselem's historic difficulty in producing reliable casualty statistics, we decided to check out for ourselves the B'Tselem figures that Gross cited. A review of the B'Tselem data reveals the following:
* Rabah Hijazi Muhammad Sidr was shot to death by a guard April 17, 2009 after he entered the Bet Haggai settlement armed with a knife and after he wounded another guard in the leg.
* Muhammad Fathi Yunes Sabahmeh and Mahmoud Khalil 'Abd al-Fatah Sabarneh were shot to death Jan. 24, 2008 by teachers in a Kfar Ezyon yeshiva after they entered the yeshiva grounds while armed and stabbed instructors
* Tareq Suleiman 'Abdallah Yain was killed July 24, 2005 in Kissufim while carrying out a shooting attack in which two Israeli civilians were killed and three others wounded
* Salman Yusef Salman a-Safdi was killed by a settler Oct. 26, 2004 next to Yizhar after he entered the settler's home
* Mahmoud Amin Hanani and Azher Ghassan Hanani were killed next to Alon Shvut April 30, 2004 while attempting to attack the settlement
* Tareq Abu Snineh was killed Jan. 17, 2003 after he fired at Nethaniel Ozeri, near Hebron
* Isma'il Berris 'Ashur was killed Nov. 6, 2002 in Rafiah Yam after shooting two Israelis
* Khaled Abu al-Iz was killed Oct. 30, 2002 after he fired at men working on the Trans-Israel Highway
* Name unknown to B'Tselem was killed Aug. 31, 2002 in Har Bracha after he infiltrated the settlement and wounded two people
* Ibrahim Mahmoud Abu Zor was killed May 31, 2002 in Shavei Shomron after he infilitrated the settlement and opened fire
* Name unknown to B'Tselem was was killed May 28, 2005 in Itamar after he infiltrated the settlement and opened fire
* 'Ali Edris Hamdan was killed May 17, 2002 after he penetrated Beit El and wounded a security officer in the neck
* Muhammad 'Awad was killed March 10, 2002 in Netzarim after he infiltrated the settlement and killed a soldier
* Tawfiq a-Shamali was killed Feb. 22, 2002 in Efrat while attempting to commit a suicide attack
* Jamil Muhammad Abu 'Adwan was killed Dec. 24, 2001 in Ramin after firing at and severely wounding an Israeli civilian
* Najib Muhammad Muhammad 'Abido was killed Dec. 22, 2000 in Beit Hagai after he infiltrated the settlement and tried to attack a police officer
* Muhammad Judeh Abu 'Aasi was killed Dec. 7, 2000 in the Erez industrial zone after stabbing his employer
(This list does not take into account the several Palestinians killed while they were throwing stones at Israelis, including those travelling in cars.)
Aeyal Gross -- a jurist, researcher, professor-- apparently did not even bother to read the B'Tselem list. Or, worse, maybe he did read it, but simply chose to manipulate so as to accommodate his tenuous thesis. It takes a dose of stupidity, laziness or maliciousness to use this list as a basis for the statement that "since 2000 Israeli civilians have killed 50 Palestinians in the territories," without further explanation or elaboration.
Thanks to Gross, Ha'aretz readers get additional "proof" of Israeli/settler violence, without a clue in the world that he pulled one over them.
-- By Yishai Goldflam. For the Hebrew version of this post, visit Presspectiva.
Posted by TS at 05:04 AM | Comments (1)
Ha'aretz Retracts Headline on Alleged Arabic Ban
Ha'aretz's headline proclaiming last week that the Kfar Saba hospital has banned its teaching staff from speaking in Arabic has made its indelible mark upon the Internet, though yesterday the print edition ran the following correction: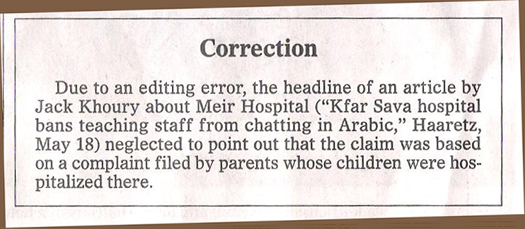 As Maurice Ostroff noted at the time of the tendentious headline:
But the facts are very different. Contrary to the impression created by the headline, the Arabic language is encouraged and is spoken widely and freely throughout Meir Hospital and the allegation, that the use of Arabic is restricted, irresponsibly provokes racial tensions. . . .

Later in the small print Haaretz presents facts that contradict the headline. It reports that the Education Ministry which operates the education department in the Meir Medical Center insists there was no instruction forbidding teachers to discuss things in Arabic and said the allegations were untrue. "Every Arabic-speaking child receives treatment and lessons from Arab teachers, according to his needs", ministry officials said.
Moreover, even if the three sets of parents who charged they witnessed one specific staff person instructing another not to speak in Arabic are correct, the English headline is still wrong. It suggests an across the board policy handed down from hospital management, when the article itself only relates to one specific case involving one staff person.
And, as we pointed out, the English headline is another example of Ha'aretz's Lost in Translation epedemic: the Hebrew headline made clear that the parents' allegation was just that -- a claim.
Also, though the online headline has been fixed, the subheadline stills states the parents' claim as fact. Here is the original headline:

Here is the current, improved headline, which is still accompanied by the original problematic subheadline:

Finally, the notion that the hospital categorically bans the use of Arabic among its teaching staff is refuted today by another parent whose child was recently admitted there. David Frankfurter, of Ra'anana, has the following letter in Ha'aretz today:
In response to "Kfar Sava hospital bans teaching staff from speaking in Arabic," May 18

The "facts" in this article run contrary to my own observations, when my son was recently hospitalized at the same Meir Medical Centerin Kfar Sava. We went to the hospital's education department to work on his mathematics homework. We are obviously Jewish - our skullcaps being a giveaway. A charming young Muslim teacher (her hijab also being a giveaway ) told us, in perfect Hebrew, about the facility and offered to assist my son with his homework. When I declined - wanting to spend some father-son time helping him myself - she was disappointed, but understanding and returned a couple of times to make sure that I was doing an adequate job.

Meanwhile she turned her attention to a young Arab child and her parent, speaking to them in Arabic, and to a third family whom she addressed in reasonable English. She conversed with the patients and with the other staff, including her supervisor, in whatever language was most appropriate for the situation, with no self-consciousness on the part of anyone in the room.

This real coexistence was an oasis of calm for all of us who were somewhat stressed by the fact that our children were unwell. Credit goes to everyone who are responsible for that facility: the Ministry of Education, the hospital and the dedicated staff of its education department.
Posted by TS at 02:43 AM | Comments (4)
May 24, 2012
Advocacy Journalism Means Never Having to Report What You Don't Want to Report

We thought AFP's headline about Iran "saving" a ship from pirates was rather bad. Then we saw CNN's report.
AFP titled their story "Iran navy saves US freighter from pirates: report." The problem isn't so much that the report was published by a propaganda arm of the Iranian government, the state-run IRNA news agency. It's that the Iranian navy, according to this same article, might not have saved the ship at all.
Just after the AFP reporter announces that the incident was "the first time the Iranian navy protected a US ship from pirates," readers learn that the owners of the ship tell a very different story.
Maersk Line told AFP that its vessel, Maersk Texas, had "thwarted an attack by multiple pirate skiffs at noon local while transiting the Gulf of Oman, northeast of Fujairah" but denied it had been helped by the Iranian navy.

"Maersk Texas heard from the Iranian navy over radio to the initial distress call, but our vessel received no assistance from the Iranian navy," spokesman Kevin Steers said in an email sent to AFP in Washington.
That's some bad reporting and headline writing by AFP. But at least the French news agency bothered to mention the denial. The same can't be said for CNN.
Unlike AFP, CNN's headline didn't make clear that it's citing a report. Instead, it accepted as fact that Iran "chased off" the pirates. And in the CNN report itself, not a word is said about the denial by the shipper that Iran was involved in repelling the ship.
Posted by GI at 02:40 PM | Comments (2)
May 21, 2012
Where's the Coverage? Grand Mufti of Saudi Arabia Urges the Destruction of "All Churches in the Region"

What if the Pope declared that all mosques in Europe must be destroyed? Would the media would cover it? You better believe it.
Last month, however, Sheikh Abdul Aziz bin Abdullah, the Grand Mufti of Saudi Arabia, reportedly declared that it is "necessary to destroy all the churches of the region." And the media said… nothing.
According to Middle East and Islam specialist Raymond Ibrahim:
The Grand Mufti made his assertion in response to a question posed by a delegation from Kuwait, where a parliament member recently called for the "removal" of churches (he later "clarified" by saying he merely meant that no churches should be built in Kuwait). The delegation wanted to confirm Sharia's position on churches.

Accordingly, the Grand Mufti "stressed that Kuwait was a part of the Arabian Peninsula, and therefore it is necessary to destroy all churches in it."
The Grand Mufti of Saudi Arabia, the nation home to the two holiest sites in Islam, Mecca and Medina, is also the President of the Supreme Council of Ulema (Islamic scholars) and Chairman of the Standing Committee for Scientific Research and Issuing of Fatwas. His words should be considered quite authoritative.
Yet the media said… nothing.
A week later, Clifford May, President of the Foundation for Defense of Democracies, wrote about this in the National Review Online. May reported that "the inquiring Kuwaitis were from the Revival of Islamic Heritage Society (RIHS)" and that the U.S. government has designated…
RIHS headquarters in Kuwait as "providing financial and material support to al Qaida and al Qaida affiliates, including Lashkar e-Tayyiba" which was "implicated in the July 2006 attack on multiple Mumbai commuter trains, and in the December 2001 attack against the Indian Parliament." Such activities have caused RIHS offices to be "closed or raided by the governments of Albania, Azerbaijan, Bangladesh, Bosnia-Herzegovina, Cambodia, and Russia."
May's piece appeared a month ago. Since then, has The Los Angeles Times written about this? No. The Wall Street Journal? Uh-uh. How about The New York Times?
Your search - "Grand Mufti of Saudi Arabia" - did not match any documents.
Perhaps the most senior Muslim authority in the world has decreed that all the churches on the entire Arabian Peninsula must be destroyed and the mainstream media says nothing. Where's the outrage? Where's the professional responsibility? Where's the coverage?

Posted by SC at 05:40 PM | Comments (1)
Would 60 Minutes Do a Story About This?


David Littman passed away yesterday. His life story as a comfortable British Jew who became a Mossad agent, human rights activist and historian is extraordinary and heroic. In recent years, Littman has spoken before the UN challenging their anti-Israel agenda and publicizing Hamas's commitment to extinguish Israel. His single most notable accomplishment was the clandestine evacuation of 530 Moroccan Jewish children to Israel, which was undertaken in 1961, the same year that the photo on the left at the top of this post was taken. Read this piece published in New English Review and ask yourself the question, would 60 Minutes correspondent Bob Simon, who recently and repeatedly has sought out stories denigrating Israel, ever consider doing a segment on Mr. Littman?
In 2009 he was presented with the "Hero of Silence" citation by Israeli President Shimon Peres for his role in bringing to Israel the Moroccan Jewish children. In his acceptance speech, Littman recounted what North African Jews endured:
I wish to say now a few words on the history of North African Jewry, which offers us a profound lesson in courage, perseverance and moral force, in spite of constant humiliation and discrimination that lasted well into the 20th century in Morocco. It only ended in 1912 with the French Protectorate, when the dhimmi system was abolished, whereby even the Chief Rabbi of Fez, Vidal Sarfaty, had to go barefoot on leaving the mellah as described in a 1911 document that I published in 1975.
Littman's wife, who goes by the pen name Bat Ye'or, is a well-known writer about the plight of non-Muslims in the Middle East.
Posted by SS at 12:42 PM | Comments (3)
May 20, 2012
Open Letter Challenges Ha'aretz on Kfar Sava Hospital Headline
Writer and activist Maurice Ostroff writes an open letter to Ha'aretz editors challenging Friday's headline ("Kfar Sava hospital bans teaching staff from speaking in Arabic"). Ostroff writes:
Contrary to your report, Kfar Sava hospital does teach Arab kids in Arabic

The grossly misleading banner headline in Haaretz English issue of May 18, "Kfar Sava hospital bans teaching staff from speaking Arabic" has already been eagerly reproduced widely, including on Peter Beinart's Open Zion blog (part of the Daily Beast), the Forward, the International Middle East Media Center and others


The headline contravenes The Code of Ethics of the society of Professional Journalists which requires that journalists ""Make certain that headlines,.. do not misrepresent. They should not oversimplify or highlight incidents out of context". http://www.spj.org/ethicscode.asp

To compound the sin, without indicating that it is merely repeating an unverified allegation, the sub-heading states categorically "Arab teachers and students working in Kfar Sava's Meir Medical Center have been forbidden to speak to each other in Arabic, despite the fact that Arabic is one of Israel's official languages".

But the facts are very different. Contrary to the impression created by the headline, the Arabic language is encouraged and is spoken widely and freely throughout Meir Hospital and the allegation, that the use of Arabic is restricted, irresponsibly provokes racial tensions. . . .

Later in the small print Haaretz presents facts that contradict the headline. It reports that the Education Ministry which operates the education department in the Meir Medical Center insists there was no instruction forbidding teachers to discuss things in Arabic and said the allegations were untrue. "Every Arabic-speaking child receives treatment and lessons from Arab teachers, according to his needs", ministry officials said.
And, we notice, that in yet another apparent case of Lost in Translation, the Hebrew headline is markedly more fair and accurate than the English headline. Here is the online English headline:

While the English headline states as fact that the Kfar Sava hospital categorically bans the teaching staff from speaking in Arabic, the Hebrew headline depicts the alleged ban as just that -- an allegation. Specifically, an allegation leveled by the parents of hospitalized children. Thus, the Hebrew states (CAMERA's translation):
Parents of Children Hospitalized at Meir Hospital: Teachers at the Institution are Prohibited From Speaking Arabic
And the Hebrew subheadline gives additional information conspicuously absent from the English version, including the fact that the Education Ministry denies the parents' allegation:
According to the parents' complaint, the director of the intistution's education center berated teachers in front of them. The Education Ministry: No such instruction exists in the regulations book
For the Hebrew version of this post, see Presspectiva.
Posted by TS at 04:26 AM | Comments (0)
May 18, 2012
Another Call for Standing by the Facts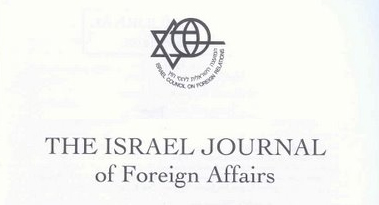 A few days ago, we blogged Michael Oren's call for standing by the facts. The delegitimization of Israel is "perpetuated by journalists who published doctored photos and false Palestinian accounts of Israeli massacres," he said. And so, "along with celebrating our technology, pioneering science and medicine, we need to stand by the facts of our past."
We hear a similar call from researcher Joel Fishman. Writing in the Israel Journal of Foreign Affairs, Fishman states that one
must advance its historical claims aggressively and forcefully. The Jewish State cannot permit others to define its identity or distort its past. It is necessary to discredit the fraudulent claims of the other side and expose its lies.
These pieces provide a timely reminder that standing up for factual accuracy is essential to Israel's well-being. It might be tempting to shy away from the spadework of rebutting lies and distortions about Israel. Indeed, we occasionally hear the argument that it's possible, or even necessary, to avoid that hard work. Proponents of that view insist that we need not or should not confront those who delegitimize Israel on campus and beyond. They suggest we give up the public square to anti-Israel activists. And if those activists bring the confrontation to pro-Israel students and speakers, it might be best to retreat.
Whether intentionally or not, Oren and Fishman's calls read like a direct — and needed — response to those arguments.
Posted by GI at 12:56 PM | Comments (2)
May 17, 2012
Church Bureaucrazy About Israel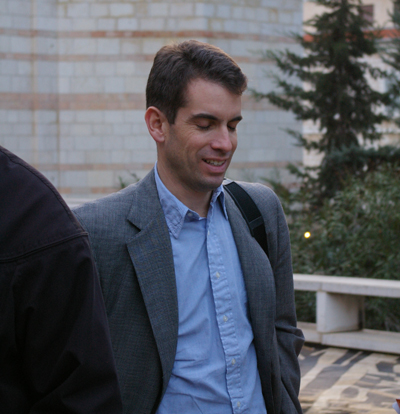 Eyes Wide Shut: Peter Makari, Executive for the Middle East and Europe of the Common Global Ministries Board of the United Church of Christ and the Christian Church (Disciples of Christ)(Photo: Dexter Van Zile)
One of the charges CAMERA levels at mainline Protestant churches in the U.S. is that they exhibit a monomaniacal focus on Israel while ignoring the misdeeds and human rights abuses of its adversaries in the Middle East. This assessment is typically based on the resolutions submitted to the national assemblies of these churches. The problem is not limited to resolutions approved or debated at national church gatherings, however. Another place where this monomaniacal focus can be seen is on the newsfeeds of the churches.
Probably the worst offender is the Common Global Ministries of the United Church and the Disciples of Christ. This organization, which is the overseas arm of the two denominations mentioned above, sends missionaries and activists to countries throughout the world.

Theoretically, Global Ministries is, well, a global concern, but you would not know that from its newsfeed which links to articles produced by denominational leaders and staffers, and so-called peacemaking groups such as Sabeel and Churches for Middle East Peace and para-church organizations such as the National Council of Churches and the World Council of Churches. Serving as a news aggregator, the Global Ministries newsfeed focuses a huge amount of attention on the conflict between Israel and the Palestinians while ignoring other conflicts where many more people are killed.
During all of 2011 and the first four and a half months of 2012, the Global Ministries newsfeed linked to a total of 593 articles, 208 which deal with the conflict between Israel and the Palestinians. (One article, posted today, talks about the creation of a "national UCC Palestine/Israel Network.")
In other words, approximately 35 percent of all the articles listed on the Global Ministries newsfeed since Jan. 1, 2011 and today were related to Israel.
During this same period of time, the newsfeed linked to approximately 10 articles, (less than two percent of the total) related to Syria, where approximately 12,000 people have been killed in fighting between the Assad regime and anti-government rebels during the past 15 months. Nigeria, where Christians have been routinely attacked, is hardly even mentioned in the newsfeed during 2011 or 2012.
And Egypt, where dozens of Coptic Christians have been killed by Muslim extremists and government soldiers since the beginning of 2011, merited only 28 links -- less than five percent of the total -- on the Global Ministries news feed during this same time frame.
This is kind of odd given that the Global Ministries Executive for the Europe and Middle East is Rev. Dr. Peter Makari, an Egyptian American who wrote a book Christian-Muslim relations in Egypt! Couldn't he throw some links to his fellow Christians in Egypt?
Apparently not! Talk about Eyes Wide Shut!
Don't believe us? Go look for yourself, here.
Just start scrolling down. And keep scrolling down. You can go all the way back to 2005!
And just tick off how many times you see the "[Israel-Palestine]" tag next to an article!
You'll see for yourself. These folks are obsessed.
Start counting.
Posted by dvz at 04:33 PM | Comments (2)
May 16, 2012
Presspectiva Letter in Ha'aretz on Teaching Peace
Uri Misgav didn't question whether the idea of genuine peace existed on the Arab side
Yishai Goldflam, editor-in-chief of Presspectiva, CAMERA's Hebrew site, has a letter-to-the-editor today in Ha'aretz in which he takes Uri Misgav to task "for ignoring a crucial factor" in his column lamenting that Israel has "officially taken peace off its agenda." Goldflam writes:
. . . Misgav is nostalgic for the days when we sang "Noladeti Lashalom" (I was born for peace ) and drew pictures of doves and olive branches. . . .

The point is that Misgav, for all his self-flagellation and bitterness, ignores a crucial factor for completing the equation - the party with which we would like to live in peace. While here, generations of children grew up on poems and songs that express a yearning for peace, what did our neighbors' children learn? How many peace songs have been written by Arab poets? How many Arab kindergarten teachers taught their pupils how to draw a dove?

During the early days of the Oslo Accords, the Israeli school system took steps to psychologically prepare Israeli children for the approaching peace. The Palestinian school system, on the other hand, continued to brainwash its children with anti-Israel and anti-Semitic propaganda, as it continues to do to this day. . .
Posted by TS at 06:17 AM | Comments (3)
May 15, 2012
Oren: We Must Stand by the Facts
In The Wall Street Journal today, Israeli Ambassador Michael Oren wrote about the "systematic delegitimization of the Jewish state":
Having failed to destroy Israel by conventional arms and terrorism, Israel's enemies alit on a subtler and more sinister tactic that hampers Israel's ability to defend itself, even to justify its existence.

It began with PLO Chairman Yasser Arafat's 1974 speech to the U.N., when he received a standing ovation for equating Zionism with racism—a view the U.N. General Assembly endorsed the following year. It gained credibility on college campuses through anti-Israel courses and "Israel Apartheid Weeks." It burgeoned through the boycott of Israeli scholars, artists and athletes, and the embargo of Israeli products. It was perpetuated by journalists who published doctored photos and false Palestinian accounts of Israeli massacres.

Israel must confront the acute dangers of delegitimization as it did armies and bombers in the past. Along with celebrating our technology, pioneering science and medicine, we need to stand by the facts of our past.
Emphasis is ours. If you can get past the pay wall, you can read it here.
Posted by GI at 03:27 PM | Comments (1)
"Fighting Distorted Media Coverage of Israel"
Dr. Manfred Gerstenfeld.

In an interview with Dr. Manfred Gerstenfeld, CAMERA Executive Director Andrea Levin states:
Media coverage of the Middle East is often distorted. There are no enforceable codes of professional conduct which apply to the media. One can thus obtain change only in two ways. One is through private appeals for accuracy, balance and fair play. The other is through public exposure of journalistic misconduct.
Read the complete interview here.
Posted by at 11:39 AM | Comments (1)
May 14, 2012
Daily Beast Photo Flub [Updated]
Update: To its credit, the Daily Beast quickly corrected the caption after CAMERA informed editors of the error. We've added after the break an updated image of the photo as it currently appears.
Arab demonstrators in the Jerusalem neighborhood of Silwan were busy smashing up Israeli police cars on Friday, and the Daily Beast has it covered. Well, sort of. Here's their featured Photo of the Day, and the accompanying caption, as it now appears on their home page: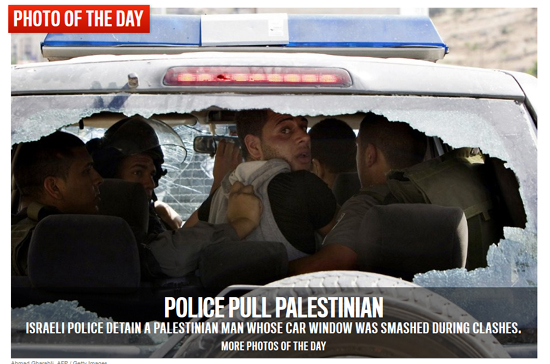 So a smashed up Israeli police car, damaged by Palestinian rioters, becomes a smashed up Palestinian car (damaged, perhaps, by the Israeli police officers). How do you like that? Maybe the Daily Beast caption-writer has a promising career as a used car salesman. (I hear he has a great deal on a roomy vehicle. If you don't mind a little extra fresh air, and some broken glass.)
The original caption for the AFP photo by Ahmad Gharabli was:
Israeli riot police detain a Palestinian man in a car whose rear window was smashed during clashes between Palestinian youth and the Israeli police in the east Jerusalem neighbourhood of Silwan on May 12 [sic], 2012. . . .
(The incident actually occured on May 11, and was posted to the Newscom photo service site on May 11.) This more detailed caption also appears in the Daily Beast if you click on front-page photo with the erroneous, truncated caption. While the AFP did not falsely claim, like the the Daily Beast home page, that the damaged car belongs to a Palestinian, it was also not exactly forthright that it was an Israeli police car, damaged by Palestinians. But given AFP's troubled history on photo captions, that's not exactly a surprise.
Here's a fuller photo of what appears to be the same damaged vehicle (the edge of the broken glass is identical in both pictures), in which you can clearly see the police license plate (red, with the Hebrew letter "mem," for "mishtara," police):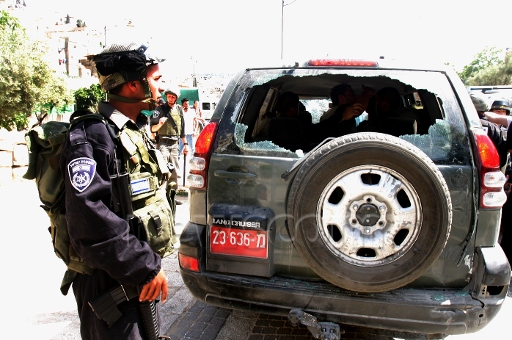 The above image is by Mahfouz Abu Turk of ZUMA Press, and its caption is identical to AFP's.
But that particular police vehicle was not the only one which got some body work that day in Silwan. There's also this: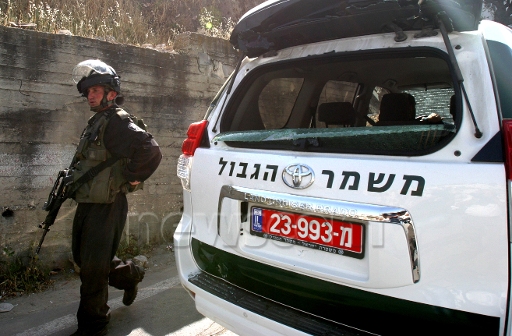 Also by Abu Turk, this photo plainly shows the Israeli police license plate and the Hebrew words "mishmar hagvul," or border patrol. There's no Palestinian detainee to be seen, though, which explains why its not the featured Photo of the Day.

The corrected caption appears below: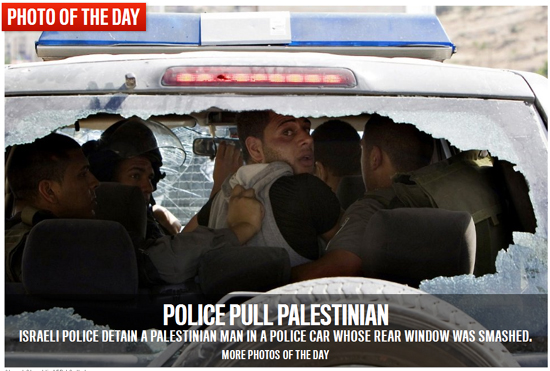 Posted by TS at 03:19 PM | Comments (4)
May 13, 2012
Ha'aretz, Lost in Translation, XIII
As Ha'aretz today launches its new English-language Web site, publisher Amos Shocken announces:
Haaretz is dedicated to maintaining high journalistic standards in its presentation and interpretation of the riveting and complex reality of modern Israel. Haaretz's role is vital not only as a trusted provider of information and insight but also as a gatekeeper of the liberal and democratic values on which this country was founded. Now more than ever, Haaretz has an important role to play in ensuring that Israel preserve its proper place among enlightened democracies, in fostering peace and reconciliation in the Middle East and in promoting greater understanding between Israel and the Jewish Diaspora. We invite our readers to be our partners in this great endeavor.

In the past few months, Haaretz has laid the groundwork for a significant enhancement of its online content, especially in English. With the introduction of our new, multi-platform digital subscriptions, Haaretz will extend and deepen its world renowned expertise in news gathering and analyses to many new arenas that are of special interest to our English-speaking readers.
But, as we observed earlier today following Ha'aretz's latest corrected "Lost in Translation,"
Ha'aretz can invest in all of the latest high-tech gadgets in the world, and employ some top notch Hebrew reporters, but as long as the English translators have free rein to distort the Hebrew coverage in accordance with their personal agendas, the English readers will be getting neither accurate nor quality content. If Ha'aretz is truly interested in high journalistic standards and accurate news coverage "of special interest to our English-speaking readers" it would put a stop to the "Lost in Translation" epedemic. Correcting errors on a case-by-case basis, after the fact, is simply treating the symptoms, not the underlying problem.
Today, when the ink has barely dried from the last "Lost in Translation" print correction, a new case crops up, underscoring the point. And, to make matters worse, the error is featured on Ha'aretz's newly-minted home page:
The article itself states:
The result is an almost unbearable experience for worshipers and tourists who congregate at Judaism's holiest site. (Emphasis added.)
Only the Western Wall is not Judaism's holiest site. The Temple Mount is. The BBC, Washington Post and others have all corrected this error in the past.
How exactly is Ha'aretz "promoting greater understanding between Israel and the Jewish Diaspora" by allowing misinformation about Jewish holy sites in Israel to appear on its home page?
Ha'aretz believes that with its new bells and whistles, what it calls "significant enhancement of its online content, especially in English," it is doing its English readers a service. But every time it permits another "Lost in Translation" to slip through, allowing Hebrew readers, but not English readers, to get the correct information, it is doing the most fundamental disservice. Who cares if your Ipad can get Ha'aretz's advanced app if the article can't get the accurate facts?
Here is the (correct) original Hebrew wording, which, once again, Ha'aretz translators mangled:
אין ספק, הכותל המערבי הוא מקום קדוש, אבל רחבת הכותל היא כנראה המקום הבוהק והחם ביותר בירושלים
Meaning (CAMERA's translation):
The Western Wall is undoubtedly a holy site, but the kotel plaza is apparently the brightest and hottest spot in Jerusalem.
Posted by TS at 06:20 AM | Comments (0)
May 11, 2012
"Why The Jews - and the world - need Israel"
CAMERA's Sarit Catz's op-ed, "Why the Jews - and the world - need Israel", published in The New Jersey Jewish News states:
Jews have always been creative and have always contributed to the societies where they lived. But planted in Israel, Jews have blossomed, Jews have flourished. Jews have created a dynamic, resilient country in Israel, and Israel has created a dynamic, resilient Jewish character in us, all of us. Even if we don't live in Israel, Israel has changed us. Israel has changed what it means to be a Jew and changed it for the better.
Posted by SC at 03:38 PM | Comments (0)
May 09, 2012
The Washington Post's 'Little Kingdom' is Four Times Bigger than Israel
Describing Jordan in an article headlined "Beneath the civility, Jordanians simmer; Growing frustrations threaten the stability of key U.S. ally" (May 8), The Washington Post referred to "this little kingdom…."
The land area of Jordan, Israel's eastern neighbor, totals 34,500 square miles. Jordan's population is 6.5 million. Israel comprises 8,019 square miles and its population totals 7.6 million (all figures from the CIA World Fact Book). That makes "this little kingdom" more than four times larger than the Jewish state.
Jordan ranks 112th by size out of more than 200 on the list of countries. Israel is 154th. If Jordan is, accurately, "this little kingdom," then readers should expect journalistic descriptions of Israel as "this tiny democracy."
But as CAMERA has noted, although The Post and other news media repeatedly refer to countries larger than Israel – often much larger – as small, little or even tiny, the Jewish state rarely if ever rates descriptions in the diminutive. This even though they would be accurate and often relevant.
Why the functional if not intentional double standard? One reason may be that if, as we have suggested, Israel is seen primarily through the filter of Palestinian complaints, it appears to be the larger party. And as the larger party, responsibility for existing problems and to make concessions to solve them would fall primarily on it.
But if Israel is placed in context of the surrounding Arab and even greater Islamic world, most of which unreconciled to Jewish equality and sovereignty, then it is the smaller, indeed tiny party. And primary responsibility to "take risks for peace" would lie with its neighbors.
Posted by ER at 05:50 PM | Comments (2)
Captured Bin-Laden Letters Claim "Moderate" Fatah Offered Tribute to Group Sympathizing with Al-Qaeda -[corrected]

CORRECTION: An earlier version of this post identified the Palestinian group communicating with al-Qaeda as part of al-Qaeda. While the group clearly sympathizes with al-Qaeda and has communicated with its leadership, there is no evidence that it is part of al-Qaeda.

On May 3, 2012, West Point's Combating Terrorism Center (CTC) released translations of Osama Bin Laden's correspondence with other al-Qaeda figures that was seized in the raid that killed him. The translations reveal that an organization communicating and sympathizing with al-Qaeda had received an offer of tribute from Fatah, the Palestinian party governing the Palestinian Authority in the West Bank, which is widely depicted as moderate.
While David Gartenstein-Ross cautions that "this does not actually demonstrate tribute money being offered to 'al-Qaeda,' " it nevertheless should raise some concern because the Palestinian Authority has received billions of dollars in aid from Western countries. The United States recently approved several hundred million dollars more in assistance.
The full translated passage in the CTC document reads:
The Fatah organization has also offered us funds purportedly to support jihad, but there is another reason, namely their fear of becoming the target of our swords. These funds would go directly towards the purchase and manufacture of weapons, and to support operations which we will conduct, God willing. ...
UPDATE: Two CAMERA commenters alerted us to the fact that there is not a clearly established link between al-Qaeda and the group that purportedly received the funding offer, a Palestinian terrorist group that has called itself the Organization of al-Qaeda in Palestine (among other names). The CTC commented as follows:
There is also a letter dated 2006 forwarded to a certain `Abd al-Hamid. The actual letter was addressed to `Atiyya, consisting of legal questions from the group called Army of Islam (Jaysh al-Islam) based in Gaza. The gist of the letter makes it known that the group is in need of financial assistance "to support jihad," and the questions largely pertain to the permissibility of accepting financial assistance from other militant Palestinian groups that are not purely fighting to establish God's Law in the eyes of Jaysh al-Islam (e.g., groups that are nationalists or supported by Iran). The significance of the letter pertains to `Atiyya's legal knowledge, but it does not point to a firm relationship between al-Qa`ida and Jaysh al-Islam. Atiyya comes across as cordial but distant. He responded strictly to the questions posed but refrained from giving any strategic advice. It is possible that Jaysh al-Islam was "testing the water" to see whether al-Qa`ida would lend them financial support, not least because Hamas was fighting against them.
Many news organizations reported on the trove of letters, but a Nexis search turned up only three major news organizations, the Daily Telegraph, the Christian Science Monitor and the Calgary Herald, that reported on the Fatah tribute offer.
Also of interest, British columnist Robert Fisk, American journalist Seymour Hersh (sp) and Canadian columnists Gwynne Dyer and Eric Margolis were apparently favored by Bin Laden. Fisk, who writes for the Independent and Dyer are frequent detractors of Israel.
Posted by SS at 05:26 PM | Comments (1)
May 08, 2012
BBC Justifies Self Censorship in the Face of Threats of Violence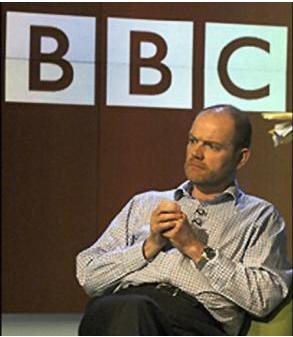 In an interview on free speech, Mark Thompson, director general of the BBC, implies that the threat of violence from religious Muslims influences the BBC's decisions on which shows it airs. His acknowledgement and justification of self-censorship has to be disheartening to all defenders of free speech. The BBC is the world's largest media organization and is sustained by the British government.
Questioned about the conflict between free speech and offending people's religious beliefs, Thompson justifies censorship in criticizing some religious figures [but not others] by suggesting that such criticism can be more "heinous" than harming real people.
... they believe that their faith refers to things which have an objective reality. And so, for example, they regard blasphemy as causing objective harm. So it's not just that a blasphemous statement or act would hurt their feelings or anger them because it went against their opinions; it would do actual objective harm. That offending of an act of sacrilege against the god head or religious figure, actually creates harm in the world as it were and might be as heinous or more heinous than harm to a human being.
Thompson then shifts from the abstract to the specific:
I think you have to tread really quite carefully and sensitively because of the character. The point is that for a Muslim, a depiction – particularly a comical or demeaning depiction of the Prophet Muhammad – might have the force, the emotional force, of a piece of a grotesque child pornography. One of the mistakes seculars make is I think not to understand the character of what blasphemy feels like to someone who is a realist in their religious belief.
Interviewer Timothy Garton-Ash: But it is an ace, isn't it? And a rather nasty ace if people say, "I feel so strongly about that; if you say it or broadcast it, I will kill you."

Thompson: Well clearly it's a very notable move in the game, I mean without question. "I complain in the strongest possible terms" is different from "I complain in the strongest possible terms and I'm loading my AK47 as I write." This definitely raises the stakes. But I think there's two or three things going on, so manifestly a threat to murder, which by the way is quite rightly a crime, massively raises the stakes.
In more veiled language, Thompson also implies that such threats sway the BBC's coverage of the Israeli-Palestinian conflict.

Ash: What, if I may just interrupt for a moment, what are the areas in your experience, your great experience as a broadcaster, have you experienced threats of violence, threats to murder?

Thompson: Well, the coverage of Israel-Palestine, and one or two other conflicts in the world, can lead to and have in my case led to threats of violence. Our editorial decision-making, where someone has come to believe you are not doing it fairly, or maybe likely not to do it fairly, have been threatened once, twice in my career about one or two major conflicts, which have some of the same features: a sense of victimhood, a sense of conspiracy – you know conspiracists who believe everyone else is conspiracist, and so forth – and a sense that the desperation or the circumstance means that the normal don't apply.
Thompson does not spell out who is making the threats. But the penchant for sharp criticism of Israel's government and a pronounced pro-Palestinian tilt in the BBC coverage has been widely noted. The BBC does not hesitate to criticize Israel, but seems more hesitant to expose the underside of the Palestinians. That observation, along with the contrast between Israeli society's unfettered and openly critical press and the media control and intimidation practiced by the Palestinian Authority, suggest that the threats are coming from the Palestinian side.
I guess we should be thankful that even this interview passed the BBC censor.
Posted by SS at 01:31 PM | Comments (6)
Ministry of Defense Rectifies Misinformation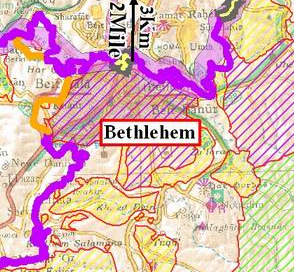 A map of the security barrier around Bethlehem from the Ministry of Defense website.
After an inquiry from CAMERA, the Israeli Ministry of Defense has rectified erroneous information that it apparently gave to 60 Minutes regarding the security fence. In a segment about Palestinian Christians that aired on April 22, 2012, "60 Minutes" reported that the security barrier built to stop suicide bombers coming from the West Bank "completely surrounds" Bethlehem when, in fact, it does not.
Harry Radliffe, producer for the segment in question subsequently reported that 60 Minutes got its information about the security barrier from the Israeli Ministry of Defense. CAMERA contacted the Ministry of Defense, which has issued the following statement.

Unfortunately, due to a misunderstanding in the Administration of the Seam Line at the Ministry of Defense, it appears incorrect information was passed on by officials regarding the nature of the security fence in the Bethlehem region. Bethlehem is not surrounded by the security fence.
It is unfortunate that the reporters at "60 Minutes" did not subject the incorrect information it received from the Ministry of Defense to the same level of scrutiny it reserved for Ambassador Michael Oren.
The onus is now on "60 Minutes" to issue a correction regarding the security fence. Its source for the misinformation it passed off as fact has now retracted its statement.

Posted by dvz at 12:52 PM | Comments (0)
Where's the Coverage? Egyptian Presidential Campaign Rally Vows to March on Jerusalem

At a rally to kick off the presidential campaign of Muslim Brotherhood candidate Muhammad Mursi in Egypt, the cleric introducing the candidate declared the aim of forming a Muslim caliphate, "The United States of the Arabs," the capital of which will be Jerusalem. The event was broadcast on Egyptian television station Al-Nas TV on May 1, 2012 and a portion of it has been translated and posted online by the Middle East Media Research Institute.
In the video, also posted on YouTube, Egyptian cleric Safwat Higazi introduces Mursi by saying:

We can see how the dream of the Islamic Caliphate is being realized, Allah willing, by Dr. Muhammad Mursi and his brothers, his supporters, and his political party. We can see how the great dream, shared by us all -- that of the United States of the Arabs... The United States of the Arabs will be restored, Allah willing. The United States of the Arabs will be restored by this man and his supporters.

The capital of the Caliphate - the capital of the United States of the Arabs - will be Jerusalem, Allah willing.
… Our capital shall not be Cairo, Mecca, or Medina. It shall be Jerusalem, Allah willing. Our cry shall be: "Millions of martyrs march toward Jerusalem." Millions of martyrs march toward Jerusalem.
The MC of the event leads the crowd in chants of, "Mursi will liberate Gaza tomorrow" and "Allah Akbar." He then sings a song:

Banish the sleep from the eyes of all Jews.
Come on, you lovers of martyrdom, you are all Hamas…
Forget about the whole world, forget about all the conferences.
Brandish your weapons... Say your prayers...
Brandish your weapons... Say your prayers...
And pray to the Lord.
From the eyes of all Jews...
Come on, you lovers of martyrdom...
Banish the sleep from the eyes of all Jews.
Come on, you lovers of martyrdom, you are all Hamas.
Later in the rally, Higazi continues:

Indeed, all the lovers of martyrdom are Hamas. I say from this podium, from Al-Mahalla, from the heart of the Delta, the heart of Egypt, so that the whole world may hear.

We say it loud and clear: Yes, Jerusalem is our goal. We shall pray in Jerusalem, or else we shall die as martyrs on its threshold.

Millions of martyrs march toward Jerusalem.
Muhammad Mursi is the official candidate of the Muslim Brotherhood. This is the political party that won the most seats in the recent Egyptian parliamentary elections, nearly half, and took the speakership. This is the political party that recently sent a delegation to meet with White House officials. This is also the political party that led the Egyptian parliament to issue a report declaring Israel Egypt's "number one enemy."
Even though Egyptian presidential elections are a mere two weeks away, the media is paying little attention to this bellicose and threatening rally. While the Washington Post mentioned the campaign, the newspaper did not cover the rally or its overt calls for the invasion of Israel.
Egypt is ostensibly an ally of the United States and we send billions of taxpayer dollars in aid there. The campaign kickoff rally for the majority party's presidential candidate became a celebration of violence and an outright threat to Israel, America's only stable democratic ally in the region. Is this not worthy of the attention of the media?
Where's the coverage?

Posted by SC at 09:45 AM | Comments (2)
May 07, 2012
By the Numbers: Jodi Rudoren's Palestinian Prisoner Article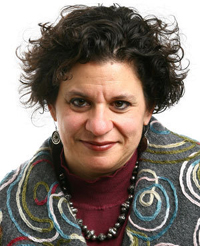 Even before Jodi Rudoren began her tenure as the New York Times' bureau chief in Jerusalem, serious concerns were raised about her objectivity.
Here at Snapshots we said, "Only time will tell whether [those] concerns will be borne out."
Unfortunately, judging by Rudoren's recent story about Palestinian prisoners on a hunger strike, published online on May 3 and in print the following day, those concerns are certainly being borne out.
You can read some criticism of the story here, here and here. Below we take a look at the piece by the numbers:
• Number of quoted words by Palestinian supporters of Palestinian prisoners: 269
• Number of quoted words by Israelis explaining the rationale behind administrative detention (or anything else): 0
• Number of words by Rudoren (or anyone else) discussing Israeli rationale behind administrative detention: 0
• Number of paragraphs before Rudoren gets around to letting readers know that the stars of her article are members of Islamic Jihad: 14
• Countries and groups that list Islamic Jihad as a terrorist organization include: The United States, Canada, The European Union, The United Kingdom and Australia.
• Rudoren's description of Islamic Jihad: "a radical and militant Palestinian faction."
• Number of other articles in May 4 edition of the New York Times that use the words "terrorist," "terrorist organization," terrorist network" or "terrorist attack" to describe non-Palestinian groups, individuals and attacks: 6
• Number of people murdered by Islamic Jihad: Hundreds
• Number of rockets fired at Israeli cities and towns by Islamic Jihad: Hundreds
• Number of references in the article to those attacks: 0
• Number of days after extremist activist Ali Abunimah complained to Rudoren on Twitter about lack of coverage of the prisoners' hunger striker before Rudoren authored what Abunimah endorsed as her "must read" report: 4

Posted by GI at 01:46 PM | Comments (3)
Will Promoting Positive Jewish Achievements Reduce Negative Sentiment Towards Israel?
As CAMERA previously reported on April 17, a study titled Intolerance, Prejudice and Discrimination by the Frederich Ebert Stiftung in Germany reveals the persistence of anti-Semitism throughout Europe. A substantial number of people in all the European countries polled believe that Israel is conducting a war of extermination against the Palestinians.
Because the study covers a variety of forms of prejudice (anti-Muslim, anti-homosexual, anti-immigrant) its analysis focuses on ideological, political and economic factors. These may not be central to anti-Jewish animosity which appears to be driven by immutable processes.
The highest figures for anti-Jewish attitudes persist in Eastern and Central European countries where Jews have largely disappeared due to prior genocides and emigration and in countries like Norway and Spain that have not had large Jewish populations ever or in many centuries.
Interestingly, in all the countries polled, a majority of respondents believed that Jews have enriched their culture. The fact that this positive belief co-exists with such negative beliefs about Jews does not augur well for campaigns promoted by Jewish organizations and the Israeli government emphasizing the positive contributions made by Israel and the Jewish community as a way to shift public opinion towards Israel.
The study also documents a generational shift towards more anti-Jewish hostility among the youngest cohort. This reverses a long trend of declining anti-Semitism with each new generation.

Posted by SS at 12:08 PM | Comments (2)
May 03, 2012
Anti-Semitic Rant Passes Without Challenge at Methodist Convention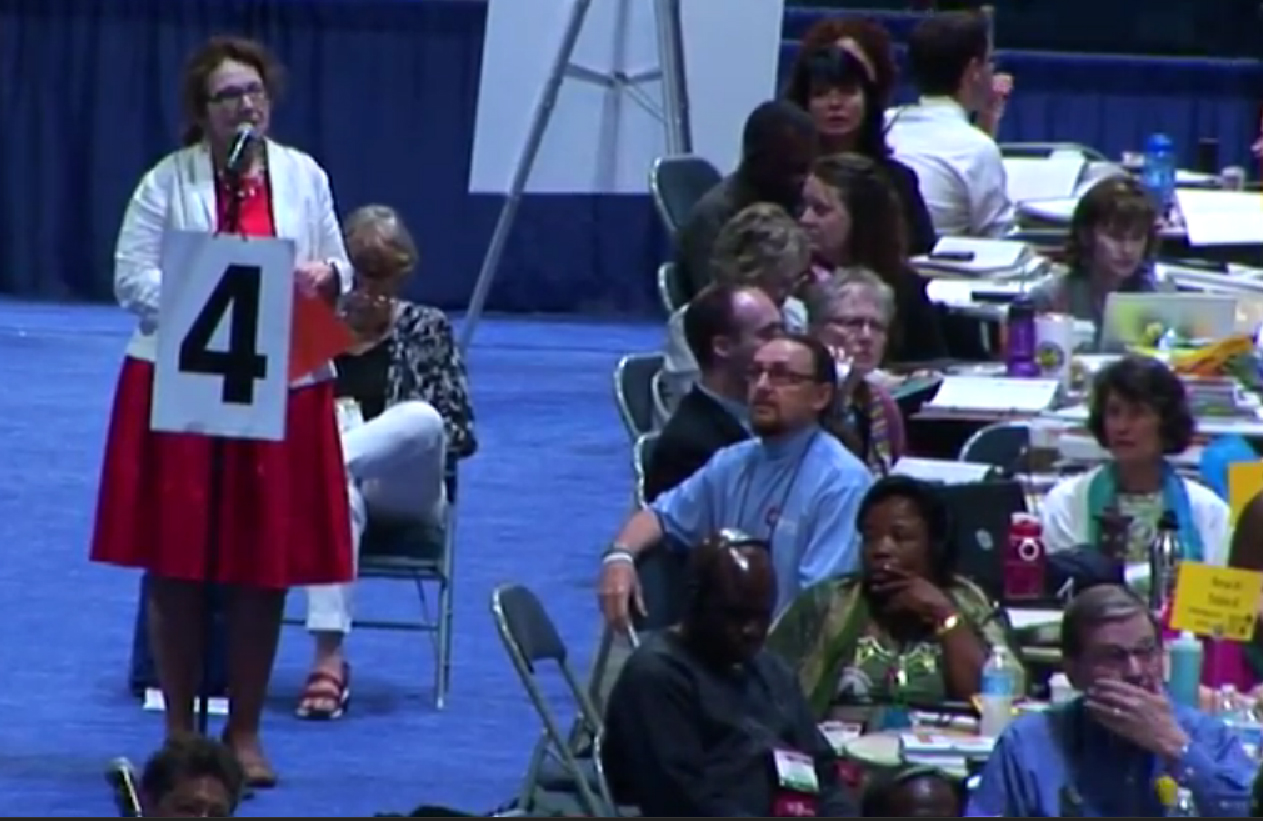 Methodist Margaret Novak Likens Israel to Nazi Regime
For the past several days, the United Methodist Church has been meeting in Tampa, Florida for its General Convention that is held every four years. At this convention, the delegates approved a resolution calling for a boycott of Israeli products made in the West Bank.
The assembly also rejected a resolution that would require the denomination's Board of Pensions and Health Benefits to sell its stock in three companies that do business with Israel – Caterpillar, Hewlett Packard and Motorola.
Snapshots readers can watch the proceedings regarding these two resolutions here and here.
The defeat of the divestment proposal was a bitter pill to swallow for many of the activists that descended on the UMC's General Convention. Jewish Voice for Peace was out in force at the assembly, as were a number of anti-Israel activists from inside the denomination.
As is to be expected at the national assembly of any mainline church in the United States, the proceedings bespoke of a monomaniacal obsession on the alleged sins of the Jewish state and absolute silence about the misdeeds of other countries in the region.
Search the legislation before the assembly for resolutions regarding Coptic Christians in Egypt or Assyrians in Iraq and you will find nothing.
One of the more outrageous moments of the assembly took place after it became apparent that the proposal to demand that the UMC sell stock in the three companies mentioned above was not going to pass. A woman who introduced herself as Margaret Novak said the following to the gathered assembly:
I would just ask us all to imagine we were United Methodists in the 1930s and 40s [and] that our Board of Pensions held stock in the very successful manufacturing firms in Germany that bid and received the bids to manufacture the ovens for the concentration camps.

At what point would we decide it was time to divest?

How much evidence would we ask for before it was time to stop the wholesale destruction of people?

(Note: Novak's statement can be seen here. Her statement starts a 5:47 minutes into the video and lasts until 6:37.)
The moderator did not call her out of order, but merely asked if her speech was for or against the non-divestment resolution then before the assembly. (She was against.)
Margaret Novak compared Israeli policies in the West Bank to the destruction of Jews in Europe. She made this statement in front of several hundred people and the moderator of the assembly let her statement pass unchallenged.
Novak's comparison between current Israeli policies and that of the Nazi regime falls under the working definition of antisemitism issued by the European Forum on Antisemitism. This definition warns against "Drawing comparisons of contemporary Israeli policy to that of the Nazis."
Novak's suggestion that the Israelis are perpetrating a genocide ("wholesale destruction of people") is defamatory. The population of the Palestinians has grown fourfold in the decades since the 1948 War.
Will someone from the UMC's leadership condemn Novak's remarks before the General Convention comes to an end on Friday May 4, 2012 or will they pass unnoticed?
This is a reasonable question to ask. The UMC has been the source of some ugly rhetoric in the past. For more information about this problem go here and here.
James E. Winkler, General Secretary of the United Methodist General Board of Church and Society (GBCS), can make it right. He can issue an unequivocal apology for the ugly anti-Semitism that was allowed to pass unchallenged at the UMC's General Assembly on May 2, 2012.
It is also reasonable to ask if Jewish Voice for Peace is going to condemn Novak's rant. As stated above, JVP was out in force at the assembly.
And will the Methodist activists, operating under the banner of UM Kairos Response condemn Novak's statement?
Such rhetoric simply cannot pass unnoticed at the UMC General Convention.
Will Winkler act? Will Jewish Voice for Peace respond? Will UMKairos Response?
Posted by dvz at 03:00 PM | Comments (6)
May 02, 2012
The World Is Flat and Some Israeli Told Me So
60 Minutes Producer Harry Radliffe

"The world is flat. How do I know? Some Israeli told me!"
That's about what 60 Minutes Producer Harry Radliffe would have us believe.
Radliffe, you'll remember, was the producer of the 60 Minutes segment on Christians in the Holy Land – the segment that falsely reported the security barrier "completely surrounds Bethlehem, turning the 'little town' where Christ was born into what its residents call 'an open air prison.'"
The security barrier does not "completely surround Bethlehem" but in fact passes by its northern and western sides.
CAMERA called Radliffe on Monday April 30, 2012 and asked for 60 Minutes' source of misinformation about the security barrier. Radliffe said that the Israeli Ministry of Defense was the source of information about the security barrier. He went on to say that maybe the people at the Ministry of Defense "don't know what they are talking about" suggesting that the error was not the fault of 60 Minutes, but was really the fault of the Israeli government.
When CAMERA asked Radliffe for the name of the official at the Ministry of Defense who gave 60 Minutes the information he said he didn't have the name and that we should call 60 Minutes' office in Tel Aviv for that information.
Later on Monday, CAMERA contacted the CBS communications department (via email) for the name of someone we should contact about 60 Minutes' "source" at Israel's Ministry of Defense. We have received no response.
So we are left with Radliffe's statement that the Israeli Ministry of Defense is the source of the error that appeared in the 60 Minutes episode.
This seems pretty incredible. The idea that the Israeli Ministry of Defense would provide such an obvious misstatement of fact about the security barrier just does not make any sense.
Why?
Well, the Ministry of Defense has a map of the security barrier's route on its website!
And the map clearly shows that the security barrier does not "completely surround Bethlehem."
Here it is: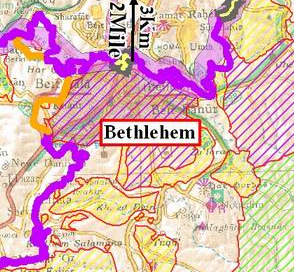 A map of the security barrier around Bethlehem from the Ministry of Defense website.
Is it possible that someone working for the Ministry of Defense gave the wrong information to someone at 60 Minutes?
Sure! It's not very likely, but it is possible.
But who? Who are the someones we are talking about?

Posted by dvz at 11:35 AM | Comments (5)
May 01, 2012
Where's the Coverage? PA Celebrates "Achievements" of a Master Terrorist

On May 6, 1994, The New York Times covered the Oslo Accord. The article, "MIDEAST ACCORD: THE ACCORD; P.L.O. Vows To Restrain Foes of Pact," began as follows:
In the self-rule accord that it signed with Israel on Wednesday, the Palestine Liberation Organization commits itself unequivocally to block attacks on Israelis and Jewish settlements, to disband armed guerrilla groups and to stifle anti-Israel propaganda in the areas it controls.
Let's look into efforts to "unequivocally" "stifle anti-Israel propaganda."
April 16 was the anniversary of the death of Khalil al-Wazir, better known as Abu Jihad, a murderer who planned and directed multiple terrorist attacks on Israel and Jews that killed 125. Instead of condemning his activities or even letting the occasion pass unmarked, the Palestinian Authority commemorated his "achievements."
According to Palestinian Media Watch:
During the week of the anniversary of the death of PLO arch-terrorist Abu Jihad, the Palestinian Authority held events and broadcast TV programs celebrating him and his terror attacks. One of the striking components of the Abu Jihad festivities was the presentation of the 125 Israeli civilians and soldiers killed in terror attacks he planned and directed, as a positive achievement. Six sporting events were also held in his honor.
The official Palestinian Daily newspaper Al-Hayat Al-Jadida wrote on April 16, 2012:
Among the military operations planned by Abu Jihad: the explosion at the Zohar reservoir in 1955; the operation to blow up the Israeli National Water Carrier in 1965; the operation at the Savoy Hotel in Tel Aviv, which killed 10 Israelis, in 1975; the blowing up of a truck bomb in Jerusalem in 1975; the killing of Albert Levi, the senior sapper, and his assistant, in Nablus in 1976; the Dalal Mughrabi operation, in which more than 37 Israelis were killed, in 1978; the shelling of the Eilat Port in 1979; the Katyusha fire on the northern settlements [in Israel] in 1981 and the capture of 8 Israeli soldiers in Lebanon, and their exchange for 5,000 Lebanese and Palestinian prisoners and 100 of the detainees from occupied territory in 1982. He planned the infiltration and bombing of the headquarters of the Israeli military governor in Tyre, leading to the deaths of 76 officers and soldiers, including 12 senior officers, in 1982; he led the war of attrition during the years 1982-1984 in southern Lebanon, and planned the Dimona Reactor operation in 1988.
That's a lot of killing. Naturally, you'd want to have a ping pong tournament to honor this man. There was one. In fact, Al-Hayat Al-Jadida reported on April 12, 2012:
The anniversary of the Martyrdom-death of our people's legendary leader, Khalil Al-Wazir, Abu Jihad, is approaching, and in its honor the sports organizations in Palestine are organizing many tournaments in diverse branches of sports...
The narrator of a documentary produced under the auspices of Ashraf Jum'a, a member of the Palestinian parliament from the ruling Fatah party, and broadcast on official Palestinian Authority Television intones:
[Abu Jihad] was the mastermind of the armed struggle against Israel. He is a symbol of Palestinian armed struggle. Abu Jihad fell as a Martyr, and symbolized the generation of the fighting commanders who adopted the path of resistance as the first and last solution for the nation's cause. He was known as a tough fighter and an extraordinary commander who was always in a state of war and never lost his way.
Violence and killing are "the first and last solution." At best, this celebration of the murder of Israelis and Jews is "an obstacle to peace" or "unhelpful." More honestly, it's immoral and despicable. At the very least, it is a violation of the Oslo Accord. It doesn't "stifle anti-Israel propaganda," it is anti-Israel propaganda. By any measure, this is newsworthy.
Where's the digust? Where's the outrage? Where's the coverage?
Posted by SC at 09:24 PM | Comments (1)