« Israel Critic Rami Khouri is Upstaged by an NPR Listener | Main | CAMERA's International Letter-Writing Director's Op-Ed Published in The Jerusalem Post »
April 16, 2012
Ostensible Palestinian Democracy Persecutes Bethlehem Church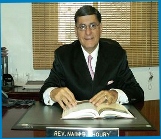 Pastor Khoury at desk and shown at Bethlehem's First Baptist
Church with congregants and Christian American supporter
The Palestinian Authority runs a virtual one-party administration over West Bank Arabs, unimpeded by an independent supreme court or a free news media, restricts civil liberties and gives only lip service to freedom of worship. For example, the International Christian Embassy Jerusalem reports:
The Palestinian Authority is refusing to renew the official registration papers of the First Baptist Church of Bethlehem, apparently due to its reluctance to join other Palestinian institutions in unfairly criticizing Israel. ... Such renewals are normally routine, and no official reasons were given for the denial. If [the decision is] left to stand, the result could mean the church cannot register births, marriages and deaths of its congregants. This could prove problematic as the PA requires that residents indicate affiliation with a certain religion on identification papers and other civil documents.
Pastor Naim Khoury, a relative rarity among Palestinian Arabs as a churchman who voices no hostility toward Jews and Israel, has witnessed violent attacks upon his Bethlehem church.
Israeli news media, for example, the Jerusalem Post Christian Edition, have reported on the persecution of the Bethlehem Baptist Church but the silence of Western mainstream media on the matter is pervasive.
Posted by MK at April 16, 2012 02:54 PM
Comments
They should take the PA to court . The whole world needs to know .....
Posted by: R. at April 19, 2012 09:47 AM
Guidelines for posting
This is a moderated blog. We will not post comments that include racism, bigotry, threats, or factually inaccurate material.
Post a comment