« Ha'aretz Fuels 'War of Extermination' Falsehood | Main | Hidden in Translation: Robert Mackey Comes to Ahmadinejad's Aid »
April 18, 2012
Of AFP and Medical Documentation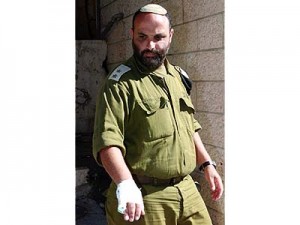 Photo courtesy of Jewish Press
Not long ago, AFP sought refuge behind a shady Palestinian Ministry of Health "medical certificate" to defend its discredited photo caption.
Today, curiously, AFP entirely ignores medical documentation dealing with a separate violent incident (this one real) in the West Bank. Concerning Israeli army Officer Shalom Eisner, who has just been dismissed from duty, AFP states:
According to footage shot by a Palestinian cameraman which was posted on YouTube, Eisner is seen suddenly smashing his M-16 rifle into the face of a young Danish demonstrator in an apparently unprovoked attack.
True, the now viral YouTube video does not show any provocation on the part of the Danish demonstrator. But many media outlets reported that according to Eisner, an activist broke his finger before Eisner struck him. And, as reported in Ha'aretz in English, "The TV report showed a document indicating his finger had been broken." Andreas Ayas, the Dutch activist, said Eisner's accusation that he broke his finger is a "direct lie."
Funny, isn't it, AFP's curioulsy selective interest in medical documents and broken bones when it comes to disputed accounts.
Posted by TS at April 18, 2012 08:14 AM
Comments
And AFP's behavior surprises us because...
Posted by: Ben N at April 18, 2012 05:44 PM
What is AFP? I could, and did google it, and there are several possibilities. American Free Press seems to be the one that is pertinent here, but why do I have to look it up? Tell a reader yourself, okay?
Posted by: Carl Sesar at April 19, 2012 10:59 AM
Carl Sesar, you, (or your namesake) seem to blog prolifically, on The Jerusalem Post, blogs by Sarah Honig, Ron Rosenbaum, etc. One would have thought you might be more well-educated and widely read, but, always here to help. AFP = Agence France Press.
Oh, and BTW, if you were to actually google it, here is what come up on the very first page:
AFP may refer to:
Contents [hide]
1 Media
2 Medicine
3 Military forces
4 Police organizations
5 Music
6 Political organizations
7 Technology
8 See also
[edit]Media
Agence France-Presse, a news agency
American Family Publishers, a magazine subscription company
Advertiser funded programming, a television funding model
American Family Physician, a semimonthly, peer-reviewed journal of the American Academy of Family Physicians
Australian Family Physician, a peer-reviewed journal of the Royal Australian College of General Practitioners
American Free Press, a weekly newspaper
America's Funniest People, an American television reality show from the 1990's
AFP: American Fighter Pilot, a 2002 American television reality show
AFP (TV series), a 2011 Australia factual television series"
Why the attitude, Carl?
Posted by: Anonymous at April 21, 2012 09:19 AM
Agence France-Presse. Thank you.
Look who's talking about attitude.
Posted by: Carl Sesar at May 18, 2012 04:31 PM
Guidelines for posting
This is a moderated blog. We will not post comments that include racism, bigotry, threats, or factually inaccurate material.
Post a comment