« Mrs. Bashar al-Assad: Fashion Media Spikes Heel | Main | Ha'aretz's Lousy Headline »
April 02, 2012
Video Exposes Northeastern Univ Holocaust Offenses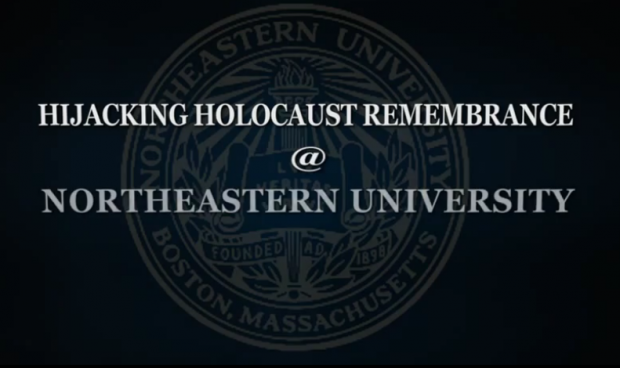 A new video exposes reckless disregard for scholarship and ethics at another university, continuing a trend. Northeastern University in Boston accepted funds for a Jewish Studies Chair from a donor concerned about preserving memory of the Holocaust, then allowed biased faculty and negligent administrators to "pervert" the clear aim of the donor, enlisting anti-Israel speakers who equated Israeli conduct with that of the Nazis.
Hijacking Holocaust Remembrance was produced by Americans for Peace and Tolerance. It lays out the disturbing story, citing the extreme anti-Israel speakers presented and an event that brought the matter to a head. Filmmaker Yoav Shamir and his anti-Israel work, Defamation, claiming Jews exploit the Holocaust to justify Israeli aggression were to be featured during Holocaust Remembrance Week in 2011. When Steven Stotsky, whose father had given Northeastern the Jewish Studies chair (and who is a Senior Research Analyst at CAMERA) discovered all this he wrote a column for the Boston Jewish Advocate. Shamir didn't, in the end, appear as a Holocaust comemoration speaker, but he and his film -- lauded on neo-Nazi Web sites -- were given a platform later in the year.
Posted by AL at April 2, 2012 06:50 PM
Comments
The link to the column written for the Jewish Advocate is bad. It is currently:


mailto:http://www.thejewishadvocate.com/news/2010-12-24/Editorials/Defaming_the_Holocaust.html


Obviously the mailto portion should be removed as this launches an email service when one clicks the link. Unfortunately a paid subscription is required to view the full article.
[CAMERA: Thanks. Corrected.]
Posted by: anon at April 3, 2012 12:41 AM
Looking forward to reading about the law suit filed by Mr. Stotsky against Northeastern and the speakers for misappropriation of funds. How utterly without integrity, compassion and morals it is to deliberately manipulate the tragedy of the Shoah in order to present an anti-Israel and anti-Semitic program. Shame on Northeastern.
Posted by: Jewess at April 3, 2012 06:00 AM
Sociologists have long maintained that the Jews who were in the special commando jobs assisting the Nazis with the Holocaust had adopted to survive but through the trauma aspired to become more like the murderers they were forced to assist. It was supposed the victims wanted to become like the murderers. I was taught that in a sociology class 30 years ago; it's sociological nonsense based on a perversion of transferal theory. It can not explain why so many SS on the run found sanctuary and employment in the UAR and other Islamic nations, indeed the Mufti of Jerusalem who spent the war years in Berlin raised two SS divisions in the Balkans for Himmler; greatly accelerating the crisis that followed, 50 years later. Despite the Nazification of Islam little mention is ever made of it. For instance how many people know the nephew who adored his Uncle the Mufti of Jerusalem was Yasser Arafat?
Did the Holocaust traumatize the Jewish people, of course it did, did it turn them into Nazis because it was a matter of survival,hogwash. There is more evidence today the Islamists have been Nazified and it is found in the expressions of Ayatollah's and other leaders, "Death to Israel", "Kill all the Jews". How can such utterances be pro-Palestinian, how can such utterances be pro-anything?
Posted by: jeb stuart at April 5, 2012 11:38 AM
By the way, this is the same Northeastern University which employed an extremist Muslim as chaplain for the spiritual needs of its students. I wrote and called them several times, was promised a reply and have never received one. Therer seems to be some rot there.
Posted by: Davidka at April 5, 2012 01:47 PM
Guidelines for posting
This is a moderated blog. We will not post comments that include racism, bigotry, threats, or factually inaccurate material.
Post a comment