« Ha'aretz Online Short on Space? | Main | Mrs. Bashar al-Assad: Fashion Media Spikes Heel »
April 01, 2012
NBC World Blog Reports Disputed Land Claims as Fact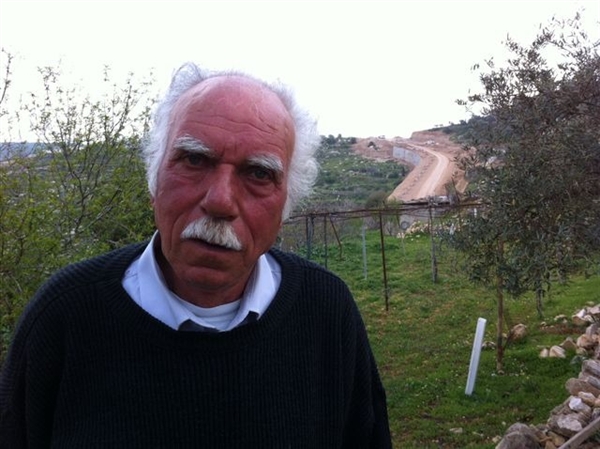 NBC's World Blog reports as fact a Palestinian farmer's disputed claims about expropriation of his land in Walaja:
But 70-year-old Abu Nidal doesn't need a special calendar day to remind him of the Israeli occupation and their confiscation of his land. Nidal just needs to wake up every morning and look outside his window to see how the Israelis are confiscating his land.

He lives in the village Al Walaja, nestled in the hills between Jerusalem and Bethlehem. Half of the village of just over 2,000 is considered to be part of Jerusalem and the other half is part of the West Bank. So now the Israeli security wall snakes through the village. . . .

It was his grandmother's wish that every family member be buried on their 11-acre farm land. But the Israelis have a different plan for the confiscated land. They are planning to build not only the wall, but a recreational park for Israelis on the other side of the wall.
But, as reported in Ha'aretz, authorities state that the plans for the park "do not call for the expropriation of privately-owned land":
Ir Amim says 1,250 dunams were added to the park plan about a year ago. The fence will cut villagers off from agricultural land and the park, which are on the Israeli side of the separation fence, Ir Amim says.

The groups says residents lost access to their land inside Jerusalem when sites were declared national parkland. But the development authority says the entire park is within Jerusalem's municipal boundaries and that the plans do not address land ownership.

They also do not call for the expropriation of privately-owned land, the authority says.

"In any event, there is no intention to expropriate privately-owned land," the authority said in a statement. "Most of the area already serves as a national park, and the expansion is being carried out to protect nature and the landscape." . . .

But Ze'ev Hacohen, a planner at the Israel Nature and Parks Authority, noted that Walaja residents would still be able to work their land.

He said the village's farmers would be able to cross the fence at a gate, although he acknowledged that the barrier would make access more difficult.
Abu Nidal goes on to suggest that Israel's courts never rule in the favor of Palestinians, a blatantly false claim, which NBC's Paul Goldman does not contradict:
This Friday when demonstrators take to the streets commemorating Land Day, Nidal won't join them; his battle is being waged in the Israeli courts. But he pointed out that his case doesn't have much of a shot. "The court is Israeli, the judge is Israeli and the lawyers are Israelis. It's a losing battle."
In fact, there is no shortage of examples in which Israeli courts ruled in favor of Palestinians.
Posted by TS at April 1, 2012 04:33 AM
Comments
yup he's right, all the judges and lawyers are israelis. some of them arab-muslim-israelis, some jewish-israelis, some arab-christian-israelis, and so on.
I guess this Abu Nidal guy has a problem with all israelis.
Posted by: omer at April 2, 2012 08:50 AM
"Journals" like the MSNBC World Blog can get away with lying and therefore promoting an agenda of falsehoods because they are written by "bloggers" and not "journalists." A real journalist would have gone through the painstaking excercise of actually corroborating evidence, double checking for factual accuracy. Alas, that is not the purpose of MSNBC World Blog-- nor any other blog. Blogs need traffic to justify advertising rates. And traffic, in terms of Middle East news, run on the fumes of bullsh*t. Good luck getting a retraction, though. I've been complaining to MSNBC about their comments section being overtly anti-Semitic for about 4 months now, and have gotten no response from them whatsoever.
Posted by: Asher Garber at April 2, 2012 12:07 PM
Guidelines for posting
This is a moderated blog. We will not post comments that include racism, bigotry, threats, or factually inaccurate material.
Post a comment