« Jackson Diehl on Abbas's Responsibility | Main | Hamas and The Forward Agree: Karl Vick Mischaracterizes Hamas »
April 20, 2012
Despite Assurances by NYT and Guardian, Hamas Still Rejects Israel

In his interview with The Forward, senior Hamas leader Mousa Abu Marzook explained that his organization would not honor a peace treaty signed by Israel and the Palestinian Authority, and reiterated, yet again, the group's rejection of Israel:
Any agreement reached between Israel and the Palestinian Authority will be subject to far-reaching changes if Hamas comes to power in a democratic Palestinian state, a top Hamas leader told The Forward in an exclusive and wide-ranging interview.

Mousa Abu Marzook, considered Hamas's second-highest-ranking official, said that his group would view an agreement between Israel and the P.A. — even one ratified by a referendum of all Palestinians — as a hudna, or cease-fire, rather than as a peace treaty. In power, he said, Hamas would feel free to shift away from those provisions of the agreement that define it as a peace treaty and move instead toward a relationship of armed truce.

"We will not recognize Israel as a state," he said emphatically. "It will be like the relationship between Lebanon and Israel or Syria and Israel."
Wait... but what about this?
And what about this?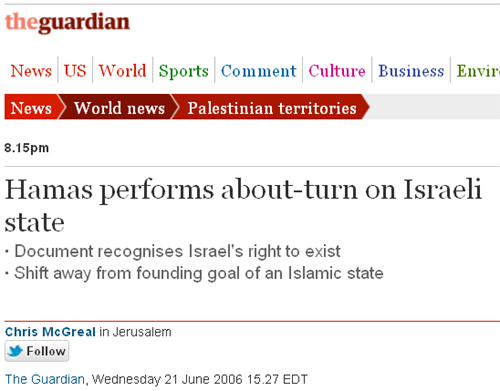 And this?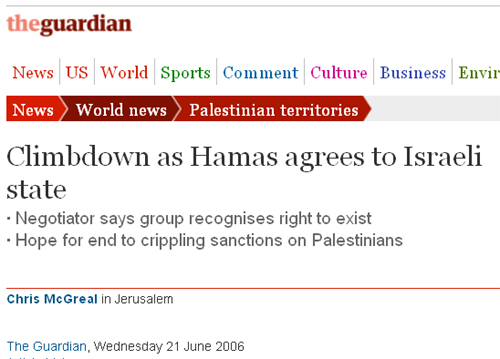 Those headlines were unprofessional and just plain wrong at the time, and still are today.
Here are just a few of the historical Hamas statements that dovetail with Marzook's latest comments:
• Hamas leader Ismail Haniyeh explained in December 2010, "We said it five years ago and we say it now ... we will never, we will never, we will never recognize Israel."
In a December 2010 statement, the group noted, "We say that Palestine from the sea to the (Jordan) river is fully the land of the Palestinians. We will cede none of it, and we will not recognise the so-called state of Israel."
• Hamas leader Mahmoud al-Zahar said in November 2010 that the Jews "have no place among us...and no future among the nations." Where are the Jews to go? Al-Zahar predicts: "You are about to disappear, and we are about to emerge victorious."
• Zahar also said in June 2010, "Our plan for this stage is to liberate any inch of Palestinian land, and to establish a state on it. Our ultimate plan is [to have] Palestine in its entirety. I say this loud and clear so that nobody will accuse me of employing political tactics. We will not recognize the Israeli enemy."
• A November 2007 Hamas statement asserted, "It is not shameful to correct a mistake. Palestine is Arab-Islamic land from the river to the sea, including Jerusalem, and Jews have no place there"
• Khaled Meshal in December 2006 called Israel a "cancer that must be pulled out by its roots."

Posted by GI at April 20, 2012 12:03 PM
Comments
Guidelines for posting
This is a moderated blog. We will not post comments that include racism, bigotry, threats, or factually inaccurate material.
Post a comment