« Where's the Coverage? State-Sanctioned Police Brutality in the Middle East | Main | Jackson Diehl on Abbas's Responsibility »
April 19, 2012
Why Did Ha'aretz Bury Fogels' Funeral?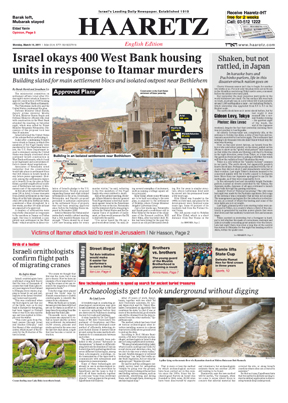 Ha'aretz front page, March 14, 2011. Migrating birds took precedence over Fogel's burial
Publisher Amos Schocken explains why his paper Ha'aretz prioritized coverage of the Japanese tsunami over the shocking murders of the Fogel family on March 13, 2011:
"The role of a newspaper as I understand it, and as Ha'aretz has understood throughout the years, even before I became responsible for the paper, even when my father was there… is not to give expression to emotionalism and feelings, but to give readers information about the important things. To set some sort of hierarchy of importance.

"With all due respect for the family at Itamar, when you compare that event, which was very grave – it was not the first time that Palestinians murdered Jews... It was a shocking case... Among others, there was the case of the father and the son who were killed in a car. These things do occur. And when you compare it in importance to the tsunami in Japan, with all due respect to our identification with the family in Itamar, this is an event that carries much more weight.

"The role of Ha'aretz is also to provide a perspective of how important things are in the world we live in," he went on. "What is the role of a newspaper, after all? To give the reader some kind of picture of reality that is as faithful to reality as is possible. It is clear that our feelings can be with the victims of the tsunami in Japan and of course can be with the family in Itamar, and of course, it was a shocking murder.

"If you weigh the two events in terms of their true importance, then with all due respect, there is no comparison. With the tsunami in Japan, not only did more people perish there, but it is an event whose importance goes beyond just how many people it occurred to at that moment."
By that logic, the New York Times and the Times of India, for example, should have the same priority for news stories despite their different locations. But, nevermind. Schocken's explanation still does not address Ha'aretz's priorities the following day, in which bird migration and technological advances in archeology, along with settlement building, were more prominently covered than the Fogel funeral, attended by more than 20,000 Israelis.
Presumably, then, the "true importance" of bird migration outweighed that of the Fogel's mass funeral.
Posted by TS at April 19, 2012 08:30 AM
Comments
Sad that Ha'aretz could not find some small space on its front page to acknowledge the funerals after the vicious and fiendish attack on the Fogel family by Moslems primed to kill adults and children who were Jews.
Posted by: BGEN Arthur Gerwin, USAF (Ret.) at April 19, 2012 11:05 AM
If 2 Israeli's invaded a Palestinian house and murdered two Arab parents and beheaded a 3 month old Arab baby, do you think Haaretz would have been talking about Japan? I dont think so.
The sad reality is, Arab terrorism and Arabs massacring Jewish families dont bother the owners of Haaretz.
Posted by: Dan Kelso at April 19, 2012 11:13 AM
Israel hater Gideon Levy did the same thing as the article mentioned.
When the Fogel massacre happened and Levy knew it was Palestinians who committed the massacre, Levy reported about the Japan Earthquake instead.
We all know this was diversion to the atrocities the Palestinians committed at Itamar.
As Post number 4 said, Gideon Is writing about Japan an excuse to avoid writing about the murder of Israeli children who are the victims you should be talking about.
zionist forever
14.03.11
http://www.haaretz.com/print-edition/news/japan-a-nation-of-calm-amid-a-flurry-of-catastrophes-1.349020
Posted by: Ed Frias at April 19, 2012 11:18 AM
The comments by Mr. Shocken, defending why HAARETZ failed to provide front page coverage of the Fogel family funeral is shocking. A 4 month old, and 4, 8, and 11 year old children had their throats slit; 20,000 Israelis were mourning the death of the Fogel parents and their children at the funeral. Most of the world offered special prayers for the tragic events that occurred in Itamar. As I sit here writing this comment on Yom HaShoah all the dreaded monsters of 7 decades ago race through my mind, the burnings, the shootings, the hangings,the starving of 6,000,000 of our brothers and sisters race through my mind. For a noted Israeli newspaper to de-prioritize the Fogel funeral while newspapers in other nations covered the funeral as a front page tragedy is shocking, Mr. Shocken.
Charles L. Richman, Ph.D.
Research Professor
Wake Forest University
Winston-Salem, NC USA
Posted by: charles richman at April 19, 2012 12:34 PM
Guidelines for posting
This is a moderated blog. We will not post comments that include racism, bigotry, threats, or factually inaccurate material.
Post a comment