« CAMERA's International Letter-Writing Director's Op-Ed Published in The Jerusalem Post | Main | Ha'aretz Fuels 'War of Extermination' Falsehood »
April 17, 2012
40% of Europeans Think Israel Conducting "War of Extermination" (Against Fast-Growing Palestinian Population)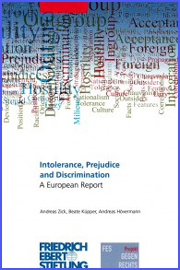 A stunningly high percentage of Europeans believe Israel is engaged in a war of extermination against the Palestinians, according to a new study by the German-based Friedrich Ebert Foundation. This despite the soaring population growth in the West Bank and Gaza Strip.
The Times of Israel reports:
"[A]round 40% of respondents in most participating countries affirm the drastic assessment that the Israeli state is conducting a war of extermination against the Palestinians,� the study's authors write.

In Poland, the number of respondents who agree with the claim of an Israeli "war of extermination� is even higher, at 63%. Nearly half of the German respondents — 48% — agreed with the statement. The number was 49% in Portugal, 42% in Britain, 41% in Hungary, 39% in Holland and 38% in Italy.
In reality, as even a Norwegian NGO that's hostile to Israel admits, "the Palestinian population of the West Bank and Gaza Strip has long had some of the highest growth rates in the world, due to a combination of high fertility and low mortality."
So we might surmise that Israel's military is so inept that its "war of extermination" is actually causing a population boom.
Or alternately, maybe it's time for a rethink by those who believe that European media coverage of Israel, because it treats Israel more harshly and stridently, is more informative than its American counterpart.
Posted by GI at April 17, 2012 10:00 PM
Comments
The Europeans are upset that killing Jews is no longer a sport and that Israel can defend itself against Arabs that want to anihilate her.

Posted by: Ed Frias at April 18, 2012 09:20 AM
Guidelines for posting
This is a moderated blog. We will not post comments that include racism, bigotry, threats, or factually inaccurate material.
Post a comment