« March 2012 | Main | May 2012 »
April 30, 2012
California Public Radio Host Enables Anti-Israel Provocateur
Warren Olney, popular southern California radio personality, host of To the Point, distributed to public stations by Public Radio International (PRI), moderated a discussion on his show entitled "American Jews and Faith in Israel" on April 17.
The discussion consisted of what had been essentially a balanced debate between journalist Peter Beinart (advocates maximum accommodation to Palestinian Arab demands in order to achieve a formal peace agreement) and Daniel Gordis, vice president of Jerusalem's Shalem Center (opposes Beinart's view) until shortly after midway in the segment, when anti-Israel provocateur Rae Abileah entered the broadcast with a lengthy rant including the canard that Israel "routinely denies human rights to Palestinians."
Abileah's tirade elicited no response from either Beinart or Gordis, nor were they prompted to do so by Olney. A newly arrived guest, pro-Israel student activist Aaron Taxy, provided only a mild and brief response.
Olney not only provided Abileah with an unchallenged propaganda platform but also with the last word of the discussion. Abileah's closing polemics included histrionics regarding American military aid to Israel, which she charged is an issue "to American taxpayers today on tax day." Such a claim disregards the fact that aid to Israel, roughly $3 billion in the $3.6 trillion federal budget, amounts to less than 0.1 percent of government spending and has been absent from political rhetoric in recent campaigns. She also alleged that U.S. military aid is mainly used to support what she falsely claims is "daily segregation and oppression" of Palestinian Arabs. Arabs in the Gaza Strip are ruled by a Hamas-led government that attempts to impose stricter Islamic practices; the daily lives of those in the West Bank are administered by the Palestinian Authority. West Bank Arabs can come into contact with Israeli troops attempting to halt anti-Israel terrorism. Those forces, that have aborted many attempted attacks, are not "segregating" or "oppressing" West Bank Arabs.
Furthermore, Olney's audience was not told that, as Richard Baehr, chief political correspondent for the American Thinker Web site, and others have pointed out, one-side blaming of Israel for the absence of an Israeli-Palestinian peace agreement has been a profitable career move for Beinart and others in academia and the news media who hold similar views.
To listen to the 35-minute discussion, click here (the discussion's audio time line in this 51-minute broadcast clip is 7:25 to 42:10).
PRI can be contacted here; Warren Olney can be contacted here.

Posted by MK at 05:24 PM | Comments (1)
Unfortunate Headline of the Day
Edmund Sanders, the Los Angeles Times' Jerusalem bureau chief, gives Sheik Raed Salah, the extremist leader of the northern branch of the Islamic Movement in Israel, a pretty tough interview, making the following headline all the more ludicrous:
Sanders, who queries Salah about his views on Israel's right to exist and on accusations that he is anti-Semitic, at least qualifies Salah's stated plans: "The former Umm al Fahm mayor told the Los Angeles Times that he is preparing to resume his campaign to organize Arab Israelis against what he sees as systematic discrimination."
But the headline writer, <sarcasm> undoubtedly limited by space constraints </sarcasm>, simply lobs off the qualification, turning the radical Sheik who regularly incites into a kumbaya advocate of goodwill and equality.
In his "anti-discrimination campaign," can we look forward to more of his anti-Semitic conspiracy theories blaming Jews for 9/11? Or more fundraising for Hamas?
May 1 Update: Good news! Following communication from CAMERA, the Los Angeles Times replaced the tendentious headline with an impartial one:
Posted by TS at 05:07 AM | Comments (1)
April 27, 2012
Where's the Coverage? Palestinian Authority Hands Down Death Penalty for Land Sale to Jews

In an article "celebrating" Israel's 64th Independence Day, "Israel's Big Day, Under Sun and Cloud" (April 26, 2012), the New York Times could not refrain from taking a number of jabs at Israel, including the obligatory swipe at "the settlements":
Israel's settlement building in the West Bank drew more international condemnation this week after the government retroactively legalized three Jewish outposts there. The Palestinians described the move as another example of why there is no peace.
This description is, at the least, simplistic. The communities had been authorized and approved by prior governments in the 1980s and 1990s but were missing some additional paperwork to formalize their status. The spokesman for the Prime Minister's office, Mark Regev stated, "You can't tell me that the Israeli government has built new settlements, and you can't tell me that this is legalizing unauthorized outposts. These decisions are procedural or technical. They don't change anything whatever on the ground."
While this story was all over the media, another story about homes in the West Bank was completely ignored.
A Palestinian man, Muhammad Abu Shahala, reportedly confessed under torture to selling his home in Hebron to a Jewish man. He has been sentenced to death after a hurried trial. Caroline Glick writes on her blog:
The PA was established in May 1994. The first law it adopted defined selling land to Jews as a capital offense. Shortly thereafter scores of Arab land sellers began turning up dead in Jerusalem and Judea and Samaria in both judicial and extrajudicial killings.

Leaders of the Jewish community of Hebron wrote a letter to international leaders this week asking them to intervene with PA Chairman Mahmoud Abbas and demand that he cancel Shahala's sentence. They addressed the letter to UN Secretary-General Ban Ki-moon, US Secretary of State Hillary Clinton, President of the European Council Herman Van Rompuy, the director-general of the International Red Cross, Yves Daccord, as well as Prime Minister Binyamin Netanyahu and President Shimon Peres. In it they wrote, "It is appalling to think that property sales should be defined as a 'capital crime' punishable by death.

"The very fact that such a 'law' exists within the framework of the PA legal system points to a barbaric and perverse type of justice, reminiscent of practices implemented during the dark ages."

They went on to make the reasonable comparison between the PA's law prohibiting land sales to Jews to Nazi Germany's Nuremburg laws that constrained and finally outlawed trade between Jews and Germans. The letter concluded with the question, "Is the Palestinian Authority a reincarnation of the Third Reich?"
Certainly this is newsworthy. Yet a search of the New York Times Web site turn up zero matches for the search term "Muhammad Abu Shahala," only asking if you meant someone else.
Similarly, a search of the Washington Post Web site also turned up zero matches for "Muhammad Abu Shahala."
And a search on the Wall Street Journal Web site returned, "Sorry, there are no results for your search query, please try another search."
Maybe the fact that even the sale of property by a Palestinian to a Jew is a crime punishable by death under the Palestinian Authority is "another example of why there is no peace." And remember, this is the "moderate" regime to which Israel is supposed to make concessions.
Where's the good sense? Where's the tolerance? Where's the coverage?

Posted by SC at 05:26 PM | Comments (8)
Malcolm Lowe on Mitri Raheb's Trail
Rev. Mitri Raheb, a Lutheran pastor in Bethlehem at the Presbyterian Church (USA)'s 2010 General Assembly. (Dexter Van Zile)
When it comes to documenting the troubling aspects of Lutheran Pastor Mitri Raheb's commentary about the modern state of Israel, Malcolm Lowe is the go-to man.
Lowe, a New Testament scholar who lives in Jerusalem with his wife Petra Heldt, a renowned scholar and teacher in her own right, has been keeping a tab on the anti-Zionist leanings of prominent Palestinian Christians for quite some time.
In 2003 he wrote an essay that was published in a reprint of James Parkes' book End of an Exile: Israel, the Jews and the Gentile World (Micah Publications, 2005). In this essay, Lowe documents how Geries Khoury, a Greek Catholic layman, described the First Intifadah as "a manifestation of the Holy Spirit." Khoury did this in his book, The Intifadeh of Heaven and Earth (Al-Hakim, 1989)
Lowe writes the following:

The cover of Khoury's book consists of a photograph of a church tower on which the PLO flag has been hoisted. I recognized the building as a Catholic church in Bethlehem on which I had seen numerous Arabic graffiti, only they had been too high up for me to read from the ground. With the aid of a magnifying glass, I now discovered that church and tower were covered with Islamic slogans such as "Islamic jihad!" and "Allah is the greatest!"

Unwittingly, perhaps, the Catholic Khoury thus chose to symbolize his Palestinian liberation theology with the desecration of a Catholic church by Muslims, a desecration perpetrated in the name of the intifada that his book glorifies. This egregious slip-up is as revealing as it is absurd. It accurately typifies how the book desecrates the Christian vocabulary in the service of the Islamic jihad against Israel, regardless of the damage done to the church.
Khoury's use of Christian theology and scripture to legitimize violence against Israel did not prevent him from participating in a number of ecumenical events organized by the Holy Land Christian Ecumenical Foundation and even the World Council of Churches.
Officials at these organizations must not have read Lowe's 2003 essay. Go figure.
Lowe's research could have been particularly helpful to CBS reporter Bob Simon who lionized Mitri Raheb as a peacemaker in a recent segment on 60 Minutes. Lowe has written a total of three articles about Raheb that have appeared in the Gatestone Institute. Two of these articles appeared well before the segment aired.
The first of Lowe's articles on Raheb came in November 2011. In this piece , Lowe draws attention to how Raheb used an argument based on DNA to assail the Jewish connection to the land of Israel. He also details how Raheb tries to depict the Palestinians as the new chosen people. Lowe writes that Raheb's "fundamental aim" is to
show that wherever the Bible talks about a Chosen People, it means today's Palestinians and specifically the Palestinian Arab Christians. Yes, he really means to make that preposterous claim. Consider a few quotations, and note that his initial inclusion of "part of the Jewish people" has vanished: now it is just Palestinians."

"Actually, the Palestinian Christians are the only ones in the world that, when they speak about their forefathers, they mean their actual forefathers, and also the forefathers in the faith." "So, that is the reality of the peoples of the land. Again, they aren't Israel. This experience I'm talking about, it's only the Palestinians who understand this, because Israel represents Rome." "It was our forefathers to whom the revelation was given..."

If one reads attentively all the "Palestinian theology" produced by Raheb and Ateek and their like, one finds that this claim about Palestinian chosenness, with the concomitant disqualification of Israel, is the whole point of the exercise.
Lowe again drew attention to Raheb's use of an argument based on DNA to denigrate the Jewish connection to the land of Israel in another piece, this one published in January 2012 after a German media company decided to give Raheb an award for his status as a "quiet peacemaker."
In a more recent piece, this one published on April1 18, also at the Gatestone Institute, Lowe details the controversy surrounding the award described above.
In particular, Lowe describes how the decision of former federal German president, Prof. Roman Herzog, to participate in the award ceremony on Feb. 24 provoked complaints from leaders in Germany. According to Lowe Raheb's critics "include pastors and theology professors" who "wrote individually in addition to the protests sent by the boards of associations."
Lowe's most recent article may have come out to late to have an impact on Simon's reporting at 60 Minutes, the articles linked to in Lowe's article indicate quite clearly that not everyone regards Raheb as the peacemaker Bob Simon portrayed him as being.
Did anyone at 60 Minutes vet Mitri Raheb?
Posted by dvz at 01:51 PM | Comments (1)
April 25, 2012
The Guardian: "Jerusalem is not the Capital of Israel, Tel Aviv is"
CAMERA and many others routinely expose the subterfuge at the heart of The Guardian's coverage of Israel. This deceit was clearly demonstrated in a correction issued for a photo caption appearing on April 20 which inadvertently revealed that Jerusalem was the capital of Israel.
On April 23, The Guardian issued this correction:
The caption on a photograph featuring passengers on a tram in Jerusalem observing a two-minute silence for Yom HaShoah, a day of remembrance for the 6 million Jews who died in the Holocaust, wrongly referred to the city as the Israeli capital. The Guardian style guide states: "Jerusalem is not the capital of Israel; Tel Aviv is" (Eyewitness, 20 April, page 24).
Israel's Knesset and government resides in Jerusalem. That is a material fact. The Guardian could have remained consistent with its hostile stance towards Israel by stating that the paper does not recognize Jerusalem as the capital of Israel. But to deny reality by stating that Tel Aviv is the capital, when it demonstrably is not, provides an example of a news source allowing dogma to overrule physical reality. It is even more ironic that the photo caption dealt with the Holocaust, an incontrovertible reality subject to denial by individuals inimically hostile to Jewish interests.
Posted by SS at 02:34 PM | Comments (8)
April 20, 2012
Hamas and The Forward Agree: Karl Vick Mischaracterizes Hamas
From The Forward:
Abu Marzook was at pains to knock down suggestions in numerous media outlets that Hamas is preparing to abandon armed resistance against Israel in favor of mass popular resistance against Israeli rule.

A February 6 article by Time magazine correspondent Karl Vick about the "mainstreaming" of Hamas was one object of his disdain. In it, Vick played up comments by Meshal, who, at a November reconciliation meeting with Fatah leaders, praised the popular protests of the Arab Spring last year in Egypt and Tunisia as packing "the power of a tsunami."

"The new government emerging in Cairo may be dominated by Islamists," Vick wrote hopefully, "but it has pushed both sides to make up and adopt the nonviolent strategy against Israel, complete with negotiations."

For Abu Marzook, the November meeting in Cairo meant something "completely different." At the meeting, he said, the groups involved asked, "What kind of [activities] between us we can share together?" And mass civil resistance, it was decided, was one in which all could participate.

"We accept that," he said. "[It] can now make reconciliation easier." But giving up both the right and the opportunity to conduct military operations? "It doesn't mean that," Abu Marzook stated flatly.

Indeed, a careful look at the original Agence France Presse report from which Vick drew Meshal's comments reveals some important remarks the Time correspondent left out. "Now we have a common ground that we can work on," Meshal said then. But he added, "As long as there is an occupation on our land, we have the right to defend our land by all means, including military resistance."
Posted by GI at 01:04 PM | Comments (2)
Despite Assurances by NYT and Guardian, Hamas Still Rejects Israel

In his interview with The Forward, senior Hamas leader Mousa Abu Marzook explained that his organization would not honor a peace treaty signed by Israel and the Palestinian Authority, and reiterated, yet again, the group's rejection of Israel:
Any agreement reached between Israel and the Palestinian Authority will be subject to far-reaching changes if Hamas comes to power in a democratic Palestinian state, a top Hamas leader told The Forward in an exclusive and wide-ranging interview.

Mousa Abu Marzook, considered Hamas's second-highest-ranking official, said that his group would view an agreement between Israel and the P.A. — even one ratified by a referendum of all Palestinians — as a hudna, or cease-fire, rather than as a peace treaty. In power, he said, Hamas would feel free to shift away from those provisions of the agreement that define it as a peace treaty and move instead toward a relationship of armed truce.

"We will not recognize Israel as a state," he said emphatically. "It will be like the relationship between Lebanon and Israel or Syria and Israel."
Wait... but what about this?
And what about this?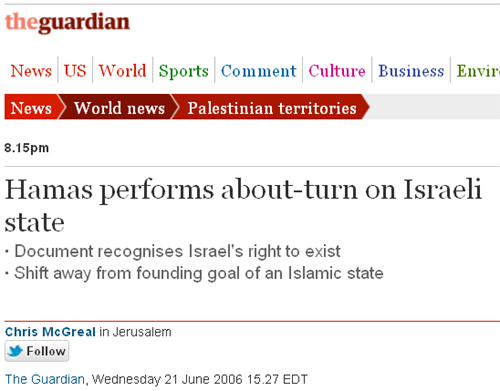 And this?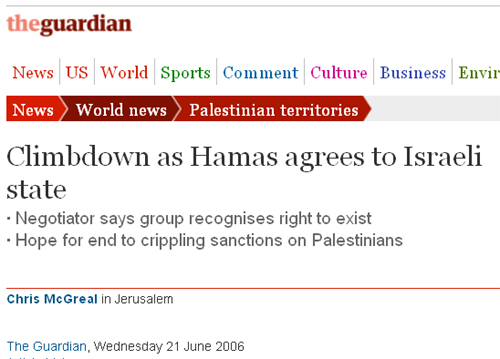 Those headlines were unprofessional and just plain wrong at the time, and still are today.
Here are just a few of the historical Hamas statements that dovetail with Marzook's latest comments:
• Hamas leader Ismail Haniyeh explained in December 2010, "We said it five years ago and we say it now ... we will never, we will never, we will never recognize Israel."
In a December 2010 statement, the group noted, "We say that Palestine from the sea to the (Jordan) river is fully the land of the Palestinians. We will cede none of it, and we will not recognise the so-called state of Israel."
• Hamas leader Mahmoud al-Zahar said in November 2010 that the Jews "have no place among us...and no future among the nations." Where are the Jews to go? Al-Zahar predicts: "You are about to disappear, and we are about to emerge victorious."
• Zahar also said in June 2010, "Our plan for this stage is to liberate any inch of Palestinian land, and to establish a state on it. Our ultimate plan is [to have] Palestine in its entirety. I say this loud and clear so that nobody will accuse me of employing political tactics. We will not recognize the Israeli enemy."
• A November 2007 Hamas statement asserted, "It is not shameful to correct a mistake. Palestine is Arab-Islamic land from the river to the sea, including Jerusalem, and Jews have no place there"
• Khaled Meshal in December 2006 called Israel a "cancer that must be pulled out by its roots."

Posted by GI at 12:03 PM | Comments (0)
Jackson Diehl on Abbas's Responsibility


The Washington Post's Jackson Diehl addresses those who refuse to see Palestinian leaders as actors with some responsibility for the consequences of their actions:
Abbas's defenders will claim that Netanyahu's right-wing government, and the Obama administration's inability to influence it, left him with few options. That's a canard. In fact, Abbas has never seriously tested the Israeli leader. He could have done that by fully committing to the negotiations the Obama administration tried to organize or to those sponsored by Jordan's King Abdullah this year. That would have forced Netanyahu to reveal his terms for Palestinian statehood — and brought real pressure to bear on him if they were unreasonable.

Instead, Abbas has repeatedly backed away from serious diplomacy, citing as an excuse Israeli settlement construction in Jerusalem and the West Bank — something that did not stop him from participating in negotiations with previous Israeli governments. He embarked on his unity-U.N.-intifada strategy on the premise that it would bring about Palestinian statehood without the need for negotiations with Netanyahu.

And, not for the first time, Mahmoud Abbas succeeded only in delaying Palestinian statehood — and weakening his own cause.
Posted by GI at 11:52 AM | Comments (0)
April 19, 2012
Why Did Ha'aretz Bury Fogels' Funeral?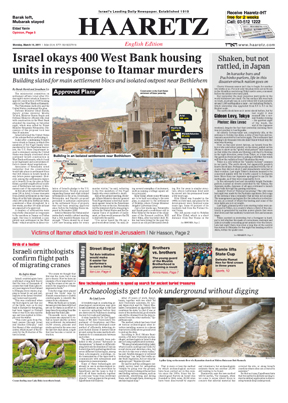 Ha'aretz front page, March 14, 2011. Migrating birds took precedence over Fogel's burial
Publisher Amos Schocken explains why his paper Ha'aretz prioritized coverage of the Japanese tsunami over the shocking murders of the Fogel family on March 13, 2011:
"The role of a newspaper as I understand it, and as Ha'aretz has understood throughout the years, even before I became responsible for the paper, even when my father was there… is not to give expression to emotionalism and feelings, but to give readers information about the important things. To set some sort of hierarchy of importance.

"With all due respect for the family at Itamar, when you compare that event, which was very grave – it was not the first time that Palestinians murdered Jews... It was a shocking case... Among others, there was the case of the father and the son who were killed in a car. These things do occur. And when you compare it in importance to the tsunami in Japan, with all due respect to our identification with the family in Itamar, this is an event that carries much more weight.

"The role of Ha'aretz is also to provide a perspective of how important things are in the world we live in," he went on. "What is the role of a newspaper, after all? To give the reader some kind of picture of reality that is as faithful to reality as is possible. It is clear that our feelings can be with the victims of the tsunami in Japan and of course can be with the family in Itamar, and of course, it was a shocking murder.

"If you weigh the two events in terms of their true importance, then with all due respect, there is no comparison. With the tsunami in Japan, not only did more people perish there, but it is an event whose importance goes beyond just how many people it occurred to at that moment."
By that logic, the New York Times and the Times of India, for example, should have the same priority for news stories despite their different locations. But, nevermind. Schocken's explanation still does not address Ha'aretz's priorities the following day, in which bird migration and technological advances in archeology, along with settlement building, were more prominently covered than the Fogel funeral, attended by more than 20,000 Israelis.
Presumably, then, the "true importance" of bird migration outweighed that of the Fogel's mass funeral.
Posted by TS at 08:30 AM | Comments (4)
April 18, 2012
Where's the Coverage? State-Sanctioned Police Brutality in the Middle East

Unless you've been living under a rock -- and even if you have been living under a rock in Israel -- you have heard of Lt. Colonel Shalom Eisner, recently dismissed from his post after a video showed him striking a Danish anti-Israel protester. There has certainly been a media firestorm over this event. In Maariv, Ben Dror Yemini writes:
Dear readers, we have gone mad. We have simply gone mad. Because there are also facts. And they too deserve respect.
The Danish ambassador has asked the Israeli authorities for an explanation of the incident. One wonders how the Danish authorities would seek explain this nearly 10-minute video of Copenhagen police clubbing protesters.
The truth is there can be no comparison between the isolated events on Route 90 near Jericho and the regular police policies in Bahrain…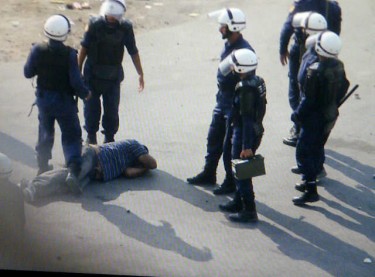 Egypt…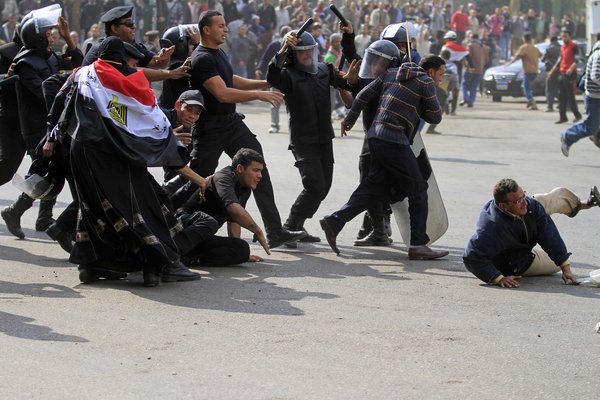 Iran…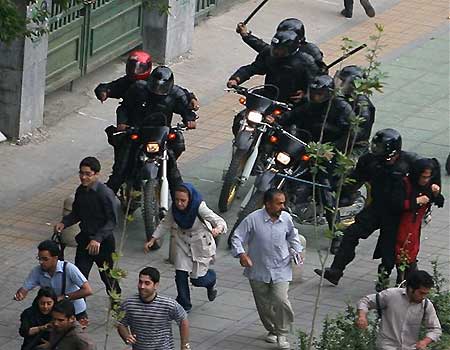 Morroco…
The Palestinian Authority…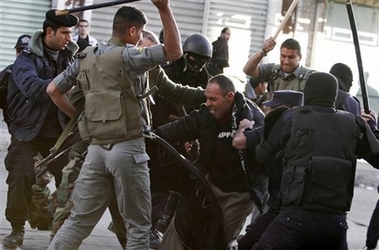 Gaza under Hamas…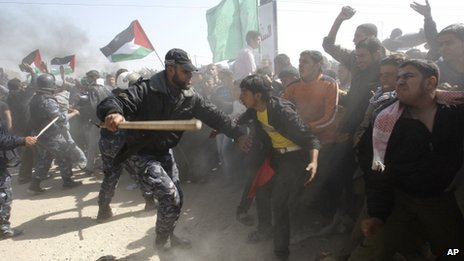 …and in many other places.
Where is the outrage over these brutal policies? Where is the media firestorm these events deserve? Where's the coverage?
Posted by SC at 10:26 PM | Comments (1)
Hidden in Translation: Robert Mackey Comes to Ahmadinejad's Aid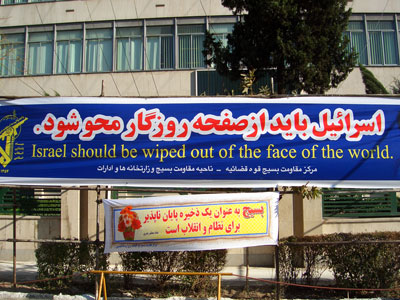 As if Robert Mackey hasn't already left a clear record of his anti-Israel bias, the blogger is now misleadingly cherry-picking his own New York Times colleagues — in order to defend Iranian president Mahmoud Ahmadinejad, no less.
A few days ago, an Israeli minister blundered into the debate about how best to interpret Ahmadinejad's most well-known call to eliminate Israel. The official, Dan Meridor, concurred with an interviewer on Al Jazeera that Iranian leaders "didn't say, 'We'll wipe it out,' you're right, but, 'It will not survive.'"
Predictably, Mackey was quick to pounce, titling a piece on his blog "Israeli Minister Agrees Ahmadinejad Never Said Israel 'Must Be Wiped Off the Map.'"
According to Mackey,
In a reminder that Persian rhetoric is not always easy for English-speakers to interpret, a senior Israeli official has acknowledged that Iran's president, Mahmoud Ahmadinejad, never actually said that Israel "must be wiped off the map."

Those words were attributed to Mr. Ahmadinejad in 2005, in English translations of his speech to a "World Without Zionism" conference that October. As my colleague Ethan Bronner reported the next year, one problem was translating a metaphorical turn of phrase in Persian that has no exact English equivalent — there was, for instance, no mention of a map. More important, closer readings of the phrase suggested that the original statement was less of a threat than a prediction.
Bronner may have asserted that Ahmadinejad didn't use the exact word for map. But his bottom line seemed to be the very opposite of what Mackey writes. The Iranian president's statement was more a threat than a prediction. In the piece Mackey links to, but apparently hopes nobody will read, Bronner reports:
Jonathan Steele, a columnist for the left-leaning Guardian newspaper in London, recently laid out the case this way: "The Iranian president was quoting an ancient statement by Iran's first Islamist leader, the late Ayatollah Khomeini, that 'this regime occupying Jerusalem must vanish from the page of time,' just as the Shah's regime in Iran had vanished. He was not making a military threat. He was calling for an end to the occupation of Jerusalem at some point in the future. The 'page of time' phrase suggests he did not expect it to happen soon."

Mr. Steele added that neither Khomeini nor Mr. Ahmadinejad suggested that Israel's "vanishing" was imminent or that Iran would be involved in bringing it about. "But the propaganda damage was done," he wrote, "and Western hawks bracket the Iranian president with Hitler as though he wants to exterminate Jews."

If Mr. Steele and Mr. [Juan] Cole are right, not one word of the quotation — Israel should be wiped off the map — is accurate.

But translators in Tehran who work for the president's office and the foreign ministry disagree with them. All official translations of Mr. Ahmadinejad's statement, including a description of it on his Web site (www.president.ir/eng/), refer to wiping Israel away. Sohrab Mahdavi, one of Iran's most prominent translators, and Siamak Namazi, managing director of a Tehran consulting firm, who is bilingual, both say "wipe off" or "wipe away" is more accurate than "vanish" because the Persian verb is active and transitive.
And so yet again, Mackey misleads his readers.

May 22, 2013 Update: In our initial posting, we forgot to quote Bronner's most explicit conclusion about what Ahmadinejad said: "So did Iran's president call for Israel to be wiped off the map? It certainly seems so. Did that amount to a call for war? That remains an open question."
Posted by GI at 09:24 AM | Comments (4)
Of AFP and Medical Documentation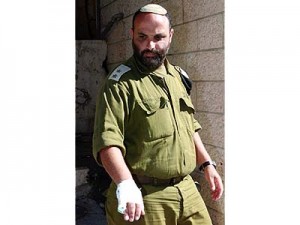 Photo courtesy of Jewish Press
Not long ago, AFP sought refuge behind a shady Palestinian Ministry of Health "medical certificate" to defend its discredited photo caption.
Today, curiously, AFP entirely ignores medical documentation dealing with a separate violent incident (this one real) in the West Bank. Concerning Israeli army Officer Shalom Eisner, who has just been dismissed from duty, AFP states:
According to footage shot by a Palestinian cameraman which was posted on YouTube, Eisner is seen suddenly smashing his M-16 rifle into the face of a young Danish demonstrator in an apparently unprovoked attack.
True, the now viral YouTube video does not show any provocation on the part of the Danish demonstrator. But many media outlets reported that according to Eisner, an activist broke his finger before Eisner struck him. And, as reported in Ha'aretz in English, "The TV report showed a document indicating his finger had been broken." Andreas Ayas, the Dutch activist, said Eisner's accusation that he broke his finger is a "direct lie."
Funny, isn't it, AFP's curioulsy selective interest in medical documents and broken bones when it comes to disputed accounts.
Posted by TS at 08:14 AM | Comments (4)
Ha'aretz Fuels 'War of Extermination' Falsehood
Given headlines like this one today in Ha'aretz, it's no wonder that 40 percent of Europeans believe that Israel is engaging in a "war of extermination" against Palestinians:

Not only is the Jordan Valley not Palestinian-free, but the region's Palestinian population has grown over the last decade. According to the Palestinian Central Bureau of Statistics, as of mid-year 2005, the Jordan Valley's population was 53,000. In March of this year, the PCBS reported that the population is "fewer than 65,000."
According to the Aix Group, a Joint Israeli-Palestinian International Economic Working Group:
Palestinian population in Jericho and Al Aghwar area increased from 32,713 in 1997 to 41,724 in 2007 accounting for 27.5 percentage change inpopulation within 10 years. The percentage change in this area is slightly higher than the percentage change in the West Bank accounting for 25.2%
The Jericho and Al Aghwar governorates constitute the bulk of the Jordan Valley, but some Jordan Valley communities also lie in the Tubas and Nablus governorates.
Hebrew readers can learn more about Ha'aretz's bogus charges of "ethnic cleansing" in the Jordan Vally at CAMERA's Hebrew site, Presspectiva.
Posted by TS at 04:06 AM | Comments (0)
April 17, 2012
40% of Europeans Think Israel Conducting "War of Extermination" (Against Fast-Growing Palestinian Population)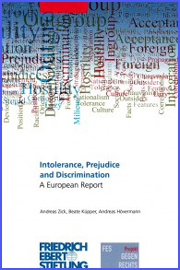 A stunningly high percentage of Europeans believe Israel is engaged in a war of extermination against the Palestinians, according to a new study by the German-based Friedrich Ebert Foundation. This despite the soaring population growth in the West Bank and Gaza Strip.
The Times of Israel reports:
"[A]round 40% of respondents in most participating countries affirm the drastic assessment that the Israeli state is conducting a war of extermination against the Palestinians," the study's authors write.

In Poland, the number of respondents who agree with the claim of an Israeli "war of extermination" is even higher, at 63%. Nearly half of the German respondents — 48% — agreed with the statement. The number was 49% in Portugal, 42% in Britain, 41% in Hungary, 39% in Holland and 38% in Italy.
In reality, as even a Norwegian NGO that's hostile to Israel admits, "the Palestinian population of the West Bank and Gaza Strip has long had some of the highest growth rates in the world, due to a combination of high fertility and low mortality."
So we might surmise that Israel's military is so inept that its "war of extermination" is actually causing a population boom.
Or alternately, maybe it's time for a rethink by those who believe that European media coverage of Israel, because it treats Israel more harshly and stridently, is more informative than its American counterpart.
Posted by GI at 10:00 PM | Comments (1)
CAMERA's International Letter-Writing Director's Op-Ed Published in The Jerusalem Post

CAMERA's Sarit Catz's op-ed, "The wicked sons", published in The Jerusalem Post states: "Jews who disparage Israel and their fellow Jews are today's wicked sons and daughters."

Posted by SC at 09:52 AM | Comments (2)
April 16, 2012
Ostensible Palestinian Democracy Persecutes Bethlehem Church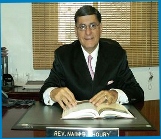 Pastor Khoury at desk and shown at Bethlehem's First Baptist
Church with congregants and Christian American supporter
The Palestinian Authority runs a virtual one-party administration over West Bank Arabs, unimpeded by an independent supreme court or a free news media, restricts civil liberties and gives only lip service to freedom of worship. For example, the International Christian Embassy Jerusalem reports:
The Palestinian Authority is refusing to renew the official registration papers of the First Baptist Church of Bethlehem, apparently due to its reluctance to join other Palestinian institutions in unfairly criticizing Israel. ... Such renewals are normally routine, and no official reasons were given for the denial. If [the decision is] left to stand, the result could mean the church cannot register births, marriages and deaths of its congregants. This could prove problematic as the PA requires that residents indicate affiliation with a certain religion on identification papers and other civil documents.
Pastor Naim Khoury, a relative rarity among Palestinian Arabs as a churchman who voices no hostility toward Jews and Israel, has witnessed violent attacks upon his Bethlehem church.
Israeli news media, for example, the Jerusalem Post Christian Edition, have reported on the persecution of the Bethlehem Baptist Church but the silence of Western mainstream media on the matter is pervasive.
Posted by MK at 02:54 PM | Comments (1)
April 13, 2012
Israel Critic Rami Khouri is Upstaged by an NPR Listener
National Public Radio, as in the April 10, 2012 broadcast of the Talk of the Nation call-in show, persists in relying on Lebanon-based journalist Rami Khouri as a guest on discussion shows in which he frequently conveys misinformation about Israel and the Middle East. CAMERA has detailed Khouri's tendency to snipe at Israel here, here and here.
According to Harvard University,"Rami George Khouri is a Palestinian-Jordanian and U.S. citizen whose family resides in Beirut, Amman, and Nazareth. He is director of the Issam Fares Institute for Public Policy and International Affairs at the American University of Beirut. His journalistic work includes writing books and an internationally syndicated column, and he also serves as editor at large of the Beirut-based Daily Star newspaper."
But Khouri's patrons including Harvard University (Belfer Center), American University of Beirut, PBS NewsHour with Jim Lehrer, as well as NPR, take no public notice of his false equivalence, lumping Israeli behavior – essentially that of self-defense – with that of anti-democratic Arab/Islamic regimes that threaten their neighbors and repress their own citizens.
Khouri's slanted perspective on the Jewish state often echoes institutional Arab anti-Israel propaganda. Examples are his Daily Star commentaries in 2012 on March 21 and March 10.
Early in the April 10 thirty-minute discussion of the turmoil in Syria and elsewhere in the Middle East, Khouri, while downplaying the issues of enmity between Sunni and Shia Muslims and – Muslim antagonism toward the Christian Arab minority, declares that the Arab uprisings are about wanting "to have something closer to Belgium or Switzerland or even the United States, where people can more or less live a decent life knowing that there's a single standard of law that applies to everybody." This despite popular support and voter turn out for Islamists and, as in Libya, where public opinion surveys show a majority more interested in Islamic rule than democracy.
At the discussion's midpoint, Khouri aims his customary defamation dart at Israel in listing those he alleges are responsible for conditions causing the uprisings: "It's not only the Arabs who need to be accountable but foreign armies that invade the region, occupation forces like the Israelis and others, the Iranians, the Turks..."

Khouri added, "An overwhelming majority of Syrians want this regime to change" and suggested that the promise of the new leaders emerging in Syria and elsewhere – to respect human rights of all citizens – can be relied upon.

But Khouri is upstaged by a woman calling from Pennsylvania offering a far different perspective:


I'm a Syrian-American. I grew up in the United States. My parents decided to leave Syria when Hafez al-Assad was in power. Of course the heir apparent was always his son Basil. It was not Bashar. Basil was killed. And then when Bashar came into power, my parents decided to move back to Syria. We are Christians. I have to say that we had a nice life. I had been going back and forth every holiday to celebrate. In Syria we have friends who are of all ethnic backgrounds – Alawites, Shia, Muslims, Sunni Muslims, Armenians in the north. I have to say that we've had freedom of religion. And things actually have been quite good under Bashar al-Assad.

I'm afraid of what's going to happen afterwards. The people in the streets are Islamists and we don't want an Islamic country. It's now a secular government. Yes, it's not perfect but the curse of the Middle East is its rulers, unfortunately. I'll tell you whatever is going to come after him is going to be far much worse. Look at what's happening in Egypt. The Muslim Brotherhood said they'd never float a candidate for president. Now, they're doing it. They will always go back on their words. It's a shame but it's true. But the majority that I know – and I know a lot of people in Damascus – are just hunkered down in their houses right now, and they're afraid to go in the streets, but they're supporting Bashar al-Assad.
Host Neal Conan noted that "The record for Christians and other religious and ethnic minorities has not always been happy as these regimes have changed in many Arab states."

Khouri countered, only slightly backing off his previous assurance of the reliability of Islamist public declarations of respect for human rights:
Well, we haven't really had many experiences with regime changes and what the caller is saying is correct to a certain extent where you do have a lot of people who support the regime. Some of them feel that a different regime might actually not give everyone the same opportunities. But the problem is that, like in Iraq, it was the same thing. You had Christians who could do everything they want – Jews, Christians. And I'm a Christian myself and – but the fact is that an overwhelming majority of the entire population had no real civil rights or political rights or equal opportunity and there was massive deterioration in quality, in economic access to resources and job opportunities ... About the Islamists taking over, one of the things we have to really follow very closely to what they are saying – including the Muslim Brothers in Syria who have made some statements – they are all coming out now with very clear statements about their commitment to secular governments. These are Muslim people – the majority of Arabs are Muslims like the majority of Americans are Christians – but they recognize the rights of people who are different minorities and they are committed to a secular government. And this is something that has to be monitored very, very closely.

(Click here to listen to the entire discussion).

Khouri's projection that Islamists like those in Egypt's Muslim Brotherhood are committed to secular government and minority rights is untested and quite possibly, like his chronic sniping at Israel, unfounded. His claim that Iraqi Jews – forced out decades ago – and Iraqi Christians, who in large numbers have fled post-Saddam Hussein intimidation and murder by Muslim Iraqis "could do everything they want" is nonsensical. Nevertheless, he remains a popular resource for NPR and others.

Khouri can be contacted at rami.khouri@dailystar.com.lb and NPR can be contacted here.
Posted by MK at 07:15 PM | Comments (2)
Gunter Grass and "Criticism" of Israel
It's hard to tell whether Tablet's Liel Leibovitz is upset with what he sees as hyperbolic, knee jerk reactions, or if he's more interested in advocating such hyperbole. Commenting on Israel's decision to bar of Gunter Grass from the country, he writes:
the obvious conclusion is that the state of Israel will from now on categorically ban anyone who criticizes it in any way from entry. Which means that I, too, should be banned, immediately, and General Martin Dempsey, the Chairman of Joints Chief of Staff, and Coldplay, and anyone else who has ever publicly uttered any word that could be somehow construed as anything less than entirely and unquestioningly approving of Israel and every single one of its actions and policies.
Gunter Grass in 1944. To Israeli leaders, and under Israeli law, his past matters.

Never mind that he convincingly, though inadvertently, rebuts his own argument. Israel hasn't banned Leibovitz or Dempsey or Coldplay. There is no ban on Nicholas Kristof or Thomas Friedman. The country hasn't even banned Stephen Walt or John Mearsheimer. And these critics of Israel won't be barred from entry in the future. In other words, even in Liebovitz's own telling, his "obvious conclusion" is anything but obvious.
But never mind that. Whether or not a writer supports the decision to keep Grass out of the country, readers deserve to hear all of the germane facts. Liebovitz suggests the ban is either completely arbitrary or the result of a blanket punishment targeting all who won't walk in lockstep with Israel's government. But the decision, right or wrong, is neither of these. The Jerusalem Post, Ha'aretz and the Times of Israel have each reported that the decision was based on a Israeli law allowing the Interior Ministry to bar specifically people with past Nazi affiliations, and Grass, as he eventually admitted to the German people, was in a unit of the Waffen SS.
Leibovitz certainly isn't the only one who has omitted important points in order to cram this story into the "You can't get away with criticizing Israel" frame. In the New York Times, Nicholas Kulish writes that Grass was "making a point about the dangers of a first strike by Israel against Iran over its disputed nuclear program." He forgets to mention that, in Grass's telling, Israel's plans might involve "annihilating the Iranian people," or in other words, an Israeli-perpetrated holocaust.
Is this controversy about those who fail to "entirely and unquestioningly approv[e] of Israel and every single one of its actions and policies"? Is it about mere criticism of Israel? Or is it about an accusation, by a former Nazi, that crosses the line from criticism into demonization? Readers can decide. But they should be able to base their decision on all the relevant facts.
Posted by GI at 10:42 AM | Comments (0)
April 11, 2012
Where's the Coverage? "Flytilla" Participants Need a New Travel Agent

Perhaps you have heard about the upcoming "flytilla" into Israel.
Israeli police expect 500-1,000 pro-Palestinian activists will try to land in Israel on 20 flights from Western Europe and Turkey throughout the day Sunday, April 15, 2012. Organizers say 2,000 people will attempt to arrive. The French delegation alone claims they will have 600 participants.
The leader of the French delegation is Olivia Zemor, 63, a well-known anti-Israel protester. She heads the group Euro Palestine and is a member of the Boycott, Divestment and Sanctions (BDS) movement. Israel blacklisted her last July when she attempted to participate in the first (unsuccessful) "flytilla."
Zemor describes the motives of those engaging in the event:
The majority of the participants are not activists, they are people that are against the occupation. They want a free Palestine. They want Israelis and Palestinians to live in peace with equal rights. They have wanted to meet Palestinians and to go to Palestine to tell them they support their struggle for freedom.
Well, if the non-activists want Palestinians to have "equal rights," maybe they should fly into Jordan, where Palestinians face discrimination, are treated as foreigners and required to pay fees in foreign currency, making it difficult to enroll in Jordanian universities. Career options of Palestinians are limited to the private sector, access to decision making circles and state institutions is denied. Due to a law meant to limit Palestinian representation in the Jordanian parliament, as many as 1.6 million Jordanians of Palestinian descent of have been stripped of their citizenship, and with it numerous rights, including Palestinian Authority and PLO officials.
Or, perhaps the non-activists would like to "support the struggle for freedom" in Lebanon, where basic human rights are denied to Palestinians, where they are legally prohibited from high-status professions including law, medicine, pharmacy and engineering, excluded by law from owning real estate, denied civil identity registration and with it access to basic health services, education, civil, social and economic rights, registration of marriages and registration of newborns. The Lebanese army severely restricts Palestinian refugee camps where curfews are in place, where residents pass through military checkpoints, and where walls are being constructed, isolating them from their surroundings. Palestinian Arabs have been subject to arbitrary arrest, detention, and torture and denied legal representation.
And of course, if the non-activists want a "free Palestine," they should try to protest in Gaza, under the authority of Hamas, where political freedom, religious freedom and freedom of association are severely curtailed, women's rights are limited, terrorist activity is located in civilian centers transforming residents into human shields and often causing them injury and death, human rights activists are targeted, and homosexuality is a criminal offense.
It is very possible that "flytilla" participants didn't know how to plan their trip properly because the media rarely if ever mentions the oppression Palestinians face at the hands of their Arab "brothers." Maybe Zemor and her compatriots should be asking, "Where's the coverage?"
Posted by SC at 08:45 PM | Comments (1)
April 09, 2012
JPS Uses New Falsification to Defend Pappé Falsification
CAMERA's response to Journal of Palestine Studies' defense of Ilan Pappé is now posted on our main website. Pappé had used a fabricated quote, which he attributed to a 1937 letter by David Ben-Gurion to his son Amos, in a 2006 article in JPS.
Unfortunately, instead of publishing a straightforward correction, JPS doubled down.
We explain in our article that
the journal's editors defended "the overall accuracy" of Pappé's piece, arguing that another purported statement by Ben-Gurion showed the author was essentially correct. Pappé claimed Ben-Gurion wrote that "The Arabs will have to go, but one needs an opportune moment for making it happen, such as a war." JPS maintained this quote, while incorrect, is close enough to what they say Ben-Gurion actually wrote, namely that "We must expel Arabs and take their place." The editors should have realized, though, that the new quote they cited is at best questionable, and almost certainly inaccurate. Making matters worse, JPS inserted invented words into its English translation of the document it used to defend Pappé's article. In other words, it introduced its own falsehoods to defend Pappé's falsehood.
Among other things, we note that JPS's English version of the 1937 Ben-Gurion letter, as translated by the journal's parent organization The Institute for Palestine Studies, includes the invented phrase "Up to now," which is inserted into the beginning of a key sentence and misleadingly suggests Ben-Gurion is describing a change of heart.
What we left out for the sake of brevity is that this wasn't the only peculiar change IPS made in its translation of the letter. For example, in another passage Ben-Gurion states that if Jews have to use force to secure their right to settle the barren land, "it is clear that we will then have an issue not only with the Arabs that are in the Land of Israel." It is very likely, he continues, that Arabs from neighboring countries "will come to help them against us."
In the JPS translation, "we will have an issue" turns into the nefarious sounding "we will have to deal ... with." The phrase "against us" is lopped of altogether, so that JPS's translation has Ben-Gurion writing, "it is very probable that Arabs from the neighboring countries will come to their aid."
Posted by GI at 04:32 PM | Comments (1)
April's Fools: C-SPAN Begins the Month with More "Blame-the-Jews" Tirades
One of C-SPAN's most popular programs, Washington Journal (a 3-hour daily public affairs and call-in show), ushered in April with a double dose of "blame-the-Jews" tirades from the same caller. Once again, when it came to bashing Israel, a network host failed to uphold C-SPAN's ostensible "one-call-per-30-days" rule.
It must be noted that C-SPAN, watched by more than 28 million viewers weekly (according to the network's own estimate), allows no ethnic or religious group or nation except Israel and Jews to be repeatedly vilified on Journal broadcasts.
On April 5, "Pat" from Pittsburgh, an obvious conspiracy theorist, charged preposterously yet without challenge by either host Peter Slen or the guest that Israel manipulates U.S. elections through manufacture of voting machines (click here to listen):

When the American people are witnessing the massive manipulation of the election process when our election machines are being manufactured in the state of Israel which is manipulating our country on virtually every level, I think it is understandable that the skepticism of the American people is as high as it is.
On April 1, "Patrick" from Pittsburgh had launched into a propaganda tirade that began with an unsubstantiated and hearsay claim of a diplomat finding a key section of the U.S. State Department "occupied by Israelis," proceeded to the wild assertion that there are "a billion" Americans (there are a little more than 300 million) and ended with the canards –- popular with both neo-Nazis and the extreme left –- that "Israel is the puppet-master of America" and leading this country into "another war of lies." The guest's dispassionate refutation of the caller's smears could not relieve, ex post facto, Washington Journal host Paul Orgel of his professional responsibility to have recognized and quickly terminated the anti-Israel, anti-Jewish phone call in the first place. This is not a matter of censoring informed opinion, but of preserving air time from the lunatic fringe. Click here to listen.
C-SPAN can be contacted at (202) 737-3220, 877-662-7726, journal@c-span.org, viewer@c-span.org., twitter.com@cspanwj or facebook.com/CSPAN about its dismal, indefensible record of permitting on a regular basis (usually without challenge), callers' defamations of Jews and Israel.
Posted by MK at 02:16 PM | Comments (0)
April 04, 2012
Where's the Coverage? Separation Barriers in…Cairo

Checkpoints! 10-foot concrete walls! Arabs who can't get to their businesses! Must be Israel, right? Wrong.
It's Egypt, as reported by NPR:
After five days of skirmishes in early February, Cairo's police chiefs ordered the construction of a series of 10-foot walls, seven of them in all, to block off access to the [interior] ministry.

Other walls have sprung up throughout the area, too, following other bouts of violence. Vibrant neighborhoods have been transformed into a maze of checkpoints and concrete blocks. Now residents are trying to get adjusted to the new, imposing barriers that have virtually paralyzed a large section of downtown Cairo.
And yet, with all the attention being paid to the vaunted freedoms of the "Arab Spring" and the outrage the world felt at Israel on "Land Day," have you heard anything about the "Apartheid Walls" of Cairo?
Naturally, NPR puts a positive spin on Cairo's walls as preferable to the alternative:
Mohammed Kadry Said, a retired major general and a senior analyst at the Ahram Center for Political and Strategic Studies, says that the walls provide a limited solution.

"Either you go out and shoot the crowd who are attacking the building of the Ministry of Interior and can put a fire on it, or you can make a shield, so at least you are safe."
When Egypt erects a barrier to keep government officials safe from citizens, it's fine. But when Israel erects a barrier to keep citizens safe from terrorists, it's an atrocity. Talk about a double standard. Furthermore, there are separation barriers all over the world yet only Israel's security barrier is criticized. Where's the fairness? Where's the context? Where's the coverage?

Posted by SC at 02:56 PM | Comments (3)
Ha'aretz's Lousy Headline
Yet again, Ha'aretz provides an example of how its distorted coverage provides fodder to anti-Israel writers abroad. Yesterday Ha'aretz's Web site published the following headline:

This dismal headline implies that the Israeli army is seeking to upgrade means in which to harm civilian populations. Indeed, one must read the article itself several times to understand the new brigade's actual purpose: to increase precision of attacks on combatants so as to minimize harm to civilians. But the dismal online headline, coupled with the lack of clarity in the article itself, points falsely instead to IDF intentions to massacre, a notion that anti-Israel blogger Richard Silverstein jumps on.
One need only look at the English print edition for a straight-forward headline: "IDF plans to set up first short-range rocket battalion." Ha'aretz editors take note: an accurate subheadline would read: "New rockets would reduce casualties among non-combatants during strikes against terrorist targets in populated areas."
Posted by TS at 07:45 AM | Comments (2)
April 02, 2012
Video Exposes Northeastern Univ Holocaust Offenses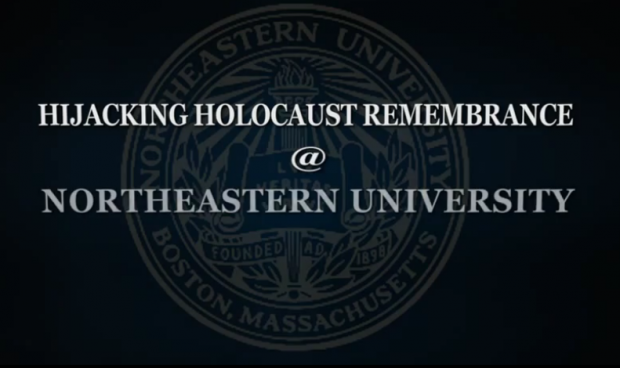 A new video exposes reckless disregard for scholarship and ethics at another university, continuing a trend. Northeastern University in Boston accepted funds for a Jewish Studies Chair from a donor concerned about preserving memory of the Holocaust, then allowed biased faculty and negligent administrators to "pervert" the clear aim of the donor, enlisting anti-Israel speakers who equated Israeli conduct with that of the Nazis.
Hijacking Holocaust Remembrance was produced by Americans for Peace and Tolerance. It lays out the disturbing story, citing the extreme anti-Israel speakers presented and an event that brought the matter to a head. Filmmaker Yoav Shamir and his anti-Israel work, Defamation, claiming Jews exploit the Holocaust to justify Israeli aggression were to be featured during Holocaust Remembrance Week in 2011. When Steven Stotsky, whose father had given Northeastern the Jewish Studies chair (and who is a Senior Research Analyst at CAMERA) discovered all this he wrote a column for the Boston Jewish Advocate. Shamir didn't, in the end, appear as a Holocaust comemoration speaker, but he and his film -- lauded on neo-Nazi Web sites -- were given a platform later in the year.
Posted by AL at 06:50 PM | Comments (4)
Mrs. Bashar al-Assad: Fashion Media Spikes Heel
"This is the 21st century. Where in the world could this happen? As a mother and a human being, we need to make sure that these atrocities stop."
So said Asma Assad, wife of Syrian dictator Bashar al-Assad, and until recently a darling of fashion magazines and tabloid newspapers.
It was not, however, her husband's suppression of the past year's anti-regime protests and guerrilla attacks in Syria that the 36-year-old Mrs. Assad decried. It was Israel's December, 2008 – January 2009 battle against Hamas in the Gaza Strip. "Operation Cast Lead," she told Cable News Network (CNN) at the time, was "barbaric."
The former Asma Akhras, daughter of a Syrian family who lived in a comfortable suburb of the British capital, graduated from King's College London with a degree in computer science and diploma in French literature, Associated Press reported ("Syria's first lady no longer idolized; British-born mother of three now denounced as part of brutal regime," Washington Times, March 28).
According to the United Nations', Bashar al-Assad's forces have killed about 9,000 people, the large majority non-combatants. "They've gone for the children – for whatever purposes – in large numbers. Hundreds detained and tortured," said Navi Pillay, U.N. High Commissioner for Human Rights ("U.N. chief urges Assad to stem continuing violence; Fighting reported across Syria despite regime's acceptance of peace plan," Washington Post, March 29).
In "Operation Cast Lead," Israel's response to thousands of Palestinian mortar and rocket attacks, approximately
1,200 Gazans were killed and the majority appeared to be gunmen from Hamas, Palestinian Islamic Jihad and other terrorist groups ("Hamas' Revelation Undermines Key Conclusion of Goldstone Report," CAMERA, Nov. 19, 2010).
Until the start of Syria's "Arab spring" upheaval, Mrs. Assad captivated the French fashion magazine Elle, which in 2008 named her the world's most stylish woman. In 2009, The Sun, Britain's largest tabloid, called her the "sexy Brit … bringing Syria in from the cold." And just before anti-regime protests erupted across the country last year, Vogue cited her charity work, "killer IQ" and penchant for going incognito to hear from the populace.
No matter that her husband, like his father Hafez al-Assad before him, ran Syria and Lebanon Mafia-style, car-bombing when not simply "disappearing" opponents from journalists to prime ministers, allying with Iran and collaborating with anti-American insurgents crossing the Syrian border into Iraq.
Apparently, countless reports – and surreptitously transmitted images – of slaughter by the regime now have rendered Mrs. Assad's good looks, expensive tastes and fluent English irrelevant. Vogue reportedly deleted the Asma Assad puff-piece from its Web site. A lesson not only for readers of fashion magazines and tabloids, but also those of the "quality press" when fawning features from Arab and other dictatorship turn up.

Posted by ER at 05:46 PM | Comments (0)
April 01, 2012
NBC World Blog Reports Disputed Land Claims as Fact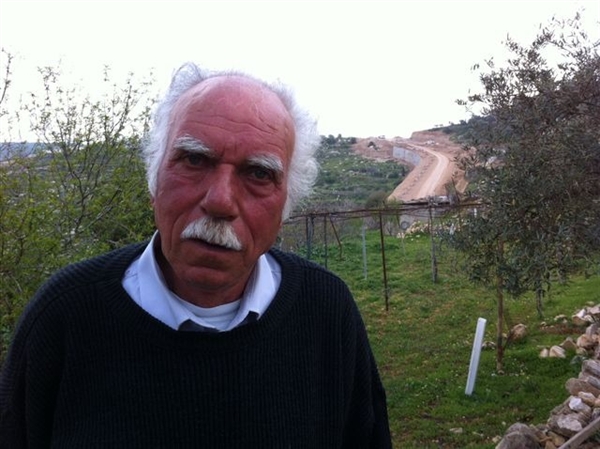 NBC's World Blog reports as fact a Palestinian farmer's disputed claims about expropriation of his land in Walaja:
But 70-year-old Abu Nidal doesn't need a special calendar day to remind him of the Israeli occupation and their confiscation of his land. Nidal just needs to wake up every morning and look outside his window to see how the Israelis are confiscating his land.

He lives in the village Al Walaja, nestled in the hills between Jerusalem and Bethlehem. Half of the village of just over 2,000 is considered to be part of Jerusalem and the other half is part of the West Bank. So now the Israeli security wall snakes through the village. . . .

It was his grandmother's wish that every family member be buried on their 11-acre farm land. But the Israelis have a different plan for the confiscated land. They are planning to build not only the wall, but a recreational park for Israelis on the other side of the wall.
But, as reported in Ha'aretz, authorities state that the plans for the park "do not call for the expropriation of privately-owned land":
Ir Amim says 1,250 dunams were added to the park plan about a year ago. The fence will cut villagers off from agricultural land and the park, which are on the Israeli side of the separation fence, Ir Amim says.

The groups says residents lost access to their land inside Jerusalem when sites were declared national parkland. But the development authority says the entire park is within Jerusalem's municipal boundaries and that the plans do not address land ownership.

They also do not call for the expropriation of privately-owned land, the authority says.

"In any event, there is no intention to expropriate privately-owned land," the authority said in a statement. "Most of the area already serves as a national park, and the expansion is being carried out to protect nature and the landscape." . . .

But Ze'ev Hacohen, a planner at the Israel Nature and Parks Authority, noted that Walaja residents would still be able to work their land.

He said the village's farmers would be able to cross the fence at a gate, although he acknowledged that the barrier would make access more difficult.
Abu Nidal goes on to suggest that Israel's courts never rule in the favor of Palestinians, a blatantly false claim, which NBC's Paul Goldman does not contradict:
This Friday when demonstrators take to the streets commemorating Land Day, Nidal won't join them; his battle is being waged in the Israeli courts. But he pointed out that his case doesn't have much of a shot. "The court is Israeli, the judge is Israeli and the lawyers are Israelis. It's a losing battle."
In fact, there is no shortage of examples in which Israeli courts ruled in favor of Palestinians.
Posted by TS at 04:33 AM | Comments (2)
Ha'aretz Online Short on Space?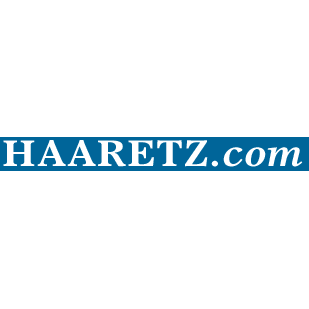 Usually, if there are differences in the lengths of online and print versions of the same article in a news outlet, it's the online edition that's longer. After all, while space is finite in print, editors do not have to deal with that restriction online.
So why is it that the online version of a Ha'aretz article about Jews moving into a building in Hebron is much shorter than its print counterpart? Notably, details about the Jews' alleged purchase of the property which appear in the print edition do not appear online. For instance, the print edition includes the following, which does not appear online:
The Palestinians who owned the two buildings died, leaving them to his two sons. One son took the renovated, three-story house and half of the second story of the adjacent house, whilehis brother received the rest.

The first brother is the one who allegedly sold his part in the compound to the settlers. His brother, who lives in the adjacent building, said the deal was carried out under false pretenses and is therefore invalid. He said a third party had purchased the property from them, without telling them he represented the settlers.
(Hat tip: IMRA and Yisrael Medad)
Posted by TS at 03:58 AM | Comments (1)