« UPDATED: Fabrications Sneak Past PRI Fact Checkers | Main | The Economist Changes Offensive Title »
March 16, 2012
The Atlantic Corrects Erroneous Caption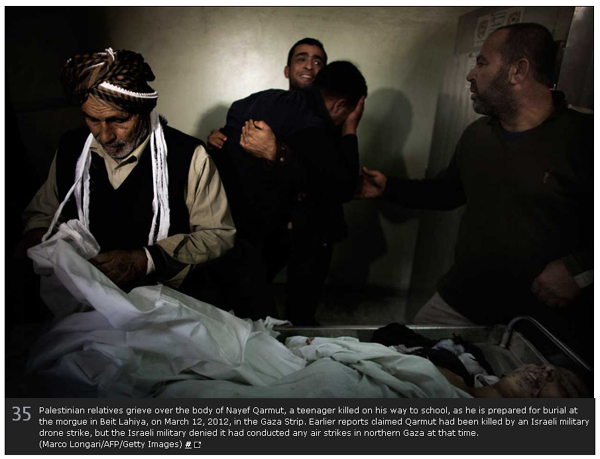 Unlike the International Herald Tribune, which has yet to correct its clearly problematic photo caption about the death of a Palestinian boy, The Atlantic's website, to its credit, quickly and straightforwardly amended its caption to accurately reflect doubts about the circumstances of his killing after CAMERA provided relevant information to editors.
The Atlantic was relying on a caption from AFP, which apparently never corrected its caption even after its own reporter investigated the scene and determined Israel was not responsible for the killing.
After having originally asserted that the boy was killed "in an Israeli military drone strike," the Atlantic now explains that "Earlier reports claimed Qarmut had been killed by an Israeli military drone strike, but the Israeli military denied it had conducted any air strikes in northern Gaza at that time."
The new caption does not mention AFP's investigation.

Posted by GI at March 16, 2012 05:08 PM
Comments
Guidelines for posting
This is a moderated blog. We will not post comments that include racism, bigotry, threats, or factually inaccurate material.
Post a comment