« Why was Lady Ashton's Reference to Sderot Removed? | Main | Two Faces of Palestinian Prime Minister Salam Fayyad »
March 21, 2012
Robert Mackey's Anti-Israel Hostility Continues
Robert Mackey, a New York Times blogger who last year compared radical activists who attacked Israeli troops to Holocaust survivors, still isn't trying too hard to disguise his hostility toward Israel.
A couple of weeks ago, during the fighting in Israel and Gaza, Avi Mayer discovered a hoax gaining traction on the Twitter. A dramatic photo of a small, bloody girl was circulated on the social network with text claiming the girl was killed by Israel during the fighting. Mayer, using his own Twitter account, pointed out that the photo was in fact from 2006, and that the girl was killed after she fell off a playground swing.
As the photo and false description continued to spread on Twitter, the IDF took to its blog to correct the misinformation.
Or, in Mackey's jaundiced view, the Israeli military "pursued its enemies on Twitter."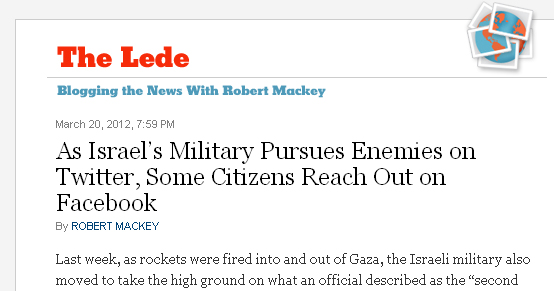 As things tend to be in Mackey's world, the faux-tography scandal wasn't so much an issue. The dramatic example of yet another attempt to demonize Israel with lies wasn't headline-worthy. The him, the storyline is Israel's military aggressively pursuing enemies.
Strikingly, Mackey neglected to mention that the reported source of the hoax is a UN employee, "Information and Media Coordinator" Khulood Badawi — even though he made sure to note that another Twitter-user who posted an old image of Israelis taking shelter from a rocket is a Israeli government spokesman. Though the misinformation by a UN information official wasn't significant to the New York Times blogger, it was definitely significant to UN Secretary Ban Ki Moon, whose spokesperson censured Badawi, saying "It is regrettable that an OCHA [Office for the Coordination of Humanitarian Affairs] staff member had posted information on her personal Twitter profile which was both false and which reflected on issues that are related to her work."
Throughout his post, Mackey also took pains to cast the falsehood about the bloody girl an unwitting mistake, as opposed to malicious lie by a longtime anti-Israel activist. The image was "mistakenly identified," Mackey insists. If anything, he implies Israel is the one acting in bad faith:
An Israeli press officer who contacted The Times to pitch an article on how Palestinians were "using social media to purposely pass along misinformation, presenting it as breaking news,� provided no evidence to support the contention that the Palestinian errors were intentional while the Israeli ones were accidental.
Unfortunately, it's just more of the same from biased blogger Robert Mackey.

Posted by GI at March 21, 2012 12:23 PM
Comments
Guidelines for posting
This is a moderated blog. We will not post comments that include racism, bigotry, threats, or factually inaccurate material.
Post a comment