« Jimmy Carter Snipes at Israel Again | Main | Christ the Checkpoint – A Preliminary Response »
March 08, 2012
NY Times: Creating News Where There is None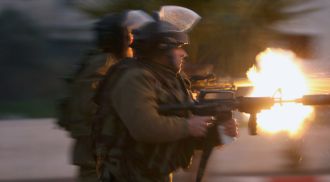 The preferred story at the New York Times
One of the underlying themes of New York Times coverage of the Middle East is blaming Israel for the Arab-Israeli conflict while removing Palestinian responsibility for the situation there. According to the Times' preferred story, Israel is the perennial aggressor while the Palestinians are the perennial victims. And if there happens to be no particular Palestinian grievance to play up on a given day, the New York Times will make sure to do so anyway: by recycling an older picture or creating a grievance of its own. Needless to say, stories that reveal the real situation, like the one about Palestinian leader Abbas demonizing Israel with false, inflammatory accusations at the recent Doha conference, are concealed.
Let's take as an example the front page of today's New York Times.
The above-fold, full color picture has nothing whatsoever to do with any breaking news from the region. Instead, the Times dredged up an older photo of soldiers with balls of fire at the tips of their guns with the caption:
Israeli soldiers fired at Palestinian stone throwers in the West Bank town of al Ram, near East Jerusalem, last month.
Actually, the masked Palestinians were throwing both rocks and firebombs -- not exactly peaceful, and yes, this was last month, at about the same time President Abbas was demonizing Israel at the Doha conference, that went unmentioned in the Times.
Not only did a non-news photo take front page placement, but the front page story was a manufactured one about Israeli Prime Minister Netanyahu's visit to the U.S. pushing news about Palestinian grievances off the front page.
"For decades, as autocrats ruled their neighbors, the Palestinians were at the center of Middle Eastern politics, their struggle with Israeli occupation embodying the Arab longing for post-colonial freedom and dignity," lamented Jerusalem bureau chief Ethan Bronner. "But when Prime Minister Benjamin Netanyahu of Israel visited Washington this week, the conversation was dominated by Iran, not peace talks or occupation."
Indeed, it seems that the New York Times is becoming a parody of its own anti-Israel obsession.
Posted by RH at March 8, 2012 08:58 AM
Comments
Thanks for commenting on this. I was incensed (to say the least) when I saw the picture, caption, and entirely unrelated story this morning, and spent all day at work drafting a nasty letter to the editor in my head. I checked in here first to see if you guys caught it, and of course am not disappointed (your main article about this captured every point that I came up with too). Keep up the great work.
Posted by: Yiftach at March 9, 2012 12:55 AM
Posted by: Rob Harris at March 9, 2012 03:38 PM
Guidelines for posting
This is a moderated blog. We will not post comments that include racism, bigotry, threats, or factually inaccurate material.
Post a comment