« AFP Confirms: Israel Not Responsible for Teen's Death | Main | Second Update: Dr. Schirrmacher is Polite to His Hosts »
March 12, 2012
NPR's On Point Unfair to Israel Again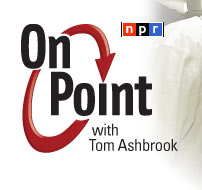 NPR's syndicated program, On Point, with Tom Ashbrook continues its tradition of tolerating at least one egregious anti-Israel distortion per Middle East segment (examples -- here, here, here, here, here and here). The panel for the March 6, 2012 show (click here to listen) "Weighing The Iranian Threat" included David Sanger (chief Washington correspondent for the New York Times), Michael Makovsky (Bipartisan Policy Center) and Graham Allison (Professor of Government at Harvard University).
The inflammatory charge of the day was called in about half-way through the broadcast:
Iran is their [Israel's] problem because they [Israel] are committing ethnic cleansing in the occupied territories and Iran will not stand for that and I don't think we should either.
It elicited only a mild response by Ashbrook:
I appreciate your call – and your calling Israel's relation – or handling of Palestinians as ethnic cleansing – I'm sure that many in Israel would disagree with that.
But the charge was an outright falsehood that remained uncorrected. In fact, the Muslim Arab population of Jerusalem has been growing faster than the Jewish population for decades. According to the Jerusalem Institute for Israel Studies, Jerusalem was 25.8 percent Arab in 1967. By 2009, the city's Arab population increased to 35.7 percent.

As for Christian Arabs, A Jerusalem Center for Public Affairs (JCPA) report, indicates that the central cause of the flight of Christians from Arab dominated areas is a growing Islamic fundamentalism, including Muslim intimidation of Christian Arabs. This includes assaults by Muslim men upon Christian women, demands for "protection" money and illegitimate land seizures. The Christian population of Israel is, in fact, on the increase (in absolute numbers).
Comments can be submitted to Ashbrook and On Point via: e-mail to onpoint@wbur.org, Twitter at https://twitter.com/#!/OnPointRadio, Facebook at http://www.facebook.com/OnPointRadio, phone 617-353-0909,
mail: On Point Radio, 890 Commonwealth Avenue, 3rd Floor, Boston, MA 02215.
Posted by MK at March 12, 2012 01:04 PM
Comments
Guidelines for posting
This is a moderated blog. We will not post comments that include racism, bigotry, threats, or factually inaccurate material.
Post a comment