« February 2012 | Main | April 2012 »
March 30, 2012
Amira Hasn't Got a Clue
Amira Hass should to a better job of vetting the facts handed to her by Palestinian Christian leaders, because sometimes, these folks simply do not provide factual information to their supporters.
In her recent response to an op-ed by Israeli Ambassador Michael Oren about the status of Christians in the Middle East, Hass quotes a letter signed by 80 prominent Palestinian Christians who state the following:
"The exaggerated growth of the Christian population in Israel that Mr. Oren claims is due primarily to the immigration of Russian Christians whom Israel was unable to distinguish from the Jewish immigrants pouring into the country after the fall of the Soviet Union."
Wrong. Wrong. Wrong.
Here are the facts from the Statistical Abstract of Israel.
One: There were 34,000 Christians living in Israel in 1949. The vast majority of them were Arab.
Two: At the end of 2009, there were approximately 152,000 Christians living in Israel. (An increase of 346 percent!)
Three: At the end of 2009, there were approximately 122,000 Arab Christians living in Israel. (The Central Bureau of Statistics has been tracking the population of Arab Christians in Israel since at least 2002.
Just looking at these numbers reveals that the increase in the population of Christians in Israel is due primarily to the growth in the Arab Christian (and not Russian) community.
Even if every one of the non-Arab Christians came from Russia, the growth in this community would still be dwarfed by the growth of the Arab Christian community in Israel.
In other words, Hass got played by the Palestinian Christian leaders.
Ironically enough, Hass's article is titled "Christian Palestinians: Israel 'manipulating facts' by claiming we are welcome."
Who is manipulating the facts, really?
Posted by dvz at 12:53 PM | Comments (2)
March 29, 2012
Anti-Israel Journalist Robert Fisk Accused by Colleagues of Fabricating Facts
Anti-Israel ideologue Robert Fisk, who is also a columnist for The Independent, has long been accused by media critics of unethical and unfactual reporting.
But now it is his former colleagues who are finally willing to expose Fisk for fabricating his facts, after he turned on them in one of his typical anti-Israel rants :
Yes, all honour to those who reported from Homs. But here's a thought: when the Israelis unleashed their cruel bombardment of Gaza in 2008, they banned all reporters from the war, just as the Syrians tried to do in Homs. And the Israelis were much more successful in preventing us Westerners from seeing the subsequent bloodbath. Hamas forces and the "Free Syria Army" in Homs actually have a lot in common – both were increasingly Islamist, both faced infinitely superior firepower, both lost the battle – but it was left to Palestinian reporters to cover their own people's suffering. They did a fine job. Funny, though, that the newsrooms of London and Washington didn't have quite the same enthusiasm to get their folk into Gaza as they did to get them into Homs. Just a thought. A very unhappy one.
Damian Thompson, the editor of the Telegraph Blogs, interviewed Fisk about the damaging accusations against him.
Fisk remained defiant:
I do not make stories up, full stop. This is being put together in order to harass me and possibly The Independent...

...Colleagues will malign you if you're a moderately successful journalist,
Unfortunately for Fisk, the accusations are piling up.
Sadly enough, this type of exposure, which would be a career killer for most journalists, will probably do nothing to cool the ardor of his biggest fans who depend on Fisk's dishonest anti-Israel rants to "legitimize" their own.
Posted by RH at 01:13 PM | Comments (4)
Oil and Anti-Semitism



Saudi Prince Alwaleed Bin Talal
Historian Victor Davis Hanson asks "Why does the international community hate Israel so much?" The answers include not just the dimming memory of the Holocaust and, with that, the lessening restraint on anti-Semites and the far-left's pernicious claim that Israel is an imperial force, but also the vast impact of Arab, especially Saudi, oil money spreading enmity toward the Jewish state.
[S]ince the 1960s, trillions of petrodollars have flowed into the Islamic Middle East, not just ensuring that Israel's enemies now were armed, ascendant, and flanked by powerful Western friends, but through contributions, donations, and endowments also deeply embedded within Western thought and society itself. Universities suddenly sought endowed Middle East professorships and legions of full tuition-paying Middle East undergraduates. Had Israel the oil reserves of Saudi Arabia, then "occupied" Palestine might have resonated at the UN about as much as Ossetia, Kashmir, or the Western Sahara does today.
The recent One-State conference at Harvard University is but the most recent instance of the expanding influence of anti-Israel ideology in the academy, a shift occurring against a backdrop of millions in donated oil money.
Harvard's Prince Alwaleed Bin Talal Islamic Studies Program is named after the donor of $20 million who underwrites that endeavor.
In the UK too, Alwaleed Bin Talal and other oil potentates have poured funds into universities, influencing discourse against both Israel and the West generally.
According to a 2011 Telegraph story:
Between 1995 and 2008, eight universities – Oxford, Cambridge, Durham, University College London, the LSE, Exeter, Dundee and City – accepted more than £233.5 million from Muslim rulers and those closely connected to them
(Bin Talal's largesse in the form of a $10 million donation was rejected by Mayor Giuliani in the wake of 9/11 because of the Saudi's linkage of the terrorist attack to Israeli treatment of Palestinians.)

Posted by AL at 12:52 PM | Comments (1)
March 28, 2012
Where's the Coverage? Israel the Best Place in the Middle East - Maybe the World - for LGBT Rights

Lately, the media has brought us a number of stories about Israel and LGBT rights. New York Magazine featured a story on Manhattan's Lesbian, Gay, Bisexual and Transgender Community Center in the heart of Greenwich Village. The Center, which rents space to various groups, has at the behest of board members and donors stayed away from hosting groups that organize around the Israeli-Palestinian conflict. Recently, however, the Center was the site of a protest demanding this policy be changed with organizers claiming, "Palestinian queers have reached out to us." This is interesting, since Palestinian gays frequently seek asylum in Israel.
On the west coast, the Seattle LBGT Commission canceled a planned March 16 City Hall meeting with gay Israeli leaders over Israel's treatment of the Palestinians, after pressure from activists who said that Israel touts its good record on gay rights to hide what they call poor treatment of Palestinians. This alleged PR campaign of subterfuge is called "pinkwashing" and was brought to prominence through a New York Times op-ed written by lesbian anti-Israel professor Sarah Schulman.
Israel's gay rights record is undeniable. Israel has by far the most liberal LGBT policies in the Middle East, and the community enjoys acceptance in Israel rivaling that found anywhere. In a world-wide survey conducted by GayCities.com and American Airlines, Tel Aviv was voted the world's best gay travel destination. As CAMERA previously reported:
In the Jewish state, thousands attend annual gay pride parades. Gay rights are well-protected. And, amazingly, scores of homosexual Palestinians from Gaza and the West Bank have infiltrated into Israel, preferring to illegally reside in a country long cast as enemy territory than to endure the extreme hostility they would face in their own societies.
Have you heard about Israel's excellent LGBT rights record? Have you heard about the dangerous circumstances in which members of the community live in the Palestinian-administered territories? Have you heard about the many gay and suspected-gay youth murdered in Iraq? Have you heard about the numerous executions of homosexuals in Iran? Have you heard about the pervasive discrimination the LGBT community faces throughout the Arab and Muslim world?
Where's the coverage?
Posted by SC at 01:37 PM | Comments (0)
March 26, 2012
UPI Captions Fueling the Conflict
A series of United Press International (UPI) photos yesterday of a Gaza bakery are accompanied by captions which falsely place the blame on Israel for the Gaza Strip's current fuel crisis. For instance,
A Palestinian baker prepares bread in a wood burning stove at a traditional bakery in the Rafah refugee camp in the southern Gaza Strip on March 25, 2012. Gaza is experiencing a major electricity crisis because of a shortage of fuel for the power plant. Israel blockaded fuel to Gaza after Hamas seized control of Gaza by force in 2007. UPI/Ismael Mohamad
A Palestinian baker prepares pita bread in a wood burning stove at a traditional bakery in the Rafah refugee camp in the southern Gaza Strip on March 25, 2012. Gaza is experiencing a major electricity crisis because of a shortage of fuel for the power plant. Israel blockaded fuel to Gaza after Hamas seized control of Gaza by force in 2007. UPI/Ismael Mohamad
But the current fuel crisis is caused by a dispute between Hamas and Egypt, and is not related to Israeli policy. As reported in the New York Times:
Also on Friday, Israel facilitated a delivery of fuel to the Hamas-run Gaza Strip to provide temporary relief for a fuel crisis stemming from a dispute between Hamas and Egypt. Shortages have caused power cuts of up to 18 hours a day in recent weeks.

With the situation in Gaza becoming more urgent, and the supply to hospitals threatened, Hamas agreed to the assistance from the West Bank-based Palestinian Authority and Israel as a temporary measure.

"This is no solution," Adham Abu Salmia, a Gaza health official, told The Associated Press.

At the request of the Palestinian Authority, which has no access to Gaza, Israel allowed some 450,000 liters of fuel to be trucked through its Kerem Shalom border crossing on Friday, when it is usually closed. Maj. Guy Inbar, a spokesman for the Israeli authority responsible for the crossings, said that amount would be enough for no more than two days.

Over the last year, Hamas stopped paying the Palestinian Authority for Israeli-supplied fuel and relied on cheaper fuel smuggled through tunnels beneath the Gaza-Egypt border. In recent months Egypt has tried to end the practice and to have Gaza import fuel from Egypt legally, also via the Israeli border crossing, a request that Hamas refused. Hamas wants the fuel to arrive directly from Egypt to Gaza.
This is hardly the first instance of false charges regarding Israeli delivery of fuel to the Gaza Strip.
Posted by TS at 06:38 AM | Comments (1)
March 25, 2012
AP Withdraws Story of Gaza Death (Updated)
And now, the latest example of disinformation about Gaza casualties. The Associated Press has retracted its story about the March 23 death of a baby in Gaza after information emerged showing journalists had been duped by a Gaza official, and maybe even by the baby's father.
The AP retraction, published today shortly after the original story moved, notes: "[T]he report has been called into question after it was learned that a local newspaper carried news of the baby's death on March 4."
The wire service then published a follow-up story with more details about the apparent Palestinian manipulation. It explains that "the report appeared to be an attempt by Gaza's Hamas rulers to use it to gain sympathy."
The original story, full retraction, and follow-up story are published below.
Original March 25 story:
Gaza baby dies after respirator runs out of fuel

A Gaza man says his baby died after the generator powering his respirator ran out of fuel — the first known death linked to Gaza's energy crisis.

Abdul-Rahim Helou says his baby, Mohammed, relied on a respirator to help him breathe. Because of 18-hour-day power blackouts, Helou says he had used a gas-powered generator to keep his baby alive.

Mohammed died overnight Friday.

Helou said Sunday that he and his wife didn't realize how much fuel they needed to keep their new generator going and it ran out overnight.

A Gaza health official said the baby arrived at a Gaza City hospital dead, having choked on its own phlegm.

The power shortage has been caused by a cut-off of Egyptian fuel.
March 25 retraction:
STORY REMOVED: Gaza-Power Cuts

GAZA CITY, Gaza Strip (AP) — The Associated Press has withdrawn its story about a 5-month-old baby who was said to have died Friday after the generator powering his respirator ran out of fuel, the first known death linked to the territory's energy crisis. The timing and reason for the death were confirmed to the AP by a man identified as the baby's father and a Gaza health official, but the report has been called into question after it was learned that a local newspaper carried news of the baby's death on March 4.

A substitute story will be filed shortly reflecting the new information.
Follow up story:
A Gaza man said Sunday his 5-month-old baby died two days ago after the generator powering his respirator ran out of fuel, but the report was called into question after it emerged that the timing of the baby's death was misrepresented.

The baby's death -- which was confirmed to The Associated Press by a man identified as the father and a Gaza hospital official -- would have been the first linked to the territory's energy crisis, and the report appeared to be an attempt by Gaza's Hamas rulers to use it to gain sympathy.
The piece continues:
However, the AP later learned that news of Mohammed Helou's death first appeared March 4 in the local Arabic-language newspaper Al-Quds, in an article written by a relative of the bereaved family.

The baby's father, Abdul-Halim Helou, said Mohammed was born with a lymphatic disorder and had only a few months to live. He said they miscalculated how much fuel a new generator needed to remove fluids that accumulated in his respiratory system.

"If we were living in a normal country with electricity, I think his chances of living (longer) would have been better," Helou said.

The Al-Quds article contained the same details as the one recounted by the Helou family on Sunday, saying Mohammed died from choking on his own phlegm. The story quoted that father as saying their generator ran out of fuel, causing their son's respirator to stop working and ultimately causing the baby to choke to death.

The fuel crisis was relevant in early March as well, but Hamas apparently missed the report in Al-Quds -- a publication considered loyal to its rival, Fatah -- and Hamas was now trying to recycle the story to capitalize on the family's tragedy.

Confronted by the AP with the newspaper story, the family and Hamas Gaza health official Bassem al-Qadri continued to insist the baby arrived dead at a Gaza City hospital on Friday night.

That timing would highlight the human cost Gaza's 1.6 million residents are paying for 18-hour-a-day blackouts, triggered by a cutoff of Egyptian fuel.

Shortages have caused days-long lines for fuel at gas stations, a sharp reduction in public transportation and families left shivering in poorly built apartments during a wet, cold winter.

More than a year ago, Hamas decided to fire Gaza's only power plant with smuggled fuel from Egypt, rather than pay for more expensive Israeli fuel, as it had done in the past.

Egypt started cutting off the supplies because it was suffering shortages itself and because it wanted to avoid absolving Israel from continuing responsibility for the crowded, impoverished slice of Mediterranean coast. Israel withdrew from Gaza in 2005 but still controls its land crossings -- except the one to Egypt.

There are hundreds of smuggling tunnels under the 15-kilometer (9-mile) Gaza-Egypt border, and Hamas raises funds by "taxing" smuggled goods, including fuel.

Israel provided some fuel last week as the crisis worsened.

Israeli government spokesman Mark Regev said he was not surprised by the apparent Hamas attempt to alter details of the baby's death.

"I don't believe this case is at all an isolated incident but rather the tip of the iceberg," he said. "Hamas as an authoritarian regime consistently seeks to hide the truth and manipulate the information that is allowed to get out of Gaza."

(This version CORRECTS Rewrites throughout to reflect that the baby died 3 weeks, not 2 days ago. corrects previous version, which was KILLED, to show that report of baby dying appeared March 4, not 2 days ago.)
Posted by GI at 04:35 PM | Comments (1)
Ha'aretz, Lost in Translation, XI (Updated)
Eldad wrote in Hebrew that settlers cleared rocks. Ha'aretz's English translators translated settlers "cleared rocks" into settlers "expelled"
Ha'aretz Lost in Translation strikes again. This time it's an Op-Ed by pro-settlement writer Karni Eldad, which states in the English version:
Jewish settlement in Judea and Samaria can be broken down into a number of periods - the settlement period, during which dozens of communities were established (mostly under the Labor Party, and much of it due to President Shimon Peres ); the agricultural period, during which settlers took over land, expelled, planted and sowed; and the period of tourism, during which wineries, bed and breakfasts, restaurants and tourist attractions were built under every tree. (Emphasis added.)
That an advocate of the settlements would allege that settlers "expelled" seems highly unlikely. Indeed, a glance at the original Hebrew version tells us that in fact Karni Eldad did not at all write that settlers "expelled." The bolded English phrase above appears as follows in the original Hebrew:
תקופת החקלאות, שבה נאחזו המתיישבים בקרקע, סיקלו, נטעו וזרעו
The translation of the bolded English section is actually:
the agricultural period, during which settlers held onto the land, cleared stones, planted and sowed.
Thus, while Eldad wrote that settlers cleared stones ("seeklu"), Ha'aretz's English editors insisted that the settlers "expelled" ("seelku").
Furthermore, the Hebrew word "ne'achzu," which Ha'aretz translates as "took over the land," is not exactly that. While "taking over the land" has a negative connotation implying that it was taken over from someone, the word "ne'achzu," which doesn't have a precise English translation, does not imply the displacement of others. The infinitive of the Hebrew verb most accurately means "to hold on."
Update, 8:33 EST -- Ha'aretz has quietly changed the online article, replacing "expelled," with "cleared stones." The online story does not indicate that the earlier version was erroneous, as is customary in most media outlets. It remains to be seen whether the paper will issue a correct in the print edition, where the error also appeared.
Udate, March 26 -- Ha'aretz commendably corrects in the print edition.
Posted by TS at 03:49 AM | Comments (1)
March 22, 2012
NYT Skews Coverage of Toulouse Terrorism

The New York Times is supposed to be the paper of record. Implicitly, it holds itself to a high standard of journalism. Its reporting on the massacre of Jews at a school in Toulouse, however, illustrates how the paper's ideological bent, particularly its advocacy for the Palestinians, subtly interferes with its coverage of events that just tangentially touch upon the Israeli-Palestinian conflict.
In its first report of the killings on March 20, The Times recalls the recent history of anti-Semitic massacres in France. It establishes
The shooting on Monday was the deadliest anti-Semitic attack in France since 1982, when the Chez Jo Goldenberg restaurant in Paris was bombed at lunchtime, killing 6 people and wounding 22. In 1980, a terrorist group attacked a Jewish synagogue on the Rue Copernic in Paris, killing 4 people and wounding about 40.
The Times doesn't say who committed these attacks except to identify the earlier attack as the work of a terrorist group. Both, in fact, were carried out on behalf of Palestinian terrorist groups. Their motives, it turns out, were similar to the one proclaimed by the current murderer.
In fact, in recent years the perpetrators of highly publicized murders of Jews have been criminals and jihadists from the French Muslim community. Along with the terrorist acts mentioned above committed by Palestinian terrorists and their associates, there were the more recent tortures and killings of French Jews, Ilan Halimi and Sebastian Sellam. Based on recent history, speculation should have fallen at least as heavily on a Muslim extremist as it did on a nativist racist. But if the identities and proclaimed motives of other recent anti-Semitic murderers are concealed from readers, then naturally, suspicion will fall elsewhere. As it turned out the perpetrator was a jihadist fanatic.
The Times' focuses instead on the scenario of an indigenous racist. Such speculation is not unwarranted, since that is what French officials suggested and the recent shooting of three Arab and one black soldier lent credence to that speculation. However, by omitting information about recent murders of Jews by Arab terrorists and focusing almost exclusively on racist motives, the Times coverage inevitably diverts to the topic of racial tension in French politics between French nativist sentiment and Muslims.
On March 21, the coverage focused further on the suspected rightwing racist angle. The Times wrote, "But the political debate around the shootings, and whether the deaths of an instructor and three young children were somehow inspired by anti-immigrant political talk, is likely to continue -- both as a weapon in the presidential campaign and as a more general soul-searching about the nature of France."
It turns out the rightwing racist angle and the tensions between nativists and the Muslim community were irrelevant to these murders and only muddied our understanding of what happened.
If The Times had been more forthcoming about the actual nature of recent anti-Semitic violence in France, it could have followed hints that the murders might be connected to Muslim fanatics aroused by a culture of hatred against Jews centered around the Israeli-Palestinian conflict. The first news report includes comments by a local Jewish leader in Toulouse that there has been "regular anti-Semitic violence and vandalism in recent years in this area of southwest France, where there are also many Muslim immigrants." He also recalls that the outbreak of the Palestinian intifada a decade ago also was accompanied by a spike in anti-Jewish violence. But there was no follow through by the paper.
Another article on March 21 discusses comments by Lady Ashton, the European Union's High Representative for Foreign Affairs and Security, who implicitly drew a parallel between the murders and the plight of Palestinian children in Gaza. After reporting on Ashton's clarification that she ''referred to tragedies taking the lives of children around the world and drew no parallel whatsoever between the circumstances of the Toulouse attack and the situation in Gaza'', The Times concludes with a report that Israeli strikes against Palestinian militants in Gaza killed two children. The inclusion and placement of this item at the end of a piece about the inappropriate linkage between the massacres of the Jewish children in France and Gazan children is curious, as if to suggest that Ashton's officially released comments were appropriate. It is also worth noting that the paper repeated the official published comments, not the actual recorded statement made by Lady Ashton, which included mention of Sderot.
Posted by SS at 03:10 PM | Comments (3)
Ha'aretz Photo Time Warp
A Ha'aretz story yesterday by Oz Rosenberg alleging "increasing Border Police harassment" of Palestinian children in eastern Jerusalem, including at schools, was accompanied by the following photo:
The caption in the English print edition reads:
Police detaining a Silwan teen on suspicion of throwing stones earlier this year.
But the Reuters photo is not from 2012. Nor is it from the last 12 months. The photo is actually from Jan. 28, 2011. The original Reuters caption reads:
An undercover Israeli police officer and border police officers detain a Palestinian youth on suspicion of throwing stones during clashes in the East Jerusalem neighbourhood of Silwan January 28, 2011. An Israeli police spokesperson said that a police officer and an Israeli woman were injured by rocks thrown at them. Israeli police detained four Palestinian stone-throwing youths during the clashes. REUTERS/Baz Ratner
So the photo is more than a year old, and not from 2012. If Ha'aretz could not find a relevant recent image of students being arrested or harrassed in or near their schools, then it's acceptable to use a related file photo provided it is labeled accordingly. But it's not acceptable to pass it off an illustrative file photo as if it is current. Stay tuned for a correction.
March 25 Update: After Presspectiva, CAMERA's Hebrew department, communicated with editors, Ha'aretz has quietly changed the online caption, but has not issued a correction in print. Nor does the online edition indicate that the original caption misdated the date. The updated image and caption are below:
Posted by TS at 07:30 AM | Comments (1)
March 21, 2012
Two Faces of Palestinian Prime Minister Salam Fayyad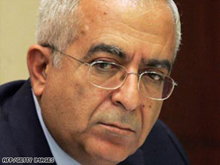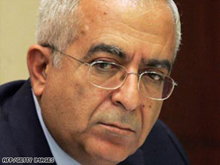 Palestinian Prime Minister Salam Fayyad, in a statement for publication, appropriately condemned the Jewish school attack by an Arab Muslim jihadist in France:
It is time for these criminals to stop marketing their terrorist acts in the name of Palestine and to stop pretending to stand up for the rights of Palestinian children who only ask for a decent life... This terrorist crime is condemned in the strongest terms by the Palestinian people and their children ... No Palestinian child can accept a crime that targets innocent people. (Agence France Presse -- English – March 21, 2012 Wednesday)
But to his own people, Fayyad praised terrorists who kill innocent people:
"Prime Minister, Salam Fayyad opened his weekly radio address on March 24, 2011 by sending greetings to the Palestinian mother in honor of Mothers' Day," Palestinian Media Watch reports. Fayyad's greetings included:
I make special mention of all the women prisoners who are mothers: Iman Ghazawi, who has been imprisoned for ten years; Qahira Al-Sa'adi; Irena Sarahneh; Latifa Abu Dhiraa; Ibtisam Al-Issawi; Muntaha Al-Tawil; and Kifah Qatash.
PMW explains that "Qahira Al-Sa'adi drove a suicide bomber to an attack in Jerusalem in 2002, in which 3 were killed. Irena Sarahneh drove a suicide bomber to an attack in the Israeli city Rishon LeZion in 2002, in which 2 were killed and dozens injured. Iman Ghazawi placed a bomb at the central bus station in Tel Aviv in 2001, which was discovered before it exploded. Latifa Abu Dhiraa smuggled a bomb into Israel for a suicide terror attack in 2003 that was uncovered before it was implemented."

Posted by MK at 04:48 PM | Comments (0)
Robert Mackey's Anti-Israel Hostility Continues
Robert Mackey, a New York Times blogger who last year compared radical activists who attacked Israeli troops to Holocaust survivors, still isn't trying too hard to disguise his hostility toward Israel.
A couple of weeks ago, during the fighting in Israel and Gaza, Avi Mayer discovered a hoax gaining traction on the Twitter. A dramatic photo of a small, bloody girl was circulated on the social network with text claiming the girl was killed by Israel during the fighting. Mayer, using his own Twitter account, pointed out that the photo was in fact from 2006, and that the girl was killed after she fell off a playground swing.
As the photo and false description continued to spread on Twitter, the IDF took to its blog to correct the misinformation.
Or, in Mackey's jaundiced view, the Israeli military "pursued its enemies on Twitter."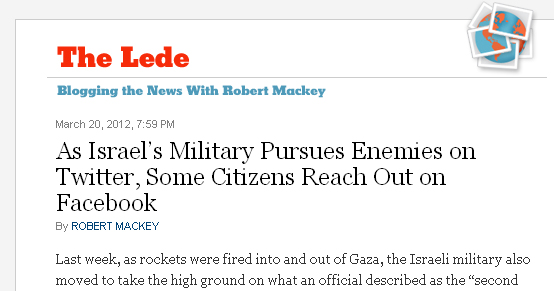 As things tend to be in Mackey's world, the faux-tography scandal wasn't so much an issue. The dramatic example of yet another attempt to demonize Israel with lies wasn't headline-worthy. The him, the storyline is Israel's military aggressively pursuing enemies.
Strikingly, Mackey neglected to mention that the reported source of the hoax is a UN employee, "Information and Media Coordinator" Khulood Badawi — even though he made sure to note that another Twitter-user who posted an old image of Israelis taking shelter from a rocket is a Israeli government spokesman. Though the misinformation by a UN information official wasn't significant to the New York Times blogger, it was definitely significant to UN Secretary Ban Ki Moon, whose spokesperson censured Badawi, saying "It is regrettable that an OCHA [Office for the Coordination of Humanitarian Affairs] staff member had posted information on her personal Twitter profile which was both false and which reflected on issues that are related to her work."
Throughout his post, Mackey also took pains to cast the falsehood about the bloody girl an unwitting mistake, as opposed to malicious lie by a longtime anti-Israel activist. The image was "mistakenly identified," Mackey insists. If anything, he implies Israel is the one acting in bad faith:
An Israeli press officer who contacted The Times to pitch an article on how Palestinians were "using social media to purposely pass along misinformation, presenting it as breaking news," provided no evidence to support the contention that the Palestinian errors were intentional while the Israeli ones were accidental.
Unfortunately, it's just more of the same from biased blogger Robert Mackey.

Posted by GI at 12:23 PM | Comments (0)
Why was Lady Ashton's Reference to Sderot Removed?
There has been much criticism of Lady Catherine Ashton, High Representative of the European Union for Foreign Affairs and Security Policy, for her comments about the massacre of Jewish students and a rabbi in Toulouse, France by a Muslim extremist. In particular many were outraged that in the context of this massacre, she chose to connect it to the predicament of children in Gaza, implicitly condemning Israel.
The Gaza reference generated widespread criticism and a follow-up statement by Lady Ashton. However, her inclusion of children in Gaza obscured the other outrageous component of the controversy over her comments. In her televised remarks, Lady Ashton included the children of the Israeli border town of Sderot as an example of children suffering. Yet in the official released version of her comments the reference to Sderot is removed.

There are two possibilities; one is that Lady Ashton did not include Sderot in her official response and only added it impromptu in front of the camera; the other is that the sympathetic reference to Sderot was intentionally removed from the official public version of her comments.
The first possibility speaks to Lady Ashton's mindset that only remembers the suffering of Israeli children targeted by Hamas rockets as an afterthought. But the second possibility is worse, it suggests a dogmatic insensitivity to Jewish suffering.
Posted by SS at 12:05 PM | Comments (2)
March 20, 2012
Beinart's Anti-Israel Ambitions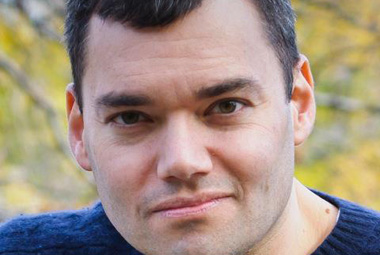 Peter Beinart
It's no surprise The New York Times published Peter Beinart's column calling for a boycott of Israeli settlements. The Op-Ed pages are a forum for extreme voices and radical anti-Israel positions.
Beinart's joining the extremists may win him speaking engagements and plaudits in some venues but he's also clarifying who he is for a lot of other (mainstream) news consumers. As Richard Baehr spells out in Israel Hayom it's clear what he's up to. Nothing advances a lagging career like Israel-bashing.
[I]n early 2010, Beinart chose to follow the Walt-Mearsheimer model. In an article in the New York Review of Books, he bemoaned the loss of support (and even hostility) for Israel among young educated Jews, and decided that his sympathies were with this camp of Jews who had become alienated from Israel.
Claims that young Jews are largely disaffected from Israel are specious, but the argument serves as the favored excuse for the far left to join Israel's attackers. (Various polls show continuing strong sympathy of Jewish youth for Israel. The Cohen Center for Modern Jewish Studies at Brandeis study found the Beinart/J Street theme of younger Jewish "distancing" from Israel to be false. A CAMERA/Luntz poll in May 2011 found young Jews to be sympathetic to Israel in nearly the same degree as the older population.)
Posted by AL at 12:17 PM | Comments (4)
March 19, 2012
Snapshots Got it Right on Schirrmacher's Speech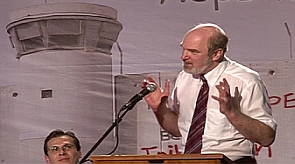 Last week, Dr. Thomas Schirrmacher (pictured above) from the World Evangelical Alliance (WEA), challenged the accuracy of a quote attributed to him in a previous post on Snapshots about his presentation at the Christ at the Checkpoint Conference in Bethlehem on March 5, 2012.
In this post, Snapshots reported that Schirrmacher explained why he was not wearing a jacket while speaking to the audience. The reason, he said, was that he was at an archeological dig and did not have the time to retrieve his jacket before coming to the conference. The entry continues:
Shirrmacher was a bit chagrined about his appearance, but he was clearly animated by the amateur archeological dig he was able to participate in. Schirrmacher was right to be animated, because in other instances, the Waqf has simply discarded the dirt from the Temple Mount, making a systematic investigation of the area's archeology impossible

So what did he find? Evidence of a Jewish presence on the Temple Mount? That's not how he described it, but apparently so.

As he and his Muslim hosts dug through the dirt near the Al Aqsa Mosque, they found artifacts "from the beginning of monotheism," Schirrmacher reported.

They also found a number other artifacts including objects dating back to the Roman empire.

"After that we found an Israeli bullet," he said, which he was allowed to keep.

It's a small thing, but Schirrmacher's reference to artifacts "from the beginning of monotheism" was a bit odd.

Exactly what did Schirrmacher mean by this imprecise phrase? Was he talking about the cult of Aten founded by Akhenaten in ancient Egypt?
In response to the entry, Dr. Schirrmacher stated that he was either misunderstood or misquoted. In a comment left below the post he wrote:
I listened to the recording of my speech, as I think that you either heard me wrong or misrepresent me. But I am right: I did not use the phrase "beginning of monotheism", I clearly used the term "temple mount", and when I listed what we found, started with the iron age and ended with a modern bullet, but also mentioned Salomos wall. By the way: I did the research into the findings from the temple mount together with Gabriel Barkay, a Jewish archaeologists known for his criticism of [destruction] on the temple mount, and the press was present!
In particular, Dr. Schirrmacher said he did not use the phrase from the beginnings of monotheism and that he did use the phrase "Temple Mount" which in the context, would seem to undermine the entire point of the post -- that Dr. Schirrmacher did not acknowledge the Jewish history of the Temple Mount, which in the face of "Temple Denial" by Palestinian religious and political leaders, is a pretty big deal.
This is a pretty direct challenge to the blog entry and Snapshots moved quickly to address the factual issues raised. We asked Porter Speakman, Jr., Media Director Christ at the Checkpoint to provide the video for Dr. Schirrmacher's speech. We also asked Dr. Schirrmacher to provide a copy of the audio he listened to.
Porter Speakman, Jr. provided a copy of Dr. Schirrmacher's speech to CAMERA, who in turn, provided a copy of the video to Dr. Schirrmacher. (Dr. Schirrmacher asked for a copy of the video once CAMERA informed him via email that it had obtained a copy from Speakman and would examine the video today (Monday, March 19, 2012).
Over the weekend, Dr. Schirrmacher sent the following message to CAMERA:
Dear Mr Van Zile, you are right! I missed the "jewish" before "monotheism". So I will need to publish my original manuscript. In this I also will add a footnote, that the excavations we did, came from the building of the mosque on Temple Mount, but are under the control of Jewish archaeologists now after a decision of the Supreme Court of Israel.

Yours, Thomas Schirrmacher

PS: You may publish my line as a commentary in your blog.
After receiving this gracious note, CAMERA watched the video and transcribed the portion relating to Dr. Schirrmacher's visit to the archeological dig. The transcription reads as follows:
First of all I have to apologize that I don't have a jacket and have to tell you … well, I have one in my hotel so I have to tell you why I don't' have one. On the invitation of the Mufti together with my wife, whose I can't [indecipherable], she's standing there. She's a professor of Islamic studies in Germany where I come from we visited the Dome of the Rock and the Al Aqsa Mosque and you know that they built a new mosque besides on the left side and a lot of stuff was taken out there and put outside and we had the chance today to dig through the leftovers to the stones and I still have a lot of dirt on my shoes and trowsers because I came directly here and didn't have time to go to the hotel and get my jacket. [Note the original blog entry inaccurately reported that Dr. Schirrmacher said he had dirt on his "shirt and trowsers" not his shoes. Snapshots regrets the error.]

Going through all those stones and we found metals and bones and all kinds of stuff I really was amazed at what has happened in this small part of the world. I mean we found things really from the Stone Age, through the very old ages of the beginning of monotheism.

I mean we found stuff from the Roman times, from the New Testament times, we found stuff from the Persians, from the Ottoman Empire, times after that. I even found an Israeli bullet that at some time was shot there and I took it home.

I was allowed to take it home.

That was the archeology…
The remainder of Dr. Schirrmacher's speech dealt with a number of theological and interfaith issues that are worthy of analysis at another time, but they are not relevant to the questions at hand:
1. Did Dr. Schirrmacher acknowledge the Jewish history of the Temple Mount during his talk at Christ at the Checkpoint Conference?
No, he did not. About the closest he came was to state "the very old ages of the beginning of monotheism."
2. Did Snapshots mishear or mischaracterize Dr. Schirrmacher's presentation in a manner significant to the question at hand?
No. In his comment on the previous blog post, Dr. Schirrmacher stated that after hearing a recording of his talk that he did not say the phrase "beginnings of monotheism." In fact, he said the phrase "beginning of monotheism" – (without the s). This is an insignificant difference.
He also stated that he used the phrase "Temple Mount" during his talk.
He did not.
In light of these facts, Snapshots stands by its previous entry. We wrote about what we saw and heard, not what was in Dr. Schirrmacher's prepared text.
Snapshots would like to thank Dr. Schirrmacher for his gracious acknowledgement that we got it right.

Posted by dvz at 01:52 PM | Comments (2)
Where's the Coverage? Iranian Hunger Striker Freed

You've no doubt heard a lot about Khader Adnan, the Palestinian "baker" who is really a spokesman for and member of the terrorist group Islamic Jihad. He went on a hunger strike in protest of his military detention in Israel. Adnan will be released on April 17 unless "new additional substantial evidence" emerges against him. Today, a Google search for "Khader Adnan" turned up 2.1 million links. On Google news today, a search came up with 304 links.
Contrast the above with the case of Mehdi Khazali of Iran. Unlike Adnan, Mehdi Khazali is not a terrorist. He is a genuine human rights activist. An ophthalmologist by training, Khazali is an outspoken blogger and critic of the Iranian regime even though his father is a prominent hard-line Iranian Ayatollah. He was arrested on January 9 on charges that are unclear, beaten, his teeth shattered and his arm broken, according to the International Campaign for Human Rights in Iran. At that time, Khazali also began a hunger strike. According to his son, who saw him 49 days into the hunger strike:
When we saw him in the hospital, we couldn't believe it was him. His weight loss was unbelievable; he was so thin. We are afraid something bad might happen to my father.
Khazali was apparently released on $180,000 bail last Friday, March 16, after approximately 70 days of hunger striking.
Yet, have you heard anything about Mehdi Khazali?
A Google search of "Mehdi Khazali" today turned up 48,300 links -- less than one fortieth of the results for Khader Adnan. On Google news, we only found 31 links -- a tenth of what was produced for Khader Adnan.
Furthermore, searching the New York Times website for Khader Adnan turned up 11 results in the Past 12 months. While a similar search for Mehdi Khazali produced zero results:
Your search - "Mehdi Khazali" - did not match any documents under Past 12 Months
Israel detains a known terrorist who goes on a hunger strike and it becomes a cause célèbre. Yet, when a legitimate human rights activist is arrested, beaten, and tortured by the Iranian regime and he goes on a hunger strike, the world is mum. Where's the coverage? Where's the fairness?
Posted by SC at 12:52 PM | Comments (1)
Ha'aretz Recycles Unverified Golda Meir Quote
Seven years ago, after writing that Golda Meir "said that after what the Nazis did to us, we can do whatever we want," Ha'aretz writer Gideon Levy admitted that he had no source for the virulent quote. In an Aug. 12, 2004 email to CAMERA, he acknowledged: "Therefore we dropped the quotation in the original version in Hebrew and by mistake it was printed in the English version."
Today, Akiva Eldar, Levy's colleague, recycles the unsubstantiated quote:
The death of John Demjanjuk recalls the declaration that Shulamit Aloni attributes to the late Prime Minister Golda Meir after the Eichmann trial: "Now, when everyone knows what they did to us, we can do anything we want and no one has the right to criticize us and tell us what to do."
After searching for the Hebrew wording of this alleged quote, we learn that Shulamit Aloni cited the purported Meir statement in an Aug. 14, 2009 Op-Ed in Ha'aretz.
At the time, writer Uri Heitner blogged (CAMERA's translation from the Hebrew):
Did Golda really say this? I never heard about it. Since I read the article, I checked with journalists and researchers if anyone knows about such a statement -- no one has heard of it. The closest quote deals with the request not to impose the death sentence on Eichmann: "Only from us do they require this because the world is not accustomed to viewing the nation of Israel like the rest of the nations." And what does Google have to say about the matter? There is a similar mention, in a lecture by Shulamit Aloni during a Gush Shalom panel discussion, during the second intifada. But based on what I know of Aloni and other like-minded Golda admirers, if Golda said these things, we would have been hearing about it non-stop.

So Shulamit Aloni wrote it, Ha'aretz published without checking, and by press time we were not able to get a comment from Golda Meir. It could be assumed that Golda will not deny the claim.

And yet. . . Shulamit Aloni ought to have been required to explain the basis for her claim. If Golda did say it, who heard her, how was it recorded.
Since then, Aloni has yet to provide this information, but that hasn't stopped Eldar from recycling the unverified quote.
(See here for more on bogus Zionist quotes.)
Posted by TS at 04:01 AM | Comments (0)
March 17, 2012
The Economist Changes Offensive Title
Since we posted our article on the venomous M.S. blog of March 6, 2012, The Economist has seen fit to change the title from "Israel, Iran and America: Auschwitz complex" to "Israel, Iran and America: Masters of their fate?" The editor's note reads:
The original headline of this blog post was inappropriate and has been changed at the instruction of the editor in chief. No offence was intended and we apologise unreservedly.
The content of the blog flouted all journalistic norms, completely misrepresented the facts and was laden with hostility toward Israel, Judaism and Jews. One hopes the editor-in-chief will see the need to rectify that as well.
Posted by SC at 08:42 PM | Comments (1)
March 16, 2012
The Atlantic Corrects Erroneous Caption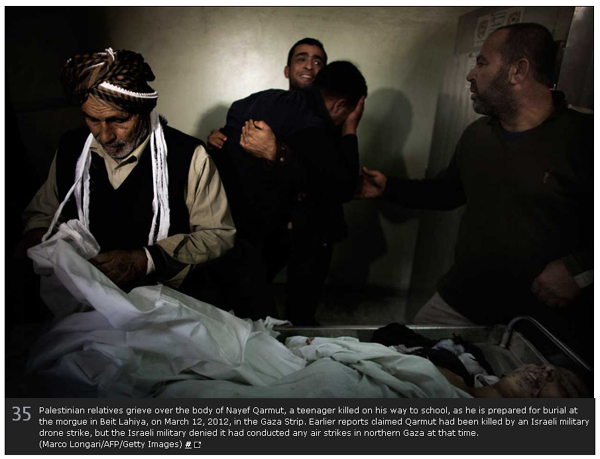 Unlike the International Herald Tribune, which has yet to correct its clearly problematic photo caption about the death of a Palestinian boy, The Atlantic's website, to its credit, quickly and straightforwardly amended its caption to accurately reflect doubts about the circumstances of his killing after CAMERA provided relevant information to editors.
The Atlantic was relying on a caption from AFP, which apparently never corrected its caption even after its own reporter investigated the scene and determined Israel was not responsible for the killing.
After having originally asserted that the boy was killed "in an Israeli military drone strike," the Atlantic now explains that "Earlier reports claimed Qarmut had been killed by an Israeli military drone strike, but the Israeli military denied it had conducted any air strikes in northern Gaza at that time."
The new caption does not mention AFP's investigation.

Posted by GI at 05:08 PM | Comments (0)
UPDATED: Fabrications Sneak Past PRI Fact Checkers
A Palestinian health official blamed Israel for the death of Baraka al-Mughrabi, when he was in fact killed by a bullet fired by Palestinian gunmen.
Several mainstream news outlets — including the International Herald Tribune, The Atlantic and Time — continue to blame an Israeli airstrike for the death of Nayef Qarmut, even after Israel stated its military was not active at the time and place of his death, and an AFP reporter independently confirmed there was no sign of an airstrike. (Update: The Atlantic corrected its language after CAMERA informed editors of the doubts raised.)
And now, from a world away from the Middle East, we have another reminder of the need for, and occasional glaring lack of, journalistic diligence.
A highly popular episode of [Public Radio International's] This American Life in which monologuist Mike Daisey tells of the abuses at factories that make Apple products in China contained "significant fabrications," the show said today.

"We're horrified to have let something like this onto public radio," Ira Glass, the show's executive producer and host said in a blog post today. "Our program adheres to the same journalistic standards as the other national shows, and in this case, we did not live up to those standards."
Posted by GI at 02:53 PM | Comments (0)
March 15, 2012
Lawyers Subverting Rule of Law in Egypt

Lawyers, who are typically responsible for upholding the rule of law, are subverting it in Egypt.
The Assyrian International News Agency (AINA) provides the details in an article titled "300 Muslim Lawyers Storm Egyptian Court, Prevent Lawyers for Christian From Entering."
Be afraid. Be very afraid.
Posted by dvz at 09:14 PM | Comments (1)
Controversy at Tufts Daily Paper

A recent Leadership Statement published in the Tufts University student newspaper, The Tufts Daily, has upset some Tufts students, especially several members of Students for Justice in Palestine.

The statement, sponsored by the Tufts America Israel Alliance and the Tufts Friends of Israel, declared, "As a student leader at Tufts I support the U.S.-Israel Relationship." The statement included the names and organizations of the student-leader signatories.

Apparently, this degree of open expression was too much for some members of SJP, who, according to an article in the Daily, have protested against the ad on the basis that the inclusion of student senators as signatories violates a the Senate bylaw forbidding the Senate to advance a political position unless it is previously voted on.

This complaint comes despite the fact that the Statement features a prominent disclaimer, which specifically notes that the signatories do not represent their organizations: "The views expressed are my own and do not represent the positions of my stated leadership role or organization."

Recently, The Daily published a letter to the editor by a Tufts student, criticizing the paper's coverage of the controversy. The student cited the paper's use of biased quotes by the disgruntled SJP member as a staple of any article concerning Israel, pointing to the article about the Leadership Statement as an example of the paper's M.O.

Posted by srm at 05:18 PM | Comments (2)
Where's the Coverage? Egyptian Parliament Declares Israel Enemy #1


On March 12, 2012, the Arab Affairs Committee of the newly-elected Egyptian parliament issued a report declaring Israel Egypt's "number one enemy."
According to the Jerusalem Center for Public Affairs, the committee's statement also called for Egypt to, among other things:
· "Reconsider its entire relationship and agreements with this enemy"
· Expel the Israeli ambassador and recall the Egyptian ambassador from Israel
· Support the armed Palestinian struggle against Israel (remember, the Muslim Brotherhood is the parent of Hamas)
· Re-adopt the total Arab boycott of Israel
The house then voted unanimously to support the report. The Egyptian parliament is dominated by leftist parties, the Muslim Brotherhood's Freedom and Justice Party (note the Orwellian terminology), and their even more reactionary allies, the Salafi party.
Last month, U.S. Director of National Intelligence James Clapper testified on Capitol Hill that the Muslim Brotherhood has "pursued social ends" and a "betterment of the political order," and added:
The term "Muslim Brotherhood" … is an umbrella term for a variety of movements, in the case of Egypt, a very heterogeneous group, largely secular, which has eschewed violence…
Clapper later clarified that "he is well aware that the Muslim Brotherhood is not a secular organization." Is he also aware that they are not working to "pursue social ends" or a "betterment of the political order" and have not "eschewed violence"?
For now, Egyptian policy is set by the ruling Supreme Council of the Armed Forces, however the military has said it will hand over power after presidential elections scheduled for May 23-24. This does not bode well for the future of Egypt's relationship with its #1 enemy, Israel, or for the U.S.-brokered Camp David Peace Accord.
Have you heard much about this in the U.S. press?
Has this been on the front page of the New York Times?
Where's the coverage?

Posted by SC at 01:37 PM | Comments (2)
March 13, 2012
J Street (Sort of) Explains False Claim of Civilian Casualties
In a Jerusalem Post story entitled "MK slams J Street for statement on Gaza," a J Street spokesperson attempts to explain her organization's false claim that Israel "killed over a dozen civilians" when in fact almost all the Gaza casualties were terrorists.
The story notes:
J Street subsequently revised the statement on their website by removing the reference to the "dozen Palestinian civilians." By Tuesday afternoon, the organization had also added a brief apology saying, "Please note the original statement misstated the number of civilian casualties. We regret the error."

On Tuesday night, a spokeswoman for J Street told The Jerusalem Post that the organization regrets the error and had misreported the number of civilian casualties "based on an unfounded report."
Mistakes happen. But the spokesperson apparently did not explain what "unfounded report" J Street president Jeremy Ben Ami deemed more reliable than Israeli assessments and reports from all the major news outlets.
Posted by GI at 06:43 PM | Comments (5)
Nicky Larkin Sees Shades of Grey
Irish artist and film-maker Nicky Larkin - who in the past frequently assailed Israel - now sees shades of grey regarding the Arab-Israeli Conflict.
In his remarkable article, Larkin describes his change of heart and his interview with a former Palestinian government member, "the Palestinian mantra was one of 'non-violent resistance'".
Larkin continues:
Yet when I interviewed Hind Khoury, a former Palestinian government member, she sat forward angrily in her chair as she refused to condemn the actions of the suicide bombers. She was all aggression.
Read the article here.
Posted by at 03:12 PM | Comments (2)
Bassam Eid's Journey
Bassam Eid, the founder of the Palestinian Human Rights Monitoring Group, has become an outspoken critic of the Palestinian Authority. In an article appearing in the South African Jewish Report (March 9-16, 2012) he bluntly states, "There are no Palestinian leaders capable of conducting peace talks."
The article describes Eid as "a former anti-Israel activist turned critic of the violation of Palestinian human rights by his own leaders." He is a sharp critic of "the Palestinian Solidarity Committee around the world, for fomenting a hatred between Palestinians and Jews that does not exist in Israel or in the territories."
The article on Eid serves as a reminder that both Jewish and Arab communities in Israel and the Palestinian Authority territories are victimized by self-serving international activists.
Note: The link to the edition of the South African Jewish Report appears to be disabled. Please contact the editor of the South African Jewish Report directly to let him know that you would like a copy of the article and that he should fix the link.
A second more detailed piece ran in an article published by the Voice of the Cape.
Posted by SS at 11:29 AM | Comments (2)
IHT Reports Discredited Palestinian Claim as Fact
AFP: Nayef Qarmut likely died while carrying explosives
Despite the fact that the AFP agrees with the Israeli army that an Israeli airstrike did not kill 15-year-old Nayef Qarmut in northern Gaza yesterday, the International Herald Tribune blames his death on Israel without any qualification.
The International Herald Tribune, published by the New York Times, nevertheless reports that Qarmut was killed in an Israeli airstrike. The Tribune's problematic coverage is particularly inexplicable given the Times' longer version of the very same story by Isabel Kershner details the AFP's confirmation of Israel's denial.
Thus, the Tribune's Kershner article reports today: "Israeli airstrikes killed five Palestinians on Monday, bringing the overall toll to 23, with 3 out of the 5 killed on Monday civilians."
Yet, the longer Times version of the very same piece details:
More than 150 rockets have fallen in Israeli territory since Friday, and Gaza officials said at least six Palestinians died on Monday, bringing the overall toll to 24. Though most of those killed have been militants, at least two of those who died in airstrikes on Monday were civilians.

A Gaza medical official and Gaza human rights groups said that one of the victims, Nayif Shaaban Qarmout, 14, was killed in an airstrike and that five other youths were wounded as they walked to school, but the Israeli military denied having carried out any attacks at that hour. An Agence France-Presse reporter at the scene confirmed that there was no sign of an airstrike.

Later, a missile killed Muhammad al-Hassumi, 65, and his daughter Fayza, 30, as they put out a fire on their land.
Israel disputes the Palestinian claim that Nayif Qarmout was killed by an Israeli airstrike, and an AFP reporter on the scene confirms Israel's claim, so why does the Tribune count him without question or qualification among those civilians killed by Israel?
Posted by TS at 08:19 AM | Comments (1)
March 12, 2012
Second Update: Dr. Schirrmacher is Polite to His Hosts
March 19, 2012: Snapshots stands by this entry. For more information, please go here.
March 13, 2012 Update: Dr. Schirrmacher has posted a response in the comments below stating his comments have either been misheard or misrepresented. In response, Snapshots respectfully asks the organizers of Christ at the Checkpoint to post the video from Dr. Schirrmacher's presentation on its website to clear up the confusion. If a correction is in order, one will be made. Alternatively, if Dr. Shirrmacher can make his recording available, that will help clear up the confusion as well.
One of the oddest moments of the Christ at the Checkpoint Conference that took place in Bethlehem last week came during a brief welcome offered by Dr. Thomas Schirrmacher from the World Evangelical Alliance (WEA).
Schirrmacher (pictured above), who serves as the executive chair of the Theological Commission of the WEA, appeared at the podium in a shirt and tie, but with no formal jacket on the opening night of the conference on Monday, March 5, 2012.
The reason he had no formal jacket, Shirrmacher explained, was that he had spent the day digging through a mound of dirt that had been excavated during construction near the Al Aqsa Mosque.
Because of this excursion, during which he got dirt on his shirt and trousers, he had no time to go back to the hotel to get his jacket before addressing the crowd.
Shirrmacher was a bit chagrined about his appearance, but he was clearly animated by the amateur archeological dig he was able to participate in. Schirrmacher was right to be animated, because in other instances, the Waqf has simply discarded the dirt from the Temple Mount, making a systematic investigation of the area's archeology impossible.
So what did he find? Evidence of a Jewish presence on the Temple Mount? That's not how he described it, but apparently so.
As he and his Muslim hosts dug through the dirt near the Al Aqsa Mosque, they found artifacts "from the beginning of monotheism," Schirrmacher reported.

They also found a number other artifacts including objects dating back to the Roman empire.
"After that we found an Israeli bullet," he said, which he was allowed to keep.
It's a small thing, but Schirrmacher's reference to artifacts "from the beginning of monotheism" was a bit odd.
Exactly what did Schirrmacher mean by this imprecise phrase? Was he talking about the cult of Aten founded by Akhenaten in ancient Egypt?
Probably not. The geography doesn't work out.
So if Shirrmacher was talking about the ancient Israelites and if so, why didn't he say so? Why didn't he just come out and say he found evidence of a Jewish presence on the Temple Mount?
Why not say that he, along with his Muslim hosts, found Jewish artifacts near the Al Aqsa mosque?
People, particularly those who wanted to assert that the Jewish people have no spiritual claim to the land of Israel, had no problem saying the word "Jew" during the rest of the Christ at the Checkpoint conference, but here, when its use would affirm the historical connection to the Temple Mount, it was left unsaid.
Why?
Was Dr. Schirrmacher engaging in a bit of self-censorship so as not to offend Palestinian political leaders who were in the room and the Muslim clerics who were kind enough to let him dig through the dirt on the Temple Mount, or the Haram Al Shariff, as its called by Muslims?
As most Snapshots readers know, acknowledging the Jewish presence on the Temple Mount is a rather difficult task for Palestinian political and religious leaders.
Is an official from the WEA conforming his speech to this agenda of "Temple Denial"?
Posted by dvz at 02:38 PM | Comments (4)
NPR's On Point Unfair to Israel Again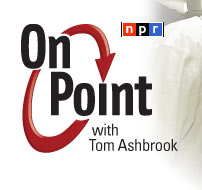 NPR's syndicated program, On Point, with Tom Ashbrook continues its tradition of tolerating at least one egregious anti-Israel distortion per Middle East segment (examples -- here, here, here, here, here and here). The panel for the March 6, 2012 show (click here to listen) "Weighing The Iranian Threat" included David Sanger (chief Washington correspondent for the New York Times), Michael Makovsky (Bipartisan Policy Center) and Graham Allison (Professor of Government at Harvard University).
The inflammatory charge of the day was called in about half-way through the broadcast:
Iran is their [Israel's] problem because they [Israel] are committing ethnic cleansing in the occupied territories and Iran will not stand for that and I don't think we should either.
It elicited only a mild response by Ashbrook:
I appreciate your call – and your calling Israel's relation – or handling of Palestinians as ethnic cleansing – I'm sure that many in Israel would disagree with that.
But the charge was an outright falsehood that remained uncorrected. In fact, the Muslim Arab population of Jerusalem has been growing faster than the Jewish population for decades. According to the Jerusalem Institute for Israel Studies, Jerusalem was 25.8 percent Arab in 1967. By 2009, the city's Arab population increased to 35.7 percent.

As for Christian Arabs, A Jerusalem Center for Public Affairs (JCPA) report, indicates that the central cause of the flight of Christians from Arab dominated areas is a growing Islamic fundamentalism, including Muslim intimidation of Christian Arabs. This includes assaults by Muslim men upon Christian women, demands for "protection" money and illegitimate land seizures. The Christian population of Israel is, in fact, on the increase (in absolute numbers).
Comments can be submitted to Ashbrook and On Point via: e-mail to onpoint@wbur.org, Twitter at https://twitter.com/#!/OnPointRadio, Facebook at http://www.facebook.com/OnPointRadio, phone 617-353-0909,
mail: On Point Radio, 890 Commonwealth Avenue, 3rd Floor, Boston, MA 02215.
Posted by MK at 01:04 PM | Comments (0)
AFP Confirms: Israel Not Responsible for Teen's Death
The AFP reports:
The Israeli army on Monday denied it had carried out an air strike on northern Gaza which killed a teenager, with an AFP correspondent confirming there was no sign of an air raid.

Fifteen-year-old Nayef Qarmut was killed and six other teenagers injured as they were on their way to school near the northern town of Beit Lahiya, with a spokesman for the Palestinian medical services blaming an Israeli drone strike.

"A drone strike hit a group of students who were walking by empty land on their way to school," said spokesman Adham Abu Selmiya, describing an incident which occurred at around 9:30am (0730 GMT).

But the Israeli military, after looking into the claim, denied it had conducted any air strikes in northern Gaza then, saying the last time it had struck the area was in the early hours of Monday.

"From an initial check, there were no air strikes in the northern Gaza Strip since the early hours of the morning," a military spokesman told AFP.

According to an AFP correspondent at the scene, there were no signs of any impact on the ground which could have been caused by a missile, with the most likely cause of his death being some kind of explosive device he was carrying.
Will media outlets that dutifully reported the false charge against Israel follow up with Israel's denial, backed by the AFP fact-checking?
(Hat tip: Elder of Ziyon)
Posted by TS at 09:09 AM | Comments (0)
NYT Rewrites Obama's AIPAC Speech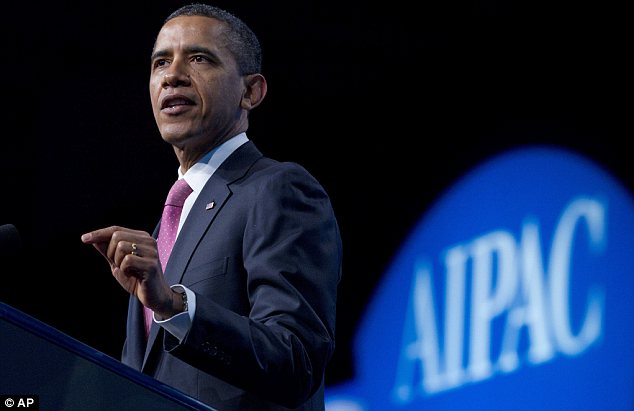 President Obama's address last week to AIPAC is available online, as is a word for word transcript, but still, the New York Times, misreported its contents. Helene Cooper reported March 4:
Mr. Obama, who has often lamented the United States' invasion of Iraq in 2003, made reference to European and American intelligence assessments that have found no evidence that Iran has decided to pursue a nuclear weapon.
A March 6 page-one story by Mark Landler in the International Herald Tribune made the same claim (in virtually the same words). And, yet, you can watch or read the speech until Ahmadinejad is a Zionist and still you will not find a single reference to European or American intelligence assessments that have found no evidence that Iran has decided to build a nuclear weapon.
March 13 Update: The New York Times commendably corrects.
Posted by TS at 06:13 AM | Comments (1)
PCHR Fabricates Killing of Innocent 'Child'
The Palestinian Center for Human Rights (PCHR) is up to its old tricks -- claiming that a slain Palestinian combatant was not involved in hostilities.
A PCHR statement yesterday ("IOF Kill Palestinian Child and Arrest Another One South of Hebron") reads:
According to investigations conducted by PCHR, at approximately 14:30 on Thursday, 08 March 2012, IOF, backed by 4 military vehicles and an armored personnel carrier, moved into al-Mazraa crossroads area in the center of Yatta town, south of Hebron. They raided the house of Khaled Musa al-Makhamra, who was released from Israeli prisons in the recent prisoners swap, and nearby houses belonging to his brothers. They forced al-Makhamra's wife and children to go out and held some of them in the outdoors. I n the meanwhile, a number of the locals gathered near al-Makhamra's house. At approximately 15:35, IOF opened fire at Mohammed Omar Awwad al-Jundi, 17, who was a few meters away from IOF. Al-Jundi was wounded by a bullet to the right side. He suffered acute bleeding and parts of his bowels were out. IOF then opened fire indiscriminately at the Palestinians. As a result, Zakareya Jamal Mohammed Musa Abu 'Arram, 16, was wounded by a bullet to the head. The bullet penetrated the head near the left eye and exited from the left temple. A part of the skull was smashed as a result and Abu 'Arram died immediately.
And yet, as reported widely in the international media, the slain Palestinian in Yatta was neither a child nor was he standing idly by when he was shot. Nor did the soldiers fire "indiscriminately." As reported, for instance, by the AFP:
A Palestinian was shot dead by Israeli troops on Thursday after the stabbing of an Israeli soldier in Yatta village in the southern West Bank, the Israeli military told AFP.

"Palestinians attacked soldiers during an IDF (army) operation in Yatta to arrest suspects," an Israeli military source said on condition of anonymity.

"One soldier was injured after being stabbed in the neck and the soldiers then opened fire on the Palestinians. One Palestinian was killed and another was injured."

An Israeli military spokesman confirmed the incident, near the city of Hebron.

"During routine activity in Yatta, a Palestinian man stabbed and injured an IDF soldier who responded by firing at the assailant, injuring him and killing a second Palestinian who accompanied the assailant," he said.

A source at the Abu Hassan al-Qassim hospital in Yatta confirmed the death of one Palestinian, whom he identified as Zacharia Abu Aram, adding that two others were injured.

"The body of a youth in his twenties arrived at the hospital," the source told AFP. "He died from a gunshot wound directly to the head."
At least this puts J Street, which also just labeled Palestinian combatants as "civilians," in good company.
Posted by TS at 04:05 AM | Comments (0)
March 11, 2012
UPDATED: J Street Calls Palestinian Rocket Squads "Civilian"
Update: After being widely criticized for its anti-Israel "error," J Street has removed the fallacious reference to "civilians."
J Street President Jeremy Ben-Ami released a statement today describing all or most of the Palestinians killed during the fighting between Palestinian militants in Gaza and Israel as "civilians." In fact, nearly all were fighters, and many were killed while trying to fire rockets indiscriminately into Israeli cities.
The J Street statement reads:
J Street is deeply concerned about the most recent spate of violence between the Israel Defense Forces and militants in Gaza, which, in three days, has already resulted in over one hundred rockets fired on Israeli cities and towns and airstrikes on Gaza that have killed over a dozen Palestinian civilians.
But Voice of America reports that "Sixteen Palestinian militants and two civilians have been killed since violence began on Friday, while Israel has been battered by more than 120 rockets. "
Yesterday, AP reported that all of the 15 Palestinian casualties at the time were militants:
Israel pounded Gaza for the second day in a row Saturday, trading airstrikes and rocket fire with Palestinian militants and killing 15 of them as the deadliest Gaza violence in over a year showed no signs of abating.
Also yesterday, the New York Times reported that "Up to 15 Palestinian fighters have died in the airstrikes. At least 10 of the dead belonged to the armed wing of Islamic Jihad, the group said in a statement."
U.S. State Department spokeswoman Victoria Nuland termed the Gazan attackers "terrorists." As reported in the Jerusalem Post , among other places, her characterization of the violence was clear:
"We condemn in the strongest terms the rocket fire from Gaza by terrorists into southern Israel in recent days, which has dramatically and dangerously escalated in the past day" Nuland said via a written statement, adding that the US calls "on those responsible to take immediate action to stop these cowardly acts."
Does J Street have better sources than the State Department? Or is the group intentionally misleading the public?
(You can see photos of some of the "civilians" here.)
Posted by GI at 01:17 PM | Comments (4)
March 10, 2012
AFP Reports False Accusation, Conceals True Facts
Agence France Presse is dutifully reporting on the Arab League's charge that Israel is engaged in a "massacre."


"The Arab League on Saturday condemned Israeli air strikes on Gaza that killed 15 Palestinians, calling it a "massacre" and urging an international tough stance against the Jewish state."
Would you think the AFP reporter or editor would consider it relevant to the story that most, or perhaps all, of the Palestinians killed were members of terrorist groups, and some were in the process of firing rockets into Israeli towns?
Think again. The AFP report, as retrieved on 3pm on Saturday, only points out that one of the dead was a fighter.
Posted by GI at 02:45 PM | Comments (1)
March 09, 2012
Being There at the Harvard Hate-Fest
Leila Farsakh, Associate Prof at UMass Boston, and Baylor Professor Marc Ellis
It can't have been easy for anyone concerned with facts, history, reason, scholarship, moral clarity and so on to spend a weekend listening to anti-Israel agitprop at Harvard's One-State Conference. Janet Tassel's mordant review of the gathering in today's American Thinker offers insights into the speakers' views on dissolution of the Jewish state and their speculation on the fate of its Jewish inhabitants.
One possibility for the newly disempowered Israeli Jews, said Leila Farsakh, associate professor in political science at the University of Massachusetts at Boston, would be to "reconnect with their Arabism." Indeed, the term "Arab Jew" became ubiquitous toward the end of the conference. Or, as Marc Ellis, director of the Center for Jewish Studies at Baylor University, himself a Jew, said, "Becoming un-Jewish is the first step." After that would come, in his words, "revolutionary forgiveness."
Among the Harvard faculty to appear were the notorious Stephen Walt in addition to less well-known figures like
Timothy McCarthy, a lecturer at the Kennedy School, who dissolved into tears when he recalled [a six-city LGBT trip to Israel that met with] groups like Palestinian Queers for Boycott, Divestment and Sanctions... Although he described himself as "a fierce queen" who "steps right up to bullies," he brimmingly lamented that he found "violence all over Israel"
It's probably too much to hope the many scholars at the university who care about the truth and the many concerned trustees who care about the reputation of the institution and the many brilliant students who know hate-mongering doesn't belong at the Kennedy School will all use this as an opportunity to investigate what's gone so wrong.
Posted by AL at 06:47 PM | Comments (5)
Christ the Checkpoint – A Preliminary Response
For the past five days, a group of approximately 600 Evangelical Protestants have attended a conference in Bethlehem titled "Christ at the Checkpoint."
This conference, organized by the Bethlehem Bible College, a well-known evangelical institution located on the West Bank, has generated a significant amount of attention, controversy, and concern in Israel and in Jewish communities throughout the world for one simple reason: The words that come out of Christian mouths have had a huge impact on the safety and well being of the Jewish people for most of the past 2,000 years. The sad reality is that Christianity's message of peace has oftentimes been intertwined with horrific expressions of hostility toward the Jewish people and their institutions. This hostility has had real-world impacts.
The possibility that this conference would be the scene of anti-Zionist and anti-Jewish polemic was not one that could be easily discounted given the impact of another institution, Sabeel Ecumenical Liberation Theology Center has had on how mainline Protestant churches in the United States and Europe addressed issues related to the Arab-Israeli conflict.
In response to these concerns, CAMERA sent a researcher to monitor the proceedings who has been gratified by the graciousness with which the conference organizers and the participants have welcomed him. He has had a number of conversations with attendees who have graciously listened to and acknowledged his concerns about the conference. The atmosphere of the conference is markedly different than that of other so-called peacemaking conferences and gatherings that this researcher has attended. This is due in large part to the leadership of the Palestinian Christian leaders who organized the conference. There were some missteps on this score, which will be addressed in a future article, but their commentary was overall more responsible than that of Sabeel.
At the outset, it must be acknowledged that the debate at Christ at the Checkpoint was centered on Christian Zionism as a theology. While debate on this subject has clear and undeniable implications for the Jewish people and Israel, it is a largely internal Christian debate.
This conference has demonstrated that there is a growing number of people who believe that Christian Zionism has real-world impacts on a number of issues of great concern to evangelicals. A number of evangelicals simply do not want to be associated with eschatologies that they believe increase the prospect of violence in the Middle East.
They are also bothered by the possibility that Christian Zionism hinders their ability to evangelize to Muslims in the Middle East and in other parts of the world – an enterprise which appears to be gaining support in the Evangelical community.
One of the ongoing problems with this internal debate, however, is the manner in which opponents of Christian Zionism have become part of what Christian theologian James Parkes has called "the literature of attack" against Jews. Simply put, there are times when opponents of Christian Zionism descend into troubling rhetoric about the Jews and the state of Israel.
This is evident in name of the conference itself ("Christ at the Checkpoint"), which encourages Christians to use their doctrines to interrogate Israeli security measures in a discriminatory manner, without using Christian teachings to highlight and judge Palestinian, Arab or Muslim violence with the same energy and focus. This has been a persistent problem of Christian peacemaking activism over the years and needs to be addressed by Bethlehem Bible College in future manifestations of the event.
CAMERA is not the only organization that remarked on this problem, which was exacerbated by the visual rhetoric of the conference itself. As the photo at the top of this entry reveals, every speaker addressed the audience standing in front of a banner that showed a Christian church and cross standing in opposition to a concrete section of the security barrier. This banner, which seemed styled on the anti-Israel graffiti and painting posted on the security barrier, served as the visual frame for the conference and this frame did not include any reference to Israeli fear.
To his credit, Pastor Tony Campolo addressed Israeli fears during his talk, which on the last afternoon of the conference, after attendees had been exposed to the banner for the past four days. In light of Christianity's tendency to use negative depictions of Judaism as a negative backdrop for the superiority of the Christian faith, this is very troubling.
The conference's tendency to scrutinize Zionism, Israel and Jewish identity was also particularly evident in the discussion about Christian Zionism, which as stated above, is an internal debate. Still, sometimes it got a bit ugly, particularly during Rev. Dr. Gary Burge's discussion about the topic. During his presentation, he regaled the audience with stories of how he confronted Orthodox Jews about their claim to the land of Israel by virtue of being descendants of Abraham. One confrontation took place in the Old City of Jerusalem and another took place at the Kotel or Western Wall.
His description of these confrontations, which elicited laughter from the audience, made it clear that he has more than a disagreement with Christian Zionist support for Israel, but Jewish self-understanding and how Jews relate to the land.
Would he challenge Muslims in the same manner about their territorial claims based on their religious beliefs? This is simply not an issue Dr. Burge has addressed in his writings about the Arab-Israeli conflict. On this score, asserting that it was not part of the frame of the conference would be more of an admission of guilt than it is an effective talking point in defense of the conference.
The issue of Muslim hostility toward Israel, Jews (and Christians) was addressed at the conference by Colin Chapman, a long time critic of Israel, but it was given short shrift and was done in such a manner so as to hinder any real discussion of the subject. At one point, Chapman responded rather brusquely to questions about Muslim violence against Christians in the Middle East by saying the questions themselves indicated that the questioners hadn't put themselves in the shoes of Muslims in the Middle East.
While the conference organizers proclaimed that different viewpoints were presented during the program, the range of discussion was rather limited. To be sure, this is due in part to the topic of the debate, which was not merely about Christian Zionism, but how Christians should relate to the Jews in general. The participation of Messianic Jewish leaders, (ethnic Jews who have embraced Jesus Christ) such as Wayne Hildsen was proffered as evidence of diversity. But there is at least one assumption that Messianic Jews have about their fellow Jews who have not accepted Jesus Christ that have troubling implications on any discussion about the Jewish state.
In particular, the belief that Jews who do not accept Jesus are disobedient and reprobate casts a troublesome shadow on any Christian discussion about the modern state of Israel, particularly in the presence of some hostile critics of Israel. Not every Christian has this belief, but many do, even some Christian Zionists as do many Messianic Jews.
Clearly, Hildsen and other Messianic Jews are supportive of Israel as a nation state, but the logical conclusion of their belief that Israeli Jews as disobedient because of their refusal to accept Jesus is that the modern state of Israel is providing for the safety and security of a reprobate people who by virtue of the rejection of Jesus, are enemies of God. They may be beloved enemies, but they are enemies nonetheless. If this is the case, whatever suffering caused by this state is a double sin, somehow more worthy of contempt.
This highlights an underling problem with the "Christ at the Checkpoint" Conference. Two discussions were taking place at this conference. The first conversation centered around how Christians should respond to the Jewish rejection of Christ. The second was centered on how they should respond to the Palestinian suffering caused by the Jewish state.
Anyone who does not see the dangers of having these parallel discussions taking place at a conference where there is no real effort to address Muslim anti-Semitism and the threats Israel faces is simply being obtuse.
Posted by dvz at 12:05 PM | Comments (3)
March 08, 2012
NY Times: Creating News Where There is None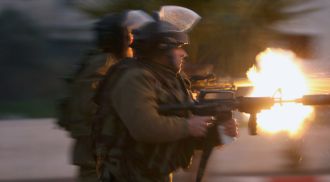 The preferred story at the New York Times
One of the underlying themes of New York Times coverage of the Middle East is blaming Israel for the Arab-Israeli conflict while removing Palestinian responsibility for the situation there. According to the Times' preferred story, Israel is the perennial aggressor while the Palestinians are the perennial victims. And if there happens to be no particular Palestinian grievance to play up on a given day, the New York Times will make sure to do so anyway: by recycling an older picture or creating a grievance of its own. Needless to say, stories that reveal the real situation, like the one about Palestinian leader Abbas demonizing Israel with false, inflammatory accusations at the recent Doha conference, are concealed.
Let's take as an example the front page of today's New York Times.
The above-fold, full color picture has nothing whatsoever to do with any breaking news from the region. Instead, the Times dredged up an older photo of soldiers with balls of fire at the tips of their guns with the caption:
Israeli soldiers fired at Palestinian stone throwers in the West Bank town of al Ram, near East Jerusalem, last month.
Actually, the masked Palestinians were throwing both rocks and firebombs -- not exactly peaceful, and yes, this was last month, at about the same time President Abbas was demonizing Israel at the Doha conference, that went unmentioned in the Times.
Not only did a non-news photo take front page placement, but the front page story was a manufactured one about Israeli Prime Minister Netanyahu's visit to the U.S. pushing news about Palestinian grievances off the front page.
"For decades, as autocrats ruled their neighbors, the Palestinians were at the center of Middle Eastern politics, their struggle with Israeli occupation embodying the Arab longing for post-colonial freedom and dignity," lamented Jerusalem bureau chief Ethan Bronner. "But when Prime Minister Benjamin Netanyahu of Israel visited Washington this week, the conversation was dominated by Iran, not peace talks or occupation."
Indeed, it seems that the New York Times is becoming a parody of its own anti-Israel obsession.
Posted by RH at 08:58 AM | Comments (2)
March 07, 2012
Jimmy Carter Snipes at Israel Again


Israelis, former president Jimmy Carter worries, seem inclined to "resume" war with their neighbors. But he trusts that Egypt's Muslim Brotherhood -- its leaders having "assured me personally" -- will keep their country's peace treaty with Israel.
So the one-term chief executive (1977 - 1981) told "America's Morning News," the radio affiliate of The Washington Times ("Carter: Netanyahu seems too eager for war on Iran," March 7). Of Israeli Prime Minister Benjamin Netanyahu, Carter said "I don't think that's [war with Iran] his first preference, but I think he's much more eager to go to war with Iran than President Obama (is). And I was glad to see President Obama discourage that immediate resumption of hostilities between Israel and its neighbors that the Israelis seem to be inclined to do."
Carter, who as president suggested Americans had an inordinate fear of communism, then professed to being shocked by the Soviet Union's invasion of Afghanistan, said "I think the economic sanctions would be adequate. ... War with Iran can and should be avoided."
He was equally sanguine about the Muslim Brotherhood, which -- with the even more fundamentalist Salafist party -- holds two-thirds of the seats in Egypt's influential lower house of parliament. Carter said he recently met with Brotherhood leaders and "they know it's very important to Egypt to maintain peace with Israel. They assured me personally ... that they will honor the peace treaty that I helped to negotiate back in 1979 ... and I don't have any doubt they will carry out their promise to me."
Leave aside Carter's chronic narcissim. Forget his past apologia for Hamas after meeting its leaders and gaining another 15 minutes in the spotlight. His faith in the Brotherhood, which has expelled moderates and sounds more anti-American on its Arabic Web site than on its English language version, recalls his ineffectuality in dealing with the Islamic revolutionaries who overthrew the Shah of Iran, seized the U.S. embassy in Tehran and held more than 50 American diplomats captive for 444 days.
The Washington Times article notes that "Carter's use of the word 'apartheid'" in the title of his 2006 book Palestine: Peace, Not Apartheid "prompted rebukes and criticism of varying degrees, most notably from former President Bill Clinton and then House Speaker Nancy Pelosi, and an unwanted endorsement from Osama bin Laden."
CAMERA's 2007 monograph, Bearing False Witness: Jimmy Carter's Palestine: Peace Not Apartheid, exposed more than 20 major errors of fact in the ex-president's anti-Israel polemic, none of which he corrected.
Imply that Israel is eager for war with Iran. Don't focus on the issue -- Iran's covert pursuit of nuclear weapons combined with its overt threats to destroy the Jewish state. Apparently Jimmy Carter can't help himself; when his animus toward Israel begins to itch, he must scratch, especially when doing so will make a headline or two.
Posted by ER at 04:28 PM | Comments (8)
March 06, 2012
Gideon Levy, Favorite of the Western Press Corps
In two days, fringe Israeli journalist Gideon Levy is quoted two times in major American newspapers, once again underscoring his overseas influence, which is a stark contrast to his discredited standing in Israel.
Posted by TS at 04:31 AM | Comments (0)
NY Times: Salim Joubran, Palestinian
In the New York Times and International Herald Tribune, outgoing Jerusalem bureau chief Ethan Bronner writes:
Internationally, the criticism of Israel focuses on its treatment of the four million Palestinians who live in the West Bank and Gaza. They are not Israeli citizens, but their territory and lives remain under Israeli control and strictures. But there are also 1.5 million Palestinians who are Israeli citizens, about 20 percent of the country's population, and Justice Joubran is a member of that group.
Two things:
1) The Gaza Strip territory and the population's lives do not remain under Israeli "control and strictures" anymore than they remain under Egyptian "control and strictures." Israel controls its border with Gaza and enforces a legal sea blockade while allowing the import of all goods aside from weapons over land. Egypt likewise controls its border with Gaza.
2) Until now, the New York Times has generally referred to Arab citizens of Israel as "Israeli Arabs." Why now, as Bronner is on the way out, does he refer to Israeli Arabs as Palestinians, a designation favored only by some Israeli Arabs and Israeli Jews on the far-left? Would Justice Salim Joubran consider himself a Palestinian? Would those Israeli Arabs who prefer to live in Israel over a future Palestine consider themselves Palestinian?
Posted by TS at 01:37 AM | Comments (0)
March 02, 2012
The C-SPAN Way: Allow Propagandist Repeat Callers to Drone on and on Unchallenged
Inept call-handling by C-SPAN's Washington Journal hosts, especially anti-Jewish, anti-Israel, anti-U.S. foreign policy callers, was on display yet again in the Feb. 24, 2012 broadcast in which two repeat callers were allowed monologues of several minutes each.
Host Susan Swain (C-SPAN President and Co-CEO) and guest Russ Feingold (former U.S. Senator, D-Wisc.) fielded calls from repeat phoners "Tyrone from Baton Rouge, Louisiana" and "Mary from Bellbrook, Ohio."
Caller "Tyrone" (click here to listen) unrealistically dismissed the Iranian nuclear threat as mainly pertaining only to Israel (a point challenged by guest Feingold) and falsely asserted that Israel is a drain on the American economy (a point not challenged by either host or guest).
It doesn't seem unreasonable to expect either the president of C-SPAN or a former U.S. senator to point out that total American foreign aid is a small percentage of the federal budget and a tiny proportion of the gross domestic product. Likewise, the comparatively small amount of the foreign aid budget going to Israel is hardly a drain on the American economy. Most of the approximately $3 billion per year in U.S. aid to Israel is used to acquire military materials, most of which are purchased in the United States.
Also unmentioned, though relevant given the caller's critical focus on aid to Israel, are reciprocal advantages to the United States; benefits return to the United States in the form of technology, including for improved unmanned aircraft, anti-missile defenses, battlefield medical techniques and intelligence on anti-U.S. as well as anti-Israeli Arab and Islamic radicals. And neither guest nor host mentioned the oft-reported facts that U.S. federal deficits and overall debt problems stem primarily from growing, unfunded domestic obligations, beginning with Medicare, Medicaid and Social Security. The figures involved are infinitely greater than annual U.S. foreign aid spending.
Caller "Mary" (click here to listen), unchallenged by either guest Feingold or host Swain, falsely claimed that "our military bases [are there] on their [Middle East] land to access the oil in that region" and cites as authoritative, without challenge, distortions and falsehoods of Michael Scheuer whose tenure as head of the CIA bin Laden unit did not result in the location, capture or death of al Qaeda leader Osama bin Laden.
Likewise, both host Swain and guest Feingold seemed either unaware of or were uninterested in pointing out the falsity of Mary's assertion, "Iran has never threatened the U.S. and comments from Ahmadinejad have been misrepresented [about Israel]..." The annihilationist intention of Iran's leaders, including President Mahmoud Ahmadinejad, toward Israel have been documented repeatedly.
Ahmadinejad, a religious fanatic who apparently believes world conflict will hasten the return of Shi'ite Islam's messianic "Twelfth Imam," has frequently advocated the destruction of Israel. For example, on Oct. 26, 2005, in a speech to a "World Without Zionism" conference in Tehran, he vowed that "Israel must be wiped off the map." The Iranian president called for Israel to be "uprooted" in a press conference with Syrian dictator Bashar al-Assad in Damascus on Feb. 25, 2010, one of a number of more recent such statements.
Iran's hostile attitude toward the United States – since the country's violent takeover by the Muslim fundamentalist regime in 1979 – has been demonstrated by its occupation of the American embassy in Tehran that same year and seizure of American diplomats, and its strong continuing support of terrorist entities hostile to American interests such as Hamas and especially Hezbollah, whose 1983 truck bombing killed 241 American Marines at the multinational force barracks in Beirut, Lebanon. Iran was linked to the bombing of U.S. military housing in Dhahran, Saudi Arabia, in 1996, in which several dozen Americans were murdered and many more wounded and more recently to arming anti-American insurgents in Iraq and Afghanistan. Iran reportedly was behind the recent plot to assassinate the Saudi ambassador in Washington, D.C. C-SPAN hosts repeatedly allow, as in this case, anti-Israel callers to paint a revisionist portrait of the Iranian Islamic Revolutionary Republic without interruption or factual contradiction.
Typically indulged by C-SPAN, deceptive repeat caller "Mary," also calling herself "Rebecca," "Kathleen," "Patricia," "Jackie," "Ann," "Kay," "Kate," usually condemns Israel and rails against American foreign policy in each of her numerous calls.
Note to C-SPAN hosts: Given that Washington Journal ostensibly has a "one-call-per-30-days" rule, become familiar with the distinctive voice you permit to repeatedly violate the non-repeat rule. This deceptive caller has phoned in recently as Rebecca, Jan. 15, 2012 (click here to listen); Kathleen, Jan. 13, 2012 (click here to listen); and Jackie, Jan. 9, 2012 (click here to listen).
According to C-SPAN's Web site, an estimated 28,500,000 viewers tune in each week – making it an information source of potential significance. Among its most popular programs is Washington Journal. Contact C-SPAN at (202) 737-3220, journal@c-span.org, viewer@c-span.org.
Posted by MK at 06:50 PM | Comments (0)
Islamists in Libya Destroy Graves of Christians and Jews
Several U.S. servicemen have been killed in Afghanistan by terrorists enraged over the burning of Korans that had been mistakenly burned by American soldiers. U.S. President Barack Obama has apologized, but that has not been enough to quell the anger, which apparently has erupted in Libya as well where a mob of Islamists desecrated the graves of British soldiers who died in North Africa during World War II.
Footage of the rampage can be seen below.
Posted by dvz at 03:47 PM | Comments (1)
March 01, 2012
Updated: Prep-Work for a Pogrom in Turkey?
March 2, 2012: This post has been updated. See added information below.
Are would-be murderers marking their targets for an upcoming pogrom in Turkey, a repeat of one that took place in 1978?
That's a reasonable question to ask in light of a report published today in the Turkish website, Vatan ("Homeland"), which bills itself as the "Internets fastest rising newspaper (or journal)." The article (translated here) reports that 45 homes in the province of Adiyaman have been marked with crosses.
The homes all belong to Alevis, an religious community in Turkey that adheres to an offshoot of Shia Islam that is regarded as a syncretic heresy by its Muslim critics.
Why would someone put crosses -- a Christian sign -- on the homes of non-Christians in Turkey?
Another article, this one published by Hurriyet ("Liberty") Daily News provides some ominous background: "The same method was used to mark the houses of Alevis prior to the Maraş Massacre of 1978, in which 105 people were killed."
Update March 2, 2012:
Another article, this one published in Today' Zayman, indicates that the graffiti in question was drawn by children. The paper reports:
Following the marking of houses believed to belong to Alevis with red marker pen in the southeastern province of Adıyaman, concern has simmered in the Alevi community after the interior minister late on Thursday said a police investigation into the incident had revealed that children were the instigators.

Interior Minister İdris Naim Şahin stated in remarks to journalists during a visit to the quake-stricken eastern province of Van's Erciş district that three children had marked not only Alevi houses but also Sunni houses with red markers. He said the children are thought to have randomly selected houses and that three Sunni houses in the same street had also been marked, noting that the height of the marks on the walls indicate they were made by children. He added, however, that the investigation was still under way and that an official explanation for the marks will be made at a later date. He also noted there is nothing to speculate over regarding the various reports in the media.

....

The incident that fueled concern among the Alevis as history has been witness to similar examples of this that led to violence. For example, the recent incident recalled the Maraş incidents, in which hundreds of Alevis were killed in intra-communal clashes in 1978. Houses of Alevis were marked red before the clashes erupted, according to the claims of the families of the victims.

To address people's fears and uncertainty, many state officials and Alevi group leaders visited the Karapınar neighborhood, where the incident took place.
This article, published yesterday (March 1, 2012) is contradicted however, by a columnist in the same paper, Emre Uslu who reports that similar markings appeared in the province of Hatay which borders on Syria. He suggests that the ultimate responsibility for the marks resides with Bashar Al Assad who is trying to provoke the Alevis into aligning with the Kurds in Turkey. He provides other scenarios as well.
Posted by dvz at 12:04 PM | Comments (0)