« AP Gets it Right on Holy Site | Main | MSNBC Photo Blog Covers AFP Photo Fiasco »
February 27, 2012
Wall Street Journal Updates Discredited AFP Photo Caption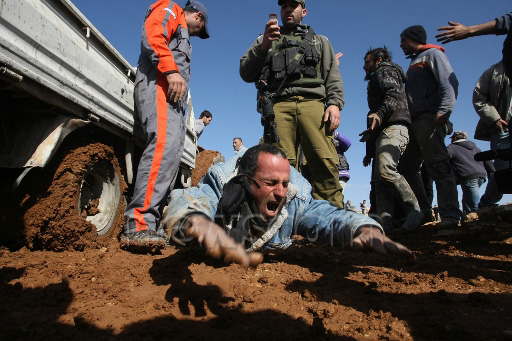 The Wall Street Journal is the first media outlet to acknowledge the AFP caption for Hazem Bader's Jan. 25 photograph claiming that an Israeli soldier had run over a Palestinian construction worker is, at best, disputed. All indications are that it is false.
The WSJ ran the picture Jan. 25 as a "Photo of the Day," originally with the following caption:
WORKER WRITHES: A Palestinian construction worker screamed after an Israeli soldier drove a trailer hooked to a tractor over his legs near Yatta, West Bank, Wednesday. Israeli forces seized equipment because they said the workers were building in an unauthorized area.
We now see that the Journal has commendably added the following update:
A spokesman for the Israel Defense Forces, Capt. Eytan Buchman, says that the man wasn't run over. 'After claiming to be injured, he was inspected by both an IDF medic and a Red Crescent medic, both who determined that he required no medical care whatsoever,' Capt. Buchman said. AFP, the agency that took the photo, said it has reviewed the pictures and videos of the event and has 'no intention at this stage to correct our caption or withdraw any part of it.'
CAMERA has shown that in its Feb. 3 defense of the caption, AFP contradicts the claims in the original caption time and again. Did the trailer run over one or both legs? Was it a trailer or a tractor which ran over Mahmoud Abu Qbeita, the Palestinian worker? Was he knocked over by the tractor or was he lying on the ground in protest? AFP has been inconsistent on all of these key points. Read more about AFP's failure to get its story straight in Ynet and the Jerusalem Post.
In contrast to the WSJ, the International Herald Tribune and the Washington Post, both of which prominently published the image in the print editions, have failed to publish any clarification. The same goes for MSNBC and the Guardian, among others.
Posted by TS at February 27, 2012 04:36 AM
Comments
Guidelines for posting
This is a moderated blog. We will not post comments that include racism, bigotry, threats, or factually inaccurate material.
Post a comment