« CAMERA in Ynet: 'Are Journalistic Ethics Dead?' | Main | Canadian Jews News: AFP Flunks on Transparency »
February 08, 2012
Presbyterian Peacemakers Called Out for Anti-Semitism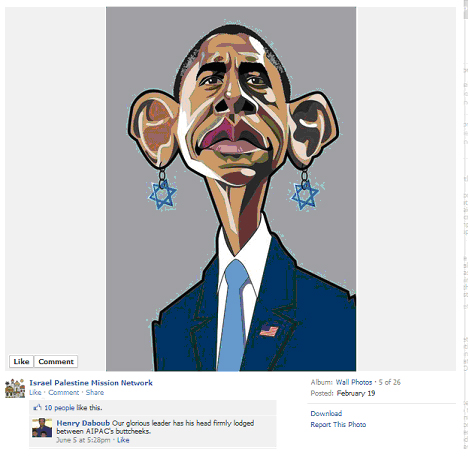 Images like this were posted on a Facebook page run by Presbyterian peacemakers.
The Jewish Council for Public Affairs (JCPA) has called on the Presbyterian Church (USA) to rein in the anti-Zionist and in some instances, anti-Jewish rhetoric proffered by its education and peacemaking organization, the Israel-Palestine Mission Network of the PC(USA). In a press release issued on Feb. 6, 2012, the JCPA, an umbrella organization of 125 local Jewish federations and 14 national Jewish organizations, called on the denomination to "take concrete actions to address the anti-Israel, anti-Zionist, and at times anti-Semitic content that has been all too common in the church's Israel Palestine Mission Network (IPMN-PCUSA)." The American Jewish Committee issued a similar statement that day as well.
The press release issued by the JCPA provides some details:
The IPMN-PCUSA Facebook page includes a cartoon of President Obama wearing weighty Jewish star earrings to suggest Jewish control of the American leaders, a common theme on the site. The IPMN-PCUSA has posted articles that accuse Jews of controlling Hollywood, the media, and American politics - and blaming Israel for the American housing and economic crisis. IPMN-PCUSA's communications chair also posted her opposition to a two-state solution and the existence of a Jewish state, something which she terms "anachronistic." The same IPMN leader, Noushin Framke, clicked "like" on the Obama cartoon with the Jewish stars and another post that Hamas should keep Israeli Gilad Shalit hostage until Palestinians are granted a right of return.
Presbyterian leaders were given multiple warnings about the problem before the JCPA went public with its concerns. Starting in 2009, CAMERA corresponded regularly with the denomination's leaders in Louisville about this problem, but they did nothing even as the IPMN-PCUSA's Facebook page became a focal point for anti-Zionist and anti-Semitic imagery and commentary. (For example, take a look at the comment beneath the Obama cartoon. Other examples can be seen here and here.)
Eventually, the JCPA started gathering a collection of the hateful postings on the IPMN's Facebook page for a report about the organization. The JCPA then started to distribute a draft version of its findings to members and leaders within the denomination, which apparently prompted the IPMN-PCUSA to delete its Facebook page.
The IPMN-PCUSA has responded badly to the JCPA's scrutiny.
Posted by dvz at February 8, 2012 04:12 PM
Comments
Their Facebook page has now been taken down which indicates that they realize there was plenty to hide.
Posted by: Bella Center at February 9, 2012 02:03 PM
How Presbyterian has come to mean radical left is beyond me. I knew there were radical elements since the Presbyterian church merged with some segments practicing new forms of Christianity but I wasn't aware they had lost all common sense and reason. The narrative being used by the people who believe posing with the Grand Mufti's, a Nazi sympathizer, nephew Arafat is supposed to have some sort of appeal? The man was an indiscriminant murderer. And attempts to portray Israel as some sort of South African apartheid settler state a gross comparative error. Israel is as much a refugee state as it ever was a settler state.
The difference bewteeen Israel's refugees and the Palestinian refugee problems is that Israel has done much much more to embrace it's refugees. Even if the Palestinian Muslims are conferred nation status by the UN it has been preceded by the guarantee Palestinian refugees will retain their status as refugees. "The right of Return" and a political intent to destroy Israel by mass migration still a goal of the supposedly "just" Muslim "refugees" who have found little sustenance from neighboring members of the "Arab League".
Posted by: terry staub at February 10, 2012 06:41 AM
I'm glad - - that these fake Christians are being called out! This all started with Obama - - being pro-palestine. There may have been "tendencies," perhaps, but it's been unleashed by the pro-muslim, pro-palestine, very liberal, social justice bunch! Clearly, it's been escalating since the 1st flotilla, and then Bill Ayers / Turkey / Church of Christ flotilla last May-June - it's worse. They have to demonize someone - and ignorant, not - real - Christians are glomming onto the ideas. May God Bless Netanyahu - and let me say it "you'll have to take me first!!!!" NEVER AGAIN!
Posted by: B4reality at February 12, 2012 09:50 PM
The Presbyterians clearly understand that the cry of "anti-Semite!" has lost much of its punch due to willy-nilly overuse. When John Mearsheimer endorsed the Gilad Atzmon book and only one academic raised a voice in protest (Alan Dershowitz) - it was evidence of a seismic shift in favor of Israel's harshest critics. And, after Penn BDS, it's only going to get worse.
Posted by: Veronica Stahl at February 13, 2012 01:53 AM
Actually, Veronica, it's a bit different.
First off, the IPMN represents a narrow band within the PCUSA. People within the PCUSA and outside the denomination have known for a while that its witness about the Arab-Israeli conflict is motivated by an undeniable animus toward Jews and Israel.
If we look at the overtures coming into the upcoming General Assembly, you will see a few dealing with Israel and to the best of my knowledge none dealing with Egypt or Iraq where Christians are attacked on a regular basis. Silence on Syria as well.
The fact is, the so-called peacemakers in the PCUSA are obsessed with what Jews and the Jewish state do, but care very little about the obvious misdeeds of Arab and Muslim regimes in the Middle East. I has been like this for a LONG time.
So it's not the cries of anti-Semitism that no longer have any credibility, it is the cries of "Peace! Peace!" from PCUSA institutions that no longer have any credibility. PCUSA peacemakers have applied a double standard, delegitimized Israel and have demonized Israel as well. They have also downplayed or denied Muslim anti-Semitism. And they have also trafficked in tropes of Jewish influence, portraying American Jews as a threat to democracy in the U.S.
That is, simply put, anti-Semitism.
Because the denomination's national leaders have allowed the IPMN to do what it has done without challenge, the denomination's credibility writ large has taken a beating.
It is not the cries of "Anti-Semite" that have lost their power. It is the cry of "Peace!" from the PCUSA that has lost its power and credibility.
Posted by: DVZ at February 13, 2012 08:20 AM
This does not surprise me considering the fact that the Presbyterian Church USA, along with the United Methodists, The Episcopal Church and other mainline denominations have strayed so far from Scripture and become extremely liberal theologically. However, it is incorrect to lump all Presbyterians together with the PCUSA is incorrect and a dis-service to Presbyterians in general. True Christians are fully supportive of Israel.
Posted by: Bill Mullen at February 22, 2012 04:31 PM
I'm going to do a presentation about thebillboard website . I need some informations about how is started ? and if there is a story behind its starting , and I need to know why it's important for the media's life ? Alos, what does it do ?.
Posted by: comment tomber enceinte at November 6, 2015 09:06 AM
Guidelines for posting
This is a moderated blog. We will not post comments that include racism, bigotry, threats, or factually inaccurate material.
Post a comment