« New Online Newspaper in Israel | Main | Harvard Hate Fest »
February 15, 2012
Jodi Rudoren Enters the Scene: Tweets or Tea Leaves?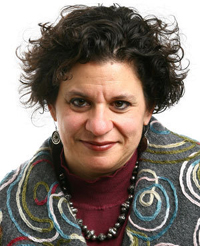 Incoming New York Times Jerusalem bureau chief Jodi Rudoren

Hardly a day has passed since it was announced that Jodi Rudoren will be replacing Ethan Bronner as New York Times Jerusalem bureau chief. Rudoren announced her move to the Middle East on Twitter yesterday afternoon, and continued posting throughout the day about her new assignment. To Tablet's Marc Tracy, those subsequent tweets "haven't been innocuous."
He elaborates:
Tweeting at Ali Abuminah, the editor of the frankly anti-Israel Electronic Intifada Website, that she's "heard good things"—of someone who advocates boycott, divestment, and sanctions of Israel and a one-state solution—is rightly making supporters of Israel suspicious of her objectivity and of where she stands. Ditto retweeting an article titled "Palestine: Love in the Time of Apartheid." Even tweeting praise for Peter Beinart's forthcoming book suggests, at least, that she favors one narrative of the conflict over the others.

The most charitable reading says Rudoren possesses an astounding lack of sense of the profile of the post to which she has been appointed; of how she is going to be perceived; and of the fact that she is betraying her opinions before she has even started reporting. Only a fool would expect a reporter to have no opinions, but we expect them to zip their opinions up in favor of objectivity and to come to new stories with an open mind; Rudoren is already damaging her readers' trust. And it's a totally unforced error! Nobody's telling her to tweet! (Right?) She is voluntarily doing this. In this reading, she is one more Gen-Xer, in the Anthony Weiner mold, totally clueless about Twitter.

And the less charitable, perfectly plausible reading, is that she is slanted toward anti-Zionism.
Tracy concludes by calling on the newspaper to clean up the mess by "telling her to—for the love of God—stop tweeting." If his concerns do have merit, though, the solution would not be for editors to tell Rudoren to stop tweeting — to hide the proverbial tea leaves. It would be for them to do whatever it takes to ensure that the future isn't marked by biased reporting.
Only time will tell whether Tracy's concerns will be borne out. Meanwhile, we'll repeat what we recently said of the other new entrant to the Israel journalism scene: If the goal is to report about Israel accurately and fairly, we certainly wish Rudoren the best. (It would be a welcome change).
Posted by GI at February 15, 2012 12:20 PM
Comments
Ali Abuminah has proven himself to be a raging anti-Semite. If this reporter has heard good things about that hatemonger with too much time on his hands, then that's all I need to know about the NYT and who they choose to report for them.
The Gray Lady failed the Jewish people in the '30s, kowtowing to German nationalism and poo-pooing any concerns. They are no better today.
Posted by: Asher Garber at February 15, 2012 02:48 PM
The most mild criticism that could be said of Rudoren is that she is favourable to anti-semitic warmongers who have spent ten years raising public support for a second Holocaust. Is Rudoren herself a Jew-hater? To the clinical precision of journalistic analysis, that is not yet proven; but in my opinion, nobody who does not hate the Jews would be promoting Electronic Intifadah or Mondoweiss.
Posted by: Tang at February 15, 2012 06:54 PM
Its worth noting that in 2009 Ali Abunimah twittered "Isn't it the time for a popular Palestinian revolution in the form of a third intifada?" - a well known fact http://twitter.com/#!/AliAbunimah/statuses/160277934865784833 also cited on his wiki page, which suggests Jodi Rudoren has little issue with Palestinian extremism/terrorism.
Posted by: Rob Harris at February 16, 2012 11:04 AM
Posted by: Yisrael Medad at February 16, 2012 11:20 AM
There was a story this week from another pro-Israel source that did an analusis of the criticism CNN had been firing it's Jewish reporters on the Israel desk. the report tunred out to be false, CNN's policy is to assigna Jewish with an Arab reporter to ciover a story for objectivity. But it is easy to see from this instance reported by CAMERA how objective goals may have perverse and sinsiter over tones. Helen Thoams is alive and well and living through her alter egos in the American anti-
zionist press corps.
Posted by: terry staub at February 16, 2012 12:37 PM
I can't wait to navigate the NYT pay-wall.
Posted by: Mitchell Nusbaum at February 19, 2012 06:06 AM
Ali Abunimah is a known liar and should be head writer for Pallywood.
He posted this a few weeks ago,
http://elderofziyon.blogspot.com/2012/02/now-twitter-helps-fuel-hateful-arab.html
Now Twitter helps fuel hateful Arab incitement Friday night, I discovered that on his Electronic Intifada blog, Ali Abunimah had put up a post claiming that Likud leaders were planning to go to Al-Aqsa early Sunday morning and that they were calling for "cleansing" Jerusalem and building a Jewish temple instead of the mosque. At the bottom of the post, Abunimah added an update that half-heartedly acknowledged that there was no basis to the story.

Posted by: Ed Frias at February 19, 2012 11:27 AM
Terry Staub, maybe you forget, In 2002 Ruth Peled, 56 and her granddaughter Sinai Kenan, a 14-month-old baby were murdered by Palestinian homicide bombers in Tel-Aviv while they were eating icecream.
CNN interviewd the mother of the Palestinian homicide bomber who massacred Ruth Peled and Sinai. Ofcourse the mother praised her Islamo Nazi son who murdered these defenseless Jews.
CNN promised to interview the mother of a 14-month-old Sinai but they never did.
So we have CNN only interviewing the mass murdering Palestinians to do their propaganda for them.
Posted by: Ed Frias at February 19, 2012 11:58 AM
Guidelines for posting
This is a moderated blog. We will not post comments that include racism, bigotry, threats, or factually inaccurate material.
Post a comment