« January 2012 | Main | March 2012 »
February 29, 2012
Lesson from Past for Anti-Israel One-State Conference
This weekend, Harvard's Kennedy School is playing host to a "One-State Conference" that will focus on, to borrow a phrase, wiping the Jewish state off the map.
Many observers have pointed out the bigoted and one-sided nature of this conference.
And if we play a bit with the space-time continuum, we also have voices from Harvard past condemning the conference. In a comment to a previous Snapshots post, Michael Segal brings to light the following ad, published in the November 12, 1975 Harvard Crimson and endorsed by prominent faculty and 700 students, slamming the "singling out for condemnation" of "the national liberation movement of the Jewish people."
(You can see a larger version of the petition here.)
Posted by GI at 03:22 PM | Comments (3)
February 27, 2012
CAMERA's First-Ever Presentation of the David Bar-Illan Student Award

The Committee for Accuracy in Middle East Reporting in America's (CAMERA) Annual Dinner will include the first-ever presentation of two awards in memory of the late David Bar-Illan, recognizing outstanding student leadership and activism on behalf of Israel on campuses.
Posted by at 03:54 PM | Comments (0)
Times of Israel on Harvard's One-State Fest



Ali Abunima, a keynote speaker at the Harvard conference
The newly-launched Times of Israel has taken on the intensifying controversy surrounding Harvard's hosting a two-day, high-profile conference giving a platform to radical anti-Israel figures who seek the dissolution of the Jewish state.
Posted by AL at 02:33 PM | Comments (1)
MSNBC Photo Blog Covers AFP Photo Fiasco



MSNBC's Photo Blog

covers the controversy surrounding the veracity of Hazem Bader's Jan. 25 AFP photo caption which claims that an Israeli soldier drove a trailer over a Palestinian worker.
Robert Hood blogs, in part:
However, Tamar Sternthal argues the other side in his Feb. 6 opinion piece in ynetnews.com. Sternthal says AFP claims to have viewed video footage of the construction worker being carried away after the incident, but does not claim to have seen footage of him actually being run over.

AFP unwittingly drew attention to a key point: of the several photographers on site who were snapping away, not one has released a single image of Abu Qbeita as he was being run over.

Sternthal also attacks the medical certificate that AFP offered and challenges the existence of the construction worker's x-rays when he writes, "He (Mahmud Abu Qbeita) does not offer to show the x-rays, nor has AFP released them.

The Committee for Accuracy in Middle East Reporting in America (CAMERA) also criticizes AFP's response, saying there are discrepancies between Bader's original caption and what AFP says in their Feb. 3 press release.
While we appreciate Robert Hood's straightforward account, we are dismayed to see that MSNBC, unlike the Wall Street Journal, did not bother to clarify the original problematic caption in the The Week in Pictures.
Posted by TS at 02:06 PM | Comments (0)
Wall Street Journal Updates Discredited AFP Photo Caption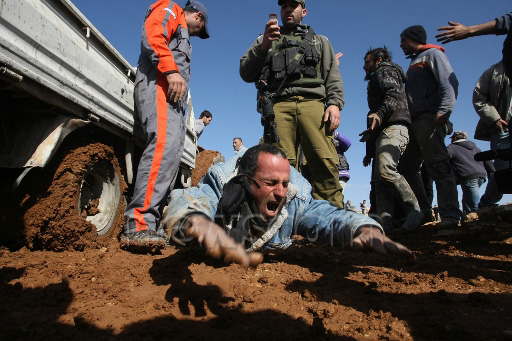 The Wall Street Journal is the first media outlet to acknowledge the AFP caption for Hazem Bader's Jan. 25 photograph claiming that an Israeli soldier had run over a Palestinian construction worker is, at best, disputed. All indications are that it is false.
The WSJ ran the picture Jan. 25 as a "Photo of the Day," originally with the following caption:
WORKER WRITHES: A Palestinian construction worker screamed after an Israeli soldier drove a trailer hooked to a tractor over his legs near Yatta, West Bank, Wednesday. Israeli forces seized equipment because they said the workers were building in an unauthorized area.
We now see that the Journal has commendably added the following update:
A spokesman for the Israel Defense Forces, Capt. Eytan Buchman, says that the man wasn't run over. 'After claiming to be injured, he was inspected by both an IDF medic and a Red Crescent medic, both who determined that he required no medical care whatsoever,' Capt. Buchman said. AFP, the agency that took the photo, said it has reviewed the pictures and videos of the event and has 'no intention at this stage to correct our caption or withdraw any part of it.'
CAMERA has shown that in its Feb. 3 defense of the caption, AFP contradicts the claims in the original caption time and again. Did the trailer run over one or both legs? Was it a trailer or a tractor which ran over Mahmoud Abu Qbeita, the Palestinian worker? Was he knocked over by the tractor or was he lying on the ground in protest? AFP has been inconsistent on all of these key points. Read more about AFP's failure to get its story straight in Ynet and the Jerusalem Post.
In contrast to the WSJ, the International Herald Tribune and the Washington Post, both of which prominently published the image in the print editions, have failed to publish any clarification. The same goes for MSNBC and the Guardian, among others.
Posted by TS at 04:36 AM | Comments (0)
February 24, 2012
AP Gets it Right on Holy Site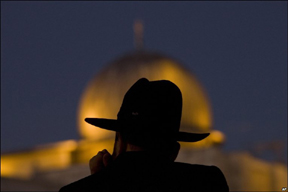 The Associated Press today reported that the Temple Mount "is the most sacred site in Judaism and is Islam's third-holiest site."
Now that wasn't so hard, was it?
All too often, journalists wrongly describe the Western Wall as the holiest site in Judaism.
Even worse, reporters have been known to use biased language describing the site the third holiest in Islam without likewise noting that it is the holiest place for Jews.
Hopefully AP will continue to opt for its short and sweet, accurate and fair formulation.
Posted by GI at 12:42 PM | Comments (3)
February 23, 2012
New York Times and the Nexus of Extremism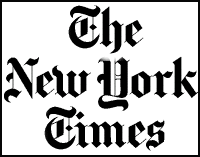 Israeli Apartheid Week. The conference-to-dismantle-Israel. The New York Times.
One of these things doesn't go with the others. At least, the newspaper of record shouldn't seriously overlap with two of the more hateful and extremist events on the Israel hater calendar.
And yet, it does. The ADL points out that "pinkwashing" will be a theme of Apartheid Week this year. Those who charge Israel with "pinkwashing" insist that Israeli tolerance, or anyone who is proud of Israel's liberal gay rights record, is merely part of a "deliberate strategy" to make Israel seem less-than-evil. In other words, you can't be proud of Israeli tolerance without being a propagandist.
It's an outrageous, weak and transparently hateful argument. But that didn't stop the New York Times from legitimizing the idea by turning over some of its coveted Op-Ed space to a column devoted to promoting the idea.
The Op-Ed was written by CUNY professor Sarah Schulman. Not surprisingly, Schulman is also a speaker at the upcoming "One State" Conference advocating for wiping the Jewish state off the map.
So why is the New York Times promoting hateful and silly arguments by an extremist dedicated to the elimination of Israel? Maybe for the same reason, whatever it may be, that the newspaper had published twice as many Op-Eds critical of Israel as it does columns critical of Israel's adversaries over the course of 19 months.
Posted by GI at 03:49 PM | Comments (2)
Gallup Poll: Americans Strongly Support Israel
Here it is: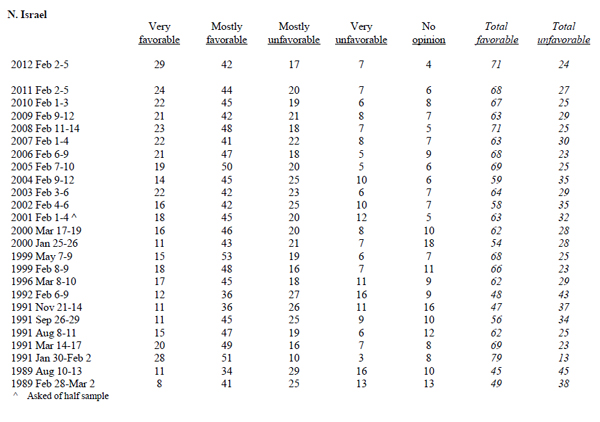 Posted by GI at 11:35 AM | Comments (0)
February 22, 2012
Blaming Israel in Boston Globe Eulogy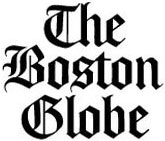 Former Globe foreign editor James Smith shared his memories about the late New York Times correspondent Anthony Shadid who died last week from an asthma attack while in Syria. Specifically, Smith recalled the time at the end of March 2002 when Shadid was hit by a bullet in Ramallah during the second Palestinian Intifada:
Anthony was shot as he walked down the center of a deserted street, apparently hit by an Israeli bullet; he and Said were wearing flak vests with the letters "TV" taped on them to declare themselves journalists.
The implications were clear -- the perpetrators of the shooting were Israelis, and they deliberately targeted an identified journalist.
But, in fact, it was not at all obvious that Israel was responsible for the gunfire, and indeed, reports of the incident acknowledged that no one knew who was responsible for the fire. Globe reporter Charlie Radin, who spoke to Shadid in the hospital following the incident, was quite clear that Shadid had no idea who had fired the shot. According to Radin:
As [Shadid and Said Ghazali, a Palestinian journalist working with Globe reporters] walked toward a group of Israeli soldiers, they heard shots fired, and Shadid, a veteran foreign correspondent for the Associated Press who joined the Globe staff 15 months ago, was hit by a shot that threw him forward face down.

He was unable to say last night whether it was fired by Israeli or Palestinian forces.
Israeli sources attributed the fire to Palestinian snipers. But, unlike the first description recited in the immediate aftermath of the incident, Shadid's account written two weeks later showed less uncertainty that Israelis were responsible:
The only life in that patch of deserted Ramallah was the suspected Israeli soldier who I thought shot me. I thought he might be watching us as we fumbled around, scared and powerless.
The Israelis denied responsibility. An inquiry by the IDF found no evidence to support Shadid's suspicion that he was hit by Israeli fire. According to the IDF, there was no fire reported in that area at the time of the incident and while Israeli forces were stationed in the vicinity, Palestinian snipers had been shooting from nearby buildings overlooking the streets.
While the identity of the shooter was never established, it is only the passage of time that establishes Israel's guilt in the annals of journalism -- at the time of the incident Israel's guilt was uncertain; weeks later, Israel's guilt was suspected, and now, a decade later, Israel's guilt is apparent.
Posted by RH at 05:36 PM | Comments (3)
Harvard Hate Fest
Illan Pappé and Stephen Walt
The Harvard-conference-to-dismantle-Israel story grows. In the Jerusalem Post, Caroline Glick notes regarding the event at her alma mater:
In the decades before the Holocaust, an evil wind blew through academia and other elite quarters throughout the Western world....
Likewise, today's crop of corrupt intellectuals of the Walt and Mearshimer variety with all their allies in academia and the media and the blogosphere and politics are seeking to delegitimize Israel - the collective Jew -- intellectually.
In Israel Hayom, Richard Baehr points out how heavily involved American Jews are in elite universities -- as donors, professors and students. But
One thing the Jewish parents of future hedge-fund managers, lawyers, professors, elected officials, doctors, dentists, veterinarians, journalists and corporate leaders are probably not counting on is that their children will be entering the most toxic environment in America – at least when it comes to attitudes toward Israel.
At Frontpagemag, Steve Plaut reminds readers who Illan Pappé is, one of the leading lights of the Harvard gathering,
Pappé roams the world and continues to spread the lie about the imaginary Tantura "massacre," a lie that has found its way into nearly every anti-Semitic web site and Neo-Nazi magazine on Earth, and even a handful of otherwise respectable mainstream journalists foolishly rely upon him. Pappé has lied about practically everything else, including about being "persecuted" by his own university in Israel.
Posted by AL at 12:30 PM | Comments (2)
February 15, 2012
Jodi Rudoren Enters the Scene: Tweets or Tea Leaves?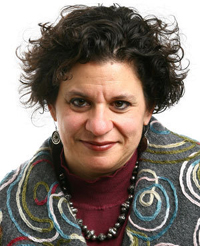 Incoming New York Times Jerusalem bureau chief Jodi Rudoren

Hardly a day has passed since it was announced that Jodi Rudoren will be replacing Ethan Bronner as New York Times Jerusalem bureau chief. Rudoren announced her move to the Middle East on Twitter yesterday afternoon, and continued posting throughout the day about her new assignment. To Tablet's Marc Tracy, those subsequent tweets "haven't been innocuous."
He elaborates:
Tweeting at Ali Abuminah, the editor of the frankly anti-Israel Electronic Intifada Website, that she's "heard good things"—of someone who advocates boycott, divestment, and sanctions of Israel and a one-state solution—is rightly making supporters of Israel suspicious of her objectivity and of where she stands. Ditto retweeting an article titled "Palestine: Love in the Time of Apartheid." Even tweeting praise for Peter Beinart's forthcoming book suggests, at least, that she favors one narrative of the conflict over the others.

The most charitable reading says Rudoren possesses an astounding lack of sense of the profile of the post to which she has been appointed; of how she is going to be perceived; and of the fact that she is betraying her opinions before she has even started reporting. Only a fool would expect a reporter to have no opinions, but we expect them to zip their opinions up in favor of objectivity and to come to new stories with an open mind; Rudoren is already damaging her readers' trust. And it's a totally unforced error! Nobody's telling her to tweet! (Right?) She is voluntarily doing this. In this reading, she is one more Gen-Xer, in the Anthony Weiner mold, totally clueless about Twitter.

And the less charitable, perfectly plausible reading, is that she is slanted toward anti-Zionism.
Tracy concludes by calling on the newspaper to clean up the mess by "telling her to—for the love of God—stop tweeting." If his concerns do have merit, though, the solution would not be for editors to tell Rudoren to stop tweeting — to hide the proverbial tea leaves. It would be for them to do whatever it takes to ensure that the future isn't marked by biased reporting.
Only time will tell whether Tracy's concerns will be borne out. Meanwhile, we'll repeat what we recently said of the other new entrant to the Israel journalism scene: If the goal is to report about Israel accurately and fairly, we certainly wish Rudoren the best. (It would be a welcome change).
Posted by GI at 12:20 PM | Comments (8)
New Online Newspaper in Israel


Some like to refer to Ha'aretz as the "New York Times of Israel. (If there is any merit to the analogy, it's not necessarily for reasons that would make either newspaper proud.)
But there is now, as of yesterday, an actual Times of Israel. You can read about it here, or skip straight to its homepage here.
The editor promises "to report Israel, the region and the Jewish world accurately and engagingly." To that end, we certainly wish them the best.
Posted by GI at 10:27 AM | Comments (1)
February 14, 2012
CAMERA Senior Research Analyst in The Algemeiner "Harvard Needs Some Schooling on the Middle East"

CAMERA Senior Research Analyst's Op-Ed published in The Algemeiner discusses Harvard University's hosting of a two-day conference to be held on March 3-4, titled "One State Solution" regarding the Israeli-Palestinian Conflict.
Read the Op-Ed here.
Posted by at 11:48 AM | Comments (1)
February 09, 2012
Canadian Jews News: AFP Flunks on Transparency
AFP photographer Hazem Bader (left) with Yaser Arafat. The picture is the opening image on Bader's personal Web site
Canadian Jewish News publishes an Op-Ed by CAMERA's Tamar Sternthal pointing out the inconsistencies in AFP's accounts concerning Hazem Bader's Jan. 25 photograph said to be depicting a Palestinian whose legs (or leg) was run over by a trailer (or maybe a tractor) driven by an Israeli soldier. It begins:
If you're going for transparency, you can't do much better than an x-ray.

The Agence-France Presse, an international news service, claims there are x-rays that substantiate the caption of a recent photograph allegedly depicting Israeli army brutality

.
Posted by TS at 01:41 AM | Comments (2)
February 08, 2012
Presbyterian Peacemakers Called Out for Anti-Semitism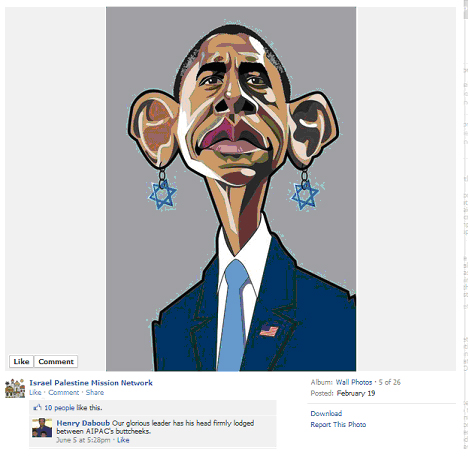 Images like this were posted on a Facebook page run by Presbyterian peacemakers.
The Jewish Council for Public Affairs (JCPA) has called on the Presbyterian Church (USA) to rein in the anti-Zionist and in some instances, anti-Jewish rhetoric proffered by its education and peacemaking organization, the Israel-Palestine Mission Network of the PC(USA). In a press release issued on Feb. 6, 2012, the JCPA, an umbrella organization of 125 local Jewish federations and 14 national Jewish organizations, called on the denomination to "take concrete actions to address the anti-Israel, anti-Zionist, and at times anti-Semitic content that has been all too common in the church's Israel Palestine Mission Network (IPMN-PCUSA)." The American Jewish Committee issued a similar statement that day as well.
The press release issued by the JCPA provides some details:
The IPMN-PCUSA Facebook page includes a cartoon of President Obama wearing weighty Jewish star earrings to suggest Jewish control of the American leaders, a common theme on the site. The IPMN-PCUSA has posted articles that accuse Jews of controlling Hollywood, the media, and American politics - and blaming Israel for the American housing and economic crisis. IPMN-PCUSA's communications chair also posted her opposition to a two-state solution and the existence of a Jewish state, something which she terms "anachronistic." The same IPMN leader, Noushin Framke, clicked "like" on the Obama cartoon with the Jewish stars and another post that Hamas should keep Israeli Gilad Shalit hostage until Palestinians are granted a right of return.
Presbyterian leaders were given multiple warnings about the problem before the JCPA went public with its concerns. Starting in 2009, CAMERA corresponded regularly with the denomination's leaders in Louisville about this problem, but they did nothing even as the IPMN-PCUSA's Facebook page became a focal point for anti-Zionist and anti-Semitic imagery and commentary. (For example, take a look at the comment beneath the Obama cartoon. Other examples can be seen here and here.)
Eventually, the JCPA started gathering a collection of the hateful postings on the IPMN's Facebook page for a report about the organization. The JCPA then started to distribute a draft version of its findings to members and leaders within the denomination, which apparently prompted the IPMN-PCUSA to delete its Facebook page.
The IPMN-PCUSA has responded badly to the JCPA's scrutiny.
Posted by dvz at 04:12 PM | Comments (7)
February 06, 2012
CAMERA in Ynet: 'Are Journalistic Ethics Dead?'
In an Op-Ed today in Ynet, Tamar Sternthal, director of CAMERA's Israel office, addresses the questions surrounding Hazem Bader's Jan. 25 AFP photo:
In recent days, two dramatic photographs alleged to be depicting Israeli army brutality have gone viral. One, which circulated on Facebook, purportedly showed an Israeli soldier stepping on a Palestinian girl and pointing an AK-47 at her head. It was exposed as Bahraini anti-Israel street theater.

The second, by Agence-France Presse photographer Hazem Bader, was not confined only to the free-for-all Internet. Although it too is of dubious authenticity, it appeared in mainstream news outlets which claim to uphold journalistic codes of conduct. . . .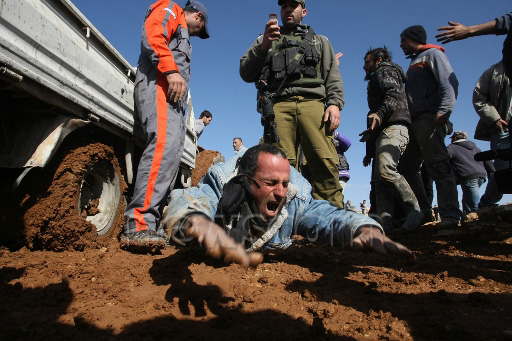 Posted by TS at 07:04 AM | Comments (5)
February 02, 2012
CAMERA Op-Ed "A Conference Of Falsehoods"
CAMERA's International Letter-Writing Director's Op-Ed "A Conference Of Falsehoods" in The Philadelphia Inquirer:
Starting Friday, PennBDS, a university-recognized group, will sponsor the 2012 National Boycott, Divestment and Sanctions (BDS) Conference on campus. The BDS movement attempts to delegitimize the state of Israel through false accusations and dishonest scholarship masquerading as human rights advocacy.

PennBDS and the BDS movement claim to be interested in promoting, "the growing global campaign to boycott, divest from and sanction (BDS) the State of Israel until it complies with its obligations under international and human rights law." That's what it says on the PennBDS website.

However, if PennBDS is truly concerned with such violations, it is notable that it does not focus on blatant human rights abusers and oppressors such as North Korea, China, Sudan, or Iran.
....but only on the Jewish State.
Posted by at 01:53 PM | Comments (5)