« December 2011 | Main | February 2012 »
January 31, 2012
Strong Support for Israel From Canada
During his visit to Israel, Canadian Foreign Minister John Baird left no doubt about his government's friendship with Israel. Repudiating anti-Israel sentiment popular in Western diplomatic circles, Baird emphasized that it is important "to stand for what is principled and just, regardless of whether it is popular, convenient or expedient."
According to the Jerusalem Post, Baird explained,
Joining the anti-Israel sentiment would be the "easy thing to do" and it would be much simpler to just "pretend that engaging in anti- Israeli rhetoric is being somehow even-handed" ... But Canada would not "go along to get along," and would not remain silent while "the Jewish state is attacked for defending its territory or people."
Baird's stance mirrors the views of Canadian Prime Minister Stephen Harper, who has instructed his government to stand with the Jewish state when it came under assault in the United Nations, even while other Western states equivocated.
Previous Canadian governments have not been as friendly or as outspoken in support of Israel. The strong principled stance by the current Canadian government is all the more striking because Harper's and Baird's Conservative Party has not traditionally been the beneficiary of Canadian Jewish political support, although that is changing.
It will be interesting to see how much coverage Baird's statement receives in the Canadian, British or the American media that are often quick to cover criticism of Israel by senior Western officials.
Posted by SS at 10:09 AM | Comments (3)
January 30, 2012
CAMERA Op-Ed on Award Winning Anti-Semitism

A CAMERA Op-Ed discusses an award granted by Carnegie Mellon University to a bigoted essay that describes Judaism as a religion that encourages elitism and supremacy, and Israel as engaged in genocide. The essay also argues that being oblivious to the outside world is part of "the whole essence of" the Jewish religion.
An excerpt from CAMERA's Op-Ed, which was distributed by JNS and published in The Jewish Advocate, follows:
Earlier this month, a young Jewish boy won the Martin Luther King, Jr. Writing Award for best high school prose. The contest, held by Carnegie Mellon University and sponsored by the school's Office of the President, is said to "celebrate excellence in creative writing and the spirit of Dr. Martin Luther King, Jr."

Far from celebrating Dr. King's spirit, though, the winning essay profaned his legacy by promoting the very bigotry he fought so hard to eliminate.

The writer announced that Jews consider themselves better and smarter than everyone else. "I once belonged to a wonderful religion," the piece begins. "I belonged to a religion that allows those of us who believe in it to feel that we are the greatest people in the world—and feel sorry for ourselves at the same time. Once, I thought that I truly belonged in this world of security, self-pity, self-proclaimed intelligence, and perfect moral aesthetic." But he would no longer remain a part of such an ill-willed "Self-Chosen People." ...

It should go without saying that such noxious rhetoric, which would blend in seamlessly on a white nationalist hate site, will fuel anti-Semitic views in readers who trust the piece deserves its accolade. That such an essay would be submitted for a contest named after Martin Luther King, and, more disturbingly, that a professor would select it as an award-winning entry, underscores how dramatically Dr. King's legacy, 44 years after his death, is being warped.
You can read the whole thing here.
Carnegie Mellon, by the way, isn't the only party guilty of endorsing anti-Semitic writings. An editor at the Pittsburgh Post-Gazette called the anti-Jewish screed a "searingly honest" piece.
Posted by GI at 03:12 PM | Comments (2)
January 29, 2012
Hackers Apologize to Ha'aretz, 'A Good Newspaper'
Ha'aretz reports today:
The pro-Palestinian hackers that took responsibility for bringing down Haaretz's Hebrew website posted an apology on their Twitter account on Friday.

"@haaretzprint we are sorry , we didn't know that haaretz is a good newspaper,we sorry about this , and be sure no one will attack u again," @AnonPS posted.
@AnonPS has said all that needs to be said on this point.

Hat tip for image to Backspin
Posted by TS at 06:03 AM | Comments (0)
January 27, 2012
Salafists and Muslim Brotherhood on Rampage in Egypt?
The Assyrian International News Agency (AINA) has issued a report about a mob attack on Copts in the village of Kobry-el-Sharbat (el-Ameriya), Alexandria. Three people were injured. The property damage appears to be extensive. AINA reports:
The violence started after a rumor was spread that a Coptic man had an allegedly intimate photo of a Muslim woman on his mobile phone. The Coptic man, Mourad Samy Guirgis, surrendered to the police this morning morning for his protection.

According to eyewitnesses, the perpetrators were bearded men in white gowns. "They were Salafists, and some of were from the Muslim Brotherhood," according to one witness. It was reported that terrorized women and children who lost their homes were in the streets without any place to go.
Further down in the story, AINA quotes a Coptic priest who states the attack was not perpetrated by "Islamists" but by ordinary Muslims. The priest could not explain "why people who have lived together amicably for years could commit such violence." His answer: "Maybe because of lack of security, they think that they can do as they please."

Posted by dvz at 09:42 PM | Comments (1)
Raymond Ibrahim on Forced Conversions Under Islam
On January 21, 2012, the Committee for Accuracy in Middle East Reporting in America (CAMERA) hosted a conference "The Persecuted Church: Christian Believers in Peril in the Middle East." At this conference, Raymond Ibrahim, author of The Al Qaeda Reader (Doubleday 2007), spoke about the history of forced conversions in the Middle East and Islamic doctrines that contribute to violence against Christians and other minorities in the region. Here is a portion of his talk which addresses the history of forced conversions under Islam in the Middle East.
Posted by dvz at 03:59 PM | Comments (0)
January 26, 2012
Israel Wiped Off Middle East Map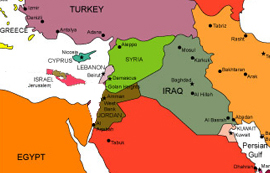 Map is for illustrative purposes only. It was not published in the Times.
The New York Times website and the International Herald Tribune are reporting that the Middle East "is on the cusp of creating its own Silicon Valley experience."
The story, "Entrepreneurial Spirit Awaits Its Moment in the Middle East" by Dania Saadi, states that "International investor interest in start-ups in the Middle East came to the fore in 2009 when Yahoo spent $164 million to buy Maktoob.com, an Arabic content portal based in Jordan."
This is exciting news. Maybe one day the Middle East will resemble the geographic region where Israel can be found.
Posted by GI at 05:02 PM | Comments (8)
Time To Confront The Threat To Christianity In The Middle East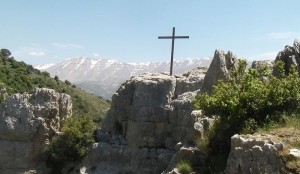 CAMERA's Christian Media Analyst Dexter Van Zile's article "Christianity in the Middle East Must Be Safeguarded", published in The Algemeiner, discusses the continued violence against Christians in the Middle East and CAMERA's recent conference The Persecuted church: Christian Believers in Peril in the Middle East .
The message coming from the conference was a simple one: "It's time for journalists, human rights activists and church leaders in the U.S. to confront the prospect of Christianity's destruction in the region of its birth."
Read the article here.
Posted by at 09:05 AM | Comments (1)
January 25, 2012
Ha'aretz Launders BDSers
In a page two article this week, Ha'aretz whitewashes two Israeli personalities who have promoted BDS efforts, turning them into victims of an alleged "McCarthyist" campaign while ignoring their own calls to boycott Israel. Talila Nesher reports:
Three self-proclaimed watchdog organizations have labeled about 10 percent of Israeli academics as anti-Zionist, according to a recent study by a group of academics, artists and university students who aim to counter the categorizations. The organizations, which are open about their activities, are Im Tirtzu, IsraCampus and Israel Academia Monitor.

The group's survey came up with the names of more than 1,000 Israelis, 800 of whom are academics but also including authors, journalists, public intellectuals, and past and present cabinet ministers, that appear on a list maintained by the trio of organizations.

Members of the group include political scientist Prof. Neve Gordon of Ben-Gurion University of the Negev; Israeli Film Directors Guild chairman Rani Blair; and the chairman of the Israeli Documentary Filmmakers Forum, Uri Rosenwaks. They recently created the Blacklist website (blacklist.co.il), which invites visitors to check whether they themselves appear on the lists.

"There is a real concern for the future of Israeli democracy and about McCarthyism against anyone who criticizes the government's policies in the occupied territories or social aspects," Gordon said. "Every week new names appear on these sites, and we wanted to examine the extent of the phenomenon. The people who will be hurt most are junior faculty members who are trying for university positions and are wary of being 'marked out,'" Gordon said. . . .
The article is accompanied by a screen grab from Gordon's "blacklist" site which says (in Hebrew): "Did you demand social justice? Join the blacklist today."

But Gordon and Blair have not been called "anti-Zionist" because they fought for social justice or "criticize[d] the government's policies in the occupied territories." Rather, the "anti-Israel" label linked to Gordon and Blair is more likely related to the fact that both called for an international boycott of Israel, including academia and culture.
Ha'aretz's cover up the two's BDS activities is itself justification for watchdog groups which call attention to extremists' statements and actions.
Posted by TS at 07:00 AM | Comments (0)
January 23, 2012
Jimmy Carter Puts Foot in Mouth Again Blaming Israel
Former U.S. President Jimmy Carter misrepresented a key Middle East issue yet again, this time in a CNN appearance. He has done this often in the past regarding Israel (examples – here and here). This time the ex-President erroneously blamed Israel for the flight of Palestinian Arab Christians from "Palestine."
Carter told CNN interviewer Piers Morgan on Jan. 18. 2012:
When I first went to Israel, about 15 percent of the Palestinians were Christians and they were my friends and they were my soul mates in the worship of the same god in the same way. Now they've almost been removed from Palestine because of some pressures and encouragement from the Israelis.
Carter, unchallenged by Morgan, offers no substantiation for this allegation. But in blaming Israel for the flight of Palestinian Arab Christians, he is wrong again about Israel and the Middle East.
A Jerusalem Center for Public Affairs (JCPA) report, Christians Flee Growing Islamic Fundamentalism in the Holy Land, documents the central cause of the flight. Muslim intimidation of Christian Arabs includes assaults by Muslim men upon Christian women, demands for "protection" money and illegitimate land seizures.
Carter's false claim is also contradicted by the facts about Israel's growing Christian population (in absolute numbers).

Morgan could have shed light on Carter's persistent Israel-bashing by asking him about his connections to Arab oil money. But Carter, like so many other severe critics of Israel, once again sailed through with a free pass from the mainstream media.
Posted by MK at 01:57 PM | Comments (9)
January 20, 2012
CAMERA Gets Candid on CPB Web Site
CAMERA refutes the contention by the Corporation for Public Broadcasting's ombudsman, seconded by a former National Public Radio staffer now reviewing the network's Arab-Israeli coverage, that the committee is not really interested in upholding journalistic standards. CAMERA's reply to Ombudsman Joel Kaplan's Web posting, headlined "Candid CAMERA," can be found here on the CPB Web site, www.cpb.org.
Last October, CAMERA wrote to CPB Chair Bruce Ramer and his colleagues on the corporation board. It pointed out that their decisions to consolidate the ombudsman's office and hire Kaplan, associate dean of the graduate program at Newhouse School of Communications Syracuse University, did not satisfy the CPB Inspector-General's 2005 recommendation to conduct regular reviews of national programming. The reviews are necessary to ensure that CPB-funded shows on NPR and television's Public Broadcasting Service meet the statutory requirement of "strict adherence to objectivity and balance in all programs or series of programs of a controversial nature."
Ramer referred CAMERA's letter, which had been copied to interested members of Congress, to Kaplan. The ombudsman courteously posted CAMERA's reply.
It must be noted that CPB, which receives approximately $450 million annually from Congress, much of which eventually ends up supporting NPR and PBS, has a) never found a single program segment or program to have violated the objectivity and balance standards in nearly 45 years of public broadcasting -- a statistical, not to mention journalistic impossibility and b) despite the ombudsman's function as an address for complaints and as an independent advisor, still has no mechanism to conduct regular objectivity and balance reviews of national programming.
Posted by ER at 04:29 PM | Comments (0)
January 18, 2012
Academic Study Refutes Water Theft Charges
A released Palestinian prisoner relaxes next to a Gaza swimming pool, Jan. 8, 2012 (Reuters photo by Ahmed Jadallah)
A recently published BESA study by hydrologist Prof. Haim Gvirtzman of the Institute of Earth Sciences at the Hebrew University refutes many of the false accusations concerning water leveled by the mainstream media and NGOs like Amnesty International, and most recently, the French government, which issued a report saying that water has become "a weapon serving the new apartheid." According to BESA:
the Palestinian Authority claims that it suffers from water shortages in its towns and villages due to the Israeli occupation and cites international law in support of its claims. These claims amount to more than 700 million cubic meters of water per year (MCM/Y), including rights over the groundwater reservoir of the Mountain Aquifer, the Gaza Strip Coastal Aquifer and the Jordan River. These demands amount to more than 50 percent of the total natural water available between the Mediterranean Sea and the Jordan River.

[C]ontrary to Palestinian claims, Gvirtzman demonstrates that Israel has fulfilled all of its obligations according to the agreements it signed in 1995 with the Palestinian Authority, and in fact has exceeded them. The PA currently consumes 200 MCM of water every year (with Israel providing about 50 MCM of this) – which, under the accords, is more than Israel is supposed to provide a full-fledged Palestinian state under a final settlement arrangement. . . . .

In contrast, the Palestinians have violated their part of the agreement by drilling over 250 unauthorized wells, which draw about 15 MCM/Y of water, and connecting these pirate wells to its electricity grid. Moreover, the PA has illegally and surreptitiously connected itself in many places to the water lines of Israel's Mekorot National Water Company – stealing Israel's water.

Palestinian famers also routinely overwater their crops through old-fashioned, wasteful flooding methods. Gvirtzman says that at least one-third of the water being pumped out of the ground by the Palestinians (again, in violation of their accords with Israel) is wasted through leakage and mismanagement. No recycling of water takes place and no treated water is used for agriculture.

In fact, 95 percent of the 56 million cubic meters of sewage produced by the Palestinians each year is not treated at all. Only one sewage plant has been built in the West Bank in the last 15 years, despite there being a $500 million international donor fund available for this purpose. . . .
Posted by TS at 06:08 AM | Comments (3)
January 17, 2012
Carnegie Mellon's Prize for Bigotry
Professor Jim Daniels, poet and founder of MLK writing contest
It's a cliché of the anti-Israel and anti-Semitic repertoire: The trusting young Jew who once believed in Israel's righteousness, but learns the "facts," wakes up to the reality that, actually, the nation is a criminal entity and then (heroically) speaks out. Young Jesse Lieberfeld not only produced a lurid screed on the theme, but won a prize for it sponsored by the Carnegie Mellon English department, Student Affairs, and the Office of the President.
Jesse laments that:
I was forever reminded ... to be proud of all the suffering our people had overcome in order to finally achieve their dream in the perfect society of Israel.

This last mandatory belief was one which I never fully understood, but I always kept the doubts I had about Israel's spotless reputation to the back of my mind. "Our people" were fighting a war, one I did not fully comprehend, but I naturally assumed that it must be justified...

Yet as I came to learn more about our so-called "conflict" with the Palestinians, I grew more concerned. I routinely heard about unexplained mass killings, attacks on medical bases and other alarmingly violent actions for which I could see no possible reason. "Genocide" almost seemed the more appropriate term, yet no one I knew would have ever dreamed of portraying the war in that manner; they always described the situation in shockingly neutral terms.
No one he knew would dream of portraying Israel harshly? How about Daniel Lieberfeld, his father, who signed an anti-Israel petition at the height of the terror war against Israel in August 2001?
Why is Jesse reminded of Martin Luther King in all this? When friends on his school bus are impervious to "a fresh round of killings" and urge him simply to "defend our race" Jesse recalls the civil rights leader:
Where had I heard that before? Wasn't it the same excuse our own country had used to justify its abuses of African-Americans 60 years ago?
Hence the essay and the accolades. Jesse explains that speaking out against Israel is like King speaking out against white supremacists.
Jesse's prize, part of a 2012 Martin Luther King Writing Award and brainchild of Jim Daniels, the Thomas Stockham Baker Professor of English, is described in a university press release.
Among many questions is why and how poet Jim Daniels came to hold anti-Israel views so extreme that he apparently believes the country is perpetrating a "genocide" (against a population that has been growing at a healthy clip for 60 years) and disregarded Martin Luther King's own strong support for the Jewish state.
Posted by AL at 03:57 PM | Comments (6)
January 16, 2012
Ministry of Finance Highlights Israel's Economic Success and Fiscal Discipline

Israel's problems, real and imagined, are the focus of persistent media attention. The New York Times, for example, regularly chastises the Israeli government and finds fault with Israeli society wherever it looks. A recent Times op-ed on the treatment of gays chose to excoriate Israel, the region's most tolerant society. Relentless criticism and condemnation of Israel obscures the extraordinary recent accomplishments of the Jewish state. These accomplishments, laid out in a summary report for 2011 published by Israel's Finance Ministry, reveal a remarkable story of fiscal discipline and economic expansion.
Over the past year, while the world's developed economies continue to falter and their fiscal situations grow ever more serious, Israel's economy grew by nearly 5 percent. Its per capita gross domestic product increased by 3 percent. All of its major economic indicators were positive:
Unemployment declined to 5.6 percent.
Inflation was kept low at 2.6 percent.
The Israeli economy's current picture of stability and growth is the culmination of years of fiscal discipline that pulled Israel back from the brink of fiscal collapse just 27 years ago, when it experienced runaway inflation of 445 percent in one year.

A detailed report published by the Ministry of Finance delves further into Israel's economic transformation. This success was in large part due to reducing the burdensome presence of government in the economy coupled with increased emphasis on developing homegrown technologies. Page 12 of the report contains a graph showing the rapid growth of high technology exports since 1990. The destination of Israeli export trade has broadened as well; Asia now ranks alongside the United States and Europe as a major export market.
Despite Israel's continuing need to invest heavily in its military and the continuing legacy of an overwhelming government presence in economic activities, government expenditure has declined from 56 percent of the GDP in 1988 to less than 43 percent today.
A chart on page 14 reveals that Israel has experienced a recurring cycle of increased government borrowing followed by a return to fiscal stability. Yet in sharp contrast to the experiences of many developed economies, the most recent Israeli borrowing cycle that began in 2008 has been marked by a less severe debt load than previous cycles. As a result of responsible fiscal policy, Israel's government debt has declined from 100 percent of GDP in 1987 to 75 percent in 2010. Most of the developed world is heading in the opposite direction of increased debt load.
Page 16 of the report illuminates the most extraordinary achievement. In 1984, Israel experienced a crisis in runaway inflation of 445 percent. The government implemented severe measures, making significant budget cuts and taking away its own authority to print money. Since then Israel has managed to maintain a low single digit rate of inflation usually between 1-3 percent per year.
This extraordinary achievement of economic growth and fiscal discipline receives little notice in the media. It is all the more remarkable when considering the persistent efforts by anti-Israel activists in Europe and the United States to damage the Jewish state's economy through the Boycott, Divestment and Sanctions movement (BDS) and the longstanding Arab boycott.
One might argue that the BDS movement has unwittingly benefitted Israel by forcing it to emphasize technology exports that are less sensitive to boycotts. While this transition would have happened regardless, the impetus of the boycotters may have sped up the process. Israel's economic success in the face of unrelenting blacklisting and boycotts recalls the famous Arab proverb: Dogs may bark, but the caravan moves on.

Posted by SS at 05:28 PM | Comments (0)
Uri Misgav, Without Minimal Clarification
You'd think someone who decries "a hasty, one-sided move, without the minimal amount of clarification" would take pains to clarify items about which he writes. But no. Apparently, for Uri Misgav, writing in Ha'aretz today, what's not acceptable for others is perfectly permissible for him.
Thus, in his own haste he fails to clarify the so-called Nakba Law, referring to it as "legislation that forbids people to speak about the Nakba [the "disaster", in Arabic, referring to the establishment of the state]." Of course, the law does no such thing, but rather gives the Finance Minister the authority to withhold state funds from organizations that are government funded. That's it.
Posted by TS at 05:47 AM | Comments (0)
January 15, 2012
Ex-Arafat Advisor Mark Perry and the 'False Flag' Story

Mark Perry, the former advisor for Yasir Arafat and an advocate of U.S. engagement with Hamas and Hezbollah whose interpretation of General David Petraeus' statements concerning U.S.-Israeli relations were discredited by Petraeus himself, is at it again. Ha'aretz reports:
A senior Israeli government official rushed to denounce a report Friday which alleged Mossad agents had posed as CIA officers in order to recruit members of a Pakistan-based terror group to commit assassinations and attacks in Iran.

The Israeli official called the Foreign Policy article "absolute nonsense." Quoting U.S. intelligence memos, journalist Mark Perry's story reported that the Mossad operation was carried out in 2007-2008, behind the back of the U.S. government and infuriated then U.S. President George W. Bush.
Ha'aretz's description of Perry, the former advisor to Arafat whose foray into the Petraus affair was discredited, as simply a "journalist" is as unconscionable as Ynet referring to anti-Israel activist Richard Silverstein as simply a "U.S. blogger." (And Ynet was back in the act on this last week.)
Posted by TS at 02:45 AM | Comments (2)
January 14, 2012
Friends of Gilad Atzmon
"Bo" Lauder, Principal of Friends Seminary, and Gilad Atzmon
Alan Dershowitz has blown the whistle on Friends Seminary, an elite Manhattan private school, for inviting notorious anti-Semite, Gilad Atzmon, to address its students. In a Daily News column (Jan 13), he cites a few of Atzmon's bigoted ravings:
While the Holocaust "was not at all an historical narrative" and Auschwitz was not a "death camp," the "accusations of Jews making matzo out of young Goyim's blood," may be true. "The Jews" caused the recent credit crunch, which the author [Gilad Atzmon] calls "the Zio-punch."

If Iran and Israel fight a nuclear war that kills millions of people, "some may be bold enough to argue that 'Hitler might have been right after all.'"

The "new Jewish religion ... could well be the most sinister religion known to man..."

The author of the book containing these statements has told students that he cannot "say whether it's right or not to burn down a synagogue. I can say that it is a rational act." He has also apologized to the Nazis for having earlier compared them to Israel: "Israel is in fact far worse than Nazi Germany."
Robert "Bo" Lauder, principal of Friends, is now evidently embarrassed. Atzmon's crude ranting doesn't exactly square with the mission of Friends Seminary, which includes this uplifting definition of the wealthy institution's pedagogical aims:
At Friends Seminary, education occurs within the context of the Quaker belief in the Inner Light – that of God in every person. "Guided by the ideals of integrity, peace, equality and simplicity, and by our commitment to diversity, we do more than prepare students for the world that is: we help them bring about the world that ought to be."*
Mr. Lauder has issued "An Important Message from the Principal" on the controversy insisting the only discussions held with the Holocaust-denier concerned his musical activity, specifically "listening and ear training."
Is everyone at Friends ok with this?
Is exposure to Gilad Atzmon helping foster an "Inner Light" in young students and aiding them in learning how to "bring about the world that ought to be"?
How about teaching Friends students that the world "ought" not to welcome anti-Semites.
Posted by AL at 06:34 PM | Comments (3)
January 05, 2012
Kaplan, Mearsheimer and Israeli Concessions

A profile of John Mearsheimer in this month's Atlantic is titled "Why John J. Mearsheimer is Right*." The asterisk in the title offers some qualification: In the space normally reserved for a pull quote, readers are told that the controversial University of Chicago professor might only be right "*about some things."
The article, by Robert D. Kaplan, focuses mainly on Mearsheimer's realist theory of international relations, and how that guides his views on China. But Kaplan also spends some time discussing The Israel Lobby and U.S. Foreign Policy, the widely criticized book Measheimer co-wrote with Stephen Walt.
Although the piece is largely complimentary (see its title), it certainly isn't a hagiography (see the asterisk). Kaplan doesn't hesitate to relay criticism, or to introduce some criticism of his own.
Readers are reminded, for example, that a former colleague of Mearsheimer's described his book as "piss-poor monocausal social science," and that other distinguished professors have said worse. They are reminded that The Atlantic rejected the essay on which the book was based because the magazine's editors understood it lacked objectivity. Kaplan, too, questions the book's objectivity, and acknowledges unnamed distortions and inconsistencies by its authors.
Still, he sees "nothing wrong or illegitimate" with the Mearsheimer's argument that the U.S. should squeeze Israel harder, and that the pro-Israel lobby stands in the way of this. Perhaps not.
But it's surprising that Kaplan doesn't appear to have strong opinions on whether it's illegitimate scholarship to "negatively distort[] key episodes in Israel's history," as he admits Mearsheimer does. And he describes the book as "a tightly organized marshalling of fact and argument," though he isn't especially concerned that many of Mearsheimer's "facts" are, in fact, invented. (Kaplan alludes to this, and brushes it aside, when he refers to "nitpicking" about the book's end-notes.)
Most surprising, though, is that while Kaplan's article is generally measured, he seems to have total amnesia about the straightforward history of Israeli offers to withdraw from territory. After writing that "the Palestinians have been willing at times to make major concessions," Kaplan argues that "the cost to Israel of its unwillingness to make territorial concessions will grow rather than diminish."
Unwillingness? At Camp David, Israeli Prime Minister Ehud Barak offered the Palestinians most of the territory they demand for a state, and accepted President Clinton's plan that would have given them nearly all that territory. Israeli negotiators expressed willingness to withdraw from even more land at Taba. And Prime Minister Ehud Olmert, too, extended a generous offer of land for peace, which the Palestinian leadership openly acknowledges rejecting.
In other words, while the two sides were indeed divided by their respective willingness and unwillingness to make territorial concessions, Kaplan seems confused about which side was which.
Posted by GI at 03:57 PM | Comments (4)
Too Tiny for Washington Post to Mention
When is a country so tiny its size – or lack of it – can't be mentioned? Apparently when that country is Israel and The Washington Post is the mentioner.
A Post article on plummeting fertility rates in Latin America ("The incredible shrinking family", December 30) referred in passing to "tiny Ecuador." With 109,483 square miles and 15 million people, Ecuador is about 13 times less tiny than Israel in area and counts a population twice that of Israel's 7.6 million.
Reporting on the "Arab Spring" early in 2011, The Post twice described Tunisia as tiny ("Overthrow delivers a jolt to Arab region", January 16 and "Across Arab world, a sense of possibility", February 12). Tunisia's population totals 10.6 million and, at nearly 59,000 square miles, the country encompasses seven times as much territory as the Jewish state's New Jersey-sized 8,000 square miles.

During the same period the newspaper also labeled Oman as tiny – though with 82,000 square miles for only 3 million people, the emirate is 10 times larger than Israel ("Despite oil wealth, Arab economies lack traction", February 24).

As CAMERA has noted previously, Azerbaijan, Bhutan, Eritrea and Georgia, all at least twice as big as the Jewish state though with smaller populations, also have merited the diminutive in Post foreign news reporting. Though the newspaper refers to much larger countries as tiny, it does not so describe the Jewish state. One reason, perhaps, is because that to do so might conflict with "the Palestinian narrative" by highlighting the existential nature of risks Israel faces from hostile neighbors and might incur through unreciprocated concessions.

Posted by ER at 03:25 PM | Comments (3)
January 02, 2012
Jewish Agency Denies Ha'aretz Claims About Scholarships

The first paragraph of a front-page article by Revital Blumenfeld in Ha'aretz warns today:
Thousands of immigrants could be forced to drop out of school if the Jewish Agency moves forward with a plan to end scholarship funding at the end of the current academic year.
Moreover, the fifth paragraph of the article in the print edition alleges:
Those caught in the middle of their degree programs when the scholarships end would have to come up with the rest of the tuition themselves, or be forced to drop out of school.
Oddly, this paragraph does not appear in the online edition. Generally, online articles contain more, not less, information than their print counterparts, since space is not an issue on the Internet. Perhaps that paragraph was quietly cut from the Web edition after a complaint from the Jewish Agency. IMRA published the Jewish Agency's denial of Ha'aretz's claim that students will be left in a lurch, and forced to drop out:
We are shocked at the falsehoods published in this story. We were not given sufficient opportunity to respond before the article went to print. Our key message: No student will be hurt, no funds will be lost to the Student Authority. The Jewish Agency is indeed pulling out of funding the Absorption Ministry's Student Authority, because it is the right and smart thing to do. But we have secured in recent weeks iron-clad guarantees from several government sources that government agencies will step in and make up the difference. It is altogether appropriate that the government, rather than donors, take responsibility for long-term absorption and higher education of olim. The government agrees with us on this point. We promise now, as we promised in every meeting with the government: We will not pull out until the government steps in. Even after making this promise, the government has agreed to step in, because it recognizes its responsibility for the long-term success of olim in Israel.

We do not want to speculate on the motivations behind the publication of such an egregious misrepresentation of the facts.

-----------------------------
Haviv Rettig Gur
Director of Communications
Jewish Agency for Israel
Email: havivg@jafi.org, haviv@yahoo.com
Cell: +972-(0)50-205-2627
It seems that for the third time in less than one week Ha'aretz owes its readers an apology.
Posted by TS at 07:18 AM | Comments (0)
Bronner Ignores Quartet's Rejection of Indirect Palestinian Proposal
Ethan Bronner writes in the New York Times today:
The quartet has been trying to bring the Palestinians and Israelis back to direct talks by asking each to submit proposals on borders and security. The Palestinians have submitted their ideas but the Israelis say that if the goal is direct talks, the proposals should be given to the Palestinians once they meet. (Emphasis added.)
But it's not just Israel which says the Palestinians should present their proposals directly to Israel. The quartet (Russian, the United States, the European Union and the United Nations) also says so. As reported in Ha'aretz:
The Palestinians presented the Quartet with two documents relating to the borders of a future Palestinian state and security arrangements with Israel in November, but the Quartet told the Palestinians that the documents would not be passed to the Israelis, according to the official.

Quartet representatives told Saeb Erekat, head of the Palestinian negotiating team, that the proposals he presented were not relevant, because they had not been presented in direct talks with Israel, the official said.

"We continue to call for a direct exchange between the parties, starting with the preparatory meeting that leads to a presentation of proposals on territory and security. And that objective has not been met, but we're continuing to work towards that," the official said.

The Americans have expressed displeasure with the Palestinians in part because of their refusal to engage in face-to-face talks with Israel. The Obama administration sees the Palestinian strategy of presenting proposals to the Quartet without engaging in direct talks as an attempt to change the rules of the game.
Posted by TS at 04:34 AM | Comments (2)