« Sheera Frenkel Strikes Again | Main | AP Whitewashes Saudi Warnings About Gays, Virgins? »
December 02, 2011
We Have Been Warned: CSI Issues Genocide Warning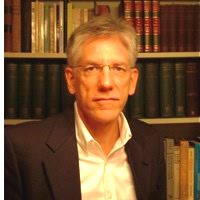 John Eibner, CEO of Christian Solidarity International
While the World Council of Churches and mainline Protestant churches in the U.S. remain relatively silent about the ongoing violence against Christians in the Middle East, Christian Solidarity International (CSI) rings the bell loudly by issuing a genocide warning.
The Christian Post reports:
Dr. John Eibner, CEO of Christian Solidarity International, said: "Conditions for genocide against non-Muslim communities exist in varying degrees throughout the region stretching from Pakistan to Morocco. The crisis of survival for non-Muslim communities is especially acute in Iraq, Syria, Egypt,Sudan, the Palestinian territories, Iran and Pakistan."

In an interview with The Christian Post, Dr. Eibner said the Arab Spring has "unleashed radical Islamist forces - forces that regard Christians and other non-Muslim minorities as 'kufar' (infidels). When we look objectively at the situation in the region…the outbreak of war in the region could result in the very quick eradication of non-Muslim communities." (Links in original not included in quote.)
In a letter to President Barack Obama, Eibner issued a ringing declaration that stands in stark contrast to the silence of the church establishment in the U.S. which for the most part, has said very little about the ongoing attacks against Christians in the Middle East. Eibner wrote in part:

Most acts of Islamic supremacist violence against non-Muslim minorities receive little media attention in the United States. Take, for example, just a few of the cases that have come to the notice of CSI since the beginning of the so-called "Arab Spring":

· Egyptian Christian teenager, Ayman Nabil Labib - murdered by schoolmates after refusing to remove a cross necklace.

· Iranian Pastor Yousef Nadarkhani - sentenced to death for having allegedly converted from Islam to Christianity.

· Catholic priest, Fr. Mark Rybinski - murdered in Tunisia.

· 27-year-old Pakistani Christian nurse Shaista Samuel– raped by Muslims and subjected to pressure to convert to Islam.

· Libyan Jew, David Gerbi - prevented from reopening the synagogue in Tripoli by Islamist mobs declaring: "There is no place for Jews in Libya!

· CBS Reporter Lara Logan - sexually assaulted in Tahrir Square in Cairo by a mob of Muslim men chanting "Jew! Jew!"

· Iraqi Christians Hanna Polos Emmanuel and Bassn Isho - kidnapped and shot dead near Kirkuk.

These and most other acts of violence against non-Muslims in the Islamic world are not, for the most part, committed by members of Al Qaida or related terrorist networks. Instead they are perpetrated by both state and non-state actors, many of whom are military allies of the United States. They are all inspired by a deep seated culture of Islamic supremacism - kindred in spirit to white supremacism and anti-Semitism.

Virulent, Sharia-based Islamic supremacism led in the 20th century to the eradication of once thriving Christian communities - Armenian, Greek and Syriac – in Turkey and to the demise of the ancient Jewish communities of the Arab world. The same genocidal dynamic is at work in the 21st century. It must be stopped now.
CSI has also posted a list of "Universal Conditions for Genocide" on its website, which Snapshots reproduces below. Even a cursory reading of this list indicates that many of these conditions are present in a number of countries in the Middle East.
Universal Conditions for Genocide.

1. Public display of ethnic and religious differences through physical features, language and communal symbols.
2. Absence in multi-religious and/or multi-ethnic societies of strong integrating institutions.
3. Absence of the rule of law and presence of authoritarian traditions of governance.
4. Deep-seated insecurity on the part of ruling elites.
5. Widespread perception of vulnerable religious and ethnic groups as potential agents of politically subversive powers.
6. Prevalence of a racially or religiously discriminatory ideology or worldview that upholds a utopian vision of a homogenous society as the foundation of political unity.
7. Institutionalization of racial or religious discrimination in statute law or social custom.
8. Widespread communication by state and/or non-state actors of hateful propaganda that portrays members of religious or ethnic communities as subject peoples, aliens within society, or as subhuman creatures.
9. Outbreaks of organized violence by mobs or individuals against members of vulnerable religious or ethnic communities.
10. Habitual denial of discrimination by state and non-state actors that engage in oppressive practices, including violence, against vulnerable groups in society.
11. Widespread militarization of society and/or widespread influence of non-state terrorist groups or militias.
CSI has put its marker down, and has warned the American people about a possible catastrophe in the Middle East.
We have been warned.
Posted by dvz at December 2, 2011 04:24 PM
Comments
A friend of mine is a Copt who left Egypt some decades ago to re-settle in America. When I asked him if any friends or relatives were caught up in the recent violence against Copts in Egypt, he said it was simply what his people have put up with for 2000 years, and that the recent increase was due to their having attempted to stand up and say "enough" given the apparent opportunity for positive change in Egypt brought about by the "Arab Spring."
Me fears that the "Arab Spring" is as you foretell about to turn into an "Islamicist Winter" whose raging storms will wipe out many of our brothers and sisters mercilessly.
But what can we do but pray "Maranatha - Come Lord Jesus." As Bob Dylan sang, "There'll be no peace, and the wars won't cease until He returns."
LiJN,
brian
Posted by: Brian at December 8, 2011 01:00 AM
Don't worry. The World Council of Churches and the other so-called "mainstream" Protestant denominations will start protesting the oppression of Christians in the Muslim world..just as soon as they can find a way to blame it on Israel!
Posted by: Rob Vincent at December 8, 2011 03:50 PM
Guidelines for posting
This is a moderated blog. We will not post comments that include racism, bigotry, threats, or factually inaccurate material.
Post a comment