« Holiday Cheer from Presbyterian Peacemakers on Christmas Eve | Main | Karsh on 'The Paper for Thinking People' »
December 25, 2011
Barcelona Fan Attacks Israeli Soldiers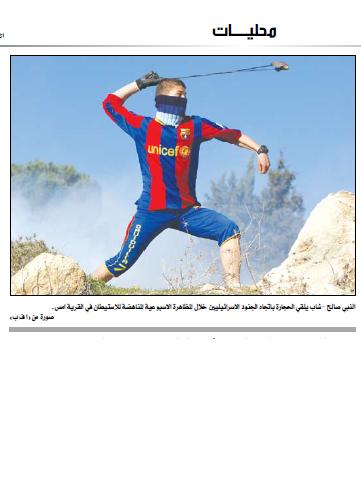 Palestinian attacker is apparently a fan of Futbol Club Barcelona
Somebody needs to tell the editors of the Palestinian newspaper Al Quds to stay on message.
International human rights organizations routinely condemn Israel for imprisoning Palestinian "children" for rock throwing. And Palestinian protests are regularly described as "peaceful."
The Dec. 24, 2011 issue of Al Quds undermines these messages quite badly. In the photo displayed above a Palestinian "youth" wearing a shirt with the UNICEF logo is shown launching a rock with a sling. The caption to the photo reads as follows: ""Nabi Salih – A youth hurls stones toward Israeli soldiers during the weekly demonstration against settlements yesterday in the village. Picture from A.F.P."
(Snapshots would like to thank one if its readers, who shall remain anonymous, for alerting us to this image and for providing the translation of the caption.)
Update: One of our commenters alerts us to the fact that the jersey being worn by the Palestinian attacker is that of a soccer team from Barcelona. The UNICEF logo is part of a sponsorship agreement used to raise funds to help people affected by HIV/AIDS in Swaziland. The main text incorrectly referred to the shirt in question as a "UNICEF shirt" and the caption previously incorrectly suggested that the shirt worn by the the stone-throwing "youth" was paid for by donations collected by Halloween trick-or-treaters in the U.S.
Posted by dvz at December 25, 2011 08:54 AM
Comments
Posted by: Challah Hu Akbar at December 25, 2011 09:47 AM
Im sure UNICEF would be proud of this young man. He is an example of UNICEF funds. I hope UNICEF puts his picture on every collection box
Posted by: Herbert at December 29, 2011 03:17 PM
UNICEF routinely sponsors terrorism. UNICEF funds come mainly from USA contributions, both millions at the federal level, and the funds raised through UNICEF collections by exploited kids at Halloween.
The funds sponsor terrorism because most of the UNICEF funds are embezzled/diverted/misused by terrorist organizations for terrorist purposes. The funds are transmitted via terrorist organizations and terrorist organization-linked persons. And they are administered by thinly-veiled fronts of terrorist organizations.
Among the uses are weapons procurement, as well as paying for a wide variety of propaganda, including posters, books, and creation and dissemination of fraudulent photos and video.
A contribution to UNICEF is a contribution to terrorism.
Posted by: Jason Barnes at December 29, 2011 04:28 PM
Palestinian stone throwing that was always liked by leftist reporters(without demonstration of it`s results) played the sudden role in Egyptian apprising.Mubarak`s supporters stoned the demonstrators and at the time leftist bigots-reporters showed the men crying of pain of the stone`s wounds.
The startling example of Western bigotry and Jew-hate.
Posted by: Ben at January 12, 2012 12:04 PM
Guidelines for posting
This is a moderated blog. We will not post comments that include racism, bigotry, threats, or factually inaccurate material.
Post a comment