« Sloppy Headlines Day at Ha'aretz | Main | Mount of Olives Cemetery Vandalism, Non-Story at NPR »
December 28, 2011
Rami Khouri's NPR Platform: A Triumph of Polemics Over Reality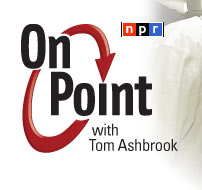 On Point host Tom Ashbrook and Rami Khouri
Rami Khouri, editor-at-large of Lebanon's Daily Star, appeared December 22 on the National Public Radio (NPR) syndicated program On Point (click here to listen) hosted by Tom Ashbrook. Mr. Khouri has appeared previously on the program. Khouri, quasi journalist, quasi anti-Israel propagandist, is a frequent NPR guest. The discussion, "The Arab Spring In Winter," also included panelists Shadi Hamid (Middle East specialist at the Brookings Institution) and Anthony Shadid (New York Times foreign correspondent). in this broadcast, Mr. Hamid and Mr. Shadid took neutral stances on Israel.
About half-way through the broadcast, Mr. Hamid frankly observed, "Let's be honest about it. Arabs hate Israel. They would rather it not be there if they had the choice. That said, I think you have to distinguish between what people want in theory and what they're willing to accept in reality."
Ashbrook asked Khouri, "What makes you so sure that the Arab world is committed to a negotiated, peaceful path [with Israel]?" Khouri observed, repeating much of what he said earlier in this broadcast,
I think we see this from [Arab] public opinion polling, we've seen it from government positions but governments don't always reflect the people. We've seen it from – you know I've lived here for the last 45 years around the region – people are willing to live with an Israeli state that is willing to live with a Palestinian state and resolve the Palestinian issue on the basis of equal rights for Israelis and Palestinians. I think the question is not about the Arabs, the question is about the Israelis. They are the ones who are colonizing land and building settlements and imprisoning Palestinians. So, we really need to know from the Israelis, are they prepared to respond constructively.
But specifically, what Arab public opinion polling? Khouri is not asked.

Contradicting Khouri's claim regarding Arab public opinion polling is a recent opinion survey of Palestinians carried out in Gaza and the West Bank by the respected American pollster Stanley Greenberg who found that 73 percent agree with the Hamas Charter's urging Muslims to kill Jews wherever they can find them, 53 percent favored teaching songs about hating Jews to school children, and 66 percent see the two-state solution as an interim stage en route to the ultimate goal of a single Palestinian state in all the territory between the Jordan River and the Mediterranean Sea.
Other Arab public opinion polling shows similar hostility toward Jews and Israel. For example, recent reliable polling of Egyptians indicates that as little as three percent have a positive impression of Israel and a majority want to annul Egypt's peace treaty with Israel. Recent reliable polling of Jordanians indicates that less than 25 percent think Israel has the right to exist -- and a large majority supports the use of rocket attacks against the Jewish state.
As to Khouri's claim, "They [Israel] are the ones who are colonizing land and building settlements and imprisoning Palestinians." In fact, the settlement activity referred to by Khouri consists of expansion within Jewish communities on Jewish-owned land in the West Bank or in Israel's capital, Jerusalem. The "imprisoning" is generally of those committing terrorist acts or apprehended preparing to commit terrorist acts aimed at slaughtering Israeli civilians.
Yet again, an NPR program provides a platform for unchallenged anti-Israel propaganda.

Posted by MK at December 28, 2011 11:45 AM
Comments
It is amazing to me that people can be taken in by such an obvious old magicians trick, misdirection. Watch this keep looking, don't look behind the curtain only look at what the Israeli's are doing don't take your eyes off them, never mind what Hizballah is doing in Lebanon, and the assassination of the Prime minister and the exodus of Maronites,and other Orthodoxy as the Shariah Laws impose more restrictions and oppression on non-Muslims. Ta-dum now another big hand for NPR and Rami Khouri, magician extradoniare. Watch as they make pluralism completely disappear.
Posted by: jeb stuart at December 29, 2011 05:12 PM
Guidelines for posting
This is a moderated blog. We will not post comments that include racism, bigotry, threats, or factually inaccurate material.
Post a comment