« Christians Attacked in Iraq by Kurdish Extremists | Main | Atlantic Year in Photos Distorts Syrian Casualties »
December 07, 2011
Max Blumenthal's Latest Hoax Quote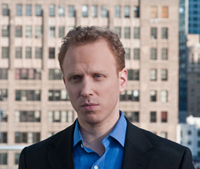 Max Blumenthal, who has been caught flagrantly mischaracterizing multiple quotations about Israel, is apparently at it again.
This time, Blumenthal is charged with misquoting Karen Greenberg, the director of the Fordham School of Law's Center on National Security. When The Atlantic's Jeffrey Goldberg contacted Greenberg to verify the quotation in question, she flatly replied, "I never made such a statement." Details here.
Posted by GI at December 7, 2011 12:17 PM
Comments
Max Blumenthal should publish a correction/retraction of his remarks. It should start with Karen Greenberg contacting him to insist that he correct his article. This is Karen Greenberg's responsibility! Doesn't she care?
IMHO
Posted by: Peter at December 8, 2011 03:57 PM
Guidelines for posting
This is a moderated blog. We will not post comments that include racism, bigotry, threats, or factually inaccurate material.
Post a comment