« Academic Study: Reuters Publishing Pro-Palestinian Propaganda | Main | Raymond Ibrahim Testifies Before Congress »
December 09, 2011
Blumenthal Defends a Distorted Quote with Another Misquote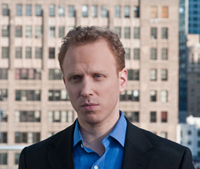 A couple of days ago, we pointed out that radical activist Max Blumenthal, who has a rich history of distorting quotes, is at it again. After he quoted Karen Greenberg of Fordham School of Law's Center on National Security purportedly blaming Israel for American torture practices, his Greenberg quickly explained, "I never made such a statement."
Blumenthal, however, is standing by his story. And in defense of his apparent hoax quote he's resorting to another tool of trickery, which could be called the Link-and-Lie.
In a post attacking those concerned by the misquote claim, he writes:
Greenberg's statement to me did not come out of the blue: A book she co-authored with Joshua Dratel, "The Road to Abu Ghraib," contains a lengthy section on Israeli court rulings authorizing torture and torture techniques refined by the Shin Bet.
The link in the above block quote appears in Blumenthal's post. Unfortunately for him, Elder of Ziyon actually bothered to click on it, only to discover that the section of the book Blumenthal links to asserts the very opposite of what he claims:
For additional guidance in answering these questions, we looked to the experiences of Northern Ireland and Israel, other places where the struggle between fighting terrorism and upholding the rule of law has been waged. Both the European Court of Human Rights and the Israeli Supreme Court have confronted the contradictory demands of national security and human rights against the backdrop of terrorism. ... These courts have ruled that there are no exceptions to the prohibition against torture and [Cruel, Inhuman or Degrading] treatment. Their rulings express the conviction that the torture and CID treatment of detainees – even when those detainees are suspected terrorists – cannot be justified.
And,
Turning to the specific interrogation methods before it, the Court concluded that shaking, the "frog crouch," the "shabach" position, cuffing causing pain, hooding, the consecutive playing of powerfully loud music and the intentional deprivation of sleep for a prolonged period of time are all prohibited interrogation techniques.

"All these methods do not fall within the sphere of a "fair" interrogation. They are not reasonable. They impinge upon the suspect's dignity, his bodily integrity and his basic rights in an excessive manner (or beyond what is necessary). They are not to be deemed as included within the general power to conduct investigations."
Posted by GI at December 9, 2011 11:18 AM
Comments
It appears after being pressured by Jeff Goldberg and others that Karen Greenberg in fact said what she said, and lied about it afterwards. She is no friend of Israel, and tried to cover her tracks. There are many Democratic Party functionaries now who are anti-Israel. Why is that so hard to believe?
Posted by: Caren Shulman at December 10, 2011 07:23 PM
Caren: It would seem that if that is this were indeed the case--that Greenberg is the liar and Blumenthal is the truth-sayer, there would have been no need for Blumenthal to distort what Greenberg actually wrote in her book-- there in black and white for all to see. Instead, he goes further out on a limb to distort those words and reverse their meaning? It is obvious that the case against Blumenthal is far stronger than the case against Greenberg.
And just to remind you, this is not the first time Blumenthal has twisted or otherwise distorted facts to support his agenda. How many other "journalists" -- and I use that term loosely -- have such an established record of lying?
Posted by: toni at December 10, 2011 07:42 PM
Guidelines for posting
This is a moderated blog. We will not post comments that include racism, bigotry, threats, or factually inaccurate material.
Post a comment