« November 2011 | Main | January 2012 »
December 29, 2011
Mount of Olives Cemetery Vandalism, Non-Story at NPR
NPR, last month aired a flawed report by Sheera Frenkel concerning vandalism of Arab sites in Israel, including a Jaffa cemetery. At the time, CAMERA observed that
it is inexcusable that a report specifically dealing with Arab-Jewish tensions in Jaffa ignored the molotov cocktail attack on the Rabbi Meir Ba'al Hanes synagogue which took place just one day after the cemetery vandalism. If vandalism of one sacred place in Jaffa is worthy of news coverage, then surely a violent attack of another sacred site in the very same city is also newsworthy. And, finally, it is worth noting, the attack on the Jaffa synagogue was not the only religious Jewish site targeted in Israel in recent months. On Nov. 6, several tombstones were smashed at the ancient Jewish cemetery at the Mount of Olives in Jerusalem.
And now more information has come to light about additional vandalism at the ancient Jewish cemetery, including a video tape catching an Arab vandal in the act on Nov. 29 (hat tip: IMRA).
According to the Jerusalem Post, the man was paid 1000 shekels to carry out the desecration. Edward Schumacher-Matos, please explain why the vandalism of an Arab cemetery in Jaffa is worthy of NPR coverage but the ongoing vandalism of the largest, most ancient Jewish cemetery is not.
Posted by TS at 07:33 AM | Comments (0)
December 28, 2011
Rami Khouri's NPR Platform: A Triumph of Polemics Over Reality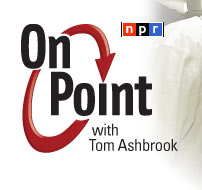 On Point host Tom Ashbrook and Rami Khouri
Rami Khouri, editor-at-large of Lebanon's Daily Star, appeared December 22 on the National Public Radio (NPR) syndicated program On Point (click here to listen) hosted by Tom Ashbrook. Mr. Khouri has appeared previously on the program. Khouri, quasi journalist, quasi anti-Israel propagandist, is a frequent NPR guest. The discussion, "The Arab Spring In Winter," also included panelists Shadi Hamid (Middle East specialist at the Brookings Institution) and Anthony Shadid (New York Times foreign correspondent). in this broadcast, Mr. Hamid and Mr. Shadid took neutral stances on Israel.
About half-way through the broadcast, Mr. Hamid frankly observed, "Let's be honest about it. Arabs hate Israel. They would rather it not be there if they had the choice. That said, I think you have to distinguish between what people want in theory and what they're willing to accept in reality."
Ashbrook asked Khouri, "What makes you so sure that the Arab world is committed to a negotiated, peaceful path [with Israel]?" Khouri observed, repeating much of what he said earlier in this broadcast,
I think we see this from [Arab] public opinion polling, we've seen it from government positions but governments don't always reflect the people. We've seen it from – you know I've lived here for the last 45 years around the region – people are willing to live with an Israeli state that is willing to live with a Palestinian state and resolve the Palestinian issue on the basis of equal rights for Israelis and Palestinians. I think the question is not about the Arabs, the question is about the Israelis. They are the ones who are colonizing land and building settlements and imprisoning Palestinians. So, we really need to know from the Israelis, are they prepared to respond constructively.
But specifically, what Arab public opinion polling? Khouri is not asked.

Contradicting Khouri's claim regarding Arab public opinion polling is a recent opinion survey of Palestinians carried out in Gaza and the West Bank by the respected American pollster Stanley Greenberg who found that 73 percent agree with the Hamas Charter's urging Muslims to kill Jews wherever they can find them, 53 percent favored teaching songs about hating Jews to school children, and 66 percent see the two-state solution as an interim stage en route to the ultimate goal of a single Palestinian state in all the territory between the Jordan River and the Mediterranean Sea.
Other Arab public opinion polling shows similar hostility toward Jews and Israel. For example, recent reliable polling of Egyptians indicates that as little as three percent have a positive impression of Israel and a majority want to annul Egypt's peace treaty with Israel. Recent reliable polling of Jordanians indicates that less than 25 percent think Israel has the right to exist -- and a large majority supports the use of rocket attacks against the Jewish state.
As to Khouri's claim, "They [Israel] are the ones who are colonizing land and building settlements and imprisoning Palestinians." In fact, the settlement activity referred to by Khouri consists of expansion within Jewish communities on Jewish-owned land in the West Bank or in Israel's capital, Jerusalem. The "imprisoning" is generally of those committing terrorist acts or apprehended preparing to commit terrorist acts aimed at slaughtering Israeli civilians.
Yet again, an NPR program provides a platform for unchallenged anti-Israel propaganda.

Posted by MK at 11:45 AM | Comments (1)
Sloppy Headlines Day at Ha'aretz
Ha'aretz's Creative Headline Writer (HCHW) has a sidekick friend -- Ha'aretz's Sloppy Headline Writer (HSHW). HSHW was busy yesterday, leaving a paper trail on page 3.
First, there was the headline:
Court: Palestinians hurt on job in Israel to be recognized as work-accident victims
In fact, the accompanying story said the court ruling applied to Palestinian laborers injured "outside Israel," specifically in the now nonexistent Gaza settlement of Ganei Tal. The article reads:
In June 2005, three workers, one of them Chinese, were killed and four were wounded when a Qassam rocket slammed into a packing shed in the Ganei Tal settlement in the Gaza Strip. Unlike their Chinese colleague, the Palestinians were not recognized by the National Insurance Institute as victims of an act of hostility, as the law prevents recognizing them as such if they are working outside Israel.

The Palestinians' request to be recognized as work-accident victims, submitted immediately after the attack, was also rejected by the NII, again because they were hurt outside Israel. This law, however, was amended three months later, and laborers hurt while working outside Israel can now be recognized as work-accident victims.

The Regional Labor Court also rejected the Palestinians' claim for compensation because the Qassam attack occurred before the amendment came into effect. Two months ago, the three Palestinians appealed to the National Labor Court, which suggested in a hearing two weeks that they be recognized as work-accident victims for humanitarian reasons. . . .

The Regional Labor Court ruled that the Palestinians who moved from Gaza to Ganei Tal had not entered Israel, so the law did not apply to them. Adalah said in the appeal that this interpretation leads to discrimination against the Palestinian workers in relation to other laborers.

National Labor Court President Nili Arad realized this absurdity and suggested a lenient approach under which the NII would recognize the Palestinians as work-accident victims.
Inside. Outside. What's the difference.
Another page 3 story yesterday was headlined:
Prosecutors file indictments against MK Said Naffaa and 17 Druze sheikhs
But the first paragraph reads:
Northern District prosecutors have submitted in Nazareth Magistrate's Court two indictments against MK Said Naffaa (Balad ) and 16 Druze sheikhs, who are accused of illegally visiting Syria and Lebanon in past years.
16, 17, Who's counting?
Posted by TS at 06:20 AM | Comments (2)
December 26, 2011
Ha'aretz's Creative Headline of the Day
Ha'aretz's creative headline writer is at it again. While headlines are meant to convey the essence of the article as faithfully as possible, Ha'aretz's creative headline writer (HCHW) tends to craft headlines which best convey his/her political agenda. At times, the actual content of the article is at odds with said agenda, but our stalwart headline writer finds creative solutions to this problem.
And thus a page-one headline today reads (in the print edition):
With IDF's blessing, right-wing American group holds Hanukkah party at Anatot army base.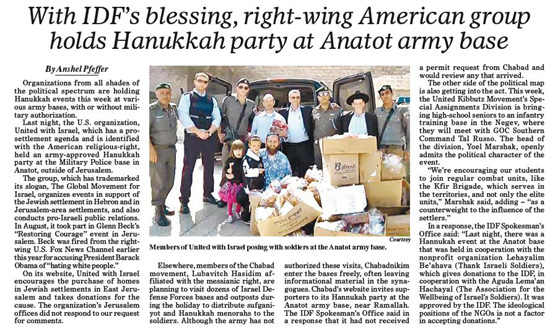 While Anshel Pfeffer's article says just that, it's not the main point of the article. The main point of the news story can be gleaned from its very first paragraph. (Note to Ha'aretz headline writer: As is taught in Journalism 101, the most important part of the story generally appears at the top of the article. Less important information appears further down. In professional lingo, this is called the inverted pyramid.) Anshel's first paragraph, ignored by HCHW, reads:
Organizations from all shades of the political spectrum are holding Hanukkah events this week at various army bases, with or without military authorization. (Emphasis added.)
And, about those left-wing groups, ignored by the politically-blinded HCHW, Anshel writes further along:
The other side of the political map [ie, the left] is also getting into the act. This week, the United Kibbutz Movement's Special Assignments Division is bringing high-school seniors to an infantry training base in the Negev, where they will meet with GOC Southern Command Tal Russo. The head of the division, Yoel Marshak, openly admits the political character of the event.

"We're encouraging our students to join regular combat units, like the Kfir Brigade, which serves in the territories, and not only the elite units," Marshak said, adding - "as a counterweight to the influence of the settlers."
For whatever reason, this article did not appear in Ha'aretz's Hebrew edition.
Posted by TS at 05:37 AM | Comments (2)
Karsh on 'The Paper for Thinking People'
Karsh: Tom Segev (pictured here) distorted the significance and contents of a key historical document
Professor Efraim Karsh discusses a recent incident with Ha'aretz, sometimes considered "the paper for thinking paper."
Posted by TS at 02:20 AM | Comments (0)
December 25, 2011
Barcelona Fan Attacks Israeli Soldiers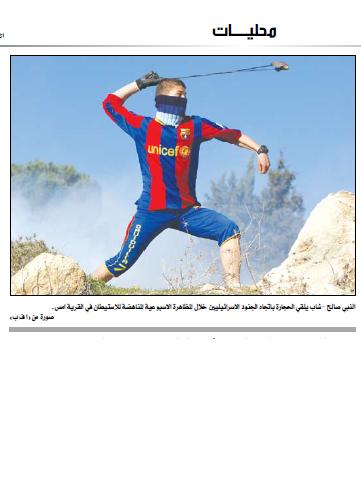 Palestinian attacker is apparently a fan of Futbol Club Barcelona
Somebody needs to tell the editors of the Palestinian newspaper Al Quds to stay on message.
International human rights organizations routinely condemn Israel for imprisoning Palestinian "children" for rock throwing. And Palestinian protests are regularly described as "peaceful."
The Dec. 24, 2011 issue of Al Quds undermines these messages quite badly. In the photo displayed above a Palestinian "youth" wearing a shirt with the UNICEF logo is shown launching a rock with a sling. The caption to the photo reads as follows: ""Nabi Salih – A youth hurls stones toward Israeli soldiers during the weekly demonstration against settlements yesterday in the village. Picture from A.F.P."
(Snapshots would like to thank one if its readers, who shall remain anonymous, for alerting us to this image and for providing the translation of the caption.)
Update: One of our commenters alerts us to the fact that the jersey being worn by the Palestinian attacker is that of a soccer team from Barcelona. The UNICEF logo is part of a sponsorship agreement used to raise funds to help people affected by HIV/AIDS in Swaziland. The main text incorrectly referred to the shirt in question as a "UNICEF shirt" and the caption previously incorrectly suggested that the shirt worn by the the stone-throwing "youth" was paid for by donations collected by Halloween trick-or-treaters in the U.S.
Posted by dvz at 08:54 AM | Comments (4)
December 24, 2011
Holiday Cheer from Presbyterian Peacemakers on Christmas Eve
The Israel Palestine Mission Network of the Presbyterian Church USA is an organization created by the PC(USA)'s 2004 General Assembly to educate Presbyterians about the Arab-Israeli conflict. Under the cover of this mission, the IPMN traffics in anti-Zionist and in some instances, anti-Semitic, propaganda which it broadcasts not only to members of the PC(USA), but to the general public.
This propaganda can be regularly seen on IPMN's Facebook page. One example of this type of propaganda can be seen in the cartoon posted above. The cartoon, posted on IPMN's Facebook page on Christmas Eve, shows two Israeli soldiers harassing Santa Claus. One soldier rummages through Santa's bag of gifts, another searches Santa for weapons. Santa himself has his hands up against a concrete section of the security barrier. A church steeple can be seen off in the distance. [And as one commenter below observes, the soldier rummaging through Santa's toys has a hooked nose, giving the image an obviously anti-Semitic touch.]
The image itself was posted by an administrator from the Israel Palestine Mission Network, for which the Presbyterian Church (USA) provides fundraising assistance. Whoever posted the cartoon opined "At first, this cartoon seems a bit much, then it sinks in that unfortunately, it's spot on!"
The failure of the PC(USA) to hold the IPMN accountable for images like this has been an ongoing problem.
Posted by dvz at 03:13 PM | Comments (12)
December 22, 2011
What Are Ben White and Electronic Intifada Hiding From?
A few days ago, there was a disturbance in both the Blogosphere and the Twitterverse. (It was pretty bad, Ben Kenobi was nearly doubled over in agony.)
The disturbance began when that pillar of the journalistic community, The Electronic Intifada, published an article by Ben White (another pillar of said community), assailing a piece written by CAMERA's Alex Safian, who in turn was calling the New York Times to account for a factual error made by its stalwart, Ethan Bronner. Safian's piece by the way, prompted a correction from the New York Times.
Safian has tried twice to post a response in the comments section underneath White's article. The first (unsuccessful) attempt triggered Electronic Intifada's spam filter, prompting Safian to post again, this time using a verizon email account. That response has yet to appear on EI's website.
Has Electronic Intifada included CAMERA's domain in its spam filter? And is Electronic Intifada sitting on Safian's response? The answer to the first question seems to be yes. Another CAMERA researcher attempted to post on EI's website only to find his comment blocked by the spam filter. (See the image at the top of this entry.)
For the record, a slightly edited version of Safian's response is posted below.
I'm the author of the article, Ben, and I must say it's curious that you omit my main objection to Bronner's report, which the Times corrected the following day. Don't you think your readers ought to be informed that the Times admitted CAMERA was right?

Here are the details that you deceptively omitted. In his article Bronner wrote that:
Sarah Abu Sneineh came with her family to greet her grandson Izzedine Abu Sneineh, who was arrested three years ago at age 15 for throwing stones and hanging Palestinian flags from telephone poles. "He was just a schoolkid when he was arrested," she said as she waited for him outside the tomb of Yasir Arafat. "We want him to go back to school. Only education is the way forward."
I pointed out that the teenager was actually convicted of attempted murder and possession of weapons and explosives, and that is why he got serious time -- because he committed a serious crime.

Again, it is curious you kept all this from your readers.

As far as amending the article in response to your tweet, I must admit I don't follow you. I was editing the article (at around 1 AM NY time) just after posting it, apparently as you were reading it. So yes, it was a coincidence.

And re B'Tselem, we don't consider them a particularly credible source, but I'll have to refer readers to the articles on our site about B'Tselem for the details.

Now will you correct your article to let your readers know that the Times was wrong and CAMERA was right? If not, then you are the one guilty of omitting material facts.
Posted by dvz at 03:40 PM | Comments (0)
December 21, 2011
ELCA Adds Disclaimer to Blog Entry on Bethlehem Call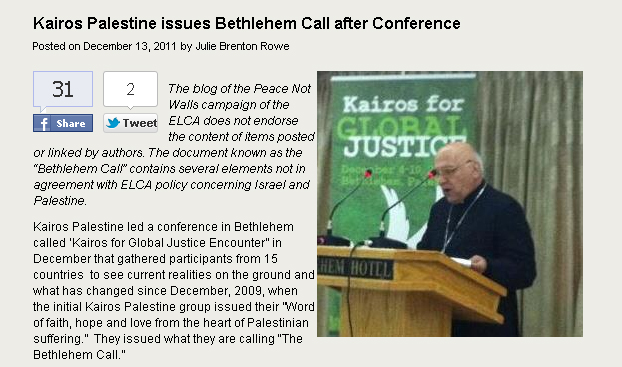 An innocuous disclaimer indicates somebody "gets it."
The Evangelical Lutheran Church in America (ELCA) is one of the more intellectually robust mainline churches in the United States.
This is not to say the denomination's witness about the Arab-Israeli conflict is perfect.
The denomination's "Peace Not Walls" campaign routinely draws attention to alleged Israeli misdeeds while downplaying the bad acts of Israel's adversaries.
Still, Snapshots is obligated to give credit where credit is due.
ELCA's "Peace Not Walls" blog posted an entry publicizing The Bethlehem Call, the deeply hostile and incendiary statement issued by the same people who issued the Kairos Palestinian Document in 2009.
It also, however, posted links to two articles critical of the statement, one issued by the B'Nai Brith and the other by the American Jewish Committee.

On this score at least, ELCA's blog did a decent job of living up to its stated purpose of showing "the breadth of views and opinions surrounding the situation in Israel and the Occupied Palestinian Territories."
ELCA's actions compare well in light of actions of the Global Ministries of the United Church of Christ and the Disciples of Christ whose website serves as a virtual clearing house of anti-Israel propaganda. Over the years, the Global Ministries of the UCC and the Disciples of Christ has become a mainstay of the international campaign of "deligitimization and criminalization" that is lauded and encouraged by The Bethlehem Call.
Apparently, somebody, or maybe several somebodies, at ELCA have started to think that they do not want to go down the same road as the UCC and The Disciples.
Good for them.
In addition to posting the responses from B'Nai Brith and the Disciples of Christ, the "Peace Not Walls" blog has also recently added a disclaimer clearly intended to distance ELCA from the Bethlehem Call's hostile and incendiary message. The disclaimer states:
The blog of the Peace Not Walls campaign of the ELCA does not endorse the content of items posted or linked by authors. The document known as the 'Bethlehem Call' contains several elements not in agreement with ELCA policy concerning Israel and Palestine.
With this short and Innocuous statement, ELCA officials have made it clear that while they are committed to standing in solidarity with Palestinian Christians living in the West Bank and the Gaza Strip, they are not going to sign off on or unreflectively re-broadcast every statement issued by the leaders of this community.
This is a good thing.
Posted by dvz at 05:45 PM | Comments (2)
Vaclav Havel, Friend of Israel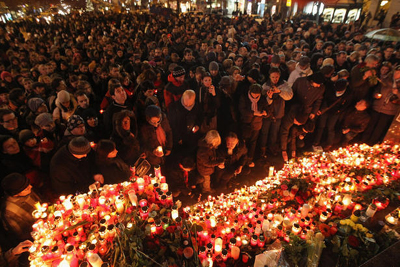 Crowds commemorate the death of Vaclav Havel
At a time when anti-Israel activists are broadening their assault on Israel to also target not only the country but also its foreign supporters, it's worth noting the principled pro-Israel stand taken by Vaclav Havel.
Havel, the celebrated Czech intellectual, dissident and politician who died last Sunday, was a founding member of the Friends of Israel Initiative, founded "out of a sense of deep concern about the unprecedented campaign of delegitimization against Israel waged by the enemies of the Jewish State and, perversely, supported by numerous international institutions."
John Mearsheimer would slur Havel as a "New Afrikaner." Other haters would opt for calling him an "Israel Firster." Considering his support for the first clause of the Friends of Israel statement, he'd surely be slurred by some radicals as a sort of "Pinkwasher."
But to most of the world he was a hero of the Velvet Revolution, "a friend to ... all who strive for freedom and dignity" and "an inspiration." And though it was not his most notable achievement, it is notable nonetheless: He was also a Friend of Israel.
Posted by GI at 11:11 AM | Comments (0)
December 20, 2011
Ohh, Friedman Meant to Say "Engineered"!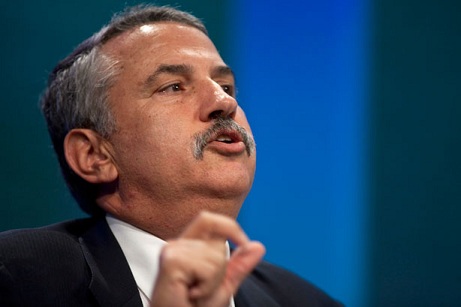 Tom Friedman
Tom Friedman thinks Jewish readers should get over it and let him come in from the cold. He's explained to The Jewish Week's Gary Rosenblatt that he "regrets" his choice of words in a December 13 column when he said Israeli Prime Minister Benjamin Netanyahu's standing ovations during his speech to Congress were "bought and paid for by the Israel lobby."
The ugly charge with its overtones of anti-Semitism caused a firestorm of criticism. But now we know, he only meant to say the standing ovations were "engineered" by the lobby.
He tells The Jewish Week:
"In retrospect I probably should have used a more precise term like 'engineered' by the Israel lobby — a term that does not suggest grand conspiracy theories that I don't subscribe to," Friedman said. "It would have helped people focus on my argument, which I stand by 100 percent."
Does that include standing 100 percent by his statement attributing to Mitt Romney the view that:
America's role is to just applaud whatever Israel does, serve as its A.T.M. and shut up
And does it include Friedman invoking as admirable the radical, fringe voice of Ha'aretz's Gideon Levy, whose unbridled attacks on Israel include applauding academic boycotts of Israel and hoping for boycotts "someday [that would] also include tourism officials, business people, artists and athletes."
Of course, Friedman's clarification is nonsense. It is precisely the argument that he stands by 100 percent that was so outrageous and offended so many and endeared him to the likes of Stephen Walt.
It will take a lot more than meaningless interviews in this vein, no matter in how many Jewish papers they appear, to persuade readers that his vituperative charges are consistent with his self-described -- as relayed by The Jewish Week -- "unswerving support for the State of Israel."
Posted by AL at 10:58 PM | Comments (6)
'Tis the Season!

Christmas is nearly upon us, giving anti-Zionists yet another opportunity to antagonize American and Israeli Jews and depict it as an honest and authentic expression of the Christian faith. It happens every Advent.
Sadly, 2011 is no exception as a group of Palestinian Christians issued "The Bethlehem Call" earlier this month. This statement, issued by the same folks who issued the Kairos Document in December 2009, is a ham-handed and obvious attempt to delegitimize the state of Israel. It's so ham-handed and hostile that most mainline churches have been careful not to touch it with a 10-foot pole.

For example, the document dates the beginning of the occupation to 1947. It does this by referring to the Amman call, issued by The World Council of Churches in 2007 as having brought an end to "60 years" of Christian silence regarding the "Israeli occupation of Palestine."
Do the math (2007 minus 60 years equals 1947) and you'll see the authors of The Bethlehem Call are dating the beginning of the occupation to the year before Israel's creation -- more than two decades before Israel came into possession of the West Bank and the Gaza Strip during the Six Day War. This means Israel -- all of Israel -- is on occupied territory and therefore is not a legitimate country.
Another passage of the Bethlehem Call reads as follows: "The delegitimization and criminalization of the Israeli government and international support base is gaining unstoppable momentum."
Now the Global Ministries of the United Church of Christ and the Disciples of Christ, one of the few Christian organizations foolish enough to rebroadcast the Bethlehem Call, states that this is an "observation" and "not a position statement" but given the context, its clear that the authors of the document think that the delegitimization and criminalization they describe is a good thing.
Take a look at the instruction to the readers at the top of the document. "To the reader: Read and interpret this text with a Kairos consciousness and gaze of prophetic anger."
The document then declares Israel guilty of a host of crimes while rejecting "any argument aimed at convincing Palestinians and the international community that the problems are caused by Muslims rather than the Occupation."
This is simply hilarious given that Palestinian Christians have routinely assailed Christian Zionism. Can any honest peacemaker believe that Islamism is not a problem as well?
Clearly, the document is part of the campaign to delegitimize and criminalize Israel and its government. And yet the folks at the UCC and Disciples of Christ say that the document merely acknowledges the success of this campaign.
Who do they think they are kidding?
The Bethlehem Call is one of a long series of Christian statements about the Arab-Israeli conflict designed to annoy, antagonize and provoke Jews in Israel and elsewhere and depict these provocations as an honest and legitimate expression of the Christian faith.
This might have worked in 2005, but not any more.

Posted by dvz at 04:17 PM | Comments (2)
December 18, 2011
Israeli PM Declines to 'Bibiwash' NYT
The Jerusalem Post reports:

Prime Minister Binyamin Netanyahu is refusing to pen an op-ed piece for The New York Times, signaling the degree to which he is fed up with the influential newspaper's editorial policy on Israel.

In a letter to the Times obtained by The Jerusalem Post on Thursday, Netanyahu's senior adviser Ron Dermer – in response to the paper's request that Netanyahu write an op-ed – wrote that the prime minister would "respectfully decline."

Dermer made clear that this had much to do with the fact that 19 of the paper's 20 op-ed pieces on Israel since September were negative.

Ironically, the one positive piece was written by Richard Goldstone – chairman of the UN's Goldstone Commission Report – defending Israel against charges of apartheid.

"We wouldn't want to be seen as 'Bibiwashing' the op-ed page of The New York Times," Dermer said, in reference to a piece called "Israel and Pinkwashing" from November. In that piece, a City University of New York humanities professor lambasted Israel for, as Dermer wrote, "having the temerity to champion its record on gay rights."

That piece, he wrote, "set a new bar that will be hard for you to lower in the future."

Dermer's letter came a day after NYT columnist Thomas Friedman wrote that the resounding ovation Netanyahu received in Congress when he spoke there in May had been "bought and paid for by the Israel lobby."
For more on the Op-Ed lambasting Israel for so-called "pinkwashing" see here. For more on Friedman's Op-Ed, which drew praise from Stephen Walt, see here. For more on NY Times' coverage of Israel, see here.
Posted by TS at 02:49 AM | Comments (0)
December 16, 2011
Friedman Scores Points -- With Stephen Walt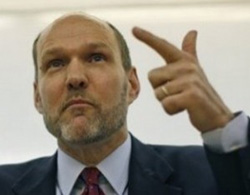 Tom Friedman and Stephen Walt
Tom Friedman's screed claiming that standing ovations for Israeli Prime Minister Netanyahu when he spoke before a joint session of Congress were "bought and paid for by the Israel lobby" has stirred a firestorm of negative reaction.
Well, not only negative reaction. There've also been kudos from some quarters. Stephen Walt, co-author of the infamous The Israel Lobby and U.S. Foreign Policy, really likes the column. Bizarrely, he titles his Foreign Policy blog post: "Why Tom Friedman is a true friend of Israel."
"Bizarrely" because Walt, a maligner of the Jewish state who blames the pro-Israel community (defined as a vast collection of groups and individuals of many faiths who defend or support the Jewish state) for distorting American policy to serve Israel, seems to believe he can credibly comment on who is a "true" friend of Israel.
His effusive praise for Friedman is, though, certainly a telling measure of how extreme the views of the New York Times writer have become.
Surely unrelated -- but noteworthy: Word of the sudden departure of Times CEO Janet Robinson included reference to the plunging value of the company's stock. Seems that stock has declined more than 80 percent since December 2004 and is down nearly 25 percent this year alone.
Maybe Walt will discover the devlishily clever Israel Lobby is behind this too, undermining Tom Friedman's platform for promoting their special form of friendship for the Jewish state.
Posted by AL at 12:39 PM | Comments (1)
December 15, 2011
Excellent video on Palestinian and Jewish Refugees


Another new informational video by Israel's Ministry of Foreign Affairs and StandWithUs provides excellent background on refugees -- Palestinian and Jewish. It exposes the destructive role of UNRWA in funding, promoting and perpetuating the Palestinian refugees.
Watch and share!
Posted by at 10:28 AM | Comments (0)
CAMERA Column Debunks BDS Activist's Falsehoods

Sandra O'Neill (center, holding a water bottle) fabricated an atrocity
As first noted on CAMERA's Web site, BDS activist Sandra O'Neill of California disseminated blatantly false charges against Israel in the Chico News and Review. Today, the paper ran a CAMERA column debunking O'Neill's falsehoods. The column reads, in part:
It is a pity that local grandmothers Sandra O'Neill and Emily Alma did not use their recent trip to the Middle East to advance peace. As Palestinian-Israeli Khaled Abu Toameh once noted, all too many Western self-described pro-Palestinian activists torpedo the Palestinian cause by spewing anti-Israel incitement, as if there's a shortage in the Arab world.

And that's exactly what happened last month as the two spouted multiple falsehoods in the Chico News & Review. For instance, in a Nov. 10 letter, Ms. O'Neill claimed that in the last three weeks in October, "two Palestinian children, ages 6 and 4, were shot and killed by trigger-happy watchtower guards." That's a lie. A close examination of relevant reports published by the Palestinian Center for Human Rights and the United Nations Office for the Coordination of Humanitarian Affairs reveals that no children, and no civilians of any age, were killed.
Read the whole piece here.
Update, 8 a.m. EST: In a letter-to-the-editor, also published today in the Chico News and Review, Elma Alma kills off a living Palestinian girl to cover for her lying compatriot.
Posted by TS at 03:53 AM | Comments (0)
December 12, 2011
Gingrich's Comments on Palestinians Strike a Nerve
Republican Presidential candidate Newt Gingrich's comment in a Dec. 9 interview with The Jewish Channel that the Palestinians are an "invented" people has stirred outrage among elements of the media known for their sympathy for the Palestinian cause.
The portion of the interview that attracted the most attention was Gingrich's assertion,
Remember, there was no Palestine as a state. It was part of the Ottoman Empire... And I think that we have invented the Palestinian people, who are in fact Arabs and are historically part of the Arab community, and they had the chance to go many places.
An Associated Press (AP) story carried widely labeled Gingrich's assertion "an incendiary comment that infuriated one side in the Mideast peace process."
While affirming the historical accuracy of the statement that no Palestinian state existed prior to the establishment of Israel, the AP piece contends "It was known as the British Mandate for Palestine, and Muslims, Christians and Jews living there were all referred to as Palestinians."
In fact, AP's statement is not accurate (more on this in a follow-up post).
Media sympathetic to the Palestinians has mostly responded to Gingrich's statements by trying to marginalize him, as the AP piece does, by asserting that his remarks "put him at odds not only with the international community but with all but an extremist fringe in Israel."
Typically these stories showcase comments by an "official" Jewish figure. The AP story quoted Michigan Sen. Carl Levin, who "sharply criticized Gingrich's comments as cynical attempts to curry support with Jewish voters and unhelpful to the peace process."
According to Levin, "Gingrich offered no solutions – just a can of gasoline and a match."
AP threw in Israeli writer Tom Segev, a critic of Israeli policy, who stated, "There is no intelligent person today who argues about the existence of the Palestinian people."
Segev also offered, "I don't think the Palestinians are less of a nation than the Americans."
The New York Times turned to former United States ambassador to Israel, Martin S. Indyk, a critic of the Israeli government, who said "that if Mr. Gingrich believed that Palestinians did not have a right to an independent state 'as implied in his language, then he's not pro-Israel at all.'"
The New York Times blog went to David Harris, chief executive of the National Jewish Democratic Council, who posited,
What he's saying is far to the right of the democratically elected Likud leadership of the State of Israel, not to mention established U.S. policy for decades... This is as clear a demonstration as one needs that he's not ready for prime time.
Al Jazeera took it a step further. A spokesman for the American Task Force on Palestine, Hussein Ibish is quoted as stating,
"There was no Israel and no such thing as an "Israeli people" before 1948."
Ibish's line of argument is interesting considering that he is complaining about Gingrich denying Palestinian peoplehood. But this is a feature of the criticism of Israel. Critics of Israel, including Palestinians, accused Gingrich of racism, yet they argue that Jews do not deserve a sovereign state on the basis that they are not an ethnic-national group, but merely members of a religion.
The piece also contends that, "Most historians mark the start of Palestinian Arab nationalist sentiment in 1834, when Arab residents of the Palestinian region revolted against Ottoman rule."
The most vitriolic responses of all came from commenters responding to a report in The Financial Times of London. Gingrich's comments set off a surge of accusations in the paper's talkback over the supposed influence of the Jewish Lobby and alleging pseudo-scientific theories about the non-Middle Eastern ancestry of Jews. Gingrich was disparaged as "a pathetic excuse for a human being." If these commenters accurately represent the paper's readers, the FT caters to a passionately judeophobic crowd.
The Guardian cast Gingrich as irresponsible. It's lede stated,

Palestinian officials say Republican frontrunner's claim children are taught to kill in textbooks is based on Israeli propaganda.
The article quotes Zalman Shoval, Israel's former ambassador to Washington as saying
"Whether [Palestinians] existed before or not is neither here nor there. Palestinian Arabs for the last 50 or 60 years have defined themselves as a separate national unity. Their aspiration to a national unity and self-governance is the fact we should be dealing with."
A search of The Huffington Post Web site, a leading internet site of the pro-Palestinian left, generated 14 items dealing with Gingrich's comment. Commenters to these articles hurled insults and epithets at Gingrich.
Gingrich for his part defended his comments during Saturday night's Republican presidential debate from Iowa, which was sponsored by ABC News.
A CBS report quotes Gingrich:
"Is what I said factually correct? Yes. Is it historically true? Yes," he answered. "Are we in a situation where every day rockets are fired into Israel while the United States? The current administration tries to pressure the Israelis into a peace process... Somebody ought to have the courage to tell the truth. These people are terrorists. They teach terrorism in their schools. They have textbooks that say, if there are 13 Jews and nine Jews are killed, how many Jews are left? We pay for those textbooks through our aid money.
"Somebody ought to have the courage to tell the truth. These people are terrorists," he said. "It's fundamentally time for somebody to have the guts to stand up and say, `Enough lying about the Middle East.'"
"You have Abbas who says in the United Nations, 'We do not necessarily concede Israel's right to exist,'" Mr. Gingrich said. "You've had four P.L.A. ambassadors around the world say flatly, 'Israel does not have a right to exist.'"
A full transcript of Gingrich's comments are available here. It is likely that in the days ahead more rancour will follow.

Posted by SS at 01:02 PM | Comments (8)
December 11, 2011
Tel Aviv Law Lecturer Rewrites Report on Police Incompetence

Eyal Gross rewrites Ha'aretz probe to suit him
Writing in Ha'aretz today, Eyal Gross, who is apparently the same Eyal Gross who is a lecturer on international and constitutional law at Tel Aviv University, seriously distorts a Ha'aretz article published last week about police incompetence in Judea and Samaria (the West Bank). While the Dec. 9 report found that the police were equally incompetent whether investigating complaints lodged by Israeli settlers or Palestinians, Gross falsely writes today that only Palestinians suffer from police incompetence:
A Haaretz probe revealed the shortcomings of police conduct in the Judea and Samaria District, exposing the fact that there are no serious investigations taking place when violence is directed against Palestinians.
But here is what the Ha'aretz probe by Chaim Levinson actually said:
The police's Shai District, which is responsible for the West Bank, consistently fails to conduct even the most basic investigatory actions, such as taking fingerprints, checking alibis, questioning witnesses and conducting identification line-ups. As a result, case after case - against settlers and Palestinians alike - is either closed without going to trial or thrown out of court, Haaretz has found. . .

Still, there's one thing to be said in [the police district's] favor: It doesn't discriminate. Complaints from settlers and Palestinians alike are all handled with equal incompetence.
As Gross ably demonstrates, it's not just the police who are plagued by incompetence.
Update/Clarification, 6:45 am EST: Presspectiva, CAMERA's Israeli site, points out that in the original Hebrew version of his column, Eyal Gross did indeed make a (very minimalist) nod acknowledging the part of the Ha'aretz probe dealing with police incompetence investigating Palestinian violence against settlers. It is the Ha'aretz English edition which completely deletes Eyal's (unclear) reference to police incompetence with respect to Palestinian-perpetrated crimes. And, so, once again, we have ourselves a case of Ha'aretz Lost in Translation. (Case 11, to be precise).
Thus, the original Hebrew reads:


The report published two days ago in Ha'aretz, concerning operations failures on the part of the Shai [Judea and Samaria] police district revealed, alongside the problems concerning the treatment of [complaints lodged by] settlers, that there is no serious police investigation when settlers engage in violence against Palestinians.



Eyal's original Hebrew wording is convoluted, and he is not straightforward about the fact that the police incompetence equally applies whether the alleged perpetrator is Palestinian or Israeli, but at least he does make a meek reference to police shortcomings investigating Palestinian crimes. But Ha'aretz's English translators could not bring themselves to do even that much.
Posted by TS at 03:53 AM | Comments (0)
At Ha'aretz, Palestinian Terrorist Morphs into 'Activist'
Last week, Ha'aretz considered slain Palestinian Isam al-Batash of the Gaza Strip a "terrorist" or "militant." Today, the paper calls the same man an "activist." The Dec. 8 headline and lede paragraph about the killed member of the Al Aqsa Martyrs Brigade who was preparing an attack in southern Israel read: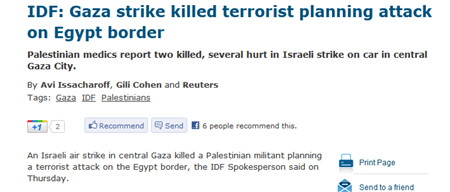 Today's story carries details about al-Batash's identity and terrorist involvements, describing him as:
Isam al-Batash, a Palestinian activist who was planning to carry out a terrorist attack into Israel from Egyptian territory. Batash, known for being a member of the Al-Aqsa Martyrs' Brigades and most recently to the Ayman Jude faction - a splinter group that broke away from Fatah - was killed in an air strike along with aide and family member Ala al-Batash. . . .

The decision to assassinate Isam al-Batash on Thursday was made after taking into account that there would be an escalation following the attack. However, the conclusion was reached that the attack was necessary in order to disrupt an attack being planned along the border with Egypt.

Batash funded and organized a team, probably a mixture of Bedouins from Egypt, to carry out an attack in northern Eilat. (Emphasis added.)
Despite the fact that we now have more, not less, information about al-Batash's terror plans, Ha'aretz has inexplicably downgraded him from a "terrorist" to an "activist." Why?
See today's subheadline:
Hat tip: Matthew Mainen
Posted by TS at 03:13 AM | Comments (2)
December 09, 2011
Time Still Unaware of Flotilla Attack on Israeli Troops

A reporter who can't straightforwardly state that Israeli troops were attacked on board the Mavi Marmara in 2010 is simply not up to the job.
In the December 12 issue of Time, Bobby Ghoush writes that Israeli-Turkish relations took a hit when
Israeli commandos halted a Turkish-led flotilla bound for Gaza in international waters. In the fighting that broke out, eight Turks and one Turkish American were killed. Israel claims its troops were attacked on board.
Video shot from multiple angles clearly shows the Israelis being descended upon, pummeled, and stabbed.
A panel of inquiry established by the UN Secretary General ascertained that "Israeli Defense Forces personnel faced significant, organized and violent resistance from a group of passengers when they boarded the Mavi Marmara requiring them to use force for their own protection. Three soldiers were captured, mistreated, and placed at risk by those passengers. Several others were wounded."
A Turkish journalist on board the ship admitted that "soldiers were met with resistance and realized that some of their friends' lives were in danger." Another Turkish passenger attested that the Israelis were accosted "without pause or hesitation."
So it doesn't really take a seasoned investigative journalist to determine, and tell readers, that Israeli troops were in fact attacked. Bobby Ghoush's unwillingness to do is just the latest evidence of Time magazine's unreliability when it comes to Israel.
Posted by GI at 06:11 PM | Comments (0)
Raymond Ibrahim Testifies Before Congress
Raymond Ibrahim (Middle East specialist and Associate fellow, Middle East Forum) testified on Dec. 7 before the Human Rights Commission in the House of Representatives about the status of Coptic Christians in Egypt. Ibrahim's prepared testimony can be read here. Below is video from the question-and-answer period of his testimony.
Ibrahim will be speaking at a CAMERA-organized conference "The Persecuted Church: Christian Believers in Peril in the Middle East." For more information about this conference which will take place on Jan. 21, 2012 in Framingham, Massachussets, click here.
Posted by dvz at 04:28 PM | Comments (0)
Blumenthal Defends a Distorted Quote with Another Misquote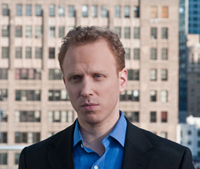 A couple of days ago, we pointed out that radical activist Max Blumenthal, who has a rich history of distorting quotes, is at it again. After he quoted Karen Greenberg of Fordham School of Law's Center on National Security purportedly blaming Israel for American torture practices, his Greenberg quickly explained, "I never made such a statement."
Blumenthal, however, is standing by his story. And in defense of his apparent hoax quote he's resorting to another tool of trickery, which could be called the Link-and-Lie.
In a post attacking those concerned by the misquote claim, he writes:
Greenberg's statement to me did not come out of the blue: A book she co-authored with Joshua Dratel, "The Road to Abu Ghraib," contains a lengthy section on Israeli court rulings authorizing torture and torture techniques refined by the Shin Bet.
The link in the above block quote appears in Blumenthal's post. Unfortunately for him, Elder of Ziyon actually bothered to click on it, only to discover that the section of the book Blumenthal links to asserts the very opposite of what he claims:
For additional guidance in answering these questions, we looked to the experiences of Northern Ireland and Israel, other places where the struggle between fighting terrorism and upholding the rule of law has been waged. Both the European Court of Human Rights and the Israeli Supreme Court have confronted the contradictory demands of national security and human rights against the backdrop of terrorism. ... These courts have ruled that there are no exceptions to the prohibition against torture and [Cruel, Inhuman or Degrading] treatment. Their rulings express the conviction that the torture and CID treatment of detainees – even when those detainees are suspected terrorists – cannot be justified.
And,
Turning to the specific interrogation methods before it, the Court concluded that shaking, the "frog crouch," the "shabach" position, cuffing causing pain, hooding, the consecutive playing of powerfully loud music and the intentional deprivation of sleep for a prolonged period of time are all prohibited interrogation techniques.

"All these methods do not fall within the sphere of a "fair" interrogation. They are not reasonable. They impinge upon the suspect's dignity, his bodily integrity and his basic rights in an excessive manner (or beyond what is necessary). They are not to be deemed as included within the general power to conduct investigations."
Posted by GI at 11:18 AM | Comments (2)
December 08, 2011
Academic Study: Reuters Publishing Pro-Palestinian Propaganda

Via Elder of Ziyon:
From PRWeb:

Roosevelt University academic study documents systematic use of propaganda by world's largest news agency.

A study published in the November/December issue of the Journal of Applied Business Research finds that Reuters coverage of the Middle East conflict is systematically tainted by propaganda and influences readers to side with the Palestinians and Arab states against the Israelis.

Researcher Henry Silverman of Roosevelt University analyzed a sample of fifty news-oriented articles published on the Reuters.com websites for the use of classic propaganda techniques, logical fallacies and violations of the Reuters Handbook of Journalism, a manual of guiding ethical principles for the company's journalists.

Across the articles, over 1,100 occurrences of propaganda, fallacies and handbook violations in 41 categories were identified and classified.

In the second part of the study, a group of thirty-three university students were surveyed, before and after reading the articles, to assess their attitudes and motivation to support one or the other belligerent parties in the Middle East conflict, i.e., the Palestinians/Arabs or the Israelis. The study found that on average, subject sentiment shifted significantly following the readings in favor of the Arabs and that this shift was associated with particular propaganda techniques and logical fallacies appearing in the stories.

"Governments have long used propaganda to whip up public support during wartime and to demonize enemies", says Silverman. "Reuters is adopting these same techniques to covertly shape audience perceptions and opinion in violation of its corporate governance charter." Silverman points out that this is particularly troubling since "the news agency promotes itself as a paragon of accurate and impartial reporting and its stories are read by millions of people who are led to believe they are being provided objective facts".




The entire study is most interesting. It uses previously established, fairly rigorous criteria as to what constitutes "propaganda." It chose 50 articles about the conflict published by Reuters between May 31 and August 31, 2010 (during and after the Mavi Marmara incident.)
Elder is stunned. CAMERA not so.
Posted by TS at 08:35 AM | Comments (1)
Atlantic Year in Photos Distorts Syrian Casualties
The Atlantic's 2011: Year in Photos includes the following photo and caption: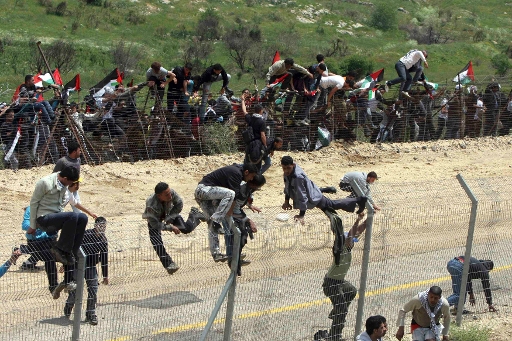 Palestinian protesters infiltrate the Israel-Syria border on May 15, 2011, near the Druze village of Majdal Shams, Israel. Reportedly at least 12 were killed and several injured when IDF soldiers open fired on protesters attempting to cross the Syria-Israel border adjacent to Majdal Shams in Northern Israel. (Jalaa Marey/JINI/Getty Images)
Four infiltrators, not 12, were killed after crossing the fence dividing Syrian and Israel. See, for example, the New York Times and Al Jazeera.
Unfortunately, in 2011, there's no need to falsely inflate fatalities among Syrian protesters. In total, more than 4,000 were reportedly killed. Not by Israel, but by Assad's own forces. While the Atlantic chose to include a photo representing the killing of four Syrian protesters at the hands of Israeli forces, it does not include a single image representing the many thousands of Syrian civilians killed by their own repressive regime.
Update/Clarification 12/12/11: The Atlantic has commendably corrected the inflated figure in a timely and thorough manner. Also, as noted by the Atlantic in a comment posted below, the error originated with Getty, not with the Atlantic as stated in this original blog post. Stay tuned for information about a correction from Getty.
Posted by TS at 04:43 AM | Comments (3)
December 07, 2011
Max Blumenthal's Latest Hoax Quote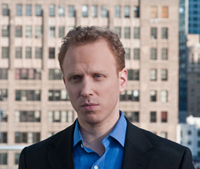 Max Blumenthal, who has been caught flagrantly mischaracterizing multiple quotations about Israel, is apparently at it again.
This time, Blumenthal is charged with misquoting Karen Greenberg, the director of the Fordham School of Law's Center on National Security. When The Atlantic's Jeffrey Goldberg contacted Greenberg to verify the quotation in question, she flatly replied, "I never made such a statement." Details here.
Posted by GI at 12:17 PM | Comments (1)
December 05, 2011
Christians Attacked in Iraq by Kurdish Extremists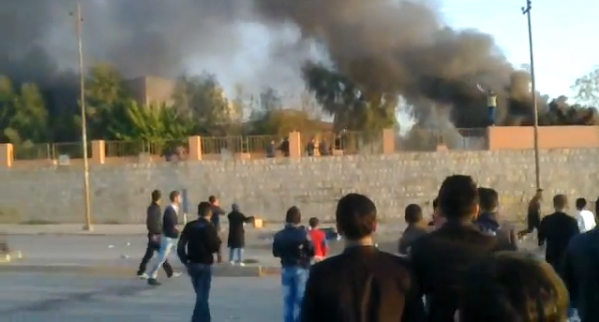 A still image from video of a riot in Iraq
The Kurds are often portrayed as the "Good Guys" of Middle Eastern politics. Having endured oppression and violence at the hands of ethnic majorities in Iran, Iraq, Syria and Turkey, the Kurds have a story of cultural survival to tell.
Sadly, they are also responsible for the mistreatment of Christians who live among them. The oppression endured by Christians living alongside Kurds passes largely unnoticed in Western media outlets but one attack, which took place in the city of Zakho in Iraq on Dec. 1, 2011 did catch the notice of CNN:

At least 25 people were wounded in northern Iraq in alleged "acts of sabotage" carried out by men who had been "instigated" by Muslim clerics, a Kurdish leader and local security officers said.

The incident occurred Friday afternoon in Zakho, which is in Iraq's Kurdistan region near the Turkish border and about 540 kilometers (335 miles) north of Baghdad.

Security officers in the Dohuk Governate, which includes Zahko, said that "dozens of young men" attacked at least 15 liquor stores, two massage parlors and two hotels after Friday noon prayers.
So far there are no reports of any fatalities as a result of this attack, but the events are still pretty disturbing. Videos of the attack and its aftermath has been uploaded at Ankaw.com, a website that serves the Assyrian community and can be seen here, and here. At about 2 minutes and 45 seconds into the last video, a young man can be seen standing on top of a wall with his arms raised. The act of raising his arms elicits cheers of approval from the young men standing across the street. More troubling video can be seen here:
At about four minutes into this video, a crowd of young men can be seen thrashing a storefront. Young men can be heard changing Allahu Akbar! Other young men are seen recording the event with their video cameras. At about 5 minutes, 30 seconds into this video, fire can be seen.
A group of Assyrian activists has issued a petition which provides some more detail:
Thousands of Kurdish Muslim men took to the streets after a Fatwa (religious decree) was issued by a Muslim cleric at a Friday prayer. The Fatwa ordered the Islamists to assault those who violate the Sharia Law. Numerous Christian businesses were destroyed by fire as the criminals stood by watching, congratulating one another for their supposed victory. Video shot by bystanders show men chanting Alah-O- Akbar (God is Great) as they approached Christian stores.
This is not the first attack on Christians by their Kurdish neighbors. In 2005 a researcher compiled a list of anti-Christian attacks associated with the rise of Kurdish power in Iraq. The list can be found here.
Posted by dvz at 10:14 AM | Comments (10)
December 04, 2011
Ha'aretz Lost in Translation, X
Today we have a new strain of the Ha'aretz Lost in Translation ailment. Instead of the traditional manifestation of the disease, in which the English edition mistranslates the original Hebrew, leaving international readers with a completely different (wrong) text than the Israelis read, today's English simply adds misinformation that doesn't at all appear in the Hebrew. Thus, the English version of an article by Gili Cohen about a new report by the Association for Civil Rights in Israel refers to
the Naqba Law, which makes it possible to deprive organizations that oppose the core principles of the State of Israel of funding and "does great damage to the freedom of political expression, to artistic freedom and to the right to demonstrate," according to the report.
Except, as earlier explained here, the so-called Naqba Law does not apply to "organizations" in general, but only to government funded bodies, such as public schools or municipalities. And the only funding at risk is government money, not donations, foreign or otherwise.
Interestingly, the Hebrew version of the article does not mention the Naqba Law at all, leaving us to wonder once again: who are you Ha'aretz English translators, and why have you mangled the original Hebrew?
Posted by TS at 08:27 AM | Comments (0)
AP Whitewashes Saudi Warnings About Gays, Virgins?
A Saudi report warns that woman drivers, like the one pictured here violating the ban on female drivers in June 2011, risks her virginity and sexual orientation (photo by AP)
The Daily Mail reports that a Saudi religious council published a "scientific" report with a prominent academic that the repeal of a ban on women drivers would lead to "no more virgins" in the kingdom and would boost homosexuality and pornography among men and women. According to the Daily Mail:
The startling conclusions were drawn by Muslim scholars at the Majlis al-Ifta' al-A'ala, Saudi Arabia's highest religious council, working in conjunction with Kamal Subhi, a former professor at the King Fahd University. . . .

The report warns that allowing women to drive would "provoke a surge in prostitution, pornography, homosexuality and divorce."

Within ten years of the ban being lifted, the report's authors claim, there would be "no more virgins" in the Islamic kingdom.
If the Daily Mail is accurately portraying the Saudi report, then the AP's coverage is nothing short of a complete whitewash. Ignoring the warnings about homosexuality, pornography and "no more virgins," the AP says only:
A report given to a high-level advisory group in Saudi Arabia claims that allowing women in the kingdom to drive could encourage premarital sex, a rights activist said Saturday. (Emphasis added.)
The AP, unlike the Daily Mail, fails to note that the report was co-authored by Muslim scholars at the Majlis al-Ifta' al-A'ala, Saudi Arabia's highest religious council. The syndicated news service attributed the "study" only to "a well-known academic."
Posted by TS at 03:28 AM | Comments (0)
December 02, 2011
We Have Been Warned: CSI Issues Genocide Warning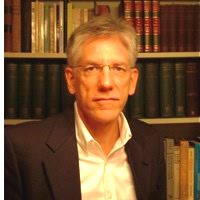 John Eibner, CEO of Christian Solidarity International
While the World Council of Churches and mainline Protestant churches in the U.S. remain relatively silent about the ongoing violence against Christians in the Middle East, Christian Solidarity International (CSI) rings the bell loudly by issuing a genocide warning.
The Christian Post reports:
Dr. John Eibner, CEO of Christian Solidarity International, said: "Conditions for genocide against non-Muslim communities exist in varying degrees throughout the region stretching from Pakistan to Morocco. The crisis of survival for non-Muslim communities is especially acute in Iraq, Syria, Egypt,Sudan, the Palestinian territories, Iran and Pakistan."

In an interview with The Christian Post, Dr. Eibner said the Arab Spring has "unleashed radical Islamist forces - forces that regard Christians and other non-Muslim minorities as 'kufar' (infidels). When we look objectively at the situation in the region…the outbreak of war in the region could result in the very quick eradication of non-Muslim communities." (Links in original not included in quote.)
In a letter to President Barack Obama, Eibner issued a ringing declaration that stands in stark contrast to the silence of the church establishment in the U.S. which for the most part, has said very little about the ongoing attacks against Christians in the Middle East. Eibner wrote in part:

Most acts of Islamic supremacist violence against non-Muslim minorities receive little media attention in the United States. Take, for example, just a few of the cases that have come to the notice of CSI since the beginning of the so-called "Arab Spring":

· Egyptian Christian teenager, Ayman Nabil Labib - murdered by schoolmates after refusing to remove a cross necklace.

· Iranian Pastor Yousef Nadarkhani - sentenced to death for having allegedly converted from Islam to Christianity.

· Catholic priest, Fr. Mark Rybinski - murdered in Tunisia.

· 27-year-old Pakistani Christian nurse Shaista Samuel– raped by Muslims and subjected to pressure to convert to Islam.

· Libyan Jew, David Gerbi - prevented from reopening the synagogue in Tripoli by Islamist mobs declaring: "There is no place for Jews in Libya!

· CBS Reporter Lara Logan - sexually assaulted in Tahrir Square in Cairo by a mob of Muslim men chanting "Jew! Jew!"

· Iraqi Christians Hanna Polos Emmanuel and Bassn Isho - kidnapped and shot dead near Kirkuk.

These and most other acts of violence against non-Muslims in the Islamic world are not, for the most part, committed by members of Al Qaida or related terrorist networks. Instead they are perpetrated by both state and non-state actors, many of whom are military allies of the United States. They are all inspired by a deep seated culture of Islamic supremacism - kindred in spirit to white supremacism and anti-Semitism.

Virulent, Sharia-based Islamic supremacism led in the 20th century to the eradication of once thriving Christian communities - Armenian, Greek and Syriac – in Turkey and to the demise of the ancient Jewish communities of the Arab world. The same genocidal dynamic is at work in the 21st century. It must be stopped now.
CSI has also posted a list of "Universal Conditions for Genocide" on its website, which Snapshots reproduces below. Even a cursory reading of this list indicates that many of these conditions are present in a number of countries in the Middle East.
Universal Conditions for Genocide.

1. Public display of ethnic and religious differences through physical features, language and communal symbols.
2. Absence in multi-religious and/or multi-ethnic societies of strong integrating institutions.
3. Absence of the rule of law and presence of authoritarian traditions of governance.
4. Deep-seated insecurity on the part of ruling elites.
5. Widespread perception of vulnerable religious and ethnic groups as potential agents of politically subversive powers.
6. Prevalence of a racially or religiously discriminatory ideology or worldview that upholds a utopian vision of a homogenous society as the foundation of political unity.
7. Institutionalization of racial or religious discrimination in statute law or social custom.
8. Widespread communication by state and/or non-state actors of hateful propaganda that portrays members of religious or ethnic communities as subject peoples, aliens within society, or as subhuman creatures.
9. Outbreaks of organized violence by mobs or individuals against members of vulnerable religious or ethnic communities.
10. Habitual denial of discrimination by state and non-state actors that engage in oppressive practices, including violence, against vulnerable groups in society.
11. Widespread militarization of society and/or widespread influence of non-state terrorist groups or militias.
CSI has put its marker down, and has warned the American people about a possible catastrophe in the Middle East.
We have been warned.
Posted by dvz at 04:24 PM | Comments (2)
December 01, 2011
Sheera Frenkel Strikes Again
The blast at the Bidganeh airforce base, which Frenkel wrongly identified as a nuclear site
Sheera Frenkel, the NPR journalist who recently alleged that Israel has a purported agenda "to have a purely Jewish state and to get rid of all Palestinians, the ones in the West Bank and in Israel," as one of her main interviewees put it, also works for the Times of London. Things are not looking so much better for her over at the Times. As Missing Peace blogs:
The Times made headlines on Wednesday when it published an article about the mysterious explosion that took place in Isfahan Iran two days ago.

According to the Times a 'second nuclear facility has exploded' in Iran. The paper furthermore reported that the blast that rocked the city of Isfahan on Monday struck the 'uranium enrichment facility' there.

Sheera Frenkel the Times journalist who wrote the article based her story on 'satellite images seen by the Times'. She also suggested that Israel was behind the blast.

The same journalist reported during the Gaza war in 2009 that the IDF was targeting Palestinian civilians with white phosphorous. That report proved to be false.

Now Frenkel reports that a second nuclear facility in Iran has exploded, and that the blast struck an uranium enrichment facility.

It is obvious that this is not true. The first blast in Iran that made the headlines, occurred two weeks ago in Bidganeh. It is now clear that this explosion took place on an air force base during tests with a long range missile, probably a Sjejjil 3 intercontinental ballistic missile.

This has been confirmed by Mohammed Teherani Moghaddam the brother of the senior Revolutionary Guard commander who was in charge with the Iranian missile defense, and who was killed in the explosion. So the first blast didn't involve any nuclear facility.

As for the uranium enrichment facility. There is no such facility in Isfahan. Isfahan is a conversion plant where yellowcake is converted to hexafluoride, or UF6, and other compounds. This is then sent to Natanz, where the enrichment takes place. . . .
Posted by TS at 07:51 AM | Comments (0)
Note to NPR: Jaffa Arab Joins High Court Race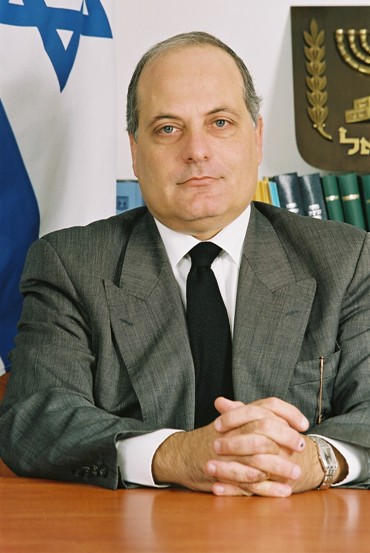 As detailed at CAMERA, NPR recently charged Israel with a purported agenda "to have a purely Jewish state and to get rid of all Palestinians, the ones in the West Bank and in Israel," as one of Sheera Frenkel's main interviewees put it. The story was largely focused on recent vandalism in Jaffa, where local activist Fatima Helewa alleged: "Arab people, they ready to live with the Jews. We are living with them for years by years. It's just Zionism made the Jewish people, the settlers, more and more racist."
Will NPR be doing a follow-up report on the failure of the racist Jews, I mean settler Zionists, to follow through with its ethnic cleansing plans? After all, while George Karra, a Christian from Jaffa, may be heading out of town, he's not packing for a refugee camp in Jordan, or Jenin, for that matter. No, the respected Tel Aviv District Court judge who convicted no less than the former President Moshe Katsav (a high-level Zionist) on rape charges has his sights on the High Court in Jerusalem.
Posted by TS at 07:06 AM | Comments (0)