« Abbas:"I will never recognize a 'Jewish state.'" | Main | Palestinian Negotiators: Settlements Mean Everything! Settlements Mean Nothing! »
November 02, 2011
Updated: Will Rooftop Productions Correct? (Yes!)
Update Nov. 7, 2011: Rooftop Productions issued a correction on Nov. 4, 2011. For more information go here.
Original entry follows:
Earlier this year, Snapshots reported about Rooftop Productions' use of a fake Ben-Gurion quote in its 2010 movie, With God on Our Side. In a distorted summary of Israeli history, the movie reports that the man who became Israel's first Prime Minister, David Ben-Gurion, stated, "The Arabs will have to go, but one needs an opportune moment for making it happen, such as war.� He allegedly stated this in a 1937 letter to his son. As you can see from the picture below, the quote was splashed across the screen in a particularly lurid manner.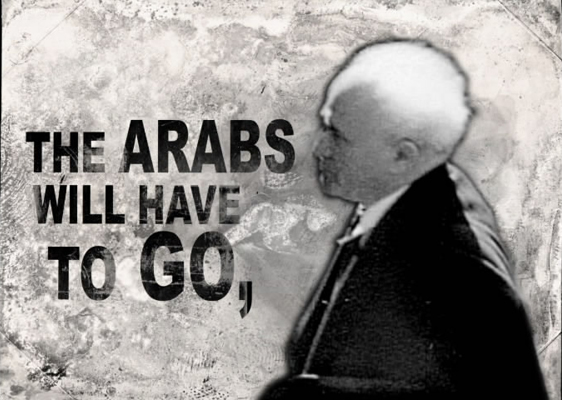 Splashed across the screen.
It's a damning quote, but Benny Morris said it was an "invention" in 2006.
Morris' assessment was not enough to convince Porter Speakman, Jr., the director and producer of With God on Our Side. When Snapshots reported in June on the inclusion of this fake quote in the movie, Speakman did not respond.
Finally, during a recent Twitter exchange between Speakman and a CAMERA researcher, Speakman stated that Benny Morris' assessment was insufficient to convince him that the quote was fake, but that if CAMERA researched the topic, Rooftop Productions would issue a correction via a statement. Here are images of two tweets where Speakman says he will correct:

CAMERA subsequently asked Speakman via email the source of his quote. He replied that the source of his quote is from Ilan Pappé's book, The Ethnic Cleansing of Palestine, page 23.
Pappé includes two sources in the endnote for the article. The first is the July 12, 1937 entry from David Ben-Gurion's diary. CAMERA has examined this source and the quote is no where to be found. It's not there.
The other source Pappé cites is page 220 of the August-September 1937 issue of New Judea, a publication of the World Zionist Organization. CAMERA has obtained a copy of this page, and the quote is nowhere to be found. Again, it's not there.
On Nov. 1, CAMERA provided Speakman with electronic copies of both of these texts. Later that day, a CAMERA researcher "pinged" Speakman on Twitter, asking when Rooftop Productions would issue a correction. Here is his response:

Watch this space!
Posted by dvz at November 2, 2011 10:34 AM
Comments
"Speaks" to the legitimacy of his film. If he is that shallow perhaps he should try his hand at an animated feature. I'm sure if he did correct this he would garner far more publicity than he has so far.

Posted by: Mitch E Marks at November 3, 2011 09:52 PM
Who paid him for this? as they say follow the money!!!!!!!!!!!!!
Posted by: R. at November 4, 2011 08:04 PM
I first heard of this supposed quotation from Ben Gurion in 2008, when Ms. Linda Frank posted a comment on Nicholas Kristoff's blog, following his article "Tough Love for Israel".
I am appending an excerpt of my reply here, dated August 12, 2008:
----------------------
...Then she refers to a 1937 letter from Ben Gurion, in which he supposedly said that "the Arabs will have to go, but one needs an opportune moment for making it happen, such as a war.� Ben Gurion has been routinely maligned in recent years by some of the "new historians� and much of the slander is being gladly used by all the detractors of Israel. This particular case is a glaring example of the distortion of the truth where the primary source is erased, where the context is ignored and where the rapporteur's integrity (in this case, Ilan Pappe) is unquestioned. Here are the facts:
- The SOURCE: The original hand-written letter is available and it has been analyzed in detail. The above quoted sentence is nowhere to be seen and the overall tenor of the letter is inconsistent with the idea of a "forced expulsion� attributed to Ben Gurion. The sentence quoted by Ms. Frank is pure fabrication. Even Benny Morris – also a "new historian� but infinitely more honest than Ilan Pappe – recognized this reality and admitted he overlooked the original in his previous work.
- The CONTEXT: In the summer of 1937, the Report of the Peel Commission was issued by the British authorities and one of the possibilities envisaged to solve the problem of Palestine was through the implementation of a population transfer. The Report mentioned specifically the successful transfer of almost 2 million people in 1922, in the wake of the war between Turkey and Greece. Today, we tend to cringe at the idea of population transfers but no one would deny that this and other population transfers, often carried out in a massive scale, are precisely what has kept Europe at peace since the end of WWII. There is also no doubt that Ben Gurion had the Peel Report in mind when he wrote the letter to his son, and he contemplated any possible transfer as a humane solution to a very difficult problem.
- The RAPPORTEUR: As Ms. Frank suggests, her source is likely Ilan Pappe's book "The Ethnic Cleansing of Palestine.� Who is Ilan Pappe? Nurtured in the hard fringe of Communist ideology, Pappe has spent the latter part of his life denigrating Israel with his false accusations until he was finally discredited by his peers at Haifa University. Now he is in the lecture circuit, to the greatest joy of other pro-Palestinian distorters. But to really appreciate Pappe's lack of credibility as a "historian�, you only need to listen to what he openly says in his many interviews: "I am not interested in what happened as to how people think what's happened�; "I admit that my ideology influences my historical writings�; "The struggle is about ideology, not about facts; we do it because of ideological reasons, not because we are truthseekers.� Would a sane person trust any historical narrative produced by such a man, for whom there is no such thing as historical truth? Benny Morris himself called Pappe's book "appalling� and in spite of that, the book became a must-read for all those who attend the annual "Israel Apartheid Week� conference, which tells you more about its Palestinian organizers than about Pappe himself.
As I said before, everyone is free to express their opinion. But this liberty comes at a price. It engages one's personal responsibility to check the veracity of the underlying facts. If this is not done, and aspersions are cast based on unverified, second hand reports, it tarnishes one's reputation, especially if it is done knowingly.

Posted by: Salomon Benzimra at November 4, 2011 08:11 PM
Guidelines for posting
This is a moderated blog. We will not post comments that include racism, bigotry, threats, or factually inaccurate material.
Post a comment