« Akko, West Bank? | Main | AFP's Western Wall Woes »
November 27, 2011
Sexual Attacks on Female Journos in Cairo Continue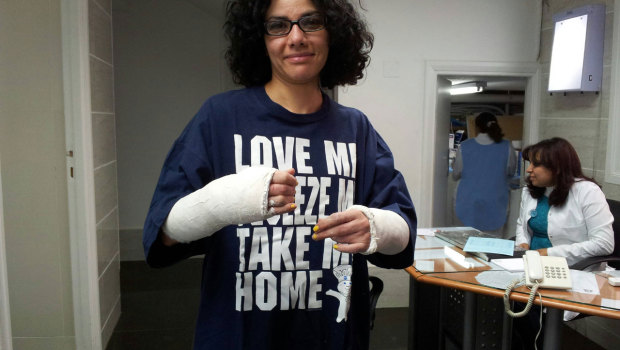 American columnist Mona Eltahawy suffered injuries at the hands of Egyptian police
In the last few days, at least two more female journalists were sexually assaulted in Cairo while covering Tahrir square protests. American-Egyptian columnist Mona Elthaway, from New York, accused the Egyptian police of beating and groping her, and of detaining her for 12 hours.
The same day, French television journalist Caroline Sinz reported that she had been sexually assaulted in a way that "would be considered rape" by a mob of teenagers and adults. A short clip of the attack on Sinz was posted on YouTube:
The Guardian reports:
An organisation campaigning for press freedom and the safety of journalists has been forced to withdraw a statement saying that the international news media should not send women reporters to Cairo following two cases of sexual assault in the past few days.

The French branch of Reporters Sans Frontières (RSF) had said: "For the time being [media should] stop sending female journalists to cover the situation in Egypt. It is unfortunate that we have come to this but, given the violence of these assaults, there is no other solution."

The advice triggered a wave of objections from journalists. Within hours, RSF had amended its website to urge media organisations "to make the security of their reporters and local correspondents their priority". It added: "It is more dangerous for a woman than a man to cover the demonstrations in Tahrir Square. That is the reality and the media must face it."
Posted by TS at November 27, 2011 03:11 AM
Comments
I thought that a lesson would be learnt after what happened to Lara Logan earlier this year!
Female journalists still being sent to muslim uprisings, why can`t they see that these males who are muslims have no respect for women and think they can do as they please!
They mostly hate the West because of the rantings of the mullahs and because our women do not wear hijabs etc. can be treated like whores!
When will the West understand and stop sending women to these places to be put in harm`s way?
Posted by: Carole at December 1, 2011 08:31 PM
This account would have been more compelling if Elthaway was not wearing a shirt that said "Love me, squeeze me, take me home".
Posted by: Michael Segal at December 3, 2011 02:59 PM
Guidelines for posting
This is a moderated blog. We will not post comments that include racism, bigotry, threats, or factually inaccurate material.
Post a comment