« Diminished Journalistic Reputations | Main | Ha'aretz Caption Hits New Low »
November 13, 2011
Ynet Treats Radical Activist Silverstein as Credible Source

Another mainstream media outlet cites radical anti-Israel activist and blogger Richard Silverstein as a source for secret information about Israel. First it was the New York Times. Today it's Ynet, which reports:
US blogger Richard Silverstein said Saturday that Israel was the mastermind behind the blast the killed at least 17 people at an Iranian Revolutionary Guard Corps base near Tehran.

In his blog, Tikun Olam, Silverstein quotes an Israeli expert as saying that the Mossad was responsible for the explosion, in collaboration with the Iranian militant opposition group Mojahedin-e-Khalq.
Of course, there is the possibility that Israel is behind the Iranian explosion. But why would a news outlet quote an extremist blogger, with a troubled record on the facts, who cites an undisclosed source? What is the news value in that? Ynet does not even bother to identify Silverstein for the anti-Israel radical that he is.
Ynet reports that "Silverstein noted that his source 'has never been wrong so far in the reports he's offered.'" So if an extremist blogger, who comes to the defense of Hamas and has a credibility problem of his own, vouches for the credibility of his unnamed source, we're supposed to be impressed?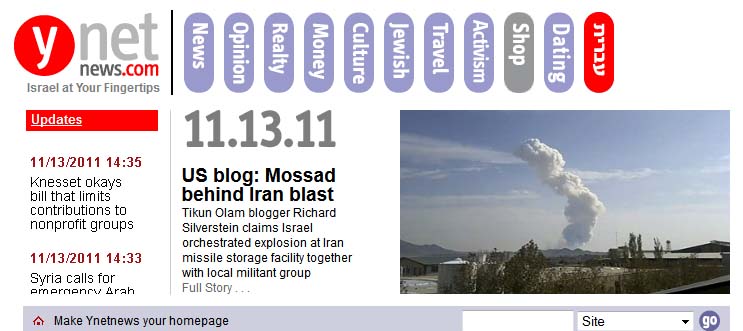 Posted by TS at November 13, 2011 07:35 AM
Comments
Silverstein's claims may be used as an excuse by Iran to attack Jews around the world. They already did so: in Buenos Aires in the 90's they bombed Jewish centers and killed hundreds.
Siverstein isn't just a blogger he is an activist hater of Israel. His comments about Israel should taken with a large grain of salt.
Posted by: Shriber at November 13, 2011 08:59 AM
Posted by: Dan Kelso at November 13, 2011 06:34 PM
In a local Jewish publication, is an article about Arabs (Palestinians) that have "roots" in their former homeland. It includes an attorney who is a spokesperson for the Palestinian side of the conflict with Israel, whenver and wherever he can. He was a "todler" when he left with his parents what is now Israel, to relocate to Jordan, avoiding the War of Indenpendence.
He debates Christian Zionists, and applauds the
UNESCO decision to accept the entity of Palestine for full membership, asseting this was a denunciation of Israel His experience with Jews/Arabs reveals Israel doe not want 2 states
AND both people's can live with one another in
peaceful coexistence. ( One state solution).
With such naive publications, and Jewish (sic)
radicals, who needs Arab/Muslim/Palestinian enemies, as the old expression goes? I'm reminded of the sign "Work makes free" and the postcards sent from Dachau JewsF to families, who would later be sent to their own hells. As Fred Sanford likes to call his son..Dummie" Are we such dummies? Perhaps? I would recommend these former
British Mandate Arabs ask the remainder of the Fogel family for insight or the 30,000 Arabs/Syrians threatening to invade Israel and commit suicide (take the war to Israel's streets) if a nuke reactor is hit by the Israeli army.
Posted by: Noah Lev at November 14, 2011 07:13 PM
Guidelines for posting
This is a moderated blog. We will not post comments that include racism, bigotry, threats, or factually inaccurate material.
Post a comment