« Ha'aretz Relocates Israel's Capital | Main | Press TV's Man in Jerusalem »
November 20, 2011
Ha'aretz Passes New Law
Not only is Ha'aretz assigning Israel a new capital, the Israeli paper is also passing new laws in the newly-minted capital of Tel Aviv. Thus, in a page-two news story about an order to shut down the Kol Hashalom radio station, dubbed "pirate," Nir Hasson writes:
The station provided a platform for left-wing groups that are now under attack by a new law that would curb their overseas funding.
Of course, the "law" in question has not been passed, and is nothing more than a bill. And, as made plainly clear on Ha'aretz's very own home page, as I type, Prime Minister Netanyahu has now indefinitely frozen the law, I mean bill. Oops.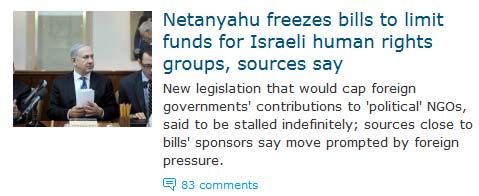 Posted by TS at November 20, 2011 03:15 PM
Comments
Guidelines for posting
This is a moderated blog. We will not post comments that include racism, bigotry, threats, or factually inaccurate material.
Post a comment