« Writer Amos Oz is Non-Wizard at NPR's On Point | Main | Mearsheimer and Falk Endorse Anti-Semite's Anti-Semitic Book »
November 04, 2011
African Migrants in Egypt: Where NPR Glossed Over, CNN Dives In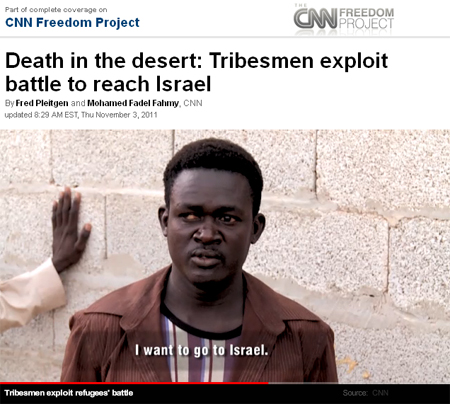 Early this year we pointed out how NPR's obsession with criticizing Israel came at the expense of African migrants. While the network zoomed in on the nuances of Israel's uneasy "welcome mat" for the migrants, it downplayed or ignored the rape, torture and murder of these Africans in neighboring Egypt.
CNN has now stepped in with hard-hitting investigative reporting to fill the informational void left by NPR's kid-glove treatment.
Its two-part series about African refugees in Egypt doesn't pull punches and, in contrast with NPR's coverage, doesn't strain to find a way to turn Israel into "the story" even while human rights groups struggle to direct attention toward migrants' suffering in the Sinai.
From part one:
Many are enslaved and tortured and the women raped by the Bedouin tribes of the Sinai if they are unable to come up with large sums of money the Bedouin try to extort from them and their families, to smuggle the refugees across the border into Israel. As a result, many remain imprisoned in camps on the Sinai Peninsula.

"They are chained and kept in camps in the open with no bathrooms and little water and food and treated worse than animals," Al-Azazy said.
And from part two, lightly substantiated but shocking allegations of organ theft:
The New Generation Foundation for Human Rights and the EveryOne Group, from Italy, have presented evidence that the bodies of African refugees have been found in the Sinai desert with organs missing. ...

One Bedouin tribal chief did put CNN in touch with a Bedouin who used to be involved in people smuggling and who was close to the organ theft scheme. The source spoke on condition of anonymity but offered insights into the scheme.

"The doctors deal directly with the Sawarka family, and they buy the organs starting from $20,000," the source said in a phone interview.

He offered further details of the logistics required to keep the organs fresh for the transplant into their new owners' bodies: "The doctors come with some sort of mobile fridge where the organs can be stored for six to eight hours and resold in Cairo or elsewhere."

The source claimed doctors from Cairo are involved in the organ theft, a claim that has proved impossible to verify.

"It's like spare parts for cars," the Bedouin, who later agreed to meet one member of the CNN crew in person, said sarcastically toward the end of the interview.

A second Bedouin, who also refused to be identified, later gave a similar account.
CNN shows that focused reporting of the mistreatment of migrants in Sinai can be done. Apparently NPR just didn't want to do it.
Posted by GI at November 4, 2011 12:18 PM
Comments
I am enormously doubtful about the organ theft claim whether directed at Jews or Bedouin.
Harvesting organs is a complicated process, requiring tests for compatibility, precise surgery, correct selection of donors (voluntary or not) and perhaps most importantly a short period between removal and installation. Six to eight hours may be too much.
It is not like spare parts for cars.
Posted by: David Guy at November 7, 2011 02:14 PM
Guidelines for posting
This is a moderated blog. We will not post comments that include racism, bigotry, threats, or factually inaccurate material.
Post a comment