« Sexual Attacks on Female Journos in Cairo Continue | Main | AP Grants Silwan to the Palestinians »
November 27, 2011
AFP's Western Wall Woes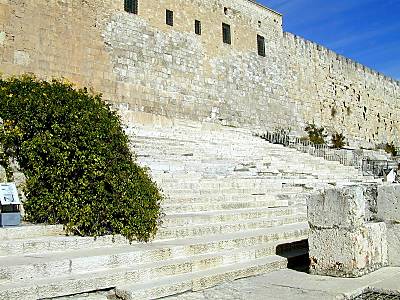 The southern wall and steps of the Temple Mount, like the Western Wall, are remaining remnants of the Temple Mount compound
An AFP article about an archeological find which challenges apparently erroneous "accepted wisdom" about the Western Wall ironically contains some separate misconceptions of its own about the holy site ("Coins show Herod build only part of Second Temple Walls," Nov. 23).
The article wrongly refers to the site as "the western wall of the Second Temple," and also incorrectly notes that it is "revered as the last remaining remnant of the Second Temple." The wall is not the western wall of the Second Temple itself, nor is it a remnant of the Temple. The Western Wall is the western retaining wall for the Temple Mount plaza, upon which the Temple itself stood, a fact that archeologists Eli Shukrun or Ronny Reich, both quoted in the story (AFP spells it "Shakoun"), can confirm.
Moreover, the Western Wall is not the only remaining remnant from the Temple Mount compound. The southern, eastern, and northern retaining walls are also still extant. Surviving features abutting the southern walls include a broad stairway leading up to the Temple Mount's entrance and two gates, known as the Huldah Gates, which provided access to the Temple Mount (Hershel Shanks, Jerusalem: An Archaeological Biography, p. 143). Some of the interior part of the Herodian Double Gate (which is one of the Huldah Gates) is also still intact. There are also surviving underground remnants of the Temple complex, including the area known as Solomon's Stables. In addition, an area called "Robinson's Arch," in the south-western corner of the Temple complex, still remains. In his book, Shanks provides details concerning numerous other remnants.
In the past, the AFP itself has made reference to some of these other surviving remnants. For instance, a Nov. 21, 2005 AFP article reported: "The area in most need of work is a section flanking the southern supporting wall of the Al-Aqsa mosque compound, the third holiest site in Islam, the reports said."
It remains to be seen whether AFP will correct the error, as has the Los Angeles Times.
Posted by TS at November 27, 2011 06:10 AM
Comments
the archeologist's name is Eli Shukrun, not as stated.
Posted by: Elliott A Green at November 28, 2011 10:39 AM
Posted by: Snapshots at November 28, 2011 01:04 PM
Guidelines for posting
This is a moderated blog. We will not post comments that include racism, bigotry, threats, or factually inaccurate material.
Post a comment