« October 2011 | Main | December 2011 »
November 27, 2011
AP Grants Silwan to the Palestinians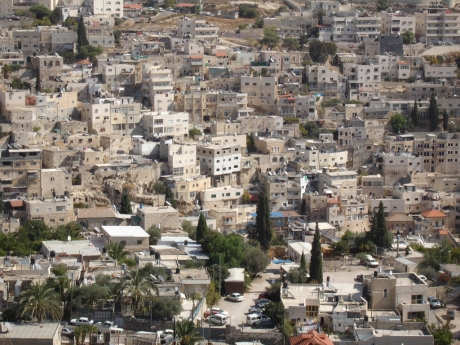 The peace talks are at a standstill, with President Abbas refusing to enter into negotiations, but that hasn't prevented the AP from coming up with its own solution for the disputed Jerusalem neighborhood of Silwan. The predominantly Arab neighborhood sits within the municipal boundaries of Jerusalem, and yet the AP describes it as "the Palestinian neighborhood of Silwan." As if the neighborhood lies within the boundaries of the Palestinian Authority, and not within Israeli territory.
More balanced language would be "the predominantly Arab neighborhood of Silwan, which Palestinians hope to have as part of their future capital."
Posted by TS at 06:52 AM | Comments (0)
AFP's Western Wall Woes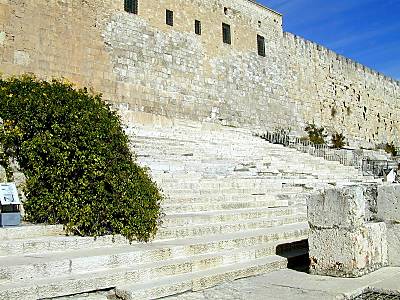 The southern wall and steps of the Temple Mount, like the Western Wall, are remaining remnants of the Temple Mount compound
An AFP article about an archeological find which challenges apparently erroneous "accepted wisdom" about the Western Wall ironically contains some separate misconceptions of its own about the holy site ("Coins show Herod build only part of Second Temple Walls," Nov. 23).
The article wrongly refers to the site as "the western wall of the Second Temple," and also incorrectly notes that it is "revered as the last remaining remnant of the Second Temple." The wall is not the western wall of the Second Temple itself, nor is it a remnant of the Temple. The Western Wall is the western retaining wall for the Temple Mount plaza, upon which the Temple itself stood, a fact that archeologists Eli Shukrun or Ronny Reich, both quoted in the story (AFP spells it "Shakoun"), can confirm.
Moreover, the Western Wall is not the only remaining remnant from the Temple Mount compound. The southern, eastern, and northern retaining walls are also still extant. Surviving features abutting the southern walls include a broad stairway leading up to the Temple Mount's entrance and two gates, known as the Huldah Gates, which provided access to the Temple Mount (Hershel Shanks, Jerusalem: An Archaeological Biography, p. 143). Some of the interior part of the Herodian Double Gate (which is one of the Huldah Gates) is also still intact. There are also surviving underground remnants of the Temple complex, including the area known as Solomon's Stables. In addition, an area called "Robinson's Arch," in the south-western corner of the Temple complex, still remains. In his book, Shanks provides details concerning numerous other remnants.
In the past, the AFP itself has made reference to some of these other surviving remnants. For instance, a Nov. 21, 2005 AFP article reported: "The area in most need of work is a section flanking the southern supporting wall of the Al-Aqsa mosque compound, the third holiest site in Islam, the reports said."
It remains to be seen whether AFP will correct the error, as has the Los Angeles Times.
Posted by TS at 06:10 AM | Comments (2)
Sexual Attacks on Female Journos in Cairo Continue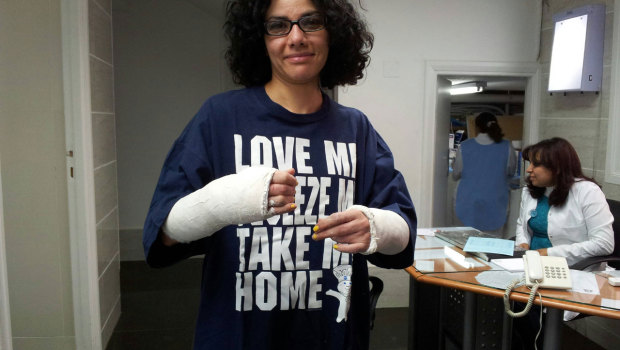 American columnist Mona Eltahawy suffered injuries at the hands of Egyptian police
In the last few days, at least two more female journalists were sexually assaulted in Cairo while covering Tahrir square protests. American-Egyptian columnist Mona Elthaway, from New York, accused the Egyptian police of beating and groping her, and of detaining her for 12 hours.
The same day, French television journalist Caroline Sinz reported that she had been sexually assaulted in a way that "would be considered rape" by a mob of teenagers and adults. A short clip of the attack on Sinz was posted on YouTube:
The Guardian reports:
An organisation campaigning for press freedom and the safety of journalists has been forced to withdraw a statement saying that the international news media should not send women reporters to Cairo following two cases of sexual assault in the past few days.

The French branch of Reporters Sans Frontières (RSF) had said: "For the time being [media should] stop sending female journalists to cover the situation in Egypt. It is unfortunate that we have come to this but, given the violence of these assaults, there is no other solution."

The advice triggered a wave of objections from journalists. Within hours, RSF had amended its website to urge media organisations "to make the security of their reporters and local correspondents their priority". It added: "It is more dangerous for a woman than a man to cover the demonstrations in Tahrir Square. That is the reality and the media must face it."
Posted by TS at 03:11 AM | Comments (2)
Akko, West Bank?
Sarah Irving's "10 Highlights of Palestine" in the Guardian, which has a subheadline of "…10 things to see and do in the West Bank" includes Akko in the list. Akko is within Israel's 1948 boundaries, and Israeli sovereignty is undisputed. While the section on Akko recognizes that it is in Israel, the title and subheadline are misleading.
The article also incorrectly states that "Israeli border authorities…control all routes into the West Bank and Gaza." Israel, however, has had no control over the Rafah border crossing between Egypt and Gaza since the 2005 disengagement.
-- Post by Matthew Mainen
Update: CIF Watch has more on Sarah Irving and the Bradt Guide to Palestine.
Update (Dec. 18, 2011): The Guardian corrects the mistaken assertion that Israel controls all of Gaza's borders, but does nothing to amend the headline and subhead placing Akko in the West Bank, Palestine.
Posted by TS at 02:20 AM | Comments (4)
November 23, 2011
Better to be a "Pinkwasher" than a Whitewasher
I'm proud that Israel is a tolerant place for gays. And I condemn radical anti-Israel activists who care more about promoting hatred of the Jewish homeland than they do promoting tolerance elsewhere in the Middle East, where homosexuals are persecuted, prosecuted or even executed.
So I guess, according to those same fringe activists, I'm now officially guilty of "pinkwashing." So be it.
Posted by GI at 10:51 PM | Comments (1)
November 21, 2011
Conspiracy Theories Abound As Egyptian Unrest Continues

MEMRI has posted an article detailing various accusations appearing in the Arab media of an Israeli plot to foment unrest and undermine the stability of Egypt. The target of these fabrications is former Israeli Military Intelligence chief Amos Yadlin. The MEMRI article titled "Fabricated Statements Attributed to Former Israeli Military Intelligence Chief Amos Yadlin Cited as Proof Israel Is Behind Tensions between Egypt's Copts, Muslims; Antisemitic Cartoons Portray Jews as Being Behind Bombing of Coptic Church" describes alleged Israeli machinations including bombing a church in Egypt.
According to MEMRI the source of the fabrications is the Lebanese weekly Al-Thabat, which is associated with Hezbollah. From there the conspiracy rumor mill spread the story to other Lebanese, Syrian, Palestinian and Egyptian publications and internet sites. It has also spread to Western-based Arabic internet sites.
Media-driven conspiracy mongering is endemic in the Middle East. The image of Israel as a nefarious conspirator working against the interests of the region's peoples is strongly promoted by the Iranian regime, its agents and the Muslim Brotherhood.
Posted by SS at 02:23 PM | Comments (1)
Ha'aretz Leads and AP Follows in Defaming Israel
Kibbutz Meirav
Ha'aretz journalists -- with Akiva Eldar frequently leading the pack -- are so eager to publicize controversial stories about Israel that they often rush to press without thoroughly checking out the facts or bothering to get the full story. The mainstream media could not be happier to let the Israeli daily do its dirty work for them. After all, what can be better than using an Israeli source to dig up dirt on Israelis?
Last Friday, Akiva Eldar, Ha'aretz's chief political correspondent, wrote an article alleging that, for the first time, Palestinian land was absorbed by Kibbutz Meirav, an Israeli kibbutz within the country's 1967 borders. The message was clear: Palestinian land was being grabbed not only by so-called "settlers" but by Israelis within the 1949 armistice boundaries.
AP's Diaa Hadid eagerly jumped on Eldar's story, and enhanced it with quotations by anti-settlement activists and Palestinians with an axe to grind against their Israeli neighbors. No one from the Kibbutz was interviewed or cited, because they "weren't immediately available for comment because of the Jewish Sabbath." And obviously Hadid couldn't let a juicy anti-Israel story possibly elude her by taking the time to hear both sides of the controversy or take the risk that the story might be debunked. So she ran with the unsubstantiated claims. And many mainstream media outlets ran her story.
Had she actually bothered to adhere to journalistic norms and get the other side of the story, AP's Hadid would have been told that "the land in question has a long-term lease and actually belonged to neighboring Kibbutz Maaleh Gilboa (not Palestinians)for 25 years." No one is asking the journalist to judge whose claim is better, just to present both sides of the picture objectively. But of course, giving weight to both sides of the controversy would weaken Hadid's defamation of Israel.
To those who are curious about the other side's point of view, see here.
Is it any wonder, with so many journalists more concerned about being the first to expose dirt than about doing their job, that the public is increasingly distrustful of what they read in the mainstream press?
Posted by RH at 11:43 AM | Comments (4)
Press TV's Man in Jerusalem
At the LA Times blog World Now, Batsheva Sobelman writes about east Jerusalem Arab Ibrahim Husseini, a reporter for Iran's Press TV. The post begins:
Is he a journalist providing Iranians with news, or an agent transmitting information to the enemy?
Regarding the former option (and we have no information about the latter), an example of Husseini's work that appears on the blog post makes clear that his definition of "news" is rather flexible. (Let's not forget, it's Ahmadinejad's Press TV he works for, a network whose slant the Los Angeles Times once described.)
Sobelman provides no comment about the accuracy, or lack thereof, of Husseini's Aug. 5 broadcast about Palestinians visiting the Al Aqsa mosque in Jerusalem on Ramadan (available also directly from Press TV), and so we will.
The crux of Husseini's broadcast is that Palestinians have no access to the Al Aqsa mosque the entire year, except for during Ramadan. He reports:
But the holy month also brings a rare chance for Muslims to visit Jerusalem Al Quds a city that they have no access to for the rest of the year.
But are Palestinians completely cut off from Jerusalem except for Ramadan? Tens of thousands of West Bank Palestinians, including 25,000 laborers, have permits to enter Israel, and may travel freely to Jerusalem throughout the year. (There are certain closure days, such as on Jewish holidays, or during periods of heightened tensions.)
Husseini quotes a Palestinian worshipper, who says:
Prior to the Israeli occupation we prayed at the Al Aqsa mosque on a regular basis with no barriers.
But for years after Israel gained control of Judea and Samaria, or the West Bank, Palestinians could travel freely to Israel, including Jerusalem. Israeli authorities started to introduce travel restrictions only in the late 1980s, at the beginning of the first intifada, as described at this pro-Palestinian Web site.
Posted by TS at 07:42 AM | Comments (0)
November 20, 2011
Ha'aretz Passes New Law
Not only is Ha'aretz assigning Israel a new capital, the Israeli paper is also passing new laws in the newly-minted capital of Tel Aviv. Thus, in a page-two news story about an order to shut down the Kol Hashalom radio station, dubbed "pirate," Nir Hasson writes:
The station provided a platform for left-wing groups that are now under attack by a new law that would curb their overseas funding.
Of course, the "law" in question has not been passed, and is nothing more than a bill. And, as made plainly clear on Ha'aretz's very own home page, as I type, Prime Minister Netanyahu has now indefinitely frozen the law, I mean bill. Oops.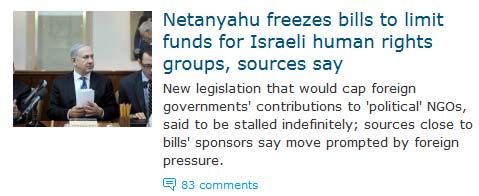 Posted by TS at 03:15 PM | Comments (0)
Ha'aretz Relocates Israel's Capital
Now you may have heard about the "State of Tel Aviv," but Ha'aretz took matters in a slightly different direction today. Taking the lead from foreign publications like the Wall Street Journal, the New York Times and the Los Angeles Times, the Israeli daily today relocated Israel's capital to Tel Aviv.
In an Op-Ed, Amir Oren writes:
The bottom line shows that the U.S. is pulling away from Israel, that Washington is making a greater effort to deter Tel Aviv than Tehran.
While Israel's Defense Ministry is located in Tel Aviv, the seat of government is still, at last check, in Jerusalem. Journalists use "Washington" as a shorthand for the U.S. government, as Oren does here, obviously because it is the American capital. (The Pentagon, the headquarters of the American Department of Defense in located in Arlington, Va., and yet Oren correctly refers to Washington, not Arlington, as shorthand for the U.S.)
The Boston Globe commendably corrected this point. Will Ha'aretz? The Globe error and correction follow:
Error (Boston Globe, 7/14/03): The refugees and many other Palestinians publicly say there can be no peace with Israel until Tel Aviv recognizes the refugees' right to return.

Correction (7/17/03): Because of an editing error, a story on a Palestinian protest in Monday's World pages incorrectly suggested that Tel Aviv is the capital of Israel. The capital is Jerusalem.
Posted by TS at 02:29 PM | Comments (2)
November 18, 2011
Reporter Asks a Good Question, Gets Suspended from National Press Club
Please Be Nice to Prince Turki al-Feisal (www.saudiembassy.net)
The National Press Club in Washington, D.C. has suspended Sam Husseini for asking some tough questions of a Saudi Prince.
Husseini tells his story here.
The two-week suspension comes after Husseini challenged Prince Turki al-Faisal al-Sa'ud of Saudi Arabia about the legitimacy of his regime. Husseini may have been a bit rough around the edges in his challenge of Prince Turki al-Faisal, but the prince does represent one of the most autocratic regimes in the world.
Husseini asked questions that reporters in Saudi Arabia dare not ask. He asked about the treatment of women, the torture of dissidents, the Saudi regime's role in suppressing the uprising in Bahrain, and its effort to stop the uprising in Egypt. (By the way, numerous reports indicate Saudi Arabia is supporting Islamists in their bid for power in Egypt.)
Husseini asked questions Faisal would never hear back home. Saudi Arabia's King Abdullah recently imposed a law under which "authorities can also ban a writer for life from contributing to any media organisation" that reports "anything that contradicts the strict Islamic Sharia law or serves 'foreign interests and undermines national security.'"
Isn't a good thing to challenge a prince that represents such a regime?
Snapshots readers can learn more about Husseini's suspension here and watch the video on Youtube below the jump. It's worth watching.
The prince's response to Husseini's is somewhat evasive. The prince says Saudi Arabia is a legitimate country.
Fine. But Husseini asked about the legitimacy of the regime Faisal represents, not of Saudi Arabia as a country.
To be fair, Faisal did address the issue of women's rights in a pretty direct manner. People may not like the answer he gave, but he did answer the question. Faisal did not respond to Husseini's challenge about the torture of dissidents in Saudi Arabia, nor did he respond to Husseini's challenges about its policies in Bahrain and Egypt.
Another part of Faisal's response -- that Saudi Arabia provides a lot of aid to international agencies, is very interesting and worth following up on. In his blog entry about his suspension, Husseini writes:
I think his [Faisal's] response opens the door to a lot more serious reporting. For example, Turki's response that Saudi Arabia gets legitimacy because of its aid programs is an interesting notion. Is he arguing that by giving aid to other countries and to international organizations that the Saudi regime has somehow purchased legitimacy, and perhaps immunity from criticism, that it would otherwise not have received? This is worth journalists and independent organizations pursuing.
Just not in Saudi Arabia. And apparently not in the National Press Club.
Again, you can watch the video below the jump.
Posted by dvz at 04:55 PM | Comments (1)
November 17, 2011
Slaves Freed After CNN Report
Image from a BBC segment on the abuse of migrants in Egypt, in which the journalist notes: "Those who do make it to Israel are safe. But it's here, in this Tel Aviv clinic, that the true horror of their journeys begins to emerge."
Let's assume CNN's report on the enslavement and torture of Africans migrants in Egypt contributed to what's being described as a mass release of the captives.
It begs the question: Had NPR, which has devoted so many words to portraying Israel as an unwelcoming destination for refugees while glossing over their abuse at the hands of Egyptians, paid attention to the real story, how many acts of torture, rape and murder might have been prevented?
We'll never know. And if for no other reason than that, NPR owes apologies to the weak and oppressed migrants for abdicating its responsibility to them.
Posted by GI at 04:02 PM | Comments (0)
Burston, What are Your Numbers?
In two recent blog posts, Ha'aretz's Bradley Burston claims that the majority of Israelis oppose Israel's ongoing presence over the Green Line. In shorthand, Burston referred on Friday ("Iran Wins") to "the pro-occupation minority."
Similarly, this week, he writes ("Come Visit Israel. Before it's Gone"):
I want my nephew to know that most Israelis believe that settlements do little other than ruin their lives, stain their country, and block the way to peace.
Granted Israelis have never been polled about their views on settlements using the terminology that Burston provides, that they "ruin their lives, stain their country, and block the way to peace." And the language and framing of a poll question can have a significant impact on the answers. Nevertheless, an in-depth study about Israeli public opinion on territorial withdrawals and the settlements by Tel Aviv University's Institute for National Security Studies does not support Burston's assertions.
For instance, the study found that in 2009, only 13 percent of Israelis supported "major territorial concessions." Another 13 percent supported "unilateral disengagement with fewer territorial concessions." On the other hand, 29 supported a "partial agreement with fewer territorial concessions," while 45 percent supported "neither," meaning they opposed any territorial concessions.
In addition, when asked in 2009 "whether in the context of a permanent settlement that would terminate the conflict, Israel should be ready to return any of a list of specific areas, or continue to retain them even at the cost
of avoiding a permanent settlement," only 46 percent supported the relinquishing of isolated settlements on the mountain ridge of east Samaria, 40.9 percent favored withdrawing from Arab neighborhoods of Jerusalem, 26.1 percent support withdrawal from western Samaria, 28.8 support withdrawal from Hebron, and the numbers are even less for the Jordan Valley (13.9 percent), the Temple Mount without the Western Wall (17.5 percent), and Gush Etzion (14.8 percent).
Also, in 2009, 42 percent of Israelis polled opposed the removal of settlements under any circumstances as part of a permanent agreement; 43 percent supported the removal of small and isolated settlements, and just 15 percent supported the removal of all settlements, including large blocs.
INSS posited that the Israeli public positions were influenced by a number of recent events:
The drop in support for the principle of land for peace in 2006 probably reflects the initial disappointment with the results of the withdrawal from Gaza. The further decline recorded in 2007 was probably caused by the overall disillusionment with the withdrawal from Gaza as well as the Second Lebanon War, the Hamas takeover of power in Gaza, and other events.
Hat tip: Matthew Mainen
Posted by TS at 04:22 AM | Comments (1)
November 15, 2011
Is the PA Considering Disbanding?
The Christian Science Monitor published an article, "Israeli-Palestinian jolt: Why some want to dismantle PA," that describes a potential new direction for the Palestinian Authority [PA] now that its bid for recognition has been denied by the UN Security Council. According to the article, the PA may disband in order to compel Israel to re-assume responsibility for governing the territory.
In the discussion of the PA's dire financial situation, readers are alerted to an often overlooked fact: the PA depends on Israeli and U.S. funding to continue functioning. Despite all the lip service given to the Palestinian cause by other Arab and Muslim states and Europe, most Palestinian external commerce is conducted with Israel. The World Bank put the figure at over 90 percent of all Palestinian foreign trade. Very limited trade occurs with the rest of the Arab world and the other Arab states are notorious for not fulfilling their aid promises to the Palestinians.
Posted by SS at 01:58 PM | Comments (2)
November 13, 2011
Ha'aretz Caption Hits New Low
From Elder of Ziyon:
In the middle of an otherwise fairly straightforward news article about Israel releasing female prisoners, Ha'aretz illustrates the story - and captions the photo - this way:

How objective Ha'aretz is!

UPDATE: The inevitable, silent correction:

Posted by TS at 08:25 AM | Comments (4)
Ynet Treats Radical Activist Silverstein as Credible Source

Another mainstream media outlet cites radical anti-Israel activist and blogger Richard Silverstein as a source for secret information about Israel. First it was the New York Times. Today it's Ynet, which reports:
US blogger Richard Silverstein said Saturday that Israel was the mastermind behind the blast the killed at least 17 people at an Iranian Revolutionary Guard Corps base near Tehran.

In his blog, Tikun Olam, Silverstein quotes an Israeli expert as saying that the Mossad was responsible for the explosion, in collaboration with the Iranian militant opposition group Mojahedin-e-Khalq.
Of course, there is the possibility that Israel is behind the Iranian explosion. But why would a news outlet quote an extremist blogger, with a troubled record on the facts, who cites an undisclosed source? What is the news value in that? Ynet does not even bother to identify Silverstein for the anti-Israel radical that he is.
Ynet reports that "Silverstein noted that his source 'has never been wrong so far in the reports he's offered.'" So if an extremist blogger, who comes to the defense of Hamas and has a credibility problem of his own, vouches for the credibility of his unnamed source, we're supposed to be impressed?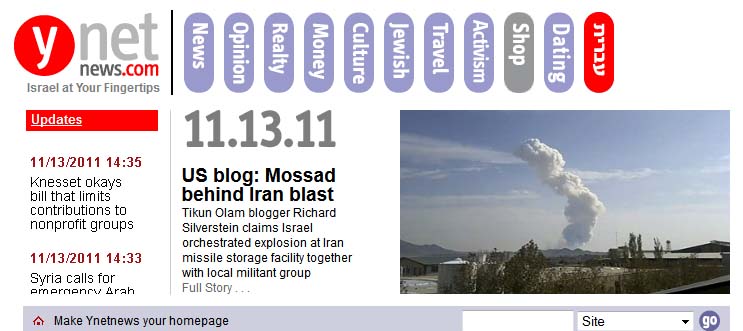 Posted by TS at 07:35 AM | Comments (3)
November 10, 2011
Diminished Journalistic Reputations
A recent piece in the Guardian about "averting accusations of antisemitism," published shortly after Deborah Orr's rant about the "chosen" people, is an interesting read.
In the column, Readers' Editor Chris Elliott calls for Guardian journalists to take more care to avoid "inadvertent" antisemitism. Regardless of whether one finds his concern to be convincing or promising, he makes one statement at the close of the article that should be heeded by journalists everywhere:
"[R]eporters, writers and editors must be more vigilant to ensure our voice in the debate is not diminished because our reputation has been tarnished."
Posted by GI at 02:30 PM | Comments (2)
PA TV: "Rain cleanses Jerusalem of Jews' impurity."
The Arab attempt to erase the Jewish connection to the land of Israel is ongoing. Whether claiming that Rachel's Tomb in Bethlehem is actually a mosque, or denying the existence of the Jewish Temple while destroying its remnants on the Temple Mount, these tactics reflect an ongoing attempt to rewrite Jewish history and distance the Jews from their Jewish homeland.
In a recent rendition of this tactic, as depicted in a new video which aired on PA TV November 6, 2011, the Jews of Jerusalem are cast as "foreign impurity."
<

Transcript: "The golden dome [of the mosque] shines with colors of the sky, with the white of clouds, while the joyous holiday [Eid Al-Adha] is good to the residents. The light rain cleanses the steps of the foreigners [Jews] so that the feet [of Muslims] in prayer will not step on impurity." [PA TV (Fatah), Nov. 6, 2011]

Posted by at 08:18 AM | Comments (0)
November 07, 2011
Wire Services Do PR for ICAHD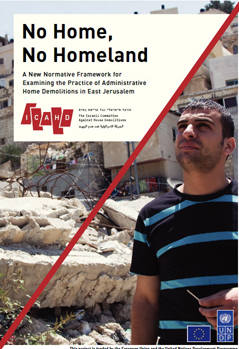 The Israeli Committee Against House Demolitions (ICAHD), whose director, Jeff Halper, calls for a one-state solution (read: the eradication of the Jewish state) and supports BDS and the Free Gaza movement, got a nice, albeit unwarranted, PR boost from Reuters and AFP. In particular, in an article about last week's release of a new ICAHD report, Reuters promoted the fringe group to "a prominent Israeli non-governmental organization."
ICAHD, which in the past has repeatedly disseminated wildly inaccurate misinformation, continues to do so with the release of its new report.
As AFP reports:
The group's report "No Home, No Homeland" accuses Israel of making it almost impossible for Palestinians to obtain building permits, with the Jerusalem city council granting just 18 for a population of 300,000 last year.
While the AFP did turn to Jerusalem municipality Stephan Miller for a response, the reporter failed to relay any of the specific rebuttal that Miller provided. Instead, the article includes a more general response, stating:
Miller rebuffed the allegations, saying the report contained "misleading facts, blatant lies and political spin about Jerusalem and lacks any connection to reality."
But the AFP failed to detail any of Miller's rebuttals. In communication with CAMERA, he relayed that the city granted more than 100 building permits to eastern Jerusalem Arabs in the last year -- not 18. Miller also points out that in 2010, 80 percent of the permit requests for Arab-dominated neighborhoods in Jerusalem were approved (versus 89 percent in Jewish-majority neighborhoods), a figure which belies ICAHD's claim that it is "amost impossible for Palestinians to obtain building permits."
The news services both uncritically report ICAHD's false claims about the options open to Arab growing Arab families. As Reuters reports:
"They have no other option than to leave East Jerusalem, build illegally or live in appalling, cramped conditions," said Emily Schaeffer, who authored the report.
Besides the fact that they actually can build legally, they can also move to Jewish-majority neighborhoods in eastern Jerusalem, as thousands have been increasingly doing.
Moreover, the wire services eat up ICAHD's basic premise "Israel is forcing Palestinians out of East Jerusalem" in a process of "ethnic displacement." As AFP reports, lawyer Michael
Sfard said Israel was enforcing a deliberate policy aimed at controlling Jerusalem's demography and ensuring a Jewish-Arab ration of 70/30.
If that's the case, it's doing a pretty lousy job at it, considering that Jerusalem is now more Arab and less Jewish than it was following the 1967 war. According to the Jerusalem Institute for Israel Studies, Jerusalem was 25.8 percent Arab in 1967. By 2009, the city's Arab population increased to 35.7 percent. Some ethnic displacement.
Posted by TS at 05:15 AM | Comments (2)
November 06, 2011
Levy, Not Only Hamas Prisoners Released
Gideon Levy's shaky grip on the facts is well documented, and today's column in Ha'aretz brings another example. He writes:
Neither is there logic in Israel's Hamas-strengthening moves, from the continued siege of Gaza to the release only of Hamas prisoners. (Emphasis added.)
Presumably he is referring to the Shalit deal, in which mostly -- but not exclusively -- Hamas prisoners were released. Among the released Fatah prisoners are Ayman al-Far, Iyad Abiyat, and Chris al-Bandak. Ismail Musa Bahit represents the Popular Resistance Committee. From Palestinian Islamic Jihad are Abdel Hadi Ghanem and Tarek Hassin, among others.
Gideon Levy is free to dispute the logic of this or that aspect of the prisoner change; he is not free to invent his own facts to do so.
Posted by TS at 05:49 AM | Comments (1)
MJ "Israel Can't Be De-legitimized" Rosenberg Backtracks?
MJ Rosenberg, who this year penned an Op-Ed in the Los Angeles Times dedicated to the pie-in-the-sky notion that "Israel can't be de-legitimized, and no one is trying to do so," appears to have backtracked in a far more modest forum.
Commenting on a blog post by Ha'aretz's Bradley Burston dealing with calls for "Death to Israel" by Kent State professor Julio Pino and others, someone posts under the name of MJ Rosenberg:
So calls for "Death to Israel" do exist, but don't blame (self-defined) progressives. Now that we've established that calls for the death of Israel do exist, can we acknowledge that such calls constitute delegitimization of Israel?
Posted by TS at 03:30 AM | Comments (0)
November 04, 2011
Mearsheimer and Falk Endorse Anti-Semite's Anti-Semitic Book
John Mearsheimer
Alan Dershowitz has thrown down the challenge to Professors John Mearsheimer (U Chicago) and Richard Falk (Princeton) to debate in public their decision to endorse the anti-Semitic ravings of Gilad Atzmon in his book The Wandering Who.
Writing in The New Republic, Dershowitz observes that the Mearsheimer/Falk endorsements, along with those of a number of other credentialed academics, is an ominous sign.
These endorsements represent a dangerous step toward legitimizing anti-Semitic rhetoric on university campuses. If respected professors endorse the views contained in Atzmon's book as "brilliant," "fascinating," "absorbing," and "moving," these views—which include Jewish domination of the world, doubting the Holocaust, blaming "the Jews" for being so hated, and attributing the current economic troubles to a "Zio-punch"—risk becoming acceptable among their students. These endorsements of Atzmon's book are the best evidence yet that academic discourse is beginning to cross a red line, and that the crossing of this line must be exposed, rebutted, and rejected in the marketplace of ideas and in the academy.
Posted by AL at 07:23 PM | Comments (2)
African Migrants in Egypt: Where NPR Glossed Over, CNN Dives In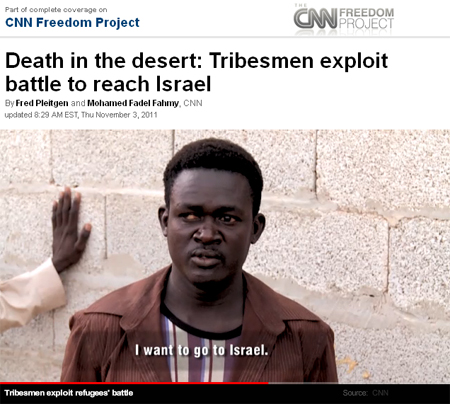 Early this year we pointed out how NPR's obsession with criticizing Israel came at the expense of African migrants. While the network zoomed in on the nuances of Israel's uneasy "welcome mat" for the migrants, it downplayed or ignored the rape, torture and murder of these Africans in neighboring Egypt.
CNN has now stepped in with hard-hitting investigative reporting to fill the informational void left by NPR's kid-glove treatment.
Its two-part series about African refugees in Egypt doesn't pull punches and, in contrast with NPR's coverage, doesn't strain to find a way to turn Israel into "the story" even while human rights groups struggle to direct attention toward migrants' suffering in the Sinai.
From part one:
Many are enslaved and tortured and the women raped by the Bedouin tribes of the Sinai if they are unable to come up with large sums of money the Bedouin try to extort from them and their families, to smuggle the refugees across the border into Israel. As a result, many remain imprisoned in camps on the Sinai Peninsula.

"They are chained and kept in camps in the open with no bathrooms and little water and food and treated worse than animals," Al-Azazy said.
And from part two, lightly substantiated but shocking allegations of organ theft:
The New Generation Foundation for Human Rights and the EveryOne Group, from Italy, have presented evidence that the bodies of African refugees have been found in the Sinai desert with organs missing. ...

One Bedouin tribal chief did put CNN in touch with a Bedouin who used to be involved in people smuggling and who was close to the organ theft scheme. The source spoke on condition of anonymity but offered insights into the scheme.

"The doctors deal directly with the Sawarka family, and they buy the organs starting from $20,000," the source said in a phone interview.

He offered further details of the logistics required to keep the organs fresh for the transplant into their new owners' bodies: "The doctors come with some sort of mobile fridge where the organs can be stored for six to eight hours and resold in Cairo or elsewhere."

The source claimed doctors from Cairo are involved in the organ theft, a claim that has proved impossible to verify.

"It's like spare parts for cars," the Bedouin, who later agreed to meet one member of the CNN crew in person, said sarcastically toward the end of the interview.

A second Bedouin, who also refused to be identified, later gave a similar account.
CNN shows that focused reporting of the mistreatment of migrants in Sinai can be done. Apparently NPR just didn't want to do it.
Posted by GI at 12:18 PM | Comments (1)
November 03, 2011
Writer Amos Oz is Non-Wizard at NPR's On Point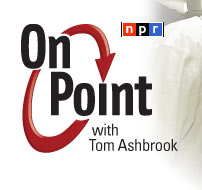 Amos Oz, Israeli novelist and left-leaning peace activist, was Tom Ashbrook's Oct. 31 On Point guest discussing Israel
The syndicated National Public Radio (NPR) program On Point has broadcast numerous unbalanced talk shows dealing with the Middle East (examples — here, here, here, here, here and here). Such was the case in the Oct. 31, 2011 broadcast in which host Tom Ashbrook's guest was Israeli writer Amos Oz, who is touring the United States promoting his new book, Scenes From Village Life.

Near the end of the program, during the call-in segment, listeners heard caller "Daniel's" anti-Israel polemic:

I believe the mass expulsion of eighty percent of the Palestinian population in 1947, the destruction of 450 villages in Palestinian towns, the continued refusal to come to terms with that legacy is the guilt that is being (indistinct) in that digging [alluding to a metaphor in Oz's new book] down below the structure of Israel.
Mr. Oz responded:
Well, I don't believe in original sin. I think in 1947, hundreds of thousands of Arabs were uprooted by the Israelis because there was a massive attack from the Arab world and from the Palestinians aiming at murdering Israel the day it was born. So, if there is an original sin it is divided between the two parties...
While Mr. Oz is correct in characterizing the intent of the Arab world to destroy Israel, he (as well as the caller) is mistaken in asserting that the majority of Arabs who fled in 1947-48 were expelled or "uprooted" by the Israelis.
The comprehensive CAMERA article Palestinian Arab and Jewish Refugees citing authoritative source material, shows that in the wake of Israel's War of Independence in 1948, the overwhelming majority of Palestinian Arab refugees were not expelled by Israeli forces. But a larger number of refugees, Jews who had resided in Arab countries for many generations, were, in fact, forced to flee their native lands.
The caller's gross distortion, a canard, regarding "The destruction of 450 villages" — which Mr. Oz did not refute — likewise is not supported by the historical record. In most cases, the villages either were abandoned in 1947 and 1948 by Arabs who fled what became Israel, often to escape the fighting caused by attacks against Jewish villages and towns, first by Palestinian Arab "irregulars" and then by five invading Arab armies, or destroyed in fighting during the war. The CAMERA report cited above describes the circumstances of the abandonment of Arab localities:

The Palestinian leadership and elite set an example for the rest of society by evacuating their towns and villages early during the conflict, usually long before fighting neared their towns, and some even before the civil war [between Arabs and Jews in British Mandatory Palestine] began. (Or, as commander of the Arab Legion John Bagot Glubb put it, "villages were frequently abandoned even before they were threatened by the progress of war.") This behavior not only shattered the morale of the Palestinian masses, but also, in the words of historian Shabtai Teveth, "amounted to clear — albeit unwritten — instructions to flee Palestine."
Once again, an NPR program on Israel presents an unrepresentative perspective without challenge, and permits callers to use it as a megaphone for anti-Israel slanders. On Point was "Off Balance."
Posted by MK at 04:21 PM | Comments (5)
Palestinian Negotiators: Settlements Mean Everything! Settlements Mean Nothing!
This just in from the other side of Palestinian negotiator Saeb Erekat's mouth:
Settlements, which Palestinian leaders have long pointed to as the wellspring of trouble in the Middle East, and which they cite as a pretext to avoid negotiating, have so little a geographic impact that they can essentially be ignored.
In an interview with Arabic Radio As-Shams cited in Ha'aretz,
Erekat stated ... that despite Israel's continual policy of "occupation and settlement building," an aerial photograph provided by European sources shows that settlements have been built on approximately 1.1% of the West Bank, thus legitimizing the Palestinian demand for a withdrawal to borders based on the June 4, 1967 borders.
It would have been a good time for the interviewer to ask: Why, then, do you continue to refuse to sit at the negotiating table and talk about it? Why, then, instead of talking peace, do your officials threaten that settlement building will lead you to "take a decision that 'will change the face of the region and the entire Middle East'"?
Posted by GI at 09:38 AM | Comments (0)
November 02, 2011
Updated: Will Rooftop Productions Correct? (Yes!)
Update Nov. 7, 2011: Rooftop Productions issued a correction on Nov. 4, 2011. For more information go here.
Original entry follows:
Earlier this year, Snapshots reported about Rooftop Productions' use of a fake Ben-Gurion quote in its 2010 movie, With God on Our Side. In a distorted summary of Israeli history, the movie reports that the man who became Israel's first Prime Minister, David Ben-Gurion, stated, "The Arabs will have to go, but one needs an opportune moment for making it happen, such as war." He allegedly stated this in a 1937 letter to his son. As you can see from the picture below, the quote was splashed across the screen in a particularly lurid manner.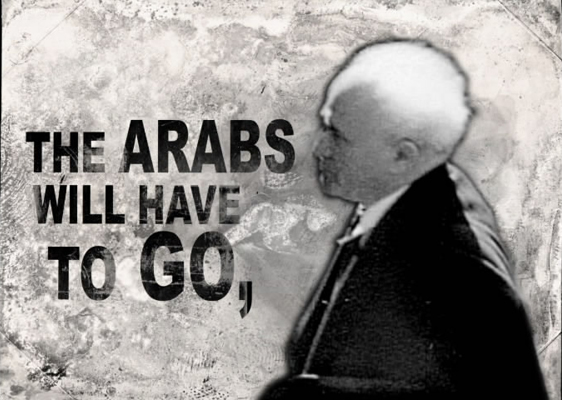 Splashed across the screen.
It's a damning quote, but Benny Morris said it was an "invention" in 2006.
Morris' assessment was not enough to convince Porter Speakman, Jr., the director and producer of With God on Our Side. When Snapshots reported in June on the inclusion of this fake quote in the movie, Speakman did not respond.
Finally, during a recent Twitter exchange between Speakman and a CAMERA researcher, Speakman stated that Benny Morris' assessment was insufficient to convince him that the quote was fake, but that if CAMERA researched the topic, Rooftop Productions would issue a correction via a statement. Here are images of two tweets where Speakman says he will correct:

CAMERA subsequently asked Speakman via email the source of his quote. He replied that the source of his quote is from Ilan Pappé's book, The Ethnic Cleansing of Palestine, page 23.
Pappé includes two sources in the endnote for the article. The first is the July 12, 1937 entry from David Ben-Gurion's diary. CAMERA has examined this source and the quote is no where to be found. It's not there.
The other source Pappé cites is page 220 of the August-September 1937 issue of New Judea, a publication of the World Zionist Organization. CAMERA has obtained a copy of this page, and the quote is nowhere to be found. Again, it's not there.
On Nov. 1, CAMERA provided Speakman with electronic copies of both of these texts. Later that day, a CAMERA researcher "pinged" Speakman on Twitter, asking when Rooftop Productions would issue a correction. Here is his response:

Watch this space!
Posted by dvz at 10:34 AM | Comments (3)
Abbas:"I will never recognize a 'Jewish state.'"
On Dream2 TV, on October 23, 2011, Mahmoud Abbas once again rejected any notion of a Jewish State.
Abbas has repeatedly stated his refusal to recognize Israel as the Jewish State. As he declared in August of 2011, "Don't order us to recognize a Jewish state," Abbas said. "We won't accept it."
Abbas is often presented as moderate, as a partner for peace. Yet, he continually and unequivocally rejects the basic principle of Jewish sovereignty in the Land of Israel.
See the interview and transcript.
Posted by at 10:31 AM | Comments (0)