« Egypt Ascends the Pyramid of Hate | Main | An Answer to the New York Times' Question »
October 19, 2011
UN Shows Its Bias Again, on Shalit Prisoner Exchange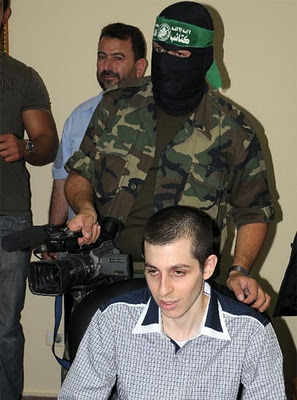 Gilad Shalit, the Israeli soldier who was kidnapped and held in isolation for five years by Hamas terrorists, was finally released in exchange for over 1000 brutal terrorists, many of whom are guilty of the most barbaric slaughter of Israelis. The young captive arrived in Egypt, gaunt, pale and nervous, but before being released to his nation and family, the Egyptian intermediaries and terrorist captors subjected him to yet more stress, barraging him with questions in a television interview as masked Hamas terrorists stood by. Gilad was obviously uncomfortable, struggling for breath as he must have feared that one wrong answer could undermine the entire deal and land him back with his cruel captors.
Did this concern UN representatives? Unsurprisingly not. The only concern voiced was that some Palestinian terrorists who were released in the prisoner exchange may have been deprived of their rights by not having been given a choice on where to go. Navi Pillay, UN High Commissioner for Human Rights, made that clear.
"It was with a sense of great relief that we have received news of the agreement to exchange prisoners. We do however have concerns regarding reports that hundreds of Palestinian prisoners from the West Bank may be released to the Gaza Strip or abroad," Pillay's spokesman Rupert Colville told Reuters in response to a query. "If in some cases this has been without the free and informed consent of the concerned individuals, this may constitute forced transfer or deportation under international law," he added. "We are not sure to what extent they consented to this."
Considering the barbaric crimes for which these terrorists had been incarcerated, their complete lack of repetance, and the Palestinian reception of the prisoners, which include calls for kidnapping "a new Gilad Shalit" and shouts of "Khaybar, Khaybar ya Yahud" (invoked as a reference the ethnic cleansing of Jews by Islamists), the concern of the UN human rights council is truly ludicrous and twisted, raising questions about the council's true goals and motives. Clearly, there is no concern about the human rights or well-being of Israeli victims and captives. The concern is limited to the terrorists' rights. The right to recidivism? Ensurance that the terrorists have full freedom to return to their previous comfortable and familiar bases of operation? Ensuring that the terrorists' ability to attack Israelis remains unimpeded?
No wonder the UN and its so-called "human rights council" has lost any relevancy and has become such a hideous joke.
Posted by RH at October 19, 2011 01:32 AM
Comments
According the Navi Pillay's own insane logic these terrorists are stateless so there's no there 'there' to send them to, willingly or not. My suggestion is to send them to Navi Pillay's home.
Posted by: Steve from Raleigh at October 19, 2011 07:02 AM
Earth to Navi Pillay, when your mass murderers you have no rights.
Here are some of the terrorists Israel let go.
Walid Anajas, from Ramallah, a commander of Hamas' armed wing, the Qassam Brigades. He was given 36 life terms in 2002 for his involvement in a number of suicide bombings, including that of a Jerusalem cafe in 2002, in which 12 people lost their lives.
Nasser Yataima, who planned a suicide bombing which killed 30 people as they were about to celebrate the Passover festival at a hotel in March 2002, was sentenced to 29 life terms.
Khamis Zaki Aqel, a member of the Qassam Brigades, which carried out a string of suicide bombings and other attacks, was arrested in 1992 and sentenced to 21 life terms. It was not immediately clear for which crime he was sentenced.
Majdi Muhammed Amr, arrested in 1993, is serving 19 life sentences after being found guilty of coordinating the work of suicide bombers, including one who blew up a bus in the northern city of Haifa in March 2003, killing 17 people. [He also murdered David Cohen in a drive-by shooting in July 2001. - EoZ]
Maedh Abu Sharakh was also sentenced to 19 life terms for his role in planning the Haifa bus bombing.
Abdel Hadi Ghanim, of Nusseirat refugee camp in central Gaza Strip, was serving 16 life sentences after he hijacked an Israeli intercity bus in 1989 traveling from Tel Aviv to Jerusalem and drove it over a steep drop, killing 16 passengers.
Muhammed Daghales was sentenced in 2001 to 15 life terms for his role in planning the 2001 suicide bombing of a Jerusalem pizzeria, which killed 16 Israelis.
Posted by: Dan at October 19, 2011 08:51 AM
Guidelines for posting
This is a moderated blog. We will not post comments that include racism, bigotry, threats, or factually inaccurate material.
Post a comment