« Shahira Amin: Just Looking Out for Gilad | Main | Ha'aretz Double Standard: Ir Amim V. Elad »
October 26, 2011
Professor Calls for "Death to Israel"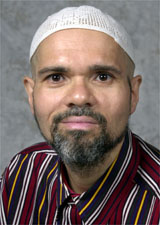 Julio Pino
Tenured Professor Julio Pino disrupted a CAMERA-sponsored event with Ishmael Khaldi, a Bedouin-Muslim Israeli, former diplomat and current advisor to Israel's Foreign Minister, at Kent State University last night.
According to a student-run news website:
Standing at the back of the auditorium, Pino asked Khaldi how he and his government could justify providing aid to countries like Turkey with blood money that came from the deaths of Palestinian children and babies. The crowd fell into an awkward silence as the two continued to exchange words from across the auditorium.

"It is not respectful to me here," Khaldi said.

Pino responded by saying "your government killed people" and claimed Khaldi was not being respectful to him.

"I do respect you, but you are wrong," Khaldi said. "It's a lie."

The exchange ended as Pino stormed out of the auditorium shouting "Death to Israel!"
In 2002, Pino published a eulogy in the campus paper praising Palestinian terrorist Ayat al-Akras, who murdered two Israelis, Rachel Levy and Chaim Smadar.
Pino has been accused of having ties to terrorists and had his home raided in 2009 by the U.S. Secret Service.
Posted by abs at October 26, 2011 01:27 PM
Comments
This story seems unfinished. Did't anything happen to Pino after his hate statement? What was the result of the raid on his house?
Posted by: Dafna Yee at October 26, 2011 06:18 PM
Posted by: Jewess at October 27, 2011 09:19 AM
It seems that the tenured professor Pino, whom one might otherwise assume to be an educated man, has an awful lot to learn about the terrorist (and supporters) whose misdeeds he finds so praiseworthy.
Posted by: Ephraim at October 27, 2011 03:14 PM
What has happened to Julio Pino?
Questions should be put to Kent State U.
What are the e mail addresses for Kent State U's President, VP, Chairman of the Board of Directors and any other administration officials who should be called on to address this issue and seek redress from Julio Pino?
Posted by: Bill Narvey at October 28, 2011 01:02 PM
The UCI outrage, where 10 students interrupted
the speech by Michael Oren, should serve as both a guide, as well as a warning to those of us who
believe in the US Constitution and freedom of speech. We know that the amendment does not guarantee all speech. The guilt of those Muslim students should be a guide for dealing with abhorrent behavior (Kent State).
The UCI case is being appealed of course. Regarding the not so polite prof...refusing him entry for prior irresponsibloe behavior, and excorting him OUT..is how to accommocate people who say openly they want us dead.
Posted by: Noah Lev at October 28, 2011 01:42 PM
How could any parent send a child to Kent State to study history knowing that this is the quality of tenured professors in that department? This guy had to have been approved and voted on for tenure by his peers in the history department. I can only imagine what gets taught in their courses.
Posted by: steve at October 28, 2011 02:39 PM
Having been a professor for 38 years I understood that there are certain limitations to what we say in class, e.g., requesting the murder of individuals, groups, or nations is beyond comprehension and should be condemned by the University and faculty.
Professor Pino should be considered in violation of the moral turpitude ethic we agree to when we accept an appointment to teach at a university and should be disciplined by the university. In my mind Professor Pino deserves to be fired. It is ironic that more than 4 decades ago Kent State was a university where several student's were killed. With this grim history, the University should be ever aware of death threats, and request for the death of others by members of the faculty, administration members, and students.
Charles L. Richman, Ph.D.
Posted by: charles richman at October 28, 2011 05:32 PM
Prof. Julio Pino's accusations against Israelis and the State of Israel would be horrendous if they were true. But how does Prof. Pino present his accusations? Does he publish any sort of an account of the accusations? From where does his information come?
To simply hurl such charges against a visitor invited by members of the student body is outrageous. It is something that would be unacceptable to any reputable institution of higher learning.
I would think that Kent State would be more concerned over its good name than to let this sort of behavior pass without taking appropriate measures.
Posted by: D
at October 28, 2011 06:01 PM
"Tenured Professor Julio Pino disrupted a CAMERA-sponsored event..."
The student-run newspaper at KSU also reported on the this occurrence. As writer John Milligan remembers it, Pino's exchange with Khaldi occurred during the Q&A portion of the presentation, after Khaldi had finished speaking.
One of the most popular arguments against the Irvine 11 these days is that they could have waited until the Q&A session if they truly wanted to exercise free speech. I think it is a good argument, but if we want to preserve its poignancy, we also have to preserve the distinction between comments made purely as a disruption and those made during the Q&A session, regardless of how offensive those comments are.
Posted by: Jacob Goldberg at October 29, 2011 10:28 PM
It's mindbogeling and outrageous that the Kent
State University President, Chairman of the Board
of Directors and Administration Officials have not
Spoken out and sanctioned Julio Pino for his dis-
gusting display of emotion. An invited speaker
should be treated with at least a minimum amount
of respect. Shame on the University for not
punishing this extremely biased individual.

Posted by: Daniel Snyder at November 1, 2011 11:25 AM
Guidelines for posting
This is a moderated blog. We will not post comments that include racism, bigotry, threats, or factually inaccurate material.
Post a comment