« Journalists Attacked After Embassy Siege | Main | Untarnishable Evidence of Robert Mackey's Bias »
September 12, 2011
Wanted: Recent History Tutorial for NY Times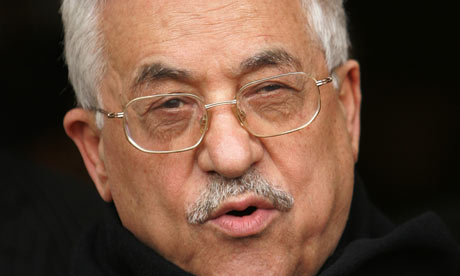 Mahmoud Abbas: Refused Talks (Photo: Mohammed Salem/Reuters)
The New York Times is at it again. Today's editorial blames Israel (first and foremost) for the lack of peace talks over the last couple of years, despite the fact that it is Mahmoud Abbas who has consistently refused to partake, while Benjamin Netanyahu has repeatedly called for face-to-face talks. The editorial states:
Since President Obama took office, the only direct negotiations between Prime Minister Benjamin Netanyahu of Israel and Mr. Abbas lasted a mere two weeks in September 2010.

Both sides share the blame with Mr. Obama and Arab leaders (we put the greater onus on Mr. Netanyahu, who has used any excuse to thwart peace efforts).
Yossi Sarid wrote much the same in Ha'aretz last year, and as Yishai Goldflam of Presspectiva (CAMERA's Israeli site), wrote in a published letter at the time:
Benjamin Netanyahu's publicly declared to the entire world, in opposition to his party's platform and to the will of the majority of his voters, his support for a two state solution. Immediately afterwards, unprecedentedly, he froze construction in the West Bank and called upon Mahmoud Abbas to join him at the negotiating table. Only one month before the end of the moratorium, Abbas so kindly acquiesced as to meet Netanyahu as a result of American pressure, and a month later cancelled the talks because the moratorium had expired.
Posted by TS at September 12, 2011 04:50 AM
Comments
All the energy wasted on this planet to bring peace to the Middle East might actually be reversed if the rest of the world would start looking at the reality of the situation and place the amount of pressure laid on Israel and Jews and start placing it on Palestinian leadership and the Arab street. But, alas, that's not part of the plan. After all, look at all the damage done to Jerusalem. We sure as heck don't want that stuff to start happening to NYC, 9-11 notwithstanding. It's a joke. A sad, meaningless, and not very funny joke.
Posted by: Asher Garber at September 12, 2011 12:11 PM
Guidelines for posting
This is a moderated blog. We will not post comments that include racism, bigotry, threats, or factually inaccurate material.
Post a comment