« Apartheid Palestine – Not in Washington Post or New York Times | Main | Currency Revisionism: The Palestinian Pound »
September 15, 2011
Ha'aretz Headline Sanitizes Areikat's No Jews Remark
An anonymous Snapshots reader writes in to point out that Ha'aretz editors sanitized a headline about Maen Areikat's remark that a future Palestine would ban Jews.
The original headline for the Ha'aretz article in question was "PLO Official: Palestinian State to be Free of Jews" and the link was : http://www.haaretz.com/news/diplomacy-defense/plo-official-palestinian-state-to-be-free-of-jews-1.384493
The original headline can still be viewed if you do a Google search for "Ha'aretz Maen Areikat."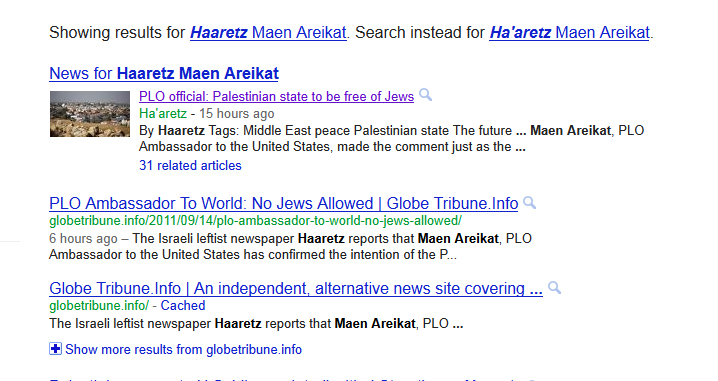 The original link no longer works, and the original straightforward headline no longer appears. Editors whitewashed that headline to read "PLO official: Palestinians, Israelis must be totally separated." A Ha'aretz contribution to the PA's upcoming statehood bid?
Moreover, it must be noted that Ha'aretz editors chose to omit altogether coverage of Maen Airekat's remarks about the banning of Jews from today's print edition. The omission is particularly striking given that Ha'aretz has had plenty to say (including today's editorial) about the Israeli Supreme Court's decision to order the small Jewish community of Rakefet to accept an Arab couple.
Ha'aretz editors write today:
In a democratic, egalitarian society, the right of an individual to build a house in the region where he was born, raised and lives is self-evident.
Self evident, apparently, unless that region happens to be Palestine, and those individuals happen to be Jews.
Ha'aretz goes on:
The Supreme Court's decision expressed again the dichotomy between a democratic country committed to equal rights for all its citizens and the anti-democratic legislative trend in the current Knesset. And not only in the Knesset. Racist tendencies have gained a great deal of momentum in the public in recent years as well.
Only Israeli racism is remarkable and worthy of Ha'aretz's condemnation, while Palestinian racism is swept under the rug. The double standard is itself a mark of Ha'aretz's anti-Palestinian racism in which the morally undeveloped nation cannot be expected to be held to the same standards applied to Israelis.
Posted by TS at September 15, 2011 03:39 AM
Comments
Guidelines for posting
This is a moderated blog. We will not post comments that include racism, bigotry, threats, or factually inaccurate material.
Post a comment