« Ha'aretz Headline Sanitizes Areikat's No Jews Remark | Main | Robert Mackey Responds »
September 15, 2011
Currency Revisionism: The Palestinian Pound
The AFP is beginning to send off a package of material, much of it erroneous and misleading, in the run-up to the Palestinian Unilateral Declaration of Independence.
Let's start with today's story about the new independence enjoyed by the Palestinian postal service. The article ("Trappings of state in place as Palestinians head to UN") states:
The postal service is also planning to switch the currency marked on its stamps from the Jordanian dinar to the Palestinian pound, which existed before Israel's establishment in 1948, though it is no longer in circulation.
The implication here is that a Palestinian government issued an authentic Palestinian currency, the "Palestinian pound," as any sovereign government would. Of course, the truth is far from that. As noted earlier by blogger Elder of Ziyon, the so-called "Palestinian pound, which existed before Israel's establishment in 1948," was a currency issued by the British mandate authorities bearing Hebrew and English as well as Arabic, and featuring a Jewish holy site in Bethlehem.
Elder tracked down bills from 1939: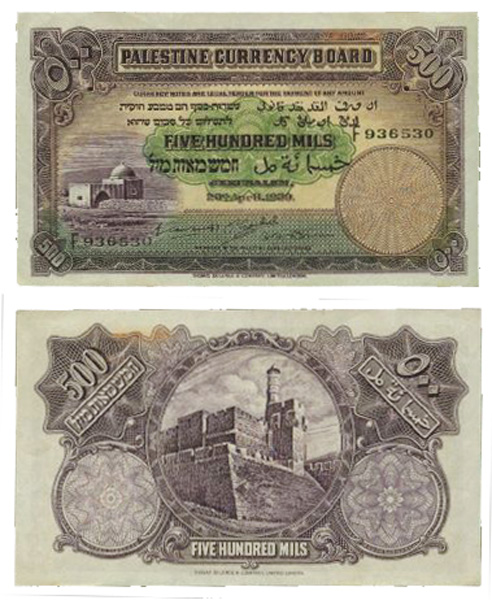 as well as 1948:
This is not the first time the media (and the Palestinians) have misrepresented a newly acquired national trapping as a return to the situation that existed before Israel's existence in 1948, as if a Palestinian state existed then. Recall, following Israel's withdrawal from Gaza, how the Palestinians supposedly "took back control" of the Rafah border crossing?
Posted by TS at September 15, 2011 07:29 AM
Comments
Jews come from Judea and Arabs come from Arabia.
It is Arabs who occupy other peoples lands from Morocco to Indonesia.
Posted by: Charles Oren at September 16, 2011 02:17 AM
Exactly. Jews are the indigenous people of Judea. I find this the best argument to use with Leftists.
Posted by: George Smathers at September 17, 2011 05:23 PM
Guidelines for posting
This is a moderated blog. We will not post comments that include racism, bigotry, threats, or factually inaccurate material.
Post a comment