« Photo Tilt at the NYT | Main | Israel Under Fire: The Growing Threat From Sinai »
August 23, 2011
Outside the Frame: Palestinian Journalist in Hiding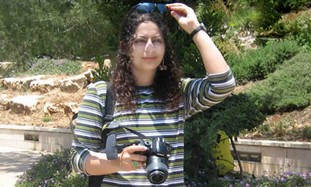 We recently blogged about news that doesn't fit the "frame." So, here's a story which doesn't fit the frame and which therefore went unreported by the mainstream press.
As reported by the Palestinian Maan News Agency and the Jerusalem Post, Majdoleen Hassouneh, a Palestinian journalist, has been forced into hiding and her two brothers have been arrested by the Palestinian Authority's Preventative Security Force. Maan reported:
Preventative Security forces raided the house of a Palestinian journalist in Nablus on Saturday and arrested two of her brothers in an apparent attempt to force her surrender.

Majdoline Hassouneh has refused a summons to appear for questioning about her work, and even posted a copy of the document on her Facebook page along with an explanation of her refusal to appear.
The Maan and Jerusalem Post articles appeared over two weeks ago, and yet there has been a resounding silence from the Western press. Likewise, Reporters Without Borders, which today spoke up for Palestinian journalists reportedly mistreated by Israeli forces, has nothing to say about the reported mistreatment of a Palestinian journalist by Palestinian forces.
As journalist Khaled Abu Toameh notes:
Palestinian journalists, political activists and human rights workers have all been targeted at one point or another by Palestinian policemen, all trained and funded by Americans and Europeans.

Western journalists and human rights organizations often tend to turn a blind eye to human rights violations by the Palestinian government. As far as many of them are concerned, a story that does not have an anti-Israel angel is not fit for print.

Failure to deal with such practices has only encouraged the Palestinian Authority to step up its offensive against actors, political critics, journalists and other activists.
Posted by TS at August 23, 2011 11:36 AM
Comments
How can EACH of us get through to the NY TIMES and other media? You accurately report the presentation of lies while telling truths, sometimes know as propaganda some times 'spin'.
Posted by: jacob t. chachkes, m.d. at August 25, 2011 08:49 PM
Guidelines for posting
This is a moderated blog. We will not post comments that include racism, bigotry, threats, or factually inaccurate material.
Post a comment