« When Israel is Bombed, Where is the Outrage, or the Reporting? | Main | Youcef Nadarkhani Faces Death In Iran »
July 19, 2011
Mackey Exposes Hoax Video, Promotes Staged Footage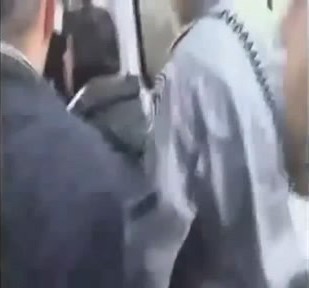 Karim al-Tamimi's mother, about to join her son in the police vehicle, right before she is pulled away by a Palestinian man
When an Israeli hoax video surfaced in June, Robert Mackey of the New York Times' Lede blog was all over it. There was this detailed June 27 blog post ("Israeli Video Blog Exposed As Hoax"), in which he goes to great effort to track down every angle about Israeli actor Omer Gershon impersonating a gay activist allegedly rebuffed by flotilla organizers. He mentions the Israeli hoax again on July 1, and gets further reinforcements from his colleagues Peter Catapano in the Opinionator blog and from Ethan Bronner in the print edition.
In contrast, when a Palestinian photographer is shown to have staged a scene, does Mackey apply the same no holds barred approach, holding not only the creators to task, but also the disseminators? Hardly. Instead, he posts a warm profile of photographer Narimen al-Tamimi, including the staged scene.
The scene in question shows the arrest of 11-year-old Karim al-Tamimi, who had thrown stones at Israeli police. The father later told Ynet that the Israeli police prevented family members from joining Karim in the police vehicle. Meanwhile, Hebrew speakers who listen closely to the video can hear the police telling Karim's mother to get into the vehicle at least half a dozen times. She is about to, when a Palestinian man pulls her away, and someone instructs in Arabic, "Don't get in." After the policemen closes the van's door, a Palestinian woman wearing a pink shirt pushes the mother towards the vehicle, and then the mother bangs on the door, a heartrending scene.
(The Israel Press Council ruled in CAMERA's favor against Ynet's coverage of this incident.)
All of this analysis was available on CAMERA's site for more than three months when Mackey posted his complimentary piece on photographer Narimen al-Tamimi and her colleague Bilal. By Mackey's double standard, Israelis who stage scenes are exposed as liars; Palestinians who stage scenes are feted.
Posted by TS at July 19, 2011 06:31 AM
Comments
Robert Mackey is a joke. This guy has a difficult time understanding that Palestinians carry out violent acts against Jewish Israelis. He is completely biased against anything Pro-Israel. Mackey frequently quotes discredited journalists like Max Blumenthal on the lede blog, but cowers in fear when he is challenged on the lies he publishes.
Robert Mackey still doesn't have the courage or moral bearing to publish the names of the terrorists who were aboard the Gaza flotilla farce.
Posted by: NewYorker at July 19, 2011 01:36 PM
Guidelines for posting
This is a moderated blog. We will not post comments that include racism, bigotry, threats, or factually inaccurate material.
Post a comment