« Egyptian Muslim Brotherhood Leader Reveals Irrational Thinking | Main | Guardian Cherry Picks Poll Results to Conceal Palestinian Extremism »
July 15, 2011
Karl Vick Selectively Reports on Poll of Palestinians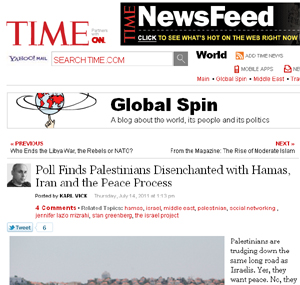 Earlier this year, Karl Vick, the advocacy journalist most responsible for Time magazine's anti-Israel bias, reported dismissively on Israeli concerns about anti-Jewish and anti-Israel hate indoctrination in Palestinian society. Suggesting that incitement is not a real issue deserving of thoughtful consideration — he put the word in scare quotes — but merely an excuse for Israel to blame the Palestinian leadership, he wrote:
Palestinian Authority President Mahmoud Abbas preaches nonviolence, and PA security forces coordinate discreetly with Israeli authorities to suppress attacks . . .

But Netanyahu found grounds to blame the Palestinian Authority, repeatedly calling on Abbas to cease "incitement" against Israel.
That might help explain why Vick, in a July 14 blog entry about a new poll of West Bank and Gaza Strip Palestinians, concealed from his readers some of the more disconcerting results of the poll. He titled his blog post "Poll Finds Palestinians Disenchanted with Hamas, Iran and the Peace Process." But the results revealed far more than just "disenchantment."
According to a more forthright report in the Jerusalem Post about the poll,
Seventy-two percent backed denying the thousands of years of Jewish history in Jerusalem ... and 53% were in favor or teaching songs about hating Jews in Palestinian schools.

When given a quote from the Hamas Charter about the need for battalions from the Arab and Islamic world to defeat the Jews, 80% agreed. Seventy-three percent agreed with a quote from the charter (and a hadith, or tradition ascribed to the prophet Muhammad) about the need to kill Jews hiding behind stones and trees.
Vick insisted in his blog post that "The most striking finding ... was Palestinians' focus on daily life." Vick might not be struck by the popularity of Jew hatred, but he still has a journalistic duty not to hide such information from Time's readers.
Posted by GI at July 15, 2011 02:23 PM
Comments
I am not really sure why Israel's Press Office hasn't told TIME Magazine something to this effect: "Your overall credentials to report in Israel will remain unchanged, but Karl Vick's credentials are going to be revoked immediately and he's going to have leave the country; whomever you name to replace him would be a great credit to your publication simply by not being a lying idiot who thinks he can read Israelis' minds. Have a good day."
Posted by: Ben at July 15, 2011 06:02 PM
Guidelines for posting
This is a moderated blog. We will not post comments that include racism, bigotry, threats, or factually inaccurate material.
Post a comment