« "Spontaneous" Border Crossing was Planned, Says Document | Main | UK Colonel Richard Kemp Again Lauds Israel's Humanity in Warfare »
June 14, 2011
NPR's On Point Unbalanced Again Against Israel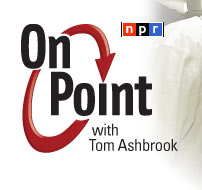 In yet another of the numerous unbalanced On Point NPR talk show broadcasts dealing with the Middle East (examples -- here, here, here, here, here and here), host Tom Ashbrook discussed The U.S., the Arab Spring and Mideast Peace (May 23 ). The panel consisted of Michelle Dunne of Carnegie Endowment for International Peace, with an Arabist tilt, and Daniel Kurtzer, who despite being an Orthodox Jew and the former U.S. ambassador to Israel, is known for his opposition to the Israeli government's policies.
Kurtzer ostensibly was there to provide a counterpoint to Dunne, but made no effort to demur when Dunne commented negatively about Israel. Neither her summary statement that "The Netanyahu government is not interested in making peace," nor her lumping of "the occupation of the West Bank and Gaza" together with "human rights abuses" and "authoritarian regimes" as the issues that "raise the stakes" in the Middle East warranted any counterpoint from Kurtzer.
Indeed, the attempt to equate Israel's alleged "occupation of the West Bank and Gaza" with the brutal dictatorships in the Middle East is both biased and counterfactual. Israel gained control of those territories as the result of a defensive war against Arab aggression. Despite the right to the territories being disputed, Israel completely withdrew its citizens and forces from the Gaza Strip in August 2005. The status of the West Bank remains to be determined through a negotiated settlement. No mention was made of this point.
Neither was there any mention of a major factor that negatively impacts the likelihood of a genuine peace -- that is, the continuous incitement of Palestinians to violence and hate against Israelis. This indoctrination (examples -- here and here) emanates from Palestinian media, mosques, schools and Websites. No such indoctrination exists on the Israeli side against Palestinians.
When will On Point feature a panel to discuss these issues? Ashbrook and On Point can be contacted or e-mailed at onpoint@wbur.org.
Posted by MK at June 14, 2011 11:47 AM
Comments
ON point doesn't allow pro-Israel comments to be posted on its website. It does allow however, anti-Israel and antisemitic comments to be posted on its forums.
Posted by: shriber at June 14, 2011 04:14 PM
My real problem with On Point is that when it comes to Israel they carefully choose a number of people to argue the anti-Israel cause and only one person who is supposed to represent "the Jewish point of view" who is "pro peace process."
They deny the multiplicity of points of views within the Jewish community on Israel. That one can be for peace and against the "peace process" which will make real peace impossible has never dawned on them.
Posted by: jacob arnon at June 15, 2011 12:06 AM
I have given feed back many times to Tom Ashbrook about the anti israel bias of his guests and lack of qualified rebutle. I have tried to participate by phone and never been allowed to talk on air. I sadly think the only answer is to lobby to cut NPR funds. They pay no attention to balance broadcasting when it comes to Israel.
Posted by: david at June 17, 2011 04:53 PM
Is NPR and WBUR a lobbying group for Arab propaganda? I tried to post many comments defending Israel on the "On point" forum and they also were deleted ...What a disgrace!
Posted by: Rachel at June 17, 2011 07:57 PM
Guidelines for posting
This is a moderated blog. We will not post comments that include racism, bigotry, threats, or factually inaccurate material.
Post a comment