« Hezbollah Cabinet Not Big News in Washington Post | Main | Ha'aretz Lost in Translation, VII »
June 22, 2011
Hezbollah's Role in Suppressing Unrest in Syria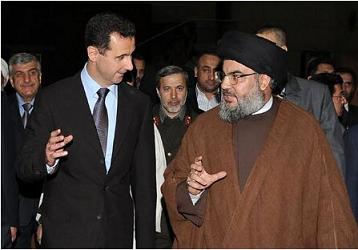 Over the past few months, an increasing number of video clips of demonstrators, army deserters and activists have attested to the involvement of Hezbollah operatives in suppressing the unrest in Syria. The Syrian government has kept the international media out, so it is not possible to confirm these stories. Nevertheless, Hezbollah participation in Syria is consistent with the strong support for the Assad government voiced by the group's leader, Hassan Nasrallah, and its sponsor, the Iranian government.
Youtube carries a number of videos alleging to show demonstrators burning posters of Nasrallah and other clips of demonstrators burning the Hezbollah flag. There are clips showing the burning of the Iranian flag as well.
A video by France24 claims to show protesters in Homs chanting, "Neither Iran, nor Hezbollah." Another video shows the dead corpses of men dressed in military garb who are described as Hezbollah fighters.
Michael Weiss at the Daily Telegraph blog carries an interview with a man claiming to be a Hezbollah operative who says he has transported 45 busloads of mercenaries from Lebanon to Syria. An AFP piece interviewed several Syrian deserters, one of whom charges that
the regime posted snipers drawn from the police or the Syrian-backed Lebanese Hezbollah militia on high points. "When the soldiers do not shoot, they shoot the soldiers down."
There were also reports that Hezbollah helped transport and fund Palestinian infiltrators to the Lebanese-Israeli border during Naksa day earlier in the month. Syria did the same along the Golan border in an effort to distract attention away from the unrest in Syria and redirect it towards the Israeli-Palestinian conflict.
The Syrian Foreign Minister, Walid Moallem, however, has denied Hezbollah or Iranian involvement in helping contain the unrest in Syria.
The mainstream media has been cautious about repeating these stories.
Posted by SS at June 22, 2011 01:34 PM
Comments
Guidelines for posting
This is a moderated blog. We will not post comments that include racism, bigotry, threats, or factually inaccurate material.
Post a comment