« May 2011 | Main | July 2011 »
June 30, 2011
Flotilla Under Legal Fire
Shurat haDin's Nitsana Darshan Leitner
Melanie Phillips provides an excellent summary of the legal race led by Shurat haDin to thwart the flotilla, writing:
Is a bunch of young Israeli lawyers working round the clock sustained only by Diet Coke, falafel and cigarettes about to pull off the legal equivalent of the Six-Day War?

Israel famously won that war before it even started by destroying the Egyptian air force on the ground. Now it's beginning to look as if the Gaza flotilla of fools and fanatics may be holed below the waterline before it even sets off on its cynical and potentially murderous stunt.
She includes a damning section on flotilla organizer and International Solidarity Movement leader Adam Shapiro in which he spells out the purpose of the campaign as one of total assault on Israel -- not humanitarian aid to the Palestinians:
Our ground is the whole world. And that's where our resistance has to be. The whole world... We already have a third intifada. It's going on right now. It's going on all over the world.
Read it all.
Posted by AL at 06:46 PM | Comments (2)
Dutch Journalists Abandon Flotilla
NGO Monitor has translated a Dutch news story about a number of its journalists gathered on Corfu to participate in the flotilla who have decided the project is not for them. Under the headline "Pers vertrouwt Gazaboot niet" ("The Press Doesn't Trust Gaza Boat") the story recounts tensions between organizers and journalists seeking information about flotilla participants, funding and other issues. The account notes:
Eric Beauchemin (47), a journalist for the 'Wereldomroep' (Dutch World Broadcast station): "I've been doing this work for 25 years, but never have I seen a more closed organization. When we would ask critical questions they would accuse us of being unprofessional. Restrictions were imposed on us that hadn't been agreed upon beforehand. We were prohibited from telling which island we were on, even though they had promised we could.
The same reporter said of the activist participants: "Their gullibility is shocking. They are blinded by idealism."
There was also reportedly dismay at the appearance of an operative with ties to the Muslim Brotherhood and Hamas, Amin Abou Rashed, though assurances had been given there would be no such Hamas connections.

Posted by AL at 08:07 AM | Comments (5)
JCPA Resource: Who Is Behind the Flotilla?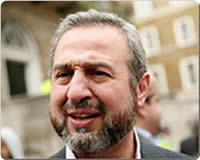 Hamas activist Muhammad Sawalha
JCPA has an informative exposé worth reading, "Who Is Behind the Second Gaza Flotilla?". Ehud Rosen writes:
The second flotilla is coordinated by Muhammad Sawalha, a senior UK-based Muslim Brotherhood figure connected to Hamas. Many of the participating organizations can be directly linked with the Union of Good (UoG), a coalition of European charities affiliated with the Muslim Brotherhood, which in 2008 was designated as a terrorist organization by the U.S. Treasury for transferring funds to Hamas. The UoG was initiated by Sheikh Yusuf Qaradawi, leader of the Muslim Brotherhood on a global scale, shortly after the outbreak of the Second Intifada in 2000.
See also the Intelligence and Terrorism Information Center for more on Muhammad Sawalha and his involvement in the previous flotillla.
Posted by TS at 04:08 AM | Comments (0)
Ha'aretz, Huwaida Arraf and the Flotilla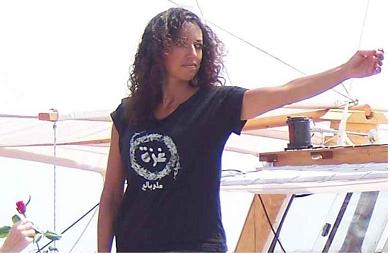 Ha'aretz's Jack Khoury errs today, writing that Free Gaza movement head Huwaida
Arraf herself has sailed to Gaza several times in the past, and was on the Mavi Marmara during the Israeli raid last year.
In fact, Arraf was not a passenger aboard the Mavi Marmara, the only ship which saw violence. She was on the Challenger 1. Did Arraf mislead the reporter on this point? If so, it wouldn't be the first time she doled out flotilla misinformation.
Posted by TS at 03:33 AM | Comments (1)
June 29, 2011
Hari Unmasked
The Guido Fawkes' blog stamps "Fraud" on Johann Hari for fabricating large parts of interviews
Those "interviews" conducted by Johann Hari, journalist at the UK's Independent, continue to unravel. CAMERA has had long-running concerns about grossly biased articles by Hari about Israel and about the indifference of the newspaper to errors and distortions in coverage.
As the Guido Fawkes blog observes
Guido is fairly sure Johann Hari has breached Article 1 of the PCC Code. He has admitted misleading his readers. Despite the desperate attempts by his editor, Simon Kelner, to spin that his favorite son is being attacked for political reasons, the Hari-wagon is coming off of the tracks.
He adds:
The Telegraph are coming down on him heavily. Firstly there is Brenden O'Neil rightly pointing out that "the notion that one can reach "the truth" by manipulating reality should be anathema to anyone who calls himself a journalist."
In The New Statesman, Guy Walters cautions against accepting Hari's self-exculpatory apology for his inventions, citing outright plagiarizing of an interview with Hugo Chavez:
It now appears that Mr Hari has made quite a habit of pinching quotes given to other interviewers, and claiming that they were given to him.
It also appears that that Independent editor Simon Kelner is eager to forgive:
"What Johann did was wrong. He accepts and we believe it," Kelner told The Media Show presenter Steve Hewlett.

"It was born from an honest ambition to give the clearest possible representation of what the interviewee was saying. In the grand scheme of things it is not a great scandal – it's a naive error which we recognise."

Kelner suggested Hari would not face any disciplinary action – other than being "spoken to at great length" – and said the young columnist had suffered punishment enough with the vilification he's had on Twitter
Posted by AL at 02:24 PM | Comments (1)
Council on American-Islamic Relations (CAIR) Careless Again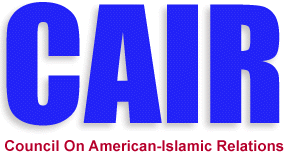 CAIR, a self-described American Muslim civil rights groups, but one whose extensive ties to Islamic extremists have been documented by CAMERA here and here, is in the news again. This time it's for revocation of its tax-exempt IRS status and hiring Hassan Shibly, an Israelphobe and apologist for terrorists, as chief of its Tampa chapter.
News media that continue to cite CAIR and its officials without putting the council in its extremist context would seem to undermine their own credibility.
Posted by MK at 12:55 PM | Comments (3)
Muslim Brotherhood Supporting al-Awa?
Mohammed Salim al-Awa is an Islamist who regards the entirety of Israel as part of the Muslim-controlled waqf and seeks its dissolution.
He wants Jews to live on Muslim-controlled settlements that they cannot leave without permission.
He regards Egypt's peace treaty with Israel signed in 1979 as a hudna or cease-fire and wants the treaty torn up.
He wants Egypt to serve as a base of operations for terror attacks against Israel.
He wants Egypt to form an alliance with Iran.
He wants the Iranian Revolution to serve as the model for the Egyptian Revolution.
He wants Coptic churches to be routinely inspected for weapons.
He wants Egypt to cancel its economic agreements with the United States even if that means Egyptians go hungry.
With this agenda, Al-Awa has apparently been anointed as the Muslim Brotherhood's "undeclared nominee" for the upcoming election.
In an article
published on Sunday June 26, Al-Masry Al Youm, a privately-owned newspaper in Egypt, cites a number of experts on Islamist movements in Egypt. One expert, Ammar Ali Hassan, stated "There is a high possibility that Awa is the Brotherhood's secret nominee, and he may even be backed by the Supreme Council of the Armed Forces (SCAF)."
People ignore al-Awa's candidacy at their own risk.
Snapshot readers who speak Arabic can hear al-Awa's speeches in his own words in the various youtube videos listed below. (Copy and paste the link into your browser.)
http://www.youtube.com/watch?v=XEYYt9U2ccE&feature=related (محمد سليم العوا ورفضة التام لاقأمة مصريين بأسرائيل
http://www.youtube.com/watch?v=t0wod9m5jZk&feature=related (عندما تنبأ محمد سليم العوا بعدم انتهاء قضية وفاء قسطنطين
http://www.youtube.com/watch?v=O7vm-NIezfc&feature=related (دكتورمحمد سليم العوا- الشهاب المصري
http://www.youtube.com/watch?v=259Ovab6weM&feature=related دكتور العوا يتحدث عن الشيعه والمسلمين والاقباط فى مصر
http://www.youtube.com/watch?v=tSPsmLzbO9I&feature=related (محمد سليم العوا ورفضة التام لاقأمة مصريين بأسرائيل_2
http://www.youtube.com/watch?v=QjwgN7Q3tFE&NR=1&feature=fvwp (عمرو اديب ومحمد سليم العوا والنصاري في تنظيم الجهاد
http://www.youtube.com/watch?v=csSL1daagys&feature=related (سليم العوا مستمر في تحريضه ضد البابا شنوده 3من 3
http://www.youtube.com/watch?v=AmiklGlsE0w&feature=related (سليم العوا مستمر في تحريضه ضد البابا شنوده 2من 3
http://www.youtube.com/watch?v=iFw_1ylqv8M&feature=related (سليم العوا مستمر في تحريضه ضد البابا شنوده 1من 3
Posted by dvz at 11:02 AM | Comments (1)
June 28, 2011
Washington Post Still Doesn't Connect Terrorist Dots
The Washington Post continued to soft-pedal the connection between terrorism and Hamas (the Palestinian Islamic Resistance Movement) in a June 19 report headlined "Zawahiri faces hurdles as Bin Laden Successor". The Post spotlighted al-Qaeda's new leader, Ayman Al Zawahiri, by interviewing Huthaifa Azzam, who lived in Osama Bin Laden's home in the 1980s. The newspaper described Zawahiri as a terrorist within the first paragraph: "Ayman al-Zawahiri was then well on his way to terrorist superstardom."
In a June 17 dispatch, "Bin Laden successor had early bent toward Islamist activism" The Post again used the word terrorist in the first paragraph, applying it to bin Laden and Zawahiri and al-Qaeda by extension. The newspaper reported that it was " ... [Zawahiri] who helped Osama bin Laden in his terrorist assault on the West."
The theological connection between the Islamic extremism of al-Qaeda and Hamas is made clear in The Post's June 19 report, but in regard to Hamas, the terrorist description disappears: "[Huthaifa] Azzam recalled that Zawahiri would feign respect for Azzam's father, Abdullah, a cleric who helped found the Palestinian militant movement known as Hamas" and influenced bin Laden.
By definition, terrorists threaten or use force against non-combatants to influence larger audiences and achieve political, economic, religious or other ends. In the cases of al-Qaeda threatening or using force against Americans and Hamas attacking Israelis, Post usage implies a double standard. It sanitizes Hamas despite its actions and even though it and al-Qaeda both long have been designated terrorist organizations by the U.S. government. — by Sophie Linshitz, CAMERA Washington research intern.
Posted by ER at 03:09 PM | Comments (0)
Netanyahu Rescinds Decision on Sanctioning Journalists
Prime Minister Netanyahu reverses the Government Press Office's earlier decision that it would sanction foreign journalists who report aboard the Gaza flotilla. Ha'aretz reports:
GPO director Oren Helman had announced on Sunday that any foreign journalist on the flotilla would be treated as an illegal infiltrator, meaning they would be deported and then barred from entering Israel for 10 years. But yesterday Netanyahu's bureau issued a press release rescinding that decision.

"When the matter was brought to his attention, the prime minister directed that the regular policy against infiltrators and those who enter Israel illegally not be implemented," the terse statement said. "It has also been agreed that members of the Israeli and international media will be attached to Israel Navy vessels in order to create transparency and credible coverage of the events."
Posted by TS at 05:34 AM | Comments (0)
Israel: Flotilla Participants Plan Violence
Accounts by Amira Hass and Gideon Levy notwithstanding, their own Ha'aretz today reports:
Israeli military spokeswoman Maj. Avital Leibovich on Monday cited intelligence reports saying extremists in the flotilla have "dangerous incendiary chemicals" for use against Israeli forces.

Senior Israeli officials said at a press briefing on Monday that even though the Turkish organization IHH has withdrawn from the upcoming flotilla to Gaza, information recently obtained by Israel indicates that some passengers are planning on carrying out violent acts.

Since IHH was chiefly responsible for the violence aboard last year's flotilla, its withdrawal had initially seemed to obviate that threat. But it now seems that members of the group will be sailing on some of the ships, along with other Arab and Muslim activists, the officials said.

Two of these activists, they said, have known ties with Hamas: Amin Abu Rashad, who formerly headed a Hamas-linked charity in Holland that was shut down by the Dutch government for financing terror, and Mohammad Hannoun of the Italian ABSPP foundation, which Israel claims is also involved in financing terror.

The information also indicates that flotilla organizers may be stowing chemicals aboard for use against soldiers who board the ships, the officials said, adding that a few extremists among the organizers had been heard threatening in recent days "to spill the blood" of Israel Defense Forces soldiers.

Senior defense officials told Haaretz that the chemicals, including sulfur, are aboard ships carrying French and American passengers, among others."This is a dramatic development," one defense source said. "The picture emerging here is that some of the flotilla participants clearly intend a violent clash."
Posted by TS at 05:20 AM | Comments (6)
Haifa Fighter Disputes Ha'aretz's '48 Account
Haim Tivon of Haifa, who participated in fighting in that city in 1948, calls into question Shai Fogelman's account of events as published in Ha'aretz. Tivon writes:
During the five months of the campaign in Haifa in 1948 I fought in the city in the 22nd Battalion of the Carmeli Brigade, and took part in one of the two decisive and multi-casualty battles: the battle for Beit Khoury. Reading the article by Shai Fogelman, I wondered whether he was writing about the same event.

The article says almost nothing about the events of December 1947 - April 1948 in the city. The present-day reader is liable to get the wrong idea and think that this was a tranquil time which was spoiled only by the Haganah's "sudden" attack on the Arab neighborhoods in Operation Bi'ur Hametz [Operation Cleansing the Leaven] on April 21, 1948.

The truth is that those months were rife with terrorist acts and bloody attacks by the Arab forces, most of them against Haifa's Jewish citizens. The attack by the 22nd Battalion on April 21-22 and the conquest of the Arab neighborhoods was the decisive action in a campaign of a few months, involving the defense of the Jewish neighborhoods, the outskirts of the city and public transportation, as well as retaliatory operations in the wake of Arab attacks which did not discriminate between civilians and combatants.

During this period the 22nd Battalion alone lost 35 men and the Carmeli units another five. The guard corps lost 14 of its troops and thus the total number of Haganah fighters killed in the campaign for Haifa stood at 54. I don't know how many Jewish civilians were killed - or, more accurately, murdered. It is hardly the case that "the Jewish side sustained relatively few casualties," in Fogelman's scornful formulation.

The attempt to attribute the flight of most of Haifa's Arabs to the shelling of the Old City market with Davidkas is peculiar. After all, the Arabs who gathered in the market were already in the midst of their flight out of the city via the port. Fogelman himself writes that of approximately 62,500 Arabs in Haifa, 42,500 abandoned the city in the months that preceded the operation launched to conquer it, leaving only about 20,000. And this was even before the attack on the market!
Posted by TS at 03:55 AM | Comments (4)
June 27, 2011
State Department Says Flotilla Participants Could Face Criminal Charges
The United States government has warned U.S. citizens from participating in the Gaza Flotilla scheduled for this week. State Department Spokesman Victor Nuland said,
We underscore that delivering or attempting or conspiring to deliver material support or other resources to or for the benefit of a designated foreign terrorist organization, such as Hamas, could violate U.S. civil and criminal statutes and could lead to fines and incarceration.
The stern State Department warning against consorting with terrorists contrasts with a news article in the Christian Science Monitor that reads like an advocacy piece for the Flotilla. The "news" report by Dan Murphy states,

This flotilla is attempting to reach Gaza in a dramatically changed regional context from May 2010, before the uprisings collectively known as the Arab Spring. With the chance for real democratic change in Israeli neighbors like Egypt, organizers are hoping to press home their argument that the Palestinian residents of Gaza are as deserving of basic freedoms as any of their neighbors.
Israel does not occupy Gaza, and the lack of basic freedoms among its residents are a result of the policies of Hamas, a U.S. and E.U. defined terrorist organization.
The article goes on to present a one-sided description of last year's flotilla:

But that flotilla was stopped by an Israeli assault that killed nine activists (one with American citizenship) in international waters, sparking international condemnation that led Israeli to ease, though not lift, its blockade of the impoverished Palestinian territory.
The United Nations is reportedly releasing a report that severely criticized Turkey's role in the affair and the U.S. and others have supported Israel's right, in fact, obligation, to enforce the blockade.
The article presents opposition to the flotilla by the U.S., the U.N. and E.U. states as a result of "furious" lobbying by Israel. It also depicts flotilla participants like Ann Wright, Alice Walker and Hedy Epstein as "human rights" activists without disclosing their extremist affiliations and long records of hostility to the Jewish state.
Posted by SS at 05:38 PM | Comments (1)
Is this man the next president of Egypt?
Observers interested in learning the dynamics of the upcoming elections in Egypt should pay attention to the candidacy of Mohammed Salim al-Awa. Al-Awa, who previously served as Secretary General of the International Union for Muslim Scholars, an Islamist think-tank, has plans for Egypt and they are not good. He wants to tear up the Camp David treaty with Israel. He wants to support terrorist organizations that attack Israel and wants to form an alliance with Iran.
He described his plans during a recent speech at Alexandria University in March. An excerpt of his video is available on Youtube in a video that was uploaded on March 10, 2011. (The following summary is a rough translation of al-Awa's speech, which was given in Arabic.)
During the course of his speech, which was punctuated by applause, al-Awa portrayed the Camp David Treaty Egypt signed with Israel in 1979 as merely a hudna or ceasefire. He begged the Egyptian people to cancel the peace treaty Egypt signed with Israel in 1979.
"We need a normal relationship with Israel," he told the audience. "As an enemy with a hudna between us."

Clearly, this language needs some parsing. On one hand, al-Awa declares that he wants to have a "normal relationship with Israel." But then in the next breath he declares Israel an enemy of Egypt.
Subsequently, al-Awa states that an "enemy with a hudna is not a friend… is not someone we care about. This is just a hudna."
Al-Awa then declares that there has not bee one treaty in the history of mankind that has not been ripped up. He then states "I'm warning you Egyptians, don't let the Zionists rip up the agreement before you."
Later in his speech, he states that he wants to put Israel "in her right place, as an enemy of Arabs, Islam and Egypt."
Al-Awa also declared that he wants Egypt to have a normal relationship with all the resistance movements. He then listed them by name. Included in this list were Hamas and Hezbollah. He also declared that Egypt should serve as a base of support and protection for groups that attack Israel.
"We are the house," Al-Awa said. "We are the house that all the resistance must come out of. We are the cave. We are the cave. If they get caught, they come to us."
He also stated that Egypt should provide money and weapons to groups that attack Israel.
"Hosni Mubarak prevented Egypt from doing these duties," he said. "The relationship with Israel prevented us from doing these things."
He also appeals to the young people of Egypt to demand that Egypt establish a "healthy relationship" with the resistance movements that fight against Zionism.
Apparently referring to ousted President Hosni Mubarak's efforts to keep a lid on terrorism, al-Awa said that making an enemy of someone who is trying to defend you is the behavior of someone who has something loose in their head.
Al-Awa also calls for the establishment of normal relations with Iran.
"We need a normal relationship with Iran my brothers and sisters. Iran is not an enemy of us," he said. "Iran is not a Jewish state. […] They have the culture. They have the civilization and Islam. They are trying to spread their culture, civilization and Islam."
Egypt shares the same values and has the same goals as Iran, al-Awa told the audience.
"We're trying to spread our culture our civilization and Islam," he said, adding that instead of blaming others [Iran], Egypt should follow its example.
"The Iranian plan [for the Middle East] is an Egyptian plan, is an Islamic plan that unites, does not separate people with phony excuses," he said. "My brother and sisters, these plans are for the Egyptian population. … It came out of this nation and now its coming back to us. If we do not do this plan, this region will be shredded to pieces like the Americans wanted to do."
Another Presidential candidate, Abdel Moneim Aboul Fotouh, a member of the Muslim Brotherhood who is popular amongst young people in Egypt has stated he is willing to abandon his campaign to make way for Al-Awa.
In another speech, al-Awa expressed a desire to put Jews living in Israel into settlements under Muslim control. Under al-Awa's plan, Jews would not be able to leave these settlements without permission.
Is anyone listening?

Posted by dvz at 04:00 PM | Comments (2)
Potential Flashpoint in Egypt
Two girls, 14-year-old Magdy Fathy and her cousin Christine Ezzat Fathy, 16 (above) are at the center of a potential firestorm in Egypt. The girls, Coptic Christians who have converted to Islam without their parents' permission, have stated that they converted under their own free will. Two Muslim men are under custody in association with their conversion.
The Assyrian International News Agency which has done valuable work in drawing attention to the plight of indigenous populations suffering under Muslim rule in the Middle East provides details about the girls who disappeared on June 12:

Nearly two weeks after they disappeared, Nancy and Christine were found in Cairo wearing Burkas. They were incidentally stopped in the street by a police officer when he noticed that one of them had a cross tattooed on her wrist, as many Copts have. The girls told the policeman they converted to Islam and did not marry any Muslims sheikh as the newspapers said, but fearing the wrath of their parents, they sought shelter at the home of a Muslim man. He issued a report of the incident and let them go.

Nancy and Christine subsequently surrendered at a Cairo police station.

An investigation into their disappearance was launched, as their parents accused two Muslim brothers from a neighboring village of abducting them. They were also asked about the video clip which appeared on the Internet, taken in Tahrir Square, where Nancy and Christine allegedly converted to Islam.

According to the investigators, the Christian minors said they converted to Islam of their own free will, and refused to return to their families, and even applied for protection from them. The prosecution decided to put them in a state care home and provide protection for them, until the completion of the investigation. Authorities also wanted an Al-Azhar scholar to determine if they really believe in Islam.

This has angered their families, who said their girls are minors and should not be subjected to such procedures. Both families and the Egyptian Federation of Human Rights Organization protested on Saturday, June 25 in front of the office of the prosecutor general, and demanded for their children to be returned to them.
Al Azhar and the Fatwa (religious edict) Committee denied that the two Coptic teenagers had converted to Islam, because they are still minors and have not yet reached 18 years of age, as is required by law.

The families' lawyer, Dr Naguib.Gabriel, said the decision to deliver the girls to the state care home belonging to the National Council for Childhood and Motherhood is contrary to the law, because they are still minors, noting that Al Azhar said that it does not recognize their conversion, and therefore the two girls should be returned to their families. Gabriel added that he had made a complaint to the Egyptian Public Prosecutor, on behalf of the families, as they oppose handing Nancy and Christine over to the care home. He explained that the decision taken by prosecution in this case confirms the hypothesis that they converted to Islam, despite that being contrary to the law and the Al-Azhar fatwa.

Dr. Gabriel said that there is a possibility the two girls were subjected to pressure in order to say they converted to Islam of their free will, or they fear the reaction of their families in case they return home, especially since they come from an ultra conservative Upper Egyptian society, where the disappearance of a girl for days is considered a scandal and a shame. He said he will obtain a pledge from their families to protect them, and not to harm them in any way upon their return.
The possibility that the two girls were abducted and have been pressured (read bullied) into affirming their conversion cannot be discounted. Coptic women and girls and Egypt have been regularly abducted, raped, and forced to convert by Muslim men in Egypt. This predatory behavior has been largely ignored by feminists and human rights activists in the West. Christian Solidarity International and the Coptic Foundation for Human Rights documented this problem in a November 2009 report titled simply enough, "The Disappearance, Forced Conversions, and Forced Marriages of Coptic Christian Women in Egypt."
The opening paragraphs of the report read as follows:
Reports of Muslim men abducting and forcibly marrying and converting Coptic Christian women and girls have filtered out of Egypt with increasing frequency over the past decade. The emerging patterns of force, fraud and coercion correspond to definitions of human trafficking used by the United Nations and the U.S. Department of State, with the UN identifying it as a "crime against humanity". […] These violations of fundamental human rights appear to be encouraged by the prevalence of cultural norms in Egypt - often rooted in Islamic traditions – that legitimize violence against women and non-Muslims. They appear to be further abetted by the tacit complicity of the government as evidenced by its lack of willingness to thoroughly investigate allegations of rape, abduction and abuse or to reinstate policies designed to protect Egyptians from coerced conversion by educating potential converts of the full implications of conversion.

Details of trafficking cases involving Copts often reach the West through desperately worried relatives of victims. When the Egyptian police fail to find and return (or often even search for) victims of abduction, forced marriage and conversion, some relatives summon the courage to release information and photos to Coptic human rights organizations in the diaspora.
The report also states that the international community has failed to address this issue for fear of being accused of bigotry.
The Islamic world does not readily acknowledge its own discrimination and violence against non-Muslims. Such abuse remains covered in a cloak of silence and tacit acceptance, even though it is against the constitutional affirmations of civil rights.

When non-Muslims call public attention to such violations of human rights, they are often branded as Islamophobes.
AINA's coverage ends with the following admonition:
"The daily abduction and forced Islamization of Coptic minors, conducted by Muslims funded by Saudi Arabia, has escalated to new levels after the January 25th Revolution," said Coptic activist Mark Ebeid, "and has greatly enraged the Copts. Everyone is now fearing that they might not be able to stand it any longer with the continuous Islamists provocations."
The uptick in forced conversions is accompanied by an increase in acts of violence against Coptic Christians, their homes and their churches in Egypt since the Jan. 25, 2011 Revolution. On Sunday June 26, AINA reported that a mob of 200 people burned eight homes to the ground in response to a rumor that Christians were building a church. And on Friday June 24, a mob surrounded a church and threatened to kill the priest. Again, AINA provides the details.
Eyewitnesses reported the Muslim mob, in their white dresses and long beards, chanted "We will kill the priest, we will kill him and no one will prevent us." One of their leaders said that they will "…cut him to pieces." It was reported that no police or security of any kind was present during the events.
Posted by dvz at 12:34 PM | Comments (0)
Washington Post's Yelena Bonner Obit. Erases Israel
The Washington Post's extensive obituary about prominent Soviet-era human rights activist Yelena Bonner expunged her pro-Israel stances and denunciations of antisemitism. It focused on the struggle by Bonner and her late husband Andrei Sakharov (both father of the Soviet hydrogen bomb and later Noble Peace Prize winner) against Soviet repression. But by omitting mention of their support for Israel and the Jewish people, the obituary resembled a print version of one of those Stalinist-era group photos of Kremlin leaders from which purged commissars were excised ex post facto.
The article was headlined ("Yelena Bonner dies; Russian rights activist and widow of Andrei Sakharov was 88, June 20").
Bonner's obituary was written by Kevin Klose, dean of the University of Maryland's college of journalism, previously president of National Public Radio (CAMERA has documented extensively the network's anti-Israel bias) and a former Post foreign correspondent, and Emma Brown, a Post reporter.
As retired Washington McClatchy Newspapers Bureau Chief and CAMERA supporter Leo Rennert pointed out, the Klose/Brown treatment suppressed pertinent information, including Bonner's address to Oslo Freedom Forum two years ago in which she promoted human rights in general by defending Israel specifically:
She sounded a ringing alarm about "anti-Semitism and anti-Israel sentiment growing throughout Europe and even further afield." She lashed out at fellow human-rights activists, demanding to know "Why doesn't the fate of the Israeli soldier Gilad Shalit trouble you in the same way as the fate of the Guantanamo prisoners? During the years Shalit has been held by terrorists, the world human rights community has done nothing for his release …. [T]he real step toward peace must become the release of Shalit. Release -- not exchange for 1,000 or 1,500 prisoners who are in Israeli prisons serving court sentences for real crimes."
Likewise, The Post avoided mention of Sakharov's opposition to pressures by the West for Israeli concessions. "All wars that Israel has waged have been just, forced upon it by the irresponsibility of the Arab leaders," Sakharov had argued.
The Forward (June 22) published Natan Sharansky's memories of his friend and ally Bonner. A former "prisoner of Zion," later Israeli Knesset (parliament) member and now head of the executive of the Jewish Agency for Israel, Sharansky described his last visit in 2010 to Bonner's home in Boston. The paper said
Sharansky was surprised that she didn't want to discuss Russia, but Bonner said her deeper concern was for the Jewish state. "Russian people have to decide in what kind of society they want to live," Sharansky remembers Bonner telling him. "Israelis have already decided. And they are fighting, they are fighting for all of us. And the free world doesn't support them. I don't understand.'"
By excising Israel and the Jews, The Post's account diminishes Bonner's life and dilutes the scope of her moral authority. — by Sophie Linshitz, CAMERA Washington research intern.
Posted by ER at 12:13 PM | Comments (1)
June 26, 2011
Surplus of Eggs in Gaza?
Good news for Alice Walker, Amira Hass, and the rest of the upcoming flotilla participants -- no need to bring along chickens or eggs as part of their cargo. Eggs, apparently, are in oversupply in the Gaza Strip, where a new and innovative use has been found for them.
Posted by TS at 03:41 PM | Comments (1)
BBC Retracts Bogus Dog Stoning Story
On its site and in Ha'aretz, Just Journalism slams the BBC for its a bogus story and the ensuing weaseling retraction about a Jerusalem beit din (religious court) condemning a dog to death. Just Journalism's Carmel Gould writes:
The fact that all these stories were released after Maariv acknowledged that their claim that the court ordered the death of the dog was unjustified is seriously worrying. It indicates that journalists did not contact the source of the story but simply relied on second hand reporting, in this case, from Israel's English-language Ynet website, which also published its story subsequent to Maariv's retraction.

Presumably as a result of numerous bloggers flagging the retraction, a number of publications which released the seemingly false story have engaged in some level of manoeuvring, generally not involving acknowledgment of any wrongdoing on their parts. The BBC has published, "Jerusalem court denies dog condemned to stoning" which notes that "The source of the report, Israel's Maariv newspaper, apologised for its headline and for any offence caused." As though the retraction had only just occurred and was hence responsible for the BBC's initial sloppiness.

The Daily Telegraph website, which carried the AFP article over the weekend, removed its original article and posted, "Israel dog stoning reports strongly denied" which also insinuated that Maariv was entirely to blame.

Perhaps a more fitting response would have been to acknowledge the timeline in their follow-up coverage, thus accepting some responsibility for the fact that they too had fallen foul of basic journalistic standards in not checking the facts with the source.
Eoin O'Carroll of the Christian Science Monitor also writes about the bogus canine tale:
Repeating what has been said by other news outlets doesn't create knowledge. It just remixes it, sometimes with heavy distortion and amplification.

As budgets and news cycles shrink, piggybacking on other people's reporting, however sketchy, becomes inevitable. When this is done without verification, errors become increasingly frequent. So while "rabbi stones dog" may not be a true story, it's a useful cautionary tale for journalists, and that includes us.
While TIME has also retracted, the AFP, apparently, has yet to issue a retraction of any kind. Stay tuned.
Update: AFP did issue the following correction on June 20, though it does not appear on Lexis-Nexis:
KILL: Jewish court sentences dog to death by stoning

ATTENTION - KILL: This story is killed because it was based on information in the Israeli media which was later found to be false. ///
Posted by TS at 06:10 AM | Comments (0)
June 24, 2011
Flotilla Participant Alice Walker: The United States and Israel are the Greatest Terrorist Organizations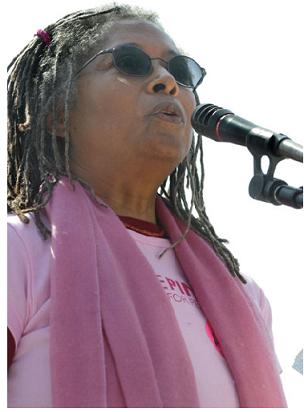 Pulitzer prize winning author Alice Walker is one of the recognizable figures taking part in the Gaza Flotilla planned for late June, 2011. Associated with the radical anti-Israel group, Code Pink, Walker stated in an interview with the on-line magazine, Foreign Policy, in June, 2011:
I think Israel is the greatest terrorist in that part of the world. And I think in general, the United States and Israel are great terrorist organizations themselves.
She has equated Israeli measures towards the Palestinians with the genocides in the Congo and Rwanda. Curiously, she makes no mention of the on-going genocide against black Christians in Sudan by Arabs, and most inconveniently, the openly genocidal intentions of Hamas. Walker has a blind spot for Middle Eastern genocidal groups because, in her view, Israel and the United States are the source of what ails the Middle East and the world as a whole.
From her own blog, we learn that "Jesus, a Palestinian – is still being crucified." She repeats false canards like the existence of "Jews Only roads" and describes the "apartheid wall " as ubiquitous, stating "it is everywhere, and it is indescribably ugly." Actually 95 percent of it is fence. She never delves into why it was built; the suicide bombings and terrorist infiltrations into Israel that killed more than a thousand Israelis from 2000-2005 don't figure at all in her narrative.

It would not be accurate to describe Walker as a misguided peace activist since she claims on her blog "I have never believed in the Israeli/Palestinian peace talks." She sees the Jews strictly as usurpers who have no right to the land.
How ironic that a CNN piece by Walker, on June 21, makes mention of two Jewish youths murdered while campaigning for civil rights for African-Americans in the South. Walker claims to be honoring their memory. She does this by demonstrating her solidarity with the Hamas regime in Gaza that invokes religious sanctification for its call to murder Jews.
Walker's harsh view towards Israel may be influenced by her personal life. She frequently mentions her Jewish ex-husband, usually with negative connotations. In a rambling piece she wrote in 2009, she described giving a gift to a Palestinian woman:
I gave her a gift I had brought, and she thanked me. Looking into my eyes she said: May God Protect You From the Jews. When the young Palestinian interpreter told me what she'd said, I responded: It's too late, I already married one.
So full of hostility is Walker towards Israel that even members of radical rabbi Michael Lerner's congregation couldn't stomach Walker's calumny against the Jewish state. Invited to deliver a key note speech at Lerner's congregation during Yom Kippur in 2009, the audience consisting of pro-Palestinian sympathizers was taken aback by her vitriol. Particularly upsetting to the audience was her charge that the Israeli army rapes Palestinian women. When challenged she offered no evidence.
One congregant, expressing what many in the audience apparently felt, described "the tone of her speech as being hateful and frankly blatantly anti-Semitic." She leveled the charge of "dual loyalty" on American Jews and offended one audience member by "telling us Israel, because of the human rights abuses, should not exist as an actual land for the Jewish people."
Walker's disdain or Israel is long-standing. In the interview with Foreign Policy she admitted that as far back as 1967, she felt that Israel "just seemed so wrong." That was following the Six-Day War, when Israel took possession of lands previously occupied by Egypt, Jordan and Syria in what started as a defensive war.
Walker's pieces appear on web sites displaying extreme anti-Israel and anti-Jewish imagery. One web site carrying her work is called "Stop Raping Palestine." It shows an image of the word Israel with one letter shaped into a swastika. Walker herself makes comparisons between Israel and Germany, with clear connotations to the Nazi period. She seems to view the Jewish inhabitants of Israel in a similar manner as disgraced former White House Correspondent Helen Thomas. She portrays Israeli Jews as the equivalent, or worse, of southern whites during the pre-civil rights era. It is no surprise that Jews from Arab lands do not fit into her narrative.
In the piece appearing on the radical web site Stop Raping Palestine, Walker wrote,
That though all focus appears to be on which Arab nation is likely to strike the United States, in my awareness of the unpredictability of evil, I imagine Israel just as capable of doing us nuclear harm. This is because the United States and Israel, working together (and with Britain) have done terrible things to others in their greed to take resources away from them: And it is the nature of thieves to eventually have a grand falling out. More, Israel, with our help, has the weapons of mass destruction for which Bush looked for in vain in Iraq. One senses, in Israeli rage, unhealed wounds that may well be unhealable. And that, I feel, is ultimately what I am objecting to: the terrorization of the planet by the United States and Israel.
Alice Walker is not the first noted writer to adopt the Palestinian cause in order to heap vitriol on Israel. Several former Nobel Prize winners in literature also journeyed to the West Bank during the height of the Second Intifada, when Israel was suffering frequent suicide bombing attacks, to propagandize against the Jewish state. One of them, Portuguese writer, Jose Saramago used the opportunity to mock Jews over the Holocaust. Walker's chiding of Jews is eerily similar.
As unpalatable as Walker's views may be, it is revealing to learn what a prominent participant in the Gaza Flotilla really thinks.
Posted by SS at 02:30 PM | Comments (11)
June 23, 2011
Ha'aretz Lost in Translation, VII

Danit Moran, a married religious officer in the IDF (photo by Shaul Golan)
If there's one thing that can be said about Ha'aretz's translators, it's that they sure keep you on your toes. If you see something in Ha'aretz which you know can't be right, your first move should always be to check the Hebrew version. And if they don't match up (and usually the English version is the incorrect one), then voilà, you've got yourself another case of Ha'aretz Lost in Translation.
And so it was last Friday (June 17) when we picked up the English paper and read:
The party [Yisrael Beiteinu] thus rejected charges that the bill discriminates against groups that cannot serve in the Israel Defense Forces, such as Arabs or married women.
While both married women and Arabs are exempt from serving in the army, they most certainly may do so, and some do. Regarding married women serving, Ynet has reported:
More and more religious women, some already married, are passing up on national service and choosing to enlist in the IDF. . . .

The growing number of long skirts seen in the IDF has caused another unique phenomenon – more women in the IDF with covered hair – as many religious women cover their hair once married. . . .

When second lieutenant Danit Moran got married two months ago, she could have just given up her officer stripes and gone home as many have done before her. "At first I had my doubts" she admits. "Then I calmed down and told myself that there are many married women serving in the IDF. I didn't know if I would succeed in dealing with what came along, but thank God, today I'm happy I did."
The Jerusalem Post reported earlier this year that the IDF even decided to recruit several haredi (ultra-Orthodox) married women with children.
As for Arabs serving in the military, this is old territory for CAMERA, (and for the Los Angeles Times, which three times had to print a correction on this very point.)
Now that we've established the facts about married women and Israeli Arabs in the military, what did the Hebrew version of this article claim? Not what the English said. The problematic sentence does not at all appear in the Hebrew. Stay tuned for updates on a correction.
June 28 Update: To see the Hebrew version of this blog post, visit Presspectiva, CAMERA's Israeli site. Ha'aretz has deleted the problematic sentence from its Web site, but has yet to publish a correction.
Posted by TS at 08:05 AM | Comments (3)
June 22, 2011
Hezbollah's Role in Suppressing Unrest in Syria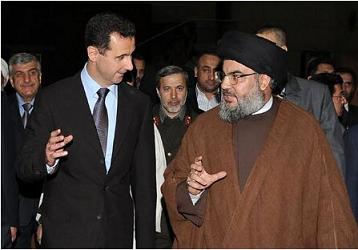 Over the past few months, an increasing number of video clips of demonstrators, army deserters and activists have attested to the involvement of Hezbollah operatives in suppressing the unrest in Syria. The Syrian government has kept the international media out, so it is not possible to confirm these stories. Nevertheless, Hezbollah participation in Syria is consistent with the strong support for the Assad government voiced by the group's leader, Hassan Nasrallah, and its sponsor, the Iranian government.
Youtube carries a number of videos alleging to show demonstrators burning posters of Nasrallah and other clips of demonstrators burning the Hezbollah flag. There are clips showing the burning of the Iranian flag as well.
A video by France24 claims to show protesters in Homs chanting, "Neither Iran, nor Hezbollah." Another video shows the dead corpses of men dressed in military garb who are described as Hezbollah fighters.
Michael Weiss at the Daily Telegraph blog carries an interview with a man claiming to be a Hezbollah operative who says he has transported 45 busloads of mercenaries from Lebanon to Syria. An AFP piece interviewed several Syrian deserters, one of whom charges that
the regime posted snipers drawn from the police or the Syrian-backed Lebanese Hezbollah militia on high points. "When the soldiers do not shoot, they shoot the soldiers down."
There were also reports that Hezbollah helped transport and fund Palestinian infiltrators to the Lebanese-Israeli border during Naksa day earlier in the month. Syria did the same along the Golan border in an effort to distract attention away from the unrest in Syria and redirect it towards the Israeli-Palestinian conflict.
The Syrian Foreign Minister, Walid Moallem, however, has denied Hezbollah or Iranian involvement in helping contain the unrest in Syria.
The mainstream media has been cautious about repeating these stories.
Posted by SS at 01:34 PM | Comments (0)
June 20, 2011
Hezbollah Cabinet Not Big News in Washington Post
Hezbollah's rise to domination over Lebanon's new cabinet was reported by The New York Times, Tribune Corporation newspapers including The Chicago Tribune, Los Angeles Times and Baltimore Sun, by USA Today and The Washington Times with full-length articles in their respective June 14 editions. USA Today's coverage, by Associated Press, ("Hezbollah, allies gain majority in Lebanon's new Cabinet") summarized the story's importance this way:
"Hezbollah and its allies rose to a position of unprecedented dominance in Lebanon's government Monday, giving its patrons Syria and Iran greater sway in the Middle East."

The Washington Post, by contrast, reported the Lebanon development with a four-paragraph news brief in the paper's "World" pages "Digest" ("Hezbollah influence strong in new cabinet", June 14). This coverage, in combination with a detailed report on intra-Palestinian squabbling, exemplifies a chronic shortcoming in The Post's Middle East reporting — over-emphasis of Palestinian concerns.
The Post did have a correspondent, Liz Sly, in Lebanon during this time. On June 7 and June 15, the paper published her dispatches on Syria's political turmoil, "Syria says protesters killed 120 soldiers" and "Syrian military expends crackdown against protesters," respectively.
Meanwhile, on June 13, The Post ran a detailed article headlined "Hamas officials balk at Fatah pick" by its acting Jerusalem bureau chief, Joel Greenberg. This prominently-placed piece spotlighted the opposition of Hamas, which rules the Gaza Strip, to Fatah's candidate for prime minister in a unity government, Salam Fayyad. Fayyad currently heads the Fatah-run Palestinian Authority on the West Bank. Newsworthy, but more so than Hezbollah's latest triumph in Lebanon?

The Baltimore Sun ( "Lebanon's new cabinet shows Syrian influence", and The New York Times, ("In Lebanon, new cabinet is influenced by Hezbollah"), for example, thought not. As USA Today put it:

"Opponents of Hezbollah, which the U.S. considers a terrorist organization, say having it in control of Lebanon's government could lead to international isolation. The group's most ardent supporters are Iran and Syria, which dominated Lebanon for 29 years."
Bigger news than Hamas and Fatah still not really getting along. -- by Sophie Linshitz, CAMERA Washington research intern.

Posted by ER at 02:56 PM | Comments (0)
June 19, 2011
Is this some sort of a joke?
On June 17, the New York Times published an AP report about court proceedings regarding accusations that three Israeli soldiers took inappropriate photos of Palestinian prisoners and posted them on Facebook. Two of the three soldiers were charged with a crime, a third was not.
This is the headline the NYT gave to the article: "Israel: No Charges Over Prisoner Photos."
Amazing.
Posted by dvz at 10:54 AM | Comments (0)
June 16, 2011
Lesbian Syrian Blogger Hoax Exposed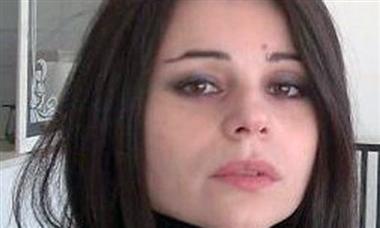 Jelena Lecic of London said her photographs were appropriated by the blogger who fabricated Syrian Lesbian activist Amina Arraf
The latest Internet hoax has blown up in the face of journalists, activists, and the concerned public. As USA Today reports:
A 40-year-old American man living in Scotland said Monday he's sorry for posing as a Syrian lesbian blogger who offered vivid accounts of life amid revolt and repression in Damascus, a hoax that has exposed the difficulty of sifting truth from fiction online.

Tom MacMaster said he created the fictional persona of Amina Arraf and the "Gay Girl in Damascus" blog to draw attention to conditions in a Middle East convulsed by change. . . .

On June 6, a post on the Arraf site, ostensibly by a cousin, said she'd been abducted by armed men in a Damascus street. The Internet erupted with alarm. A "Free Amina Arraf" Facebook page drew 14,000 supporters. The U.S. State Department said it was making inquiries to establish her identity.

But other bloggers began to go public with their growing doubts about Arraf's authenticity.

Some thought an April 26 post describing how two plainclothes security agents came to her home to detain her and were persuaded to leaving by her father sounded extremely implausible. Syria's hardline security services are not known as being easily dissuaded.

Reporters in Virginia, where Arraf claimed to have grown up, could find no trace of her or her family.

Journalists could find no one who had ever met her — not even Sandra Bagaria, a Montreal woman who was having an online relationship with her and had exchanged hundreds of emails with "Amina."
Posted by TS at 02:31 AM | Comments (0)
June 15, 2011
UK Colonel Richard Kemp Again Lauds Israel's Humanity in Warfare
Colonel Richard Kemp, former Commander of British Forces in Afghanistan, who gained international recognition when he testified at the United Nations that "the Israeli Defence Forces did more to safeguard the rights of civilians in a combat zone than any other army in the history of warfare," spoke this week to a group of young professionals and soldiers in Israel.
During his June 12, 2011, appearance in Tel Aviv, Colonel Kemp expressed his deep appreciation to the Israel Defense Forces saying,
You might think that you're simply defending your country, but in fact you are defending mine, too. You are fighting for the whole Western world, and you are at the front lines of the battle.
He emphasized once again the basic decency and humanity which characterizes the IDF, adding that,
In fact, my judgments about the steps taken in that conflict by the Israeli Defense Forces to avoid civilian deaths are inadvertently borne out by a study published by the United Nations itself, a study that shows that the ratio of civilian to combatant deaths in Gaza was by far the lowest in any asymmetric conflict in the history of warfare.
Colonel Kemp also highlighted the particular difficulties threatening Israel at this time in the face of the current attempt to delegitimize the Jewish State:
Today, Israel faces a conspiracy of delegitimization, which aims to give validity and justification to attacks on Israel by groups such as Iran's proxies Hamas and Hezbollah, allowing them to strike at Israel with impunity, and encouraging the view that any retaliatory or defensive measures by Israel are by definition disproportionate and should be criminalized.
Citing the tools of this campaign against Israel, he adds,
The most powerful weapons in this conspiracy are legal, diplomatic and media. Fundamentally, we are talking about a war of words, words that are given unprecedented potency by the internet, by the globalization of the 21st Century.
Colonel Kemp concluded his remarks by sharing two incidents that left lasting impressions on him. The first involved a Brigadier General in the IDF who immediately responded to Kemp's request for help, and, as Kemp describes it, "it was from that meeting that the entire counter-suicide-bombing strategy used by the British army was devised." Colonel Kemp goes on,
The second incident happened a couple of years later, after the terrorist attacks in London on July the 7th, 2005. We in the UK were left deeply shaken by the attacks, and I remember that the first ones to call to offer help – for some time, in fact, they were the only ones to call – was the IDF. It was then that we knew who our real friends are.
You can read Colonel Kemp's remarks here.
Posted by at 12:24 PM | Comments (4)
June 14, 2011
NPR's On Point Unbalanced Again Against Israel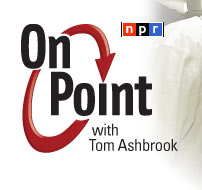 In yet another of the numerous unbalanced On Point NPR talk show broadcasts dealing with the Middle East (examples -- here, here, here, here, here and here), host Tom Ashbrook discussed The U.S., the Arab Spring and Mideast Peace (May 23 ). The panel consisted of Michelle Dunne of Carnegie Endowment for International Peace, with an Arabist tilt, and Daniel Kurtzer, who despite being an Orthodox Jew and the former U.S. ambassador to Israel, is known for his opposition to the Israeli government's policies.
Kurtzer ostensibly was there to provide a counterpoint to Dunne, but made no effort to demur when Dunne commented negatively about Israel. Neither her summary statement that "The Netanyahu government is not interested in making peace," nor her lumping of "the occupation of the West Bank and Gaza" together with "human rights abuses" and "authoritarian regimes" as the issues that "raise the stakes" in the Middle East warranted any counterpoint from Kurtzer.
Indeed, the attempt to equate Israel's alleged "occupation of the West Bank and Gaza" with the brutal dictatorships in the Middle East is both biased and counterfactual. Israel gained control of those territories as the result of a defensive war against Arab aggression. Despite the right to the territories being disputed, Israel completely withdrew its citizens and forces from the Gaza Strip in August 2005. The status of the West Bank remains to be determined through a negotiated settlement. No mention was made of this point.
Neither was there any mention of a major factor that negatively impacts the likelihood of a genuine peace -- that is, the continuous incitement of Palestinians to violence and hate against Israelis. This indoctrination (examples -- here and here) emanates from Palestinian media, mosques, schools and Websites. No such indoctrination exists on the Israeli side against Palestinians.
When will On Point feature a panel to discuss these issues? Ashbrook and On Point can be contacted or e-mailed at onpoint@wbur.org.
Posted by MK at 11:47 AM | Comments (4)
"Spontaneous" Border Crossing was Planned, Says Document
If authentic, a document passed to Michael Weiss shows that the Syrian cross-border infiltration into the Golan Heights was carefully planned at the highest levels. If authentic, it also highlights an embarrassing abandonment by some journalists of one of their most important tools: skepticism.
The document relays an order, from the highest levels, for Syrian security personnel to
grant permission of passage to all twenty vehicles (47 passenger capacity) with the attached plate numbers that are scheduled to arrive at ten in the morning on Sunday May 15, 2011 without being questioned or stopped until it reaches or frontier defense locations.

Permission is hereby granted allowing approaching crowds to cross the cease fire line (with Israel) towards the occupied Majdal-Shamms, and to further allow them to engage physically with each other in front of United Nations agents and offices. Furthermore, there is no objection if a few shots are fired in the air.

Captain Samer Shahin from the military intelligence division is hereby appointed to the leadership of the group assigned to break-in and infiltrate deep into the occupied Syrian Golan Heights with a specified pathway to avoid land mines.

It is essential to ensure that no one carries military identification or a weapon as they enter with a strict emphasis on the peaceful and spontaneous nature of the protest.
Again, if authentic, then some journalists were clearly duped, willingly or otherwise, by the Syrian autocracy. For example Time's Karl Vick, who generally reacts to Israeli claims dismissively, dutifully reported on the infiltration as follows:
Under close questioning, the infiltrators closed the intelligence gap with a shrug and one word: Facebook. The operation that had caught Israel's vaunted military and intelligence complex flat-footed was announced, nursed and triggered on the social-networking site that has figured in every uprising around the Arab world - and is helping young Palestinians change the terms of their fight against Israel.
Although he did eventually point out that "Israeli officials interpreted" the situation as being spurred by the Syrian government, he quickly let readers know (as he tends to do) that they shouldn't believe the Israelis:
Israeli officials interpreted protesters' apparent ease of access to a military zone as evidence of sponsorship by the battered government of President Bashar Assad. With street protests threatening his regime in cities across Syria, the reasoning goes, Assad found in the Nakba protests a perfect opportunity to shift the focus to Israel.

But Fadi Quran, a Ramallah organizer in the Palestinian youth movement that promoted the marches, says his contacts in Syria were actually terrified of the Assad government, which took steps to prevent some from traveling to the protests from refugee camps near Damascus, where they have lived since fleeing their homes in what is now northern Israel.
Terrified, presumably, of being permitted to travel "without being questioned or stopped."
Posted by GI at 10:33 AM | Comments (0)
June 13, 2011
Egypt Arrests American-Israeli Jew, Accusing Him of Being Mossad Agent
Ilan Grapel is an American Jew who travelled to Cairo under his own -- Jewish -- name. He did not try to hide the fact that he was a dual American-Israel citizen who had served in the IDF during the Second Lebanon War. A big mistake.... he was arrested and accused of being a Mossad agent, and of stirring up sectarian tension among the Egyptians.
According to his friends, Grapel was "very pro-Arabic" and enjoyed hanging out in Egypt. According to his mother, he was volunteering in Cairo with St. Andrews Refugee Services. And according to his own statements, he thought it would be rewarding to communicate Israel's position to its hostile neighbors.
Egypt's deputy prime minister has accused Grapel of planning to sow seeds of civil war in Egypt. An Egyptian daily reports that he entered on a fake visa, posing as a journalist and that he planned to secretly follow supporters of deposed Egyptain President Hosni Mubarak. But what is perhaps most likely is that he was a young adventure-seeker, who was overly naive about the dangers of being an openly Israeli Jew in Cairo.
Posted by RH at 01:17 PM | Comments (3)
June 12, 2011
Ha'aretz Welcomes New Partner
Leonid Nevzlin (Photo by Eyal Toueg)
Ha'aretz announces:
Leonid Nevzlin, chairman of the board of trustees at Beit Hatfutsot - the Museum of the Jewish People - is joining Ha'aretz as a partner and will acquire 20 percent of the company's share capital valued at NIS 700 million after the money [sic]. All the funds will go into the company.

Nevzlin will join the firm's board of directors. After the investment the Schocken family will hold a 60 percent stake and the publishing company DuMont Schauberg of Cologne, Germany, will hold 20 percent.
CAMERA wishes Nevzlin much success in his new position, and hopes that his presence at the company will help strengthen the paper's new signs of accountability.
Posted by TS at 06:26 AM | Comments (2)
The Historical Record of the Arab Exodus
In a May 23, 2011 Op-Ed in Ha'aretz Shlomo Avineri wrote that "despite decades of research, to this day no document or broadcast has been found confirming . . . ... [any order] by the Arab leadership for the population to leave." (The Op-Ed, which for some reason can no longer be found on Ha'aretz's Web site, is available here.)
In an Op-Ed this weekend, historian Efraim Karsh responds:
This claim couldn't be further from the truth. While most Palestinian Arabs needed little encouragement to take to the road, large numbers of them were driven from their homes by their own leaders and/or the "Arab Liberation Army" that had entered Palestine prior to the end of the Mandate, whether out of military considerations or in order to prevent them from becoming citizens of the prospective Jewish state. Of this there is an overwhelming and incontrovertible body of contemporary evidence - intelligence briefs, captured Arab documents, press reports, personal testimonies and memoirs, and so on and so forth. . . .

On April 18, the Haganah's intelligence branch in Jerusalem reported a fresh general order to remove the women and children from all villages bordering Jewish localities. Twelve days later, its Haifa counterpart reported an ALA directive to evacuate all Arab villages between Tel Aviv and Haifa in anticipation of a new general offensive. In early May, as fighting intensified in the eastern Galilee, local Arabs were ordered to transfer all women and children from the Rosh Pina area, while in the Jerusalem sub-district, Transjordan's Arab Legion ordered the emptying of scores of villages.
Posted by TS at 06:03 AM | Comments (5)
PA Mental Block on Partition
Like Mahmoud Abbas before him in the New York Times, Nabil Sha'ath apparently forgets that the Palestinian Arab leadership rejected the Partition Plan in 1947.
(Hat tip: Stephen S.)
Posted by TS at 05:38 AM | Comments (0)
NY Times Public Editor Weighs In on Coverage
New York Times Public Editor Arthur Brisbane's column yesterday on the paper's coverage of Arab-Israeli conflict, and criticism of the paper's coverage, can be summed up: both sides complain, and our coverage is by and large fair. Brisbane asserts: "The complaints I get vary widely. Some are on substantive issues, but often they turn on the use of a phrase or a word, or placement in the paper."
In a sampling of complaints he has received, Brisbane ignores the substantive issues that Times editors have failed to correct. Take, for instance, Ethan Bronner's report that Israelis viewed Netanyahu's trip to the United States as a failure, whereas polling data showed the opposite. Or Mahmoud Abbas' falsehoods about his personal history and events in 1948. Or consider David Kirkpatrick's attribution of Egypt's blockade of Gaza to Israel.
Furthermore, Brisbane is mute about the Times' sustained downplaying of Palestinian genocidal incitement against Israelis and Jews. Perhaps because there is no comparable counter-example of an ongoing failure to report on an Israeli wrongdoing. It's easier to chalk up the criticism of the paper's coverage of the Palestinian-Israeli conflict to the "third rail" phenomenon -- "touch it and burn" -- than it is to expose, and correct, the paper's systemic shortcomings.
(Hat tip: Stephen S.)
Posted by TS at 04:16 AM | Comments (2)
June 09, 2011
When Palestinians Kill Palestinians – Not Newsworthy?
Tribune Co. newspapers, including The Chicago Tribune, Los Angeles Times and Baltimore Sun reported the deaths of up to 20 Palestinian Arabs in Syria's Yarmouk "refugee camp" in their June 8 editions. The Washington Post and New York Times did not.
Under the headline "Violence at Palestinian camp funerals in Syria leaves 20 dead" in both The Los Angeles Times and Chicago Tribune, and "Up to 20 die in clashes at Palestinian funerals" in The Baltimore Sun, special correspondent Roula Hajjar reported on the intra-Palestinian bloodshed:
"Tension rose during a funeral procession when mourners in the camp denounced the Popular Front for the Liberation of Palestine-General Command, alleging that the faction had persuaded the mourners' relatives to participate in Sunday's deadly demonstrations near the Syrian-Israeli border .... Demonstrators, holding the faction responsible for Sunday's deaths, attacked the group's headquarters and burned two cars .... In retaliation, faction gunmen opened fire on the mourners, killing 14 to 20 people, the Palestinian sources said."
Hajjar referred to the PFLP-GC as a "militant Palestinian faction" and noted it "is backed by Syria and based in Damascus." Reuters ("Pro-Syrian group kills 11 refugees - sources") said in a June 7 dispatch that "like several other Palestinian facts in Syria, the PFLP-GC, which is headed by veteran guerrilla leader Ahmad Jibreel, is regarded as a terrorists organization by the United States."
The Tribune report quoted an anonymous Palestine Liberation Organization official who supported charges that Syria was fomenting Palestinian demonstrations on Israel's borders to distract attention from its bloody suppression of widespread internal unrest. "Once again, the Palestinian struggle has fallen victim to the agenda of an Arab regime," he said.
The June 8 edition of The New York Times did include a 12-paragraph article headlined "Arsonists Damage and Deface Mosque in West Bank Village," for which Jewish settlers were suspected. The Post published as its lead World Digest news brief a six-paragraph item headed "West Bank: Jewish settlers suspected in mosque fire. But neither edition covered the Palestinian-versus-Palestinian fighting.
Posted by ER at 03:26 PM | Comments (0)
June 08, 2011
Rooftop Productions Uses Fabricated Ben Gurion Quote in Movie
In its 2010 movie "With God on Our Side," Rooftop Productions assails Christian Zionists for their allegedly unreflective support of Israel. In a particularly jaundiced summary of Israeli history, Christopher, the young narrator, reports the following:
In a letter to his son in 1937 David Ben Gurion, who would later become the first Prime Minister of Israel, stated "The Arabs will have to go, but one needs an opportune moment for making it happen, such as war."
It's a compelling quote that fits in nicely with producer Porter Speakman's agenda, but it's a fabrication. It's a fake quote that was debunked well before the 2010 release date of "With God On Our Side."
In 2006 Benny Morris wrote a letter describing the quote as "an invention, pure and simple." To see the letter, go here.
As Christopher, the narrator, recites the fabricated quote, Speakman splashes the text across the screen in images that can be seen below.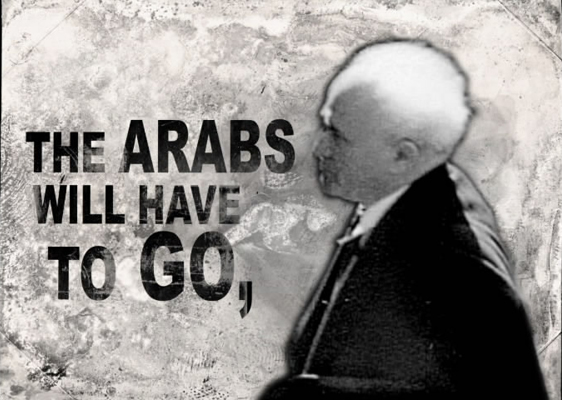 The first section of the fabricated quote.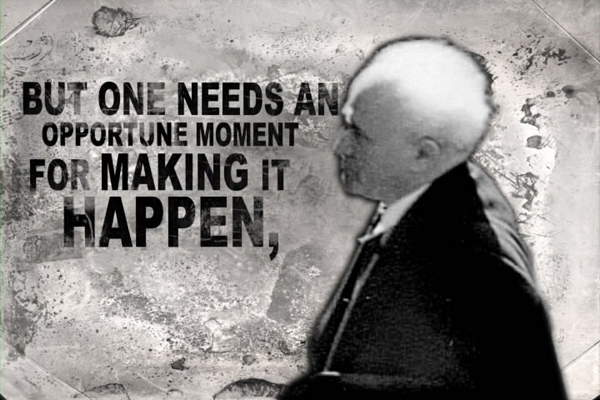 The second section of the fabricated quote.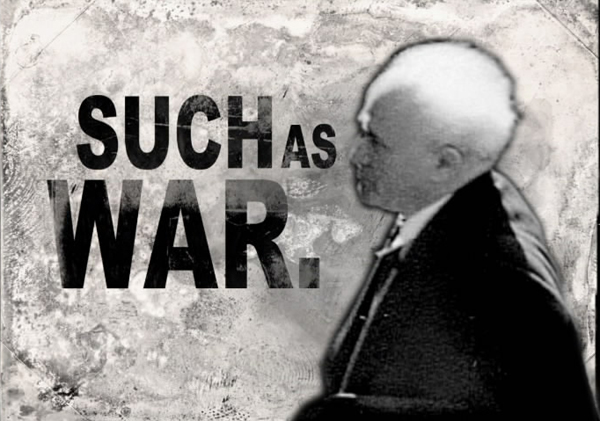 The last section of the fabricated quote.
The fabricated quote serves as a centerpiece to Speakman's version of the Arab-Israeli conflict.
Will he acknowledge and correct the error?
Posted by dvz at 12:22 PM | Comments (2)
Time's Shoddy Coverage (cont)
Not only bureau chief Karl Vick's biased polemics mislead readers on the facts about Israel. Even short bits in the magazine's "Briefing" section can't (won't) get the story straight. A June 13, 2011 brief reads:
Egypt Opens the Door to Gaza

ISRAEL Since 2006 the Gaza Strip has been sealed off from the world--its borders tightly controlled by an Israeli government wary of Gaza's rulers, the Islamist outfit Hamas. But on May 29, Egypt loosened Israel's grip on Gaza by lifting the restrictions on Palestinians seeking to cross from Gaza to Egypt. Though only a small number have gained entry so far, Egypt's willingness to aid Gazans signals a diplomatic shift since the popular uprising that ousted its longtime dictator (and ally of Israel) Hosni Mubarak. Gaza's other borders remain shut, but a new "freedom flotilla" carrying humanitarian aid will set sail soon to test Israel's ongoing blockade.
Not exactly. Egypt didn't loosen "Israel's grip on Gaza" -- it loosened Egypt's grip on Gaza. Since 2007 Egypt has had full control of the border.
A February 2008 breach of that border saw Palestinians storm through the Egyptian-policed lines. The UK's Telegraph noted "Without an airport or a sea port, the border with Egypt is Gaza's only link to the outside world not directly controlled by Israel."
That "Islamist outfit" Time refers to is, of course, the terrorist regime that long used the Egypt-Gaza border as a massive smuggling route, bringing weaponry into the Strip to attack Israel -- despite the withdrawal of all Israelis in 2005.
As for the so-called freedom flotilla ostensibly planning another landing in Gaza, Time tips its biased hand here too, casting the project as focused on delivering "humanitarian aid." The previous, 2010 flotilla was a propaganda stunt with the largest vessel, the Mavi Marmara, and several others carrying no aid at all.
Posted by AL at 11:15 AM | Comments (2)
June 07, 2011
Is Gaza Occupied?
Is the Gaza Strip currently "occupied territory"? Is Time Magazine's Israel coverage objective? Read all about it.

Posted by GI at 04:34 PM | Comments (1)
June 03, 2011
After Most of the Media Moves On, Some Insightful Reporting on Egypt
Two recent articles present disturbing information about where Egypt may be heading.
Lee Smith in The Tablet reveals that the conventional media narrative of how events unfolded in the first days of the unrest did not square with existing realities. Smith argues that Mubarak's role in promoting economic reform and keeping anti-Western elements at bay has been underappreciated. The sweeping away of the Mubarak regime unleashed anti-Western forces that will be increasingly important in shaping post-revolution Egypt. Smith envisions an accomodation between the Muslim Brotherhood and the Egyptian army. He warns of trouble from the irrational anti-Semitism that pervades Egyptian society. The worsening supply situation of the main staple of the Egyptian diet, wheat, will also continue to stir unrest.
Lester Brown in the New York Times adds a new dimension to the impending food crisis in Egypt. He describes how countries both immediate and far away compete for the Nile river's water in order to grow wheat to feed their own populations. The problem is multi-faceted, as it involves not only the burgeoning populations of Ethiopia and Sudan, both upstream from Egypt, but also a new form of colonization of Africa by wealthier nations like China, South Korea and Saudi Arabia that lack sufficient fertile land to feed their own population's Westernized diets. Vast tracts of African land have been purchased by Asian nations to grow crops. Brown warns that Egypt, which is dependent upon the Nile river for its sustenance, is directly threatened by the diversion of Nile water to irrigate new cropland upriver.
Already, earlier this year, drought in China threatened Egypt's supply of wheat. Some, like Spengler (David Goldman), have pointed to the wheat crisis as a crucial underlying factor in Egypt's unrest.
Posted by SS at 11:40 AM | Comments (0)
BBC Covers the Farhoud
Jews in Baghdad before persecution compelled them to leave their homes
On June 1, the BBC published an article recalling, in gruesome detail, the massacre of Iraqi Jews that took place 70 years earlier to the day.
The piece is noteworthy. In 2007, CAMERA filed a formal complaint with the BBC after the broadcaster whitewashed mistreatment of the Jewish community in Iraq, describing only a rosy existence for Jews while ignoring the 1941 massacre, known as the Farhoud, and generally downplaying persecution. The BBC online news desk initially refused to amend the article, but later acknowledged that the piece should be changed. The BBC's Editorial Complaints Unit, too, upheld CAMERA's complaint and agreed the story "had shortcomings on the facts."
The piece as originally published is part of an all-too-common media trend of pretending, facts be damned, that Jewish citizens of Arab countries were always treated respectfully and as equals.
Hopefully, the more recent piece represents a new willingness to look soberly at Arab persecution of the Middle Eastern Jewish communities, which eventually led to the exile of nearly a million Jewish refugees.
In the article, "Farhud memories: Baghdad's 1941 slaughter of the Jews," reporter Sarah Ehrlich notes that
Thousands of armed Iraqi Muslims were on the rampage, with swords, knives and guns.

The two days of violence that followed have become known as the Farhud (Arabic for "violent dispossession"). It spelt the end for a Jewish community that dated from the time of Babylon. There are contemporary reports of up to 180 people killed, but some sources put the number much higher. The Israeli-based Babylonian Heritage Museum says about another 600 unidentified victims were buried in a mass grave.

"On the first night of Shavuot we usually go to synagogue and stay up all night studying Torah," says Haddad, now a veteran ophthalmologist in New York.

"Suddenly we heard screams, 'Allah Allah!' and shots were fired. We went out to the roof to see what's happening, we saw fires, we saw people on the roofs in the ghetto screaming, begging God to help them."

The violence continued through the night. A red hand sign, or hamsa, had been painted on Jewish homes, to mark them out.
Posted by GI at 10:39 AM | Comments (0)