« Ha'aretz Interviewee Recalls Past Life Memories? | Main | Netanyahu Releases Signed Response to Abbas' NY Times Op-Ed »
May 18, 2011
NPR's On Point Avoids Evenhanded Middle East Discussion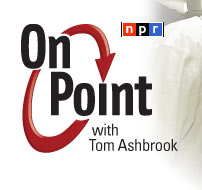 A May 9 On Point discussion, "The Fatah-Hamas Deal," was not evenhanded. Instead of a debate between David Horovitz, Jerusalem Post Editor-in-Chief, and Sari Nusseibeh, President and professor of philosophy at Al-Quds University of Jerusalem, the program was a lopsided presentation of the Israeli and Palestinian positions: Mr. Horovitz was limited to seven minutes of air time while Mr. Nusseibeh, who followed him, was allotted 38 minutes. That's more than a 5 to 1 air-time ratio for the Palestinian position versus the Israeli position.
Horovitz, expressing a mainstream Israeli viewpoint, noted the improbability of obtaining a viable peace deal with a Palestinian partnership that includes Hamas, who is committed (according to its charter, statements and actions) to destroying Israel. Nusseibeh presented the viewpoint that Israel should not oppose the Fatah-Hamas union. He disingenuously equated Israeli right wing parties with Hamas:
Just as in Israel where you have opposition parties that do not believe in real peace or compromises with the Palestinians, certainly it is possible also to have people on the Palestinian side that share the same kind of sentiments but in the opposite direction.
One small matter is overlooked here: Israeli parties rejecting the viability of peace with Palestinians don't terrorize their Arab neighbors with hundreds of rocket attacks.
Host Tom Ashbrook is no stranger to providing unbalanced Middle East On Point discussions as CAMERA has documented here, here, here and here.
Ashbrook and On Point can be contacted or e-mailed at onpoint@wbur.org
Posted by MK at May 18, 2011 02:24 PM
Comments
Guidelines for posting
This is a moderated blog. We will not post comments that include racism, bigotry, threats, or factually inaccurate material.
Post a comment