« April 2011 | Main | June 2011 »
May 31, 2011
NPR's Diane Rehm Stacks the Deck Against Israel

Rehm and friend
Diane Rehm has frequently stacked the deck against Israel in her NPR talk show. The latest example is her May 23 show, "President Obama, the Middle East, and the Arab Spring," where she provided a platform for the anti-Israel rhetoric of Hisham Melhem, an anti-Israel polemicist employed as an Arab newspaper/television journalist. Melhem took advantage of his platform, criticizing Israeli Prime Minister Netanyahu in the most unprofessional way:
Look, this is Netanyahu. We know where Netanyahu comes from… President Bill Clinton … used the F-word [in the 1990s].
Melhem stridently warned:
If the Israelis don't withdraw and allow a Palestinian state, in 20 years -- let me tell you something in terms of demography -- the majority of people who live in what is today Jordan, what is today West Bank and Gaza and Israel itself will be Palestinians. So you can kiss your Jewish state goodbye in that sense. It's going to be ipso facto bi-national state, whether you like it or not. And engaging in ethnic cleansing today is not going to be easy.
Melhem's premise of a Middle East demographic doomsday scenario where Arabs will greatly out-populate Jews, like his other assertions, was accepted without question. But an important challenge to this scenario was ignored ("[According to] United Nations' population forecasts: At constant fertility, Israel will have more young people by the end of this century than either Turkey or Iran, and more than Germany, Italy or Spain...[and] if present trends continue, Israel will be able to field the largest land army in the Middle East.").
Who represented Israeli views here? Certainly not any of the other guests: Jeremy Ben-Ami, president of J Street, which erroneously presents itself as a pro-Israel organization, Lisa Anderson, president of American University in Cairo or David Sanger, New York Times Middle East reporter.
It was another typical day at the office for Rehm and company – no one representing the Israeli position in a discussion of the Palestinian-Israeli conflict.
The Diane Rehm show can be contacted at 202-885-1231 or drshow@wamu.org.
Posted by MK at 03:48 PM | Comments (2)
One thing in Arabic, Another in English … at MIT?
Was the translation accurate?
One of the most common knocks against Arab leaders is that they say one thing in English to Western audiences and another thing in Arabic to their own supporters.
Sadly, it appears that this phenomenon has played itself out at the Center for International Studies (CIS) at the Massachusetts Institute of Technology.
First, some background.
Previously, Snapshots has written about a presentation that took place at MIT's Center for International Studies (CIS) on April 29, 2011.
The presentation, which included speeches by two members of the April 6 Youth Movement that played a significant role in ousting Egyptian President Hosni Mubarak earlier this year, can be seen in its entirety here.
In a blog post titled, "Extremists Can Tweet, Too, Jason," Snapshots lamented the failure of Jason Pontin, editor of MIT's Technology Review to raise questions about the revolution that has taken place in Egypt. We wrote that with his "obsession on how activists used Facebook and Twitter to achieve Mubarak's ouster, Pontin failed to ask some of the most basic questions about where the revolution is headed."
In particular, Snapshots criticized Pontin for failing "to ask how Salafists and the Muslim Brotherhood are using the technologies the April 6th Youth Movement used to achieve Mubarak's ouster."
But wait, there's more!
A video has surfaced challenging Arabic-to-English translation provided during Ahmed Maher's presentation. The upshot of the video, posted by Egypt Forward on Youtube is that at a crucial point during the presentation, the English translation does not match what Maher said in Arabic.
Egypt Forward provides its own word-by-word translation of what was said in Arabic for a portion of the event. It then continues with the translation – as it was made on the scene by a translator provided by MIT's Center for International Studies.
The video indicates that in Arabic, Maher, one of the founders of the April 6 Youth Movement, accused Israel of perpetrating a "genocide" against the Palestinians. (It goes without saying that any allegation of genocide against Israel is simply untenable. The Palestinian population has increased substantially over the past several decades.)
If this is the type of rhetoric being used by secularist revolutionaries who ousted Hosni Mubarak, this is of great importance and interest.
Nevertheless, the only people who would know what Maher actually said are the people in the audience who speak Arabic, because the accusation was, according to Egypt Forward, not conveyed to English speakers in the audience.
The translator said in English that (and this is a paraphrase) in a neighboring territory, people are being oppressed and killed and are having their rights taken away. This is a long way from the accusation of genocide apparently leveled initially by Maher.
You can watch Egypt Forward's video yourself here.
Posted by dvz at 02:00 PM | Comments (0)
Border-Line Projection at the NY Times
On Friday, the New York Times published an editorial accusing others of twisting President Obama's words:
Only a few minutes after President Obama finished his carefully balanced speech on the Middle East last week, Republican presidential candidates and lawmakers began twisting his words to suggest that he was calling for an epochal abandonment of Israel. . . .

Tim Pawlenty wrongly said Mr. Obama had called for Israel to return to its 1967 borders. . . .
That accusation is a bit rich considering that the New York Times was one of the major media outlets to first come out with fast and furious reports distorting Obama's words.
As reported earlier by CAMERA, many mainstream media outlets, the New York Times among them, claimed that Obama called for an Israeli withdrawal to "1967 borders," when his language correctly referred to "1967 lines." (The difference is significant; No border existed between Israel and the West Bank before the 1967 war. The lines, established April 3, 1949 by Article III of the Israel-Jordan Armistice Agreement, are not borders but armistice lines, temporary boundaries to be replaced in the future by a negotiated, internationally recognized border.)
See, for instance, this article by Mark Landler and Steven Lee Myers, which, in the headline and repeatedly throughout the text inaccurately refers to "1967 borders" or "pre-1967 borders."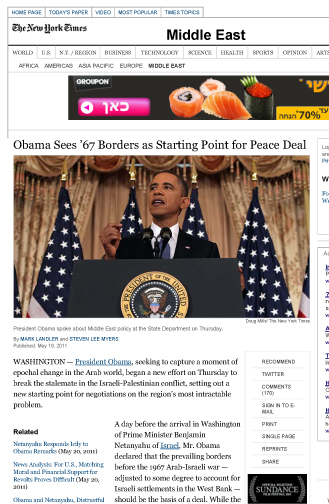 The Times' Helene Cooper was also a repeat offender, repeatedly distorting the President's words.
Before pointing the finger at others, the New York Times should take a careful look at its own coverage.
(Hat tip: Mordy)
Posted by TS at 06:33 AM | Comments (0)
May 29, 2011
Federman "Fact-Checks" Netanyahu, Promotes Hamas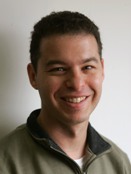 When will Federman fact-check Hamas?
It has just come to our attention that the AP's Mr. Josef "Fact Check Netanyahu" Federman cut Hamas some serious slack earlier in the month. In a May 13 piece entitled "Hamas sends signals of moderation to West" and coauthored with Ibrahim Barzak, Federman writes:
Hamas, the Islamic militant group known for suicide bombings, rocket attacks and hatred of Israel, is sending subtle signals of moderation as it prepares to join a Palestinian unity government.

Hamas officials speak of reconciliation with the West and a halt in armed hostilities with Israel, and even hint at some sort of political accommodation with the Jewish state.

While Israel is not convinced, there are hopes in some Palestinian circles that the Iran-backed group could become a more accepted part of the Mideast diplomatic equation.

"The world should realize that we have made many changes," said Ghazi Hamad, the deputy foreign minister of the Hamas government in the Gaza Strip. "The international community should not run away from these changes." . . .

Hamas has sent a series of signals recently aimed at showing that it will not be the reason for any new breakdown. While refusing to disarm or give up its "right to resist," leaders – including Gaza Hamas Prime Minister Ismail Haniyeh in a speech last week – say they are committed to preserving "calm" with Israel. . . .

At a signing ceremony last week in Cairo, Mashaal referred to an independent Palestinian state in the West Bank and GAza STrip and made no references to Israel's destruction.
Federman and Barzak cast no doubt, raise no questions, "check" no facts.
Two days later, Barzak filed a story covering Ismael Haniyeh's "end the Zionist project in Palestine" speech. He wrote:
A Hamas leader has delivered a hard-line speech to thousands of Muslim worshippers commemorating the uprooting of Palestinians during the 1948 war over Israel's creation.

Ismail Haniyeh said Sunday that Palestinians mark the occasion this year "with great hope of bringing to an end the Zionist project in Palestine." He also affirmed the right to resist Israeli occupation.
Did the Hamas leader's call for genocide -- essentially a reiteration of a goal made plain in the group's charter -- prompt Federman to revisit his Hamas moderation story and re-check his facts? Apparently not.
Posted by TS at 07:05 AM | Comments (0)
In Ha'aretz, Conscious or Not?
Earlier this month, we flagged a Ha'aretz interview in which an Israeli Arab had an implausible memory of events that occurred before his birth. Now we have another example of implausible Arab testimony in Ha'aretz -- this time it's what the interviewee claims not to remember that does not add up.
On May 27, Amira Hass wrote about a Palestinian teen who suffered injuries including a fractured skull during his reportedly violent arrest on "Nakba Day" ("Teen hospitalized with fractured skull after violent Nakba Day arrest"). Her account is based on the testimony of the 15-year-old and his parents, including the following:
One of the policemen then knocked him unconscious with a rifle butt.

He said he was taken aboard a police jeep, from which he was removed at a gas station near the exit from the village. The police woke him up by pouring water on him, then beat him until he started spitting blood and lost consciousness again. He said he has no recollection of the next 24 hours, until he woke up Monday afternoon at Hadassah University Hospital, Ein Karem, surrounded by police.
Hass later quotes a spokeswoman for Hadassah Hospital, who counters:
Hadassah spokeswoman Yael Bosem Levy told Haaretz that A.A. arrived at the hospital fully conscious.
In other words, Hass reports the conflicting claims about whether or not the teen was conscious when he arrived at the hospital as a he said/she said dispute, in which the facts could not be determined.
And, yet, it was easily possible to determine which side was telling the truth. As Hass herself reports elsewhere in the article:
According to his discharge papers, A.A.'s condition on arriving at the hospital was as follows: drowsy, suffering from grade 8 pain (on a scale of 10 ), a bleeding scalp, subdural bleeding in the face and chest, scrapes on his back and multiple bruises on his limbs. A CAT scan found the boy had a cracked skull and a tear in his liver.
According to hospital records, the teen was "drowsy" -- not unconscious -- when he was admitted to the hospital. If he was not telling the truth about that aspect of his story, what else did he lie about?
We are reminded in this instance about Mohammed Omer and his contradictory tales of detention, abuse and loss of consciousness.
May 31 Update: In a subsequent story about the same case, May 30, Hass no longer reports the youth's consciousness (or lack thereof) upon arrival at the hospital as a he said/she said dispute. Instead, despite the hospital records to the contrary, Hass reports as fact the family's version in which "the boy arrived at the hospital unconscious."
Posted by TS at 03:38 AM | Comments (0)
May 26, 2011
LA Times Corrects Letter
The Los Angeles Times corrected the May 20, 2011 letter-to-the-editor which falsely stated a conservative Israeli newspaper removed Hillary Clinton from an official White House photograph. The paper was American. The error and correction follow:
Error (Los Angeles Times, Terrell Roberts, letter, 5/20/11): . . . .we just had a conservative newspaper in Israel delete Hillary Rodham Clinton's image from the picture of Obama administration officials in the Situation Room during the Osama bin Laden raid. . .

Correction (5/26/11): Photograph: A May 20 letter to the editor incorrectly said a conservative Israeli newspaper digitally scrubbed Secretary of State Hillary Rodham Clinton from a photo of Obama administration officials monitoring the raid on Osama bin Laden. The newspaper that altered the photo is based in Brooklyn, N.Y.
Posted by TS at 05:49 AM | Comments (0)
NYT's Wishful Thinking Vs. Ha'aretz Poll
As we blogged yesterday, the New York Times headline "Israelis see Netanyahu Trip as Diplomatic Failure" was contradicted by a Dialog poll covered in Ha'aretz showing "47 percent of the Israeli public believes the U.S. trip was a success, while only 10 percent viewed it as a failure. "
New York Times editors are likely wincing as they look at Ha'aretz's front-page today:
Versus the Times' headline yesterday: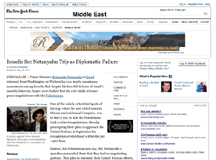 Posted by TS at 04:47 AM | Comments (0)
CNN Article Maps Out '67 Lines Issues
This CNN article by Tim Lister does a commendable job explaining the status of the 1967 armistice line, an issue which is repeatedly misreported in the mainstream media. Lister writes, in part, that Netanyahu's
choice of the word "boundaries" may not have been accidental, because in 1967 Israel had no agreed borders with its Arab neighbors. They were instead armistice lines agreed to in 1949 after the division of Palestine. (Internationally-recognized borders with Jordan and Egypt have since been agreed upon.) The Six Day War rendered those armistice lines redundant.

At the end of May 1967, Egypt, Syria and Jordan were massing troops and armor within striking distance of Israel. Egypt had closed the Straits of Tiran to Israeli shipping. On June 5, Israel launched a pre-emptive attack that destroyed much of the Egyptian air force. In the days that followed, Israeli forces captured all of Jerusalem and the West Bank from Jordan, the Golan Heights from Syria and the Sinai peninsula and Gaza from Egypt. Suddenly, Israel had some "strategic depth."
Posted by TS at 02:23 AM | Comments (2)
May 25, 2011
For New York Times, 10 Percent Equals "Nearly Unanimous"
A May 25 online story in the New York Times is headlined, "Israelis See Netanyahu Trip as Diplomatic Failure."
In it, correspondent Ethan Bronner writes that
Prime Minister Benjamin Netanyahu of Israel returned from Washington on Wednesday to a nearly unanimous assessment among Israelis that despite his forceful defense of Israel's security interests, hopes were dashed that his visit might advance peace negotiations with the Palestinians.
Read the bolded section again. Now read the results of a poll commissioned by Ha'aretz and publicized, to the misfortune of the Times, shortly after Bronner's piece:
The poll, conducted by the Dialog organization, under the supervision of Prof. Camil Fuchs of the Tel Aviv University Statistics Department, showed that 47 percent of the Israeli public believes the U.S. trip was a success, while only 10 percent viewed it as a failure.
The Times and other media organizations too often fail to capture the feelings, concerns and hopes of mainstream Israelis. This might be as close as we get to statistical evidence of that journalistic shortcoming.
(h/t Amspecblog.)
Posted by GI at 10:51 PM | Comments (2)
USA Today Hits Rare Media Bull's-Eye
USA Today's detailed feature article, "Israelis ambivalent about Arab world's uprising; Some see opportunity for peace, prosperity; others fear onset of aggression" does what much coverage of Arab-Israeli developments does not: It treats Israelis as human beings with newsworthy concerns. In doing so, it also sheds light on what too many reports have misleadingly termed "Arab democracy movements."
Writing in USA Today's May 23 edition, correspondent Oren Dorell, tells readers that "Many Israelis .... look at the popular uprisings that began in Tunisia and have burned across the military backed dictatorships of North Africa and the sheikdoms of the Persian Gulf and see the resurrection of the Arab dream of destroying Israel."
Dorell provides readers with a range of Israeli opinion, from both men and women in the street to that of academics and former senior officials: "'God help us, you look at the map, it's scary,' says kindergarten teacher Liat Ben Yaacov ...." "'You're having very quickly a massive weakening of U.S. posture in the Middle East, with ally after ally falling by the wayside,' [Caroline Glick, Jerusalem Post columnist] says. 'As an Israeli looking at this, it's terrifying.'"
The reporter quotes Arab protest leaders who underscore Israeli concerns: Though Egypt can't confront Israel now, once it is strong, "'the regional situation will be different because there will be Turkey, Egypt and Iran. When these three are strong and allies, Israel will chose to go away,'" says Tarek Khouly, "a coordinator for the April 6th youth movement in Cairo, [who] is illustrative of the mixed message being sent to Israel." "Ayman Nour, president of the liberal Al Ghad Party in Egypt, says peace with Israel should be preserved. His son, Nour Ayman Nour, calls Israel 'a fascist regime influenced by religion that wants to eradicate' Palestinians."
USA Today's feature puts the Jewish state in regional context. Among other things, it notes: "Israel has more than 61 companies on NASDAQ [the high-tech stock market listing], more than the entire Arab world combined and trailing only the USA and China ....", "Arabs living in Israel have more freedoms than their brethren in any Arab state, according to Freedom House, which advocates democracy around the world" and "For years, people in the Arab world have been fed a daily diet of anti-Israel propaganda ... the U.S. State Department says."
What seems to be a factual error, a reference to "the Arab military movement to wipe out the Jewish state in 1949, 1968 and 1972" probably refers to the wars of 1948, 1967 and 1973. Otherwise, "Israelis ambivalent about Arab world's uprisings" is a timely, three-dimensional look at the Middle East through Israeli eyes, a rare counter-point to media default coverage of Israel through Palestinian Arab filters.
Posted by ER at 02:45 PM | Comments (1)
Abbas Declares Netanyahu's Congress Speech "Full of Lies and Distortions"
Palestinian leader Mahmoud Abbas has taken a page from AP correspondent Josef Federman's book and is declaring Israeli Prime Minister Netanyahu's well-received speech to Congress yesterday to be "full of lies and distortions". Because it refutes Abbas' reinvented version of history that he managed to get published in the New York Times?
Posted by RH at 01:00 PM | Comments (0)
May 24, 2011
Bibi's Speech to Congress and Media Reaction
Israeli Prime Minister Benjamin Netanyahu received a very warm reception in Congress during his forceful, forthright speech, which laid out just what Israel is prepared to do -- make painful concessions -- and not prepared to do -- put itself at risk of annihilation -- to achieve a lasting peace with the Palestinians. Daled Amos provides a transcript and video of the speech here.
What was the reaction in the press?
The Los Angeles Times couldn't wait to editorialize by proclaiming Netanyahu's vision to be "hardline." The article slyly implied flattery and chicanery on the part of Netanyahu with such phrases as "Netanyahu adopted the persona of an old friend"; Netanyahu "played to" ...and "presented himself as"...
The New York Times article explained away Congress' warm response -- not by assuming that members might share Bibi's vision, but -- by reverting to a knee-jerk implication of a powerful Jewish lobby controlling them:
With elections coming up next year, lawmakers appeared eager to demonstrate their support for Israel as part of an effort to secure backing from one of American politics' most powerful constituencies, American Jews.
The comments on the online article included, as is usual for the New York Times, many spiteful, and hate-filled diatribes against Israel, its leader, and the alleged powerful Jewish lobby, but there were also thoughtful and positive comments. Times editors, however, typically chose to highlight only an anti-Netanyahu comment.
But perhaps the most ludicrous media reaction was that of the AP's Josef Federman, who faulted Bibi for presenting an Israeli vision and perspective, but not the Palestinian, anti-Israel arguments . Federman supplies the anti-Israel arguments himself and has the chutzpah to call his article " FACT CHECK: Netanyahu speech ignores rival claims". This is a new low for the AP, who have never levelled such criticism at Palestinian leaders. Nor has the AP "corrected" Palestinian claims with a "fact-check" that relays Israel's claims. Unbelievable.
Posted by RH at 04:13 PM | Comments (2)
Finally, NY Times Clearly Tells Readers Who Refuses Negotiations
In a rare moment of precision and clarity, the New York Times on Saturday finally reminded readers of the immediate reason for a lack of negotiations between Israelis and Palestinians. Isabel Kershner wrote:
It was the Palestinians who walked out of the last round of peace negotiations last September after a partial Israeli moratorium on building in the settlements expired. In order to return to talks, Palestinian officials say, they want to hear Mr. Netanyahu agree to the 1967 lines as the basis for negotiations and a renewed, if temporary, settlement freeze.

In the absence of negotiations, the Palestinian leadership plans to seek international recognition of a Palestinian state in the United Nations General Assembly in September, an idea that is opposed by the United States and that could isolate Israel.
True, she didn't mention here that the Palestinians held of on commencing "the last round of peace negotiations" for months, until just before the temporary building moratorium was set to expire. But the language is nonetheless much clearer than the newspaper tends to be.
For example, in February Kershner herself wrote: "Short-lived negotiations stalled in September after a 10-month Israeli moratorium on building new homes in Jewish settlements in the West Bank expired," as if the negotiations stalled mysteriously on their own. Likewise in April, Kershner and her colleague Ethan Bronner opted for language that obscured Palestinian refusal to negotiate with Israel: "The last round of Israeli-Palestinian peace talks broke down soon after they started last September when an Israeli moratorium on construction in West Bank settlements expired."
Posted by GI at 03:58 PM | Comments (0)
New York Times Conceals Partisanship of "Nonpartisan" Source
CAMERA has increasingly focused attention on the New York Times' biased coverage of the Israeli-Palestinian conflict. An article appearing on May 23, 2011, "Obama Presses Israel to Make 'Hard Choices,' " demonstrates how this bias seeps into what is ostensibly objective news reporting. For a summary assessment of President Obama's message to attendees at an AIPAC conference, reporter Helene Cooper turned to Daniel Levy, without disclosing his partisan views and affiliations.
Cooper described Levy as "a former Israeli peace negotiator and a fellow at the New America Foundation, a nonpartisan research group." While technically not wrong - Levy did serve as an assistant to former Prime Minister Ehud Barak during peace negotiations in 1999-2001 and the New America Foundation does describe itself as non-partisan - Cooper left out some important and relevant information.
Levy was a co-founder and a key policy formulator of J Street, an organization set up in opposition to AIPAC, which advocates a tougher American stance towards Israel on the peace process. Earlier this year, J Street tried to block a U.S. veto of a UN Security Council Resolution that, had it passed, would have redefined Israeli settlement over the 1949 armistice lines as illegal. This would have amounted to a repudiation of a key provision of UN Security Council Resolution 242, which has served as the basis for American policy since 1967. Considering that the main source of controversy stirred up by President Obama's speech on May 19, 2011 was his reference to the "1967 lines," failing to disclose Levy's advocacy on this issue is deceptive to say the least.


Levy was also invited to provide his opinion on what President Obama should say in a May 18, feature piece, in which he opined,
The business-as-usual approach, indulging dangerous and anachronistic illusions of Israeli impunity, does the greatest disservice not only to the Palestinians but also to American national interests, and notably, to Israel itself.
Levy's views have stirred up controversy before. He was quoted during a discussion in Qatar, "I believe that where Jewish history was in 1948 excused, for me – it was good enough for me – an act that was wrong." Some interpreted this statement as indicating Levy thought the creation of the State of Israel was a mistake.
At J Street's 2011 conference, he stated,

If we're all wrong, if we're all wrong and a collective Jewish presence in the Middle East can only survive by the sword, it cannot be accepted, it's not about what we do. Sound familiar? They hate us for what we are, not what we do. If that's true, then Israel really ain't a very good idea. (American Thinker)
A news article reporting on President Obama's speech to AIPAC should have disclosed that the analyst summing up the President's message has an extensive record of opposition to AIPAC and disagrees with its ideological underpinnings.
Posted by SS at 01:39 PM | Comments (1)
CAMERA/Luntz Poll: American Jewish Support for Israel is Strong
A new poll commissioned by CAMERA and conducted Frank Luntz Global shows strong Jewish American backing for Israel. The Jerusalem Post reports:
A new poll of the American Jewish community finds deep and ongoing support for Israel, contradicting recent speculation that American Jews were becoming disaffected with the Jewish state.

The poll of over 1,000 American Jews, conducted on May 16 and 17 by Frank Luntz of Frank Luntz Global, on behalf of the Committee for Accuracy in Middle East Reporting in America, shows commitment to Israel and its right to self-defense, and fear for its security.

CAMERA Executive Director Andrea Levin said that there had been no recent polling on the issue and that her organization wanted to get data and examine whether or not support for Israel within the Jewish community was declining or not.

"There's been lots of talk about fraying of support ­ the J Street phenomenon, Peter Beinart and others have suggested that there's a drift and there is lots of talk about new ways to criticize Israel, and that there's a component of the community greatly disaffected," Levin said. "We were very happy to see empirically how strong the support is." Ninety-four percent of respondents said that if Israel "no longer existed tomorrow," they would feel that was a tragedy, with nearly one in four saying they would consider such an event to be the "biggest tragedy of my lifetime." Eighty-five percent said that Israel is "right to take threats to its existence seriously," and that Israel's concerns are not irrational or overstated.

"Some news media accounts have tended to amplify a vocal fringe in the American Jewish community that espouses extreme views and politics far out of the mainstream," Levin said. "This poll clarifies what American Jews actually feel and believe." Levin said "the overwhelming majority of American Jews" are aware of threats to Israel, protective of Israel and strongly opposed to boycotts against the Jewish state.
Posted by TS at 03:00 AM | Comments (0)
May 23, 2011
Dore Gold Explains '67 Lines
Writing in the Wall Street Journal, the president of the Jerusalem Center for Public Affairs and former UN ambassador explains:
Remember that before the Six Day War, those lines in the West Bank only demarcated where five Arab armies were halted in their invasion of the nascent state of Israel 19 years earlier. Legally, they formed only an armistice line, not a recognized international border. No Palestinian state ever existed that could have claimed these prewar lines. Jordan occupied the West Bank after the Arab invasion, but its claim to sovereignty was not recognized by any U.N. members except Pakistan and the U.K. As Jordan's U.N. ambassador said before the war, the old armistice lines "did not fix boundaries." Thus the central thrust of Arab-Israeli diplomacy for more than 40 years was that Israel must negotiate an agreed border with its Arab neighbors.

The cornerstone of all postwar diplomacy was U.N. Security Council Resolution 242, passed in November 1967. It did not demand that Israel pull back completely to the pre-1967 lines. Its withdrawal clause only called on Israel to withdraw "from territories," not from all territories. Britain's foreign secretary at the time, George Brown, later underlined the distinction: "The proposal said 'Israel will withdraw from territories that were occupied,' and not from 'the' territories, which means that Israel will not withdraw from all the territories."
Posted by GI at 12:34 PM | Comments (4)
May 22, 2011
LA Times Letter: Jewish Newspaper for Christian Sharia
Terrell Roberts of Northridge, Calif., argued in a letter published in the Los Angeles Times Friday:
It is strange that the conservative forces behind the drive to make us fear Sharia are the same ones that are trying to impose their Christian version here (anti-gay rights, anti-abortion, abstinence-only education and so on).

. . . .we just had a conservative newspaper in Israel delete Hillary Rodham Clinton's image from the picture of Obama administration officials in the Situation Room during the Osama bin Laden raid. . .
In fact, the newspaper that deleted Hillary Clinton's image was American, not Israeli. As the Associated Press reported:


An Orthodox Jewish newspaper has apologized for digitally deleting Secretary of State Hillary Clinton from a photo of President Barack Obama and his staff watching the operation that killed Osama bin Laden.

The Brooklyn weekly Di Tzeitung (deet SEYE'-tuhng) published the image last week.
"It is strange," (to borrow Mr. Roberts' words), that he points to the activities of an Orthodox Jewish newspaper to argue that "conservative forces behind the drive to make us fear Sharia are the same ones that are trying to impose their Christian version here." (Emphasis added.) Faulty logic aside, the factual error warrants a correction.
May 26 Update: The LA Times corrects
Posted by TS at 08:02 AM | Comments (0)
Ha'aretz Lost in Translation, VI
Ha'aretz's chronic lost in translation affliction rears its head again, albeit in a slightly more complex strain.
A news analysis by Aluf Benn in Friday's (May 20) English edition, states:
Netanyahu will have to reply to Obama by accepting the principle of "1967 borders with agreed land swaps."
Except that's not what President Obama actually said. His words were:
The borders of Israel and Palestine should be based on the 1967 lines with mutually agreed swaps, so that secure and recognized borders are established for both states.
The difference between lines and borders is significant. Of course, Aluf Benn isn't the first to misrepresent Obama's words. He's just the first (that we're aware of) who did it in a direct quote, an even more galling journalisitc wrongdoing.
The Hebrew version of this article, especially the second half, is not a direct translation of the English edition. Since the misquote does not appear in the Hebrew version it's hard to know where the error was introduced -- either Aluf Benn, who wrote in Hebrew, mistranslated Obama's words and the English translator did not bother to check the original speech, or a translator or editor is responsible for the misquote.
Posted by TS at 04:41 AM | Comments (2)
May 19, 2011
The President's Speech and the AP
Don't let the media tell you otherwise: President Obama referred to '1967 lines,' not borders (Illustrative image)
An AP story filed shortly after President Obama's Middle East speech was short -- only three paragraphs -- put it packed in a serious factual error a whopping four times ("Obama says Palestine must be based in 1967 borders.")
Three times the article incorrectly refers to the 1967 lines as borders, while President Obama himself did not use that inaccurate language.
The article begins: "President Barack Obama is endorsing the Palestinians' demand for their future state to be based on the borders that existed before the 1967 Middle East war . . . "

No border existed between Israel and the West Bank before the 1967 war. The lines, established April 3, 1949 by Article III of the Israel-Jordan Armistice Agreement, are not borders but armistice lines, temporary boundaries to be replaced in the future by a negotiated, internationally recognized border.

The second and third paragraph of the AP article also refer incorrectly to the "1967 border." (Thus each paragraph of the brief story, plus the headline, uses the incorrect terminology.)

As for President Obama, what he actually said was: "The borders of Israel and Palestine should be based on the 1967 lines with mutually agreed swaps, so that secure and recognized borders are established for both states."

Posted by TS at 02:00 PM | Comments (5)
May 18, 2011
Amnesty International Reveals its Bias in its Statement on Nakba Day Infiltrations
Amnesty International published a statement demanding Israel investigate its actions in response to the Nakba Day border assault by activists in Lebanon and Syria. The statement 's wording and focus reveals the organization's sharp bias.
From the Amnesty statement:
The Israeli government and military have characterized the protests as "riots" and attempts to "infiltrate" into Israel illegally, and in several of the protests, demonstrators threw rocks towards Israeli troops. According to the Israel Defense Forces (IDF), 13 IDF personnel and three Israeli civilians were lightly injured by rocks, and protesters tried to breach the fence at the Lebanese and Syrian borders. Israeli officials have not claimed that any protesters fired on Israeli troops.
Amnesty uses "scarequotes" for Israeli descriptors like infiltrate and riots while omitting similar qualifiers in describing the activists as protesters and demonstrators even though those who engage in rock-throwing with the intent to harm and breaching border fences are appropriately described as rioters and infiltrators.
Two paragraphs later, Amnesty implies that Israeli forces fired on activists as they "marched towards the Israeli border at Maroun al-Ras." But the Israelis claim that they only fired on the activists who tried to tear down the fence and breach the border. The difference here is significant and Amnesty must know that, yet it misrepresents the situation.
Amnesty's bias is equally evident in its description of the border infiltration in the Golan Heights:
Palestinian and Druze protesters in the Syrian-administered part of the Golan succeeded in breaching the UN-patrolled border and entering the town of Majdal Shams in the Israeli-occupied part. Israeli forces opened fire, killing two demonstrators and injuring more than 20, some of them critically. The IDF and Israeli police sealed off the town and conducted house-to-house searches for "infiltrators", who were forcibly returned to Syria.
Why are there scarequotes for infiltrators? Is there really any question that those who illegally crossed the border and hid in an Israeli town are infiltrators? Could it be that Amnesty uses scarequotes to make a subtle political statement that it does not regard the infiltrators from Lebanon and Syria as infiltrators because Amnesty does not recognize Israel's legitimate sovereignty over its territory?
Amnesty goes on to condemn Israel for blocking Israeli Arabs from joining with the demonstrators on the Israeli side of the border, apparently unconcerned with the riot potential that would have entailed.
It describes Israeli legislation to reduce government funding of organizations that commemorate "Israel's Independence Day or the day of the establishment of the state as a day of mourning" as a "major assault on freedom of expression in Israel."
One will look in vain for any mention by Amnesty International of the actions of the Syrian government and the Lebanese terror group Hezbollah in transporting the participants and fomenting the riots.
Posted by SS at 04:23 PM | Comments (2)
Netanyahu Releases Signed Response to Abbas' NY Times Op-Ed
Yesterday, Israeli Prime Minister Benjamin Netanyahu called PA President Mahmoud Abbas out for "blatantly distorting known historical facts" in his falsehood-ridden New York Times Op-Ed. More unusual is his release of a signed response to the Op-Ed, pointing out Abbas' distortions. Sources in the Israeli prime minister's office sum up Abbas' Op-Ed strategy as follows:
One can only conclude from this article that Abbas has decided to turn his back on even pretending to be walking the road of peace, and instead chose the strategy of setting up a Palestinian state and then using this improved position to wage a diplomatic and legal war against Israel.
Posted by RH at 03:45 PM | Comments (2)
NPR's On Point Avoids Evenhanded Middle East Discussion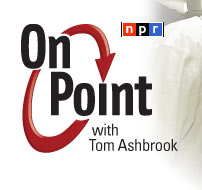 A May 9 On Point discussion, "The Fatah-Hamas Deal," was not evenhanded. Instead of a debate between David Horovitz, Jerusalem Post Editor-in-Chief, and Sari Nusseibeh, President and professor of philosophy at Al-Quds University of Jerusalem, the program was a lopsided presentation of the Israeli and Palestinian positions: Mr. Horovitz was limited to seven minutes of air time while Mr. Nusseibeh, who followed him, was allotted 38 minutes. That's more than a 5 to 1 air-time ratio for the Palestinian position versus the Israeli position.
Horovitz, expressing a mainstream Israeli viewpoint, noted the improbability of obtaining a viable peace deal with a Palestinian partnership that includes Hamas, who is committed (according to its charter, statements and actions) to destroying Israel. Nusseibeh presented the viewpoint that Israel should not oppose the Fatah-Hamas union. He disingenuously equated Israeli right wing parties with Hamas:
Just as in Israel where you have opposition parties that do not believe in real peace or compromises with the Palestinians, certainly it is possible also to have people on the Palestinian side that share the same kind of sentiments but in the opposite direction.
One small matter is overlooked here: Israeli parties rejecting the viability of peace with Palestinians don't terrorize their Arab neighbors with hundreds of rocket attacks.
Host Tom Ashbrook is no stranger to providing unbalanced Middle East On Point discussions as CAMERA has documented here, here, here and here.
Ashbrook and On Point can be contacted or e-mailed at onpoint@wbur.org
Posted by MK at 02:24 PM | Comments (0)
Ha'aretz Interviewee Recalls Past Life Memories?
While Mahmoud Abbas was busy rewriting 1948 history in the New York Times yesterday, another, lesser-known, Arab public figure was apparently peddling his bobe-mayse in Ha'aretz . In a "Head to Head" interview with Eli Ashkenazi, Salman Fakherldeen, the public relations officer of Al-Marsad, the Arab Center for Human Rights in the Occupied Golan, refers to the "Nakba Day" infiltrations into Majdal Shams, and recalls:
It was as if the clock turned back, to 1948. I remember the village then full of refugees expelled from their homes, walking in the opposite direction, toward where their children and grandchildren came from on Sunday. I can really hear the echo of past history.
A powerful image, and a powerful memory. It apparently moved Ha'aretz editors, who selected it for a pull quote: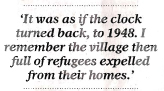 There's just one problem. The events of 1948 transpired 63 years ago. According to the article, Salman Fakherldeen is 57. The first sentence reads:
Salman Fakherldeen, 57, of Majdal Shams, is the public relations officer of Al-Marsad, the Arab Center for Human Rights in the Occupied Golan.
As we see it, there are three possible explanations for this conundrum.
1) Ha'aretz misreported his age. At the very minimum, how old would Mr. Fakherldeen have to be to so clearly remember events of 63 years ago? Probably around 67. Is this the image of a man closing in on his 70s?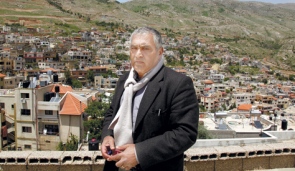 2) He is recalling memories from a past life.
3) He is fabricating.
(See here for another personal 1948 conundrum.)

Posted by TS at 01:05 PM | Comments (1)
May 17, 2011
Palestinian Woman Celebrates Nakba By Calling for Massacre
MEMRI has captured a video of a 92-year-old woman calling for the massacre of Jews in Hebron. Speaking to a reporter from Al Aqsa TV on the Jordanian border on May 13, she brags that her father brought some booty home from Hebron after the 1929 massacre. For this woman, those were the good ol' days.
Posted by dvz at 03:29 PM | Comments (0)
The 1967 Armistice Line was an Armistice Line

Writing in Ha'aretz about Benjamin Netanyahu's recent speech, columnist Akiva Eldar complains that
the truly important things were those not said in the speech. Netanyahu did not let the magic number that all of the world's leaders expected to hear cross his lips: 1967. The key to the negotiating room is Israeli recognition of the borders of the fourth of June 1967.
This may fairly describe the Palestinian negotiating position. But in fact there was no international border on June 4, 1967. The line between Israel and the Jordanian-occupied West Bank in place then was the armistice line from 1949. And the drafters of United Nations Security Council Resolution 242 have repeatedly made clear that the Security Council does not regard it as a "border" to which Israel should return.
For example, British UN representative Lord Caradon had explained:
It would have been wrong to demand that Israel return to its positions of 4 June 1967 because those positions were undesirable and artificial. After all, they were just the places the soldiers of each side happened to be the day the fighting stopped in 1948. They were just armistice lines. That's why we didn't demand that the Israelis return to them and I think we were right not to ...
Posted by GI at 02:41 PM | Comments (0)
Abbas Rewrites History in NY Times
It's not particularly surprising that Mahmoud Abbas, often dubbed "moderate" by the media (as opposed, for instance, to the "hawkish" Netanyahu), would fabricate about the past, contradicting a clear historical record.
Moreover, given the direction of the New York Times coverage in recent months, it's no longer even surprising that the paper would allow Abbas to fabricate in its pages. It's not surprising, but it's also not excusable.
Details here.
Posted by TS at 07:57 AM | Comments (1)
Grave Cover-Up at NY Times
On Monday, or "Nakba Day," when thousands of Syrians gathered at the Israeli border, and more than 100 infiltrated Israel, another news story unfolded within Syria. As reported by the Los Angeles Times, and many other media outlets, such as AFP, Reuters, CNN, and the Washington Post, a mass grave containing the bodies of at least 40 anti-government protesters was uncovered. The Los Angeles Times reported:
A mass grave allegedly filled with the bodies of as many as 40 antigovernment protesters killed by Syrian forces was discovered Monday near the southern city of Dara, where an uprising began two months ago, according to activists and accounts from others.

Video posted to the Internet showed men wearing protective gear and operating backhoes digging up bodies in an area called Zemla Mohammad Sari Hill, southeast of Dara. The dead included women and children. Some of the video was gruesome, showing mangled, decomposing and half-clothed corpses. . . .Activists said the bodies included those identified by relatives as Abdulrazaq Abdulaziz Abazeid and four of his children, who disappeared in the recent wave of protests against the Assad family's 41-year rule.

Abazeid's wife suffered a fatal heart attack Monday after learning of the deaths of her husband and children, according to Radwan Ziadeh, director of the Syria-based Damascus Center for Human Rights Studies.

"We don't know how many people exactly are in the grave," Ziadeh said in a telephone interview from Washington. "According to two sources, maybe 40 people were in there. The victims had gunshot wounds, and some of the bodies were without limbs."
The New York Times' failure to report the grave's discovery -- whether intentional or not -- speaks volumes about the Gray Lady's obsession with Israel.
This YouTube purports to show the digging up the Daraa grave. (CAMERA has not verified its authenticity.) Warning, this is not easy to watch.
Posted by TS at 06:13 AM | Comments (2)
Bronner Can't Resist: Netanyahu's 'Hawkish Approach'
New York Times' Jerusalem bureau chief Ethan Bronner just can't help himself. He's writing about Netanyahu's ideas for a future Palestinian state, so he has to work in the term "hawkish." Today he writes:
Days before Prime Minister Benjamin Netanyahu is to meet with President Obama, he laid out his principles Monday for accepting a Palestinian state, showing greater flexibility on territory but still pursuing a far more hawkish approach than any Palestinian leader is likely to accept.
As Elder of Ziyon notes:
Netanyahu has proposed something very close to the Clinton parameters of 2001 (the major exceptions being the recognition of Israel as the "Jewish state," and possibly parts of Jerusalem.) But when a Likud leader proposes a compromise that gets utterly rejected by Palestinian Arabs without even a counter-offer, it is Israel that is regarded as being intransigent and "hawkish."

Recall, also, that it is Abbas who is refusing to hold talks, not Netanyahu.

By any yardstick, it is Abbas who is being "hawkish." But that doesn't fit into the NYT meme of Israel being the guilty party in negotiations.
Even Ha'aretz, hardly a fan of Netanyahu, gets it right. Yossi Verter, in "Dove masquerading as a hawk," writes:
He spoke of preserving the settlement blocs, i.e. returning to the 1967 borders with slight adjustments. He also announced Israel would maintain "a military presence," rather than sovereignty, along the Jordan River. By this he adopted Dan Meridor's formula and Ehud Barak's position. These two have been urging him for two years to make such statements.

This was undoubtedly Netanyahu's most dovish speech this term. More dovish even than the Bar-Ilan speech of two years ago. But it was accompanied with a host of rightist mannerisms, aggressive and pessimistic statements and belligerent body language. It was a dove masquerading as a hawk.
Posted by TS at 05:07 AM | Comments (1)
Shadid: Border Breach Not a Case of Spring Fever
An insightful analysis by Bronner's colleague Anthony Shadid undercuts Bronner's contention that the rally was "inspired by recent popular protests around the Arab world." Shadid writes:
Few questioned the sincerity of the Palestinian refugees who flocked to the border; the day that marks Israel's creation remains a searing date in the Palestinian psyche, and they cited the upheavals of the Arab Spring as inspiration. But as is often the case in modern Arab politics, they may have found themselves in a more cynical conflict that involves power, survival and deterrence and in which, to varying degrees, Iran, Israel, Turkey and the United States have a stake in the survival of a government that is bereft of legitimacy except as a force for a notion of stability.

"It's a message by the Syrian government for Israel and the international community: If you continue the pressure on us, we will ignite the front with Israel," said Radwan Ziadeh, a Syrian dissident and visiting scholar at George Washington University. . . .

Mr. Ziadeh, citing informants in Damascus, said at least four buses were seen Saturday leaving two camps where factions most loyal to Syria exert control.

"For 40 years, the Syrians have very effectively prevented infiltration, which shows that the Syrians have their hand on the faucet," said Yoni Ben-Menachem, an Israeli analyst. "This also demonstrates the unwillingness of both Israel and the U.S. to see the removal of Bashar Assad" — as long as he keeps the border with Israel quiet.
The online version of the article is accompanied by this interesting photo and caption:
A student fleeing unrest in Syria was greeted by relatives after crossing over into Israel last week
Other than this photo caption, the NY Times ignored those defectors who fled from Syria and sought refuge in Israel. As Ynet reported:
"I'm tired of living in Syria, we'd rather die than see more bloodshed," one of the Syrian infiltrators into Majdal Shams told Ynet earlier. He called on Israel to grant him asylum, adding: "We've crossed the border in order to stay with our families, away from all the killing in Syria. We ask the powers at be in Israel to help us stay and not send us back." Other infiltrators told Ynet that "we come in peace," adding that they had decided to cross the border in the aims of living in the Golan Heights – "even if it means risking our lives." Still, others declared "we are here to liberate the Syrian Palestinian land. These people are Palestinian freeman, Allah willing, the Palestinian groups will not give up."

Some of those expressing a wish to remain on the Israeli side of the border, said the uprising against Syrian President Assad is proving more and more dangerous and that many Palestinians now fear for their lives.
Posted by TS at 04:08 AM | Comments (0)
Roger Cohen and the Tony Follies
Note to Roger Cohen: Bring on the Kushner Quotes
Roger Cohen weighs in on the Tony Kushner brouhaha, noting that "a trustee called Jeffrey Wisenfeld . . . suggests Kushner is an 'extremist' opponent of Israel."
Instead of letting readers decide for themselves whether or not Kushner is an extremist, by citing Kushner's own words (calling Israel a "mistake," blaming "the existence of Israel" for "world peril," and accusing the Jewish state of ethnic cleansing), Cohen gives his own gloss of the author's views:
For anyone familiar with the Judt saga, Kushner's travails have a familiar ring. He's interested in historical facts, which include Palestinians being driven from their homes in 1948; he's appalled by the ongoing Israeli settlement policy and is a board member of an organization that has supported boycotting West Bank settlements (although Kushner told me he's against a boycott); he's mused about one state.
It's not that Roger Cohen isn't familiar with concept of citing quotes concerning the Israeli-Palestinian conflict. He did find one quote, that of trustee Wiesenfeld, about whom he wrote:
Wiesenfeld, by the way, is not sure Palestinians are human given that they "worship death for their children."
He also quotes Kushner about his views on the American scene, writing:
Kushner told me he believes "there is a very significant change underway." Americans are realizing there is "a terrible need for a dose of debate" on Israel and that "silent acqiescence" to those "whose politics are based substantially on fantasy and theological wishes" is dangerous.
Silencing of debate on the country which is teeming with foreign news reporters? And let's recall, the other Tony that Kushner glorifies, Tony Judt, wasn't silenced, but was published in the prestigious New York Review of Books and republished (in a shorter version) in the Los Angeles Times.
If Cohen is concerned about silencing debate, he should ask himself: why did he consider little-known Weisenfeld's inconvenient views on the Israeli-Palestinian conflict quotable, but those of Pulitzer-prize winning author Tony Judt not quotable? Cohen, please, publish Kushner's statements so they too will be subject to a genuine "dose of debate."
Posted by TS at 03:12 AM | Comments (1)
Goldberg on Bronner's Nakba Day Coverage
Jeffrey Goldberg calls out the New York Times' Ethan Bronner on his acceptance of Hamas' party line regarding Nakba Day events:
Ethan Bronner, writing in the Times, states:

(T)his is the first year that Palestinian refugees in Syria and Lebanon tried to breach the Israeli military border in marches inspired by recent popular protests around the Arab world. Here too, word about the rallies was spread on social media sites. "The Palestinians are not less rebellious than other Arab peoples," said Ali Baraka, a Hamas representative in Lebanon.

Ethan Bronner is a very smart person, so I'm not sure why he's accepting the Hamas/Assad/Iran line on these protests. Consider: These borders, in particular the Syria-Israel border, have seldom, if ever, seen demonstrations like this. The Syria-Israel border is a notably quiet place; Hafez al-Assad, the late dictator, and his son, Bashar, the current dictator, have kept the border quiet for decades. But now there is widespread revolt in Syria, which threatens not only the Syrian regime, but its ally, the Islamic Republic of Iran, and its Lebanese proxy, Hezbollah. So far, Bashar's security forces have slaughtered almost a thousand Syrian citizens. So what would you do if you were a cynical Syrian dictator, or a cynical ally of the cynical Syrian dictator? Change the subject. To what, you might ask? Well, Israel, of course.
For an overview analysis of "Nakba Day" coverage (including Time Magazine, the Christian Science Monitor and the Washington Post, among others), see here.
Posted by TS at 02:24 AM | Comments (0)
May 16, 2011
Hamas Leader Calls for the "End of the Zionist Project"
In a hardline speech to thousands of Muslim worshippers to mark "Nakba Day," Hamas Prime Minister Ismail Haniyeh affirmed the right to "resist" Israeli "occupation and said Palestinians mark the occasion this year "with great hope of bringing to an end the Zionist project in Palestine."
So much for Jimmy Carter's confidence that the reconciliation between "Fatah and Hamas will "increase the likelihood of a two-state solution and a peaceful outcome"...
Posted by RH at 09:33 AM | Comments (0)
May 13, 2011
Polls Reveal Strong Support for Israel in American Jewish Community
Polls of American Jewish opinion on Israel demonstrate that American Jews continue to strongly support Israel. The surveys, conducted under the auspices of the American Jewish Committee (AJC) and published in March and October 2010, also highlight the disagreement most American Jews have with the positions taken by organizations like J Street who advocate increased American pressure on Israel to make concessions. The fact that self-identifying Democrats outnumbered Republicans by 3 to 1 among the survey respondents refutes any notion that support for Israel has softened among Jewish Democrats.
The American Jewish Committee's Survey of American Jewish Opinion is usually conducted annually to gauge American Jewish attitudes towards Israel. The surveys refute claims disseminated by some in the media that Jewish support for Israel is waning in America. 3 out of 4 respondents felt very close or somewhat close to Israel, a figure slightly up from ten years ago. Responses to most questions produced similar results as prior years.
By over 2 to 1 (62 to 27 percent) American Jews surveyed for the October poll approve of the way Israeli Prime Minister Benjamin Netanyahu is handling Israeli-American relations. Some 49 percent approve of President Barack Obama's handling of Israeli-American relations with a disapproval figure of 45 percent. President Obama's approval numbers have declined since the March 2010 survey (55 percent in March) and his disapproval numbers have risen (37 percent in March).
By large majorities, American Jews oppose any division of Jerusalem (60 to 35 percent), believe that the real Arab goal is to destroy Israel (76 to 20 percent) and are convinced that no peace agreement is possible with Hamas (82 to 14 percent).
These results repudiate the political stance championed by J Street and contradict the group's claim to represent the views of mainstream American Jews. J Street supports the division of Jerusalem, welcomes the new Fatah-Hamas unity government because it believes it is necessary to bring Hamas into the process and is highly critical of Prime Minister Netanyahu. All of these positions are rejected by the majority of respondents.
J Street has repeatedly pointed to the settlements as a crucial obstacle to a peace settlement with the Palestinians. While J Street does support retaining some settlements, it is strongly critical of efforts to sustain them and Jewish neighborhoods in east Jerusalem, opposing even measures to accomodate natural growth and believes that Israel should make up for any land it keeps in the West Bank by ceding an equal amount of Israeli territory. The AJC survey indicates that 93 percent of the respondents think that Israel should either keep all the settlements or dismantle just some.
Most significantly, American Jews attach great importance to Palestinian recognition of Israel as a Jewish state (95 percent). Clearly any political platform that seeks to brush aside this requirement is out of step with the American Jewish public.
The AJC survey, and others like it, are important to disseminate in order to provide the public with an accurate portrayal of mainstream American Jewry's opinions about Israel and the peace process.

(an earlier version incorrectly described the survey as having been conducted in 2011)

Posted by SS at 11:05 AM | Comments (1)
May 12, 2011
Andrew Sullivan Admits Shamir Misquote
Yitzhak Shamir
There is a vast literature of bogus Zionist quotes. Andrew Sullivan of the Daily Beast is the latest to fall for one. Read here about Sullivan's attribution of a bogus Palestinian-are-cockroaches quote to Yitzhak Shamir, and his subsequent acknowledgment of the truncated original quote. (But he claims his point still stands.)
Posted by TS at 03:47 AM | Comments (1)
U.S. Jewish Paper Apologizes for Photoshopped Image
The photo which had been altered
The AP reports:
An American Orthodox Jewish newspaper apologized on Monday for digitally deleting Secretary of State Hillary Rodham Clinton from a photo of President Barack Obama and his staff monitoring the raid by Navy SEALs that killed Osama bin Laden.

The Brooklyn weekly Di Tzeitung, which says it doesn't publish images of women, printed the doctored photo Friday. It issued a statement saying its photo editor hadn't read the fine print accompanying the White House photo that forbade any changes. The newspaper said it has sent its regrets and apologies to the White House and the Department of State.
Posted by TS at 02:51 AM | Comments (2)
May 11, 2011
Explicit Hamas, Vague Hamas
Not quite a year ago, Hamas leader Mahmoud Zahar explicitly told Future TV that his organization is pursuing a "phased plan" to destroy all of Israel and replace it with a Palestinian state.
MEMRI translated:
We have liberated Gaza, but have we recognized Israel? Have we given up our lands occupied in 1948? We demand the liberation of the West Bank, and the establishment of a state in the West Bank and Gaza, with Jerusalem as its capital – but without recognizing [Israel]. This is the key – without recognizing the Israeli enemy on a single inch of land. This is our plan for this stage – to liberate the West Bank and Gaza, without recognizing Israel's right to a single inch of land, and without giving up the Right of Return for a single Palestinian refugee. ...

Our plan for this stage is to liberate any inch of Palestinian land, and to establish a state on it. Our ultimate plan is [to have] Palestine in its entirety. I say this loud and clear so that nobody will accuse me of employing political tactics. We will not recognize the Israeli enemy.

As for the issue of a referendum – [the Palestinian Authority] is ready to impose its position on people by force. Whoever wants to hold a referendum, and believes that he can get all of Palestine for the Palestinians, can hold a referendum, but will not give up the platform of resistance, and the plan to liberate Palestine in its entirety. This is unequivocal. ...

If we could liberate the Negev now, we would continue [our military activity], but our capabilities dictate that after we got rid of the Israeli presence in Gaza, we must finish off the remnants of that occupation, and move on to the West Bank.
Lately, Hamas leaders have been emphasizing one aspect of this plan: that they will accept a state in the West Bank and Gaza Strip.
As long as these more recent, and vaguer, pronouncements by Hamas leaders are compatible with the policy enunciated by Zahar during the June 15, 2010 television program — and until they explicitly announce in Arabic to their public that they recognize Israel's right to exist and are willing to live in peace alongside the Jewish state — any sensational media claims that the group is seeking a two-state solution or implications that it is "steering away" from its desire to replace Israel with an Islamic Palestinian state, can only be seen as wishful thinking, if not intentional obfuscation.

Posted by GI at 12:11 PM | Comments (2)
May 10, 2011
Extremists Can Tweet, Too, Jason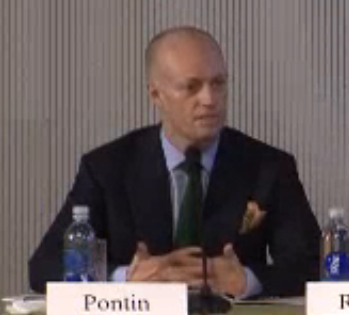 Jason Pontin, editor-in-chief and publisher of MIT's Technology Review
Given his position as editor-in-chief and publisher of Technology Review, a magazine published by the Massachusetts Institute of Technology (MIT), it would seem reasonable that Jason Pontin would bring a journalist's sensibility and curiosity to a panel about Egypt that he moderated at the school's Center for International Studies (CIS) on April 29, 2011.
He didn't.
Pontin had an opportunity to ask some important questions about the direction Egypt is headed because he was moderating a panel with Ahmed Maher and Waleed Rashed, both part of the April 6th Youth Movement which played a crucial role in the ouster of Egyptian President Hosni Mubarak. The internet played a crucial role in their strategy. (Video of the 90-minute event can be seen online here.)
With his obsession on how activists used Facebook and Twitter to achieve Mubarak's ouster, Pontin failed to ask some of the most basic questions about where the revolution is headed.
For example, Pontin failed to ask how Salafists and the Muslim Brotherhood are using the technologies the April 6th Youth Movement used to achieve Mubarak's ouster.
It's not pretty.
Even a cursory examination of Facebook, You Tube, and Twitter will reveal that these technologies are being used to foment hostility toward Christians in Egypt – and the rest of the Middle East. For example, if you search Twitter with the hashtag #freemysister, you will see numerous postings about the alleged kidnapping of Coptic converts to Islam by the Coptic church in Egypt. These accusations are, by most accounts, ridiculous. Nevertheless, these accusations have been used to incite anti-Coptic violence in Egypt. Churches are set on fire because of these accusations – broadcast on the very same technology used to initiate Mubarak's ouster. This is a crucial issue, but it didn't come up at all during the panel discussion.
The reality that Pontin seemed to miss altogether is that extremists can use the internet too. It's not as if access to the internet is limited to charismatic young activists intent on ousting a dictator. Just to drive the point home, an offshoot of Al Qaeda recently posted the names, addresses, phone numbers and photos of Coptic Christians living in Canada in a clear effort to intimidate this community into silence.
This reality was not addressed in any way shape or form during the panel. In fact, in nearly 90 minutes of discussion, the Muslim Brotherhood was not even mentioned, nor was their any mention of the Salafists who recently took over a mosque in Cairo and have been attacking Christian churches and Christian residences in Egypt.
To make matters worse, when an American Copt raised four substantive questions about the rights of Coptic Christians in Egypt and the prospects for continued peace between Egypt and Israel, (at about 1 hour and 10 minutes into the panel) Pontin narrowed the discussion down to two of the four questions. Why?
A careful viewer with even a passing knowledge of what's going on in Egypt would come away from the panel with some very troubling questions about exactly what is going on in Egypt these days.
First off, the presenters stated that only about 30 or 40 percent of the Egyptian population has access to the Internet and that approximately 30-40 percent of the Egyptian people are illiterate.
In an environment such as this, people who control radio and television have great influence – as do another group of people – the clerics from the Muslim Brotherhood and Salafists who control mosques throughout the country. Maybe mosques are too primitive and low-tech to warrant Pontin's interest, and maybe he's bored with traditional mass media but mosques, television, and radio still play a crucial role in the political communication in Egypt.
Another questioner raised a troubling issue that went unnoticed by Pontin. At about 1 hour and 20 minutes into the event a member of the audience asked the panel about the passage of a referendum determining how elections will proceed in the country.
The questioner, an Egyptian who clearly supported the revolution, reported that while political activists who worked to achieve Mubarak's ouster opposed the passage of the referendum, it still passed by a wide margin, with approximately 77 percent of the vote. (Activists opposed the passage of the referendum because in their opinion, it called for elections too soon after Mubarak's ouster, giving the Muslim Brotherhood, which is better organized than the other political groups in the country, a compelling advantage.)
This raises a serious question that Pontin, with his obsession with Facebook and Twitter, did not follow up on: Have the pro-democracy activists who initiated the campaign leading to Mubarak's ouster lost control of the events they set into motion? Regular and accelerating attacks on Coptic Christians seemed to suggest they have.
Is it really too much to ask that Jason Pontin – a journalist – raise these issues at MIT?
Should Maher and Rashed speak to American audiences in the future, one can only hope that whoever moderates their appearances does a better job of promoting discussion about what is actually happening in Egypt.
Sadly, as moderator, Pontin was clearly not up to the task.

Posted by dvz at 08:39 PM | Comments (0)
Comcast Decides Not to Carry Al Jazeera
Back in late February and early March, several articles appeared (AP, Philadelphia Inquirer) reporting on meetings between Al Jazeera representatives and executives from several Cable providers. Comcast was mentioned in both stories as a potential entrypoint for Al Jazeera into the American television market.
According to a piece published by Accuracy in Media, Comcast has decided not to carry Al Jazeera. The piece quotes David A. Jensen, Vice President for Content Acquisition at Comcast
We do not have an agreement with this service that would permit us to carry Al Jazeera English on our cable systems and Comcast is not currently in active talks to complete such an agreement
The article cites the efforts of Jeffrey Smith.
In contrast to the Comcast decision, the Accuracy in Media article reveals that the Columbia School of Journalism has decided to team up with Al Jazeera. Nicholas Lemann, Dean of the Columbia Journalism School, has worked out a deal where Columbia fellows will work in the Al Jazeera English newsroom for 12 weeks and will apparently be paid by the Qatar government that finances Al Jazeera itself.
CAMERA published a piece about Al Jazeera in March. While Al Jazeera does in-depth coverage of the Middle East, its reporting tends to reflect sympathy for the positions of the Muslim Brotherhood, and is almost uniformly negative towards Israel and American involvement in the region. Its English language opinion pieces present the monotonal viewpoint of veteran anti-Israel radicals.
Its Arabic language news service is worse, featuring Muslim Brotherhood icon Yusuf Qaradawi, who exhorts his audience to "Kill the Jewish Zionists, every last one of them." MEMRI exposed a birthday party for released terrorist and child murderer, Samir Kuntar, thrown by Al Jazeera's Lebanon affiliate. Apparently this hasn't dissuaded Dean Lemann and others at the Columbia School of Journalism.
Posted by SS at 04:06 PM | Comments (0)
An Expose on Amr Moussa, Egypt's Leading Presidential Contender
The New Republic has published a probing profile of Egypt's leading presidential contender, Amr Moussa. In "The Throwback" Eric Trager describes a candidate whose views would, at face-value, return Egypt's political culture to the openly anti-Israel attitudes it flaunted prior to the Camp David Accords and the Peace Treaty.
According to Trager, Moussa
-- gratuitously sparked outrage by indicating that he would refuse to visit the Yad Vashem Holocaust memorial.
-- opposed re-signing the Nuclear Non-Proliferation Treaty (NPT)—unless Israel signed it first.
-- backed Yasser Arafat's refusal to compromise on Jerusalem
-- called on the Arab world to support the Palestinian Intifada
-- declared the Palestinians' "right of return" to Israel a "sacred right"
-- told a group of Egyptian youths that the Camp David Accords had "expired"
-- called for a "no-fly zone" over Gaza
-- seeks to strengthen Arab-Iranian ties
Moussa is 75 years old, so he is likely to be a transition figure. But his popularity among the Egyptian public can only heighten concern over what will follow.

Posted by SS at 12:59 PM | Comments (1)
In Spectator, CAMERA Rebuts BBC
The piece, a brief excerpt of which is below, can be read here.
Readers should take note that, importantly, [BBC Panorama editor Tom] Giles does not directly refute even one of the points we made in the video, evidently seeking instead to distract readers with incoherent and incongruous commentary. He says nothing about BBC's out-of-context statistics. There is not a word of explanation for why the BBC twice relayed unsubstantiated and false accusations that Jerusalem is being ethnically cleansed of Arabs when, in fact, the city's Arab population is growing faster than its Jewish population. Nor does he attempt to explain why the BBC does not refer to acts of Palestinian terrorism even while it charges Jews with acts of violence.
Posted by GI at 12:08 PM | Comments (0)
May 09, 2011
Amr Moussa, Ayman Nour, Nabil Al Arabi: Camp David Accords Expired
In recent weeks, several potential Egyptian presidential candidates and prominent officials expressed the opinion that the Camp David Accords, which paved the way for a peace treaty between Israel and Egypt, have expired.
Leading presidential contender Amr Moussa has issued several statements to this effect. According to Memri
The Camp David Accords signed between Egypt and Israel have expired and no longer govern the situation, Arab League secretary-general and potential Egyptian presidential candidate Amr Moussa has said. Moussa, who participated in the negotiations with Israel in 1978, made the statements during a discussion with Egyptian youth. He added, "What governs the relationship between the two countries is the Arab Peace Initiative of 2002 and the Egyptian-Israeli treaty." (Source: Al-Masri Al-Yawm, Egypt, April 21, 2011)
Formerly jailed opposition candidate Ayman Nour holds a similar view
For all intents and purposes, Camp David is over, because it is an old treaty and its terms must be improved in a way that will correspond with Egypt's interests," said Nour, who is considered one of the more liberal opposition figures and has no ties to the Muslim Brotherhood. "The Egyptian rights must be improved, because these rights - as they appear in the Camp David accord – are very modest..."
Nabil Al-Arabi, presumptive foreign minister of Egypt explained:
We signed the peace treaty [with Israel], and we must abide by it. This is not open to discussion. We abide by it, but it must be properly implemented by both parties. We must implement it properly, and Israel must do the same.
I cannot say that Israel has violated the treaty. I really can't say that. But there are things... Take, for example, the Camp David Accord, the Camp David Accord was also signed, and it was incorporated into the treaty. The peace treaty starts off by reaffirming the Camp David Accord. In the Camp David Accord, as well as in the preamble to the peace treaty, it is established that Israel should establish peace with all the countries that are prepared to establish peace with it. The Camp David Accord states that Security Council Resolution 242 will be implemented upon the countries prepared to establish peace with Israel.
Today, the Palestinians agree to establish peace with Israel, but Israel is not responsive. Furthermore, Israel is building settlements on lands from which it must withdraw, according to Resolution 242. This is something that I want to reexamine. This is just an example, but I cannot say that Israel has violated any article of the peace treaty.
Another Presidential candidate, Mohamed El-Baradei, provided a potential scenario relevant to Egyptian rejection of the Camp David accords:
Former International Atomic Energy Agency chief Mohamed ElBaradei, who had previously announced his inte[n]tions to run for the presidency of Egypt, said Monday that "if Israel attacked Gaza we would declare war against the Zionist regime." In an interview with the Al-Watan newspaper he said: "In case of any future Israeli attack on Gaza - as the next president of Egypt – I will open the Rafah border crossing and will consider different ways to implement the joint Arab defense agreement." (Ynet, April 4, 2011)
The Muslim Brotherhood, viewed as one of the most powerful political forces in Egypt, also rejects the Camp David Accords, along with the Peace Treaty.

Moussa has consistently pushed this message. On Feb. 6 2010 in a friendly interview with David Frost on Al Jazeera, Moussa stated,
there is a growing feeling after the malicious assault against Gaza...this has a cast alot of doubt on the intentions of Israel...we have a lot of doubts about there real intentions, and about the will to establish peace with the arab countries, which is now under heavy doubt...[there] has to be two state solution or one state solution... what happened in Gaza should not go unpunished... those crimes should be put before a court [Israel] hit the hospitals and schools with no mercy and no commitment to international law...our sad experience until now after so many years of the peace process...is really negative...we have to take a decision on the direction of our efforts..."
He was also quoted in another story byAl Jazeera on May 31, 2010 concerning an investigation into the flotilla incident:
It will focus on two things: The crime itself, this military attack against people... and the message that there is no use in making peace with Israel, because Israeli policy is not interested in peace.
The Jerusalem Post and Haaretz reported as well on Mar. 27, 2010 Moussa's comments:
"We have to study the possibility that the peace process will be a complete failure"
Posted by SS at 03:57 PM | Comments (3)
May 08, 2011
Iranian Abducted in Paris

Mohammad Reza "Arash" Fakhravar
Hours after Iranian dissident Amir Abbas Fakhravar spoke at a CAMERA-sponsored event in Northbrook, Illinois on April 28, his brother was snatched by Iranian agents on a Parisian street and forced back to Iran. Read more about the abduction of Mohammad Reza "Arash" Fakhravar here.
Posted by TS at 03:43 AM | Comments (0)
May 05, 2011
Boston's Emily Rooney is Wrong About Israeli Women's Rights


Public radio station WGBH's May 4 Emily Rooney show aired a discussion entitled, "Shining A Light On Sexual Assault In The Peace Corps." About two thirds of the way through the segment, Rooney briefly touched on mistreatment of women in the Middle East, singling out by country name only Egypt and Israel for criticism:
After watching Lara Logan on [CBS'] "60 Minutes" on Sunday night – it was just unbelievable – telling a tale about her rape and sexual assault in February of this year while covering the uprising in Egypt. Two hundred or three hundred men jumped on her, raped her violently, tried to tear her limbs off – tried to tear her hair out. She was in a country – and she recognized as much and said – where women are not valued in the same way as men. That is true of a large part – if not the entire Middle East, Israel included – I'm sorry to say – and I really wonder – I mean, knowing that – that is the case, what can a Peace Corps do?
Sorry to say, Ms. Rooney, you are vastly misinformed about the position of women In Israel. They have equal rights and opportunities generally similar to that of women in other advanced countries. It is totally unjustifiable to equate, as you did, the generally problematic status of Middle East women with the status of Israeli women. While there are still some problems, as there are here in the U.S. and other Western countries, they pale in comparison to the problems faced by women in most Middle East societies, as typified by the Palestinian territories.
Freedom House, a non-partisan group that monitors the status of political, human and civil rights around the world, states about Israel (excerpt):
Women have achieved substantial parity at almost all levels of Israeli society. However, Arab women [in Israeli Arab communities] and religious Jewish women face some discrimination and societal pressures that negatively affect their professional, political, and social lives. In October 2009, the Transport Ministry outlawed so-called "modesty buses," on which women were forced to sit at the back, separate from men. The buses had recently been appearing in greater numbers in very religious Jewish neighborhoods of Jerusalem.
(The report mentions a recent prostitution problem but Israeli society and government are addressing this problem and remedying it.)
This contrasts sharply with a Freedom House report on the lack of rights of women, for example, in the Palestinian territories. Here is an excerpt:
The judiciary system in Palestine is composed of a hierarchy of courts. Women are not recognized as full persons before the courts as witnesses or in matters related to marriage, divorce, and custody of children. The Women's Center for Legal Advice and Counseling (WCLAC) report for 2000 states that the Palestinian judiciary exhibits views of women as "inferior" and that women generally are "looked down upon and treated with scorn." It also reports that "a divorced woman is treated as though she has been 'indicted' for failing to try to sustain the marriage."
Emily Rooney deserves to hear criticism of her uninformed and misleading assertion.
E-mail address: emilyrooneyshow@wgbh.org
Posted by MK at 04:52 PM | Comments (1)
Gideon Levy in a Fog of His Own
Press Secretary Jay Carney addressing reporters
Good journalists keep their mouths shut when they don't have a clue. In contrast, Gideon Levy's weak grasp of the facts has never quieted him before. Today is no exception. In his column today about the killing of Osama Bin Laden ("Rambo V"), he writes:
As it is wont to do, the United States cloaked the details of the operation with the fog of war. Was bin Laden armed? Was there a woman in the compound? Were shots fired? Nobody asks. Why spoil the best party in the world?
But these questions were asked, and answered -- at the higest level: the White House press briefing with press secretary Jay Carney two days ago, Tuesday, May 3. Gideon Levy sits in a fog of his own.
At Tuesday's briefing, one questioner addressed exactly the questions that Levy claims "nobody asks":
So Brennan in his briefing yesterday made a couple of I guess misstatements or statements that later appeared to be somewhat incorrect, such as that the wife was shielding bin Laden and it turned out it wasn't the wife and there may not have been a shield and it wasn't clear whether or not bin Laden had a gun. Are you guys in a fog of war in this, or what gives?
To which Carney answers, in part:
On the first floor of bin Laden's building, two al Qaeda couriers were killed, along with a woman who was killed in crossfire. Bin Laden and his family were found on the second and third floor of the building. There was concern that bin Laden would oppose the capture operation -- operation rather, and, indeed, he did resist.

In the room with bin Laden, a woman -- bin Laden's -- a woman, rather, bin Laden's wife, rushed the U.S. assaulter and was shot in the leg but not killed. Bin Laden was then shot and killed. He was not armed.
But why bother with the facts if it means passing up a chance to smear "the leader of modern imperialism"?
Posted by TS at 04:40 AM | Comments (0)
Ma'an Corrects 'Translation Error'
On Tuesday, Palestinian Media Watch exposed Ma'an News Agency's "translation" of an Arabic statement by Fatah's Al Aqsa Martyrs' Brigades calling for the use of force to achieve Islamic domination into an imaginary English call "to bring back peace."
Yesterday, PMW reports that Ma'an corrected:
The Jerusalem Post reported today that after PMW exposed the deceptive text, Ma'an removed it from its website. Ma'an then corrected the translation, put the statement back on the website, and informed the readers of the "translation error" as follows:

"This version CORRECTS a translation error in paragraph seven and adds new information."

The new and corrected Ma'an version is similar to PMW's translation:

"It [the Al-Aqsa Martyrs' Brigades' statement] added that "we tell the American and Israeli occupier that the nation which produced leaders who changed history with its Jihad and patience is a nation capable of invigorating the resistance, which extends across the nation and is capable of restoring the glory of Islam and its flag of unity, God willing." [Ma'an English, May 4, 2011]
The corrected Ma'an story is here.
Posted by TS at 03:38 AM | Comments (0)
Ha'aretz Lost in Translation, V
Earlier we linked to an article in Ha'aretz about a French court ruling against Israeli physician Dr. David Yehuda who challenged Jamal Al-Dura's claim that his injuries were from the disputed shooting of his son Mohammed.
We have just learned that that article is the victim of Ha'aretz's perennial Lost in Translation Affliction. The second paragraph of the English version states:
Al-Dura had sued Yehuda for libel after the doctor, who operated on him in 1994, exposed details from his medical file in order to back claims that the elder al-Dura's scars were the result of surgery - and not caused by the IDF fire that killed his son in September, 2000.
In the English version, Al-Dura's claim that "the IDF fire . . .killed his son in September, 2000" is presented as a fact. In the Hebrew version, Al-Dura's claim that IDF fire killed his son is presented as just that, a claim:
א-דורה תבע את ד"ר יהודה, שניתח אותו ב-1994, על שחשף פרטים מתיקו הרפואי כדי לתמוך בטענות שהצלקות שלו ישנות והן תוצאה של הניתוח, ולא נגרמו על ידי כדורי צה"ל שהרגו, לדבריו, את בנו
The operative word in the Hebrew version, missing from the English, is "לדבריו", or according to Al-Dura. Once again, the difference between Ha'aretz Hebrew and English is all the difference in the world.
May 17 Update: Good news! Ha'aretz corrects
Posted by TS at 02:13 AM | Comments (2)
Assads No Longer in Vogue
Remember the breathless 3,000-word Vogue feature in March about Syria's Asma Assad, the "freshest and most magnetic of first ladies"? Well, Israel Matzav blogs:
Now it seems that story has been flushed down the memory hole.

Thanks to the wonders of Google cache, you can still find the original story online by going here. [CAMERA notes: The cached link also no longer appears to work.]

But since April 30, if you go to the original link, this is what you will see:
Posted by TS at 01:12 AM | Comments (1)
May 04, 2011
CAMERA Fellows Interviewed in Hadassah Magazine Story
Hadassah Magazine interviewed several CAMERA Fellows who provided their perspective of anti-Israel propaganda on their college campuses:
Jewish college students today not only confront the challenges of independence, uncooperative roommates, intense classes, but also threats to their identities and the measure of their support for Israel. The upswing in the Boycott, Divestment and Sanctions movement, scheduling of Israeli Apartheid Week and anti-Israel lectures have caused Jewish organizations, local campus groups and individual students to devote time and resources to making Israel a priority. Delegitimizing Israel even reached the hummus market in 2010, as a controversy at Princeton and DePaul Universities broke out over the sale of American-based Sabra products in their dining halls.

"You have to really care about Israel to put yourself on the line," says Micah Toll, 21, a mechanical engineering major at the University of Pittsburgh. "It doesn't fit into college schedules or lifestyle." Until this year, Toll says, anti-Israel extremism was not much of a problem at Pittsburgh. Now, mock checkpoints, a play called I Heart Hamas funded by student activities fees and anti-Israel bias at the campus newspaper have caused him to become more involved. He is a fellow of CAMERA, the Committee for Accuracy in Middle East Reporting in America, one of the groups that tackles the campus environment. ... For me, it's easy, because Israel advocates for itself through its civil rights record, its being the only democracy in the Middle East.
Judith Leibowitz, 21, a journalism and psychology major at Brooklyn College, decided to [engage rather than disengage]. "I wear a Magen David all the time," she says. "I am not scared of the Palestinians on campus. They are not afraid to wear their hijabs and burkas. [Jews] who are afraid to openly express their religious affiliation are giving up the fight for Israel."

Despite the location of the campus—in the heart of Jewish Flatbush —Leibowitz notes that the Palestinian Club, founded in 2009, is more active than the "largely apathetic" Jewish student population, which makes up about a quarter of the 16,000 daytime students. ... Leibowitz was studying in Jerusalem during the 2008 terrorist attack on Merkaz Harav Yeshiva. "I realized there was nothing being said on campus when I returned," she says, adding that she organizes pro-Israel events through a CAMERA fellowship.
Posted by AS at 03:51 PM | Comments (0)
CUNY Nixes Honorary Degree for Anti-Israel Playwright Tony Kushner
The board of trustees of the City University of New York (CUNY) voted not to honor playwright Tony Kushner with an honorary degree after board member Jeffrey Wiesenfeld opposed the request by CUNY's John Jay College, pointing out Kushner's radical anti-Israel actions, including his involvement with the Boycott, Divestment and Sanctions campaign against Israel, statements opposing Israel's existence and false assertions that Israel was founded upon ethnic cleansing.
CAMERA has documented some of Kushner's radical anti-Israel statements here, as well as answering his charge of being misrepresented by McCarthyite actions.
Posted by RH at 03:35 PM | Comments (0)
Who Considers Hamas a Terrorist Organization?
Reuters points out that "Israel regards Hamas, whose founding charter calls for destruction of the Jewish state, as a terrorist organization."
The media organization fails to inform readers, though, that it's not merely those Israelis who see Hamas this way. The U.S., E.U., U.K., Canada, Japan, Australia and New Zealand also formally regard Hamas or its "military wing" as a terror group.
Posted by GI at 02:50 PM | Comments (4)
Egypt's Muslim Brotherhood Shows True Colors Favoring Bin Laden

The Atlantic reports that in response to the killing of Bin Laden, Egypt's Muslim Brotherhood honored Bin Laden with the title "sheikh," defended the "resistance" against the United States as "legitimate," and endorsed attacks on Israeli civilians saying, "we will resist them until they don't have a country."
How exactly does the Muslim Brotherhood describe its stance? "Moderate."
Read more here.
Posted by at 01:21 PM | Comments (0)
Hamas Declares Israel as Common Enemy at Reconciliation Ceremony in Cairo
Fatah leader Abbas with Hamas leaderMashaal
At a Cairo ceremony officializing the reconciliation between Hamas and Fatah, Hamas leader Khaled Mashaal declared Israel the common enemy:
The only campaign we have is against Israel. We want an independent, sovereign Palestinian state in the West Bank and Gaza Strip...

...Our common enemy is Israel. Israel must be fought through force and diplomacy.
Meanwhile, the Hamas leader in Gaza, Mahmoud Zahar, insisted that Hamas would never recognize Israel and never give up its 'right" to Palestine.
Read the seven essential facts you should know about Hamas here.
Posted by RH at 12:27 PM | Comments (0)
Ma'an News Agency Pulls a Ha'aretz
Not to be outdone by Ha'aretz, which all-too-frequently says different things in English than in Hebrew, the official Palestinian newswire Ma'an was caught today talking "peace" to one audience, and "resistance" to another.
It was, they later claimed, a "translation error." Details at Palestinian Media Watch.
Posted by GI at 11:32 AM | Comments (0)
May 03, 2011
Karl Vick on Palestinian Support for Bin Laden
Time Magazine's discussion of Palestinian support for Osama bin Laden comes as a bit of a surprise, being that it was penned by Karl Vick.
Vick, the magazine's bureau chief in Jerusalem, is generally inclined to highlight Israeli shortcomings, real and imagined, while avoiding critical stories about Palestinians. (His recent report on the slaying of the Fogels, for example, was dedicated mostly to bashing Israel.)
But in this piece, he noted the high percentage of Palestinians expressing support for the late al Qaida leader and mentioned Hamas's fundamentalism.
Palestinians celebrating the 9/11 attacks
Vick was more true to form, though, when granting Palestinian critics of Israel the last word. In the closing of his article, they insinuate that so many Palestinians support bin Laden because he made Americans "feel what we're feeling" and "suffer what we're suffering."
Although he rarely shies away from analysis and editorializing, in this case the Time correspondent didn't bother to point out what is obvious to so many Israelis — namely that it is they, not the Palestinians, who share with Americans the burden of having men, women and children intentionally targeted by Islamist terrorists. In other words, Hamas, Islamic Jihad and Fatah's Al Aqsa Martyrs Brigade murder Israelis the same way al Qaida murders Americans.
Maybe that's the real reason that Hamas and Fatah's military wing sympathize with Bin Laden. Maybe that's why the 34 percent of Palestinians who express support for Bin Laden is a nearly equivalent proportion to the 32 percent who expressed support for the slaying of the Fogel family.
Posted by GI at 11:42 AM | Comments (0)
Fatah Military Wing Condemns Killing of Bin Laden

Not to be outdone by Hamas, the military wing of Fatah has now published a statement condemning the assassination of Osama Bin Laden, according to Palestinian Media Watch.
The statement by the al-Aqsa Martyrs Brigades, the terrorist arm of Fatah, the party that governs the West Bank, announced
The Islamic nation awoke to a catastrophe the reports of the Shahid - (Martyr-) death of the Sheikh, Jihad-fighter Osama bin Laden, in a treacherous manner, by the gangs of the heretics and those who stray.
The statement also promises,
The military wings of the Jihad fighters in Palestine and outside of it, who have in the past lost many of their commanders and their men, will not stop.
The statement from Fatah's military wing contrasts with the official statement of the Fatah-dominated Palestinian Authority in the West Bank, which called the killing of Bin Laden "good for the cause of peace". According to the New York Times, Fatah Prime Minister Salam Fayad said that he viewed the killing of Bin Laden as "a major, mega landmark event, ending the life of a person who was involved in egregious acts of terror and destruction." The Al Aqsa Martyrs Brigades statement reveals that there are mixed sentiments about Bin Laden within the ranks of the political party held up as a peace partner for Israel.
This statement by the Al Aqsa Martyrs Brigades follows an official pronouncement by Hamas expressing similar sentiments on May 2.
Posted by SS at 10:54 AM | Comments (0)
After Bin Laden's Demise, Bogus MLK Quote Arises
In the wake of the killing of Osama Bin Laden and subsequent celebrations in American cities, a quote attributed to Martin Luther King Jr. has been circulating on the Internet, and appeared in a piece by Philadelphia Inquirer columnist Annette John-Hall:
"I mourn the loss of thousands of precious lives, but I will not rejoice in the death of one, not even an enemy. . . . Hate cannot drive out hate. Only love can do that."
But as Megan Mcardle wrote in the Atlantic, the quote is apparently bogus:
A quick google search turns up lots of tweets, all of them from today. Searching Martin Luther King Jr. quote pages for the word "enemy" does not turn up this quote, only things that probably wouldn't go over nearly so well, like "Love is the only force capable of transforming an enemy to a friend." I'm pretty sure that this quote, too, is fake.

What's fascinating is the speed of it. Someone made up a quote, attributed it to MLK jr, and disseminated it widely, all within 24 hours. Why? What do you get out of saying something pithy, and getting no credit for it?

Perhaps they only wanted to say this thing, and knew that no one would pay attention unless it came from someone else. Or, perhaps they are getting a gargantuan kick out of seeing people repeat their lie ad infinitum. Either way, it seems strange to me.
This would not be the first bogus quote attributed to King.
May 8 Update: Philadelphia Inquirer Corrects
Posted by TS at 05:56 AM | Comments (3)
Asa Kasher on NGO's and Cast Lead Media Coverage
In a must-read interview with Jerusalem Post editor David Horovitz, Asa Kasher, who co-authored the Israel Defense Forces' first Code of Ethics, remarks:
Local media is guilty of sensationalism and a lack of responsibility. Ha'aretz has an agenda and skews everything in the service of that agenda. And others, like Yediot and Maariv, are just sensationalist. There is no connection even between their headlines and the content.

I read the protocol of that discussion in the Rabin academy. [CAMERA adds: See here for more information.] I also read everything that the Breaking the Silence soldiers said. I read the full document. That full document emerged only after the internationa media came to me for a response to the alleged summary which had come out a few days earlier. From that summary, you might have thought they exposed a huge wave, a tsunami, or war crimes, which it was very hard to believe could be possible. And in fact, it wasn't possible. Everything was skewed in that report. This is a political body with a political agenda which is legitimate, but it uses methods in my opinion that are not legitimate in terms of media ethics and NGO ethics. . .
Posted by TS at 04:26 AM | Comments (0)
May 02, 2011
Truce or Peace? Washington Post Trips Up
Did Egypt under President Anwar Sadat and Israel under Prime Minister Menachem Begin make peace, or merely suspend hostilities? The Washington Post, in an April 29 article headlined "Egypt reasserting its role as regional power broker" confused the record.
A page one teaser said "Egypt: A more assertive stance could mean closer ties to Iran and a rethinking of the truce with Israel. [Page] A 8." Correspondent Michael Birnbaum's report referred to "the decades-long truce [emphases added]" between Israel and Egypt.
Birnbaum also wrote that "most Egyptians are skeptical both of the United States and of the 1978 Camp David accords with Israel ...."
CAMERA requested a clarification, pointing out that the relationship between Egypt and Israel is formally defined not by the '78 Camp David accords but by the 1979 Israel-Egypt peace treaty and is not a truce — which implies a temporary halt in hostilities — but rather a final settlement of their conflict and peace. CAMERA noted that the article did not mention the treaty or the peace.
The Post rejected the clarification request, stating that the word truce was used generically to indicate an agreement to suspend hostilities. The newspaper said that the reference to the '78 accords conveyed to readers the sense that Israeli-Egyptian peace resulted from a formal agreement.
But what made the '79 Egyptian-Israeli peace treaty precedent-setting was precisely that it was not a truce, like those of 1948, '56, '67, and '73. In the first three cases, issues unresolved by the truces contributed to renewed warfare. In the case of the post-'73 cease-fire, it required the peace treaty to move the relationship from a suspension of hostilities to peace.
On truce or peace between Israel and Egypt, The Post had a
Humpty Dumpty ("When I use a word ... it means just what I choose it to mean — neither more nor less") moment, at readers' expense.
Posted by ER at 05:53 PM | Comments (0)
Polling Palestinian Support for Bin Laden
It turns out that Hamas's Ismael Haniyeh isn't alone in his high regard for Osama bin Laden. A recently published Pew poll reveals that, in the words of a Ha'aretz reporter, "More than 34 percent of Palestinian Muslims said in 2011 they had confidence in the terrorist leader to do the right thing in world affairs." (The figure represents a decline from the 70-plus percent who supported the al Qaida leader in 2003, but is still significantly higher than levels of support in Muslim countries across the world.)
The statistic is being duly noted in various mainstream media blogs today.
Posted by GI at 05:11 PM | Comments (0)
David Horovitz: Where is the Outrage?
The Jerusalem Post's David Horovitz asks what many media watchers are thinking: Where is the outrage about the reconciliation between Israel's supposed peace partner,the Palestinian Authority, and Hamas, which is sworn to Israel's destruction?
I waited for the global condemnation of the Palestinian Authority and its president, Mahmoud Abbas, for choosing to tie their fate to an organization ideologically bent on wiping out the Jewish state. Sixty-four years after the family of nations – six million times too late – had finally internalized the imperative to revive the Jews' sovereignty in their historic land, I waited for those nations to rise up in concerted fury at this overt new legitimization of an armed movement seeking again to dispossess us.

I waited to hear ridicule heaped upon Abbas's farcical defense of the new arrangement. The idea that he would continue to negotiate with Israel for shared control of this disputed territory while Hamas would sit silently by – Hamas, whose entire raison d'etre is to eliminate Israel – was self-evidently preposterous.

And then Hamas rendered it still more so, by making explicit that it has no intention of sitting silently by, but is, rather, openly demanding that Abbas withdraw the PLO's recognition of Israel, whose very presence, in the words of Hamas's Gaza Prime Minister Ismail Haniyeh, "is illegitimate."

I waited for at least the responsible member-states of the UN to tear apart the risible assertion that, after bonding with the thugs who seized control of Gaza four years ago by killing hundreds of their own people, the Palestinians now have a unified leadership capable of governing a new Palestine in accordance with sovereign norms. A unified leadership seeking statehood it may claim to be, but it incorporates one element whose stated goal is the replacement of the sovereign state next door.

But I waited in vain. Dumb, delusional or just plain old anti- Semitic, much of the international community is ignoring the Hamas charter's guiding instruction to "kill the Jews."...
Posted by RH at 04:47 PM | Comments (0)
Hamas Condemns Killing of "Holy Warrior" Bin Laden
Following the killing of Osama Bin Laden, Hamas leader Ismail Haniyeh told reporters, "We condemn the assassination and the killing of an Arab holy warrior."
Posted by GI at 07:39 AM | Comments (0)
May 01, 2011
Logan Speaks Out on Sexual Assault
CBS journalist Lara Logan speaks out about the extended sexual assault that she suffered at the hands of a mob while reporting in Cairo. She will reportedly speak at length about the Feb. 11 attack on "60 Minutes" tonight.

Posted by TS at 07:48 AM | Comments (0)
Israeli Surgeon Loses in French Court Ruling on Al Dura Case
Ha'aretz reports today:
A French court on Friday ruled against Israeli orthopedic surgeon David Yehuda, who was sued for slander by Jamal al-Dura, the father of Mohammed al-Dura, the slain 12-year-old Palestinian boy who became a powerful symbol of the second intifada.

Al-Dura had sued Yehuda for libel after the doctor, who operated on him in 1994, exposed details from his medical file in order to back claims that the elder al-Dura's scars were the result of surgery - and not caused by the IDF fire that killed his son in September, 2000. . . .

Yehuda, who, together with the reporter and editor of the Jewish News Weekly, was ordered to pay a fine of several thousand Euros in compensation, said he would appeal the sentence. "In the past two years I've been fighting the State of Israel's just war. This is a terrible scam," he told the media. "I feel hurt and a personal sense of insult. Again they are trampling and twisting the truth. I can already see the negative results and a new wave of hatred out of Europe. "I expected integrity from France and from the judges, but this is disgusting. Another wave of terror attacks may result from this decision," he added.
Posted by TS at 04:30 AM | Comments (5)
HRC Special Sessions, A Review
Last week, AP reported:
Meanwhile, the Human Rights Council based at the U.N.'s European headquarters in Geneva agreed to a U.S. request for a special session Friday focused on Syria. It is unusual for the U.N.'s 47-nation council to agree to such a request singling out the behavior of one nation.
Unusual, but not that unusual, especially when the country that is singled out is Israel. As reported in a January 2011 Congressional Research Service report:
Since its establishment, the Council has held 15 regular sessions and 14 special sessions. . . . Six of the 14 special sessions addressed the human rights situation in the Occupied Palestinian Territories and in Lebanon. Other special sessions focused on the human rights situations in Burma (Myanmar), Cote d'Ivoire, Darfur, Haiti, and Sri Lanka.
Since then, on Feb. 25, the HRC held a special session on Libya.
Posted by TS at 04:14 AM | Comments (0)