« Ha'aretz's Shavit Condemns Double Standard on Jenin Murder | Main | Hamas Admits to a War Crime »
April 07, 2011
Liz Taylor Defied Israel-Boycotters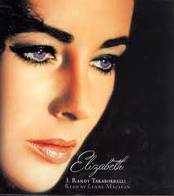 Mainstream American media reporting on the passing of Elizabeth Taylor generally ignored her support for Israel. A notable exception was a March 27 Washington Post (Outlook section) commentary which noted that Ms. Taylor "was also a supporter of Israel to a degree that largely went unmentioned this past week.�
A Partial list of Elizabeth Taylor's Israel-related activities:
• In 1959 Ms. Taylor bought $100,000 in Israeli bonds. As a result, The United Arab Republic (Egypt and Syria) officially banned all her motion pictures.
• In 1962 Ms. Taylor was barred from entering Egypt as she was blacklisted for being Jewish. As a result, the filming of Cleopatra filming had to be moved from Egypt. The Jerusalem Post (April 6, 2011) noted that: "Gen. Essam Elmasri, head of the Cairo regional bureau of the Israel Boycott Office, [in 1962] said in the Egyptian capital that Miss Taylor will not be allowed to come to Egypt because she has adopted the Jewish faith and supports Israeli causes."
• In 1976 Ms. Taylor offered herself as a hostage for the more than 100 Air France hijack victims held by terrorists at Entebbe Airport in Uganda during the tense days before the Israeli rescue raid.
• Ms. Taylor raised over 2 million dollars for the State of Israel.
• In 1967 Ms. Taylor canceled plans to attend the July Moscow Film Festival because of opposition to the Soviet diplomatic offensive against Israel.
• In 1982 Ms. Taylor signed a letter denouncing the United Nations' racist "Zionism is racism� resolution.
• In 1987 Ms. Taylor helped launch an appeal to free Soviet Jewish refusenik Ida Nudel.
The Washington Post story pointed out that Elizabeth Taylor's support for Israel stood in sharp contrast to a number of celebrities who have gone along with the Boycott, Divestment and Sanctions (BDS) crowd –– "an international activist network that sees Israel as an oppressor and seeks its isolation in virtually every realm� –– and cut ties with Israel. "The same artists usually have nothing in particular to say about China, Russia or repressive Muslim regimes,� it noted.
Posted by MK at April 7, 2011 12:10 PM
Comments
You have me wondering now who's part of the BDS crowd.
Thank you, Ms. Taylor, for being a true friend to Israel.
Posted by: Michael at April 7, 2011 02:59 PM
Guidelines for posting
This is a moderated blog. We will not post comments that include racism, bigotry, threats, or factually inaccurate material.
Post a comment