« Muslim Brotherhood: Jihad is the Way | Main | Redux: Media Untruth in 2005 Led Jihadists to Kill 14 People »
February 09, 2011
Turkel Commission on Gaza Legal Issues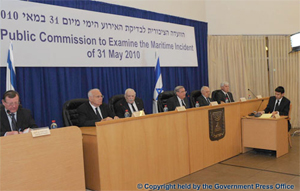 In the Jerusalem Post a couple of weeks ago, Dan Izenberg provided a useful summary of the Turkel Commission Report's conclusions about international law and the Gaza Strip.
Is Gaza occupied territory?

The commission concluded that Israel stopped occupying the Gaza Strip after its unilateral withdrawal in 2005. This despite the fact that it controls all but one of the land crossings to Gaza and is in full control of its airspace and territorial waters.

Those who maintain that Israel still occupies Gaza argue that it has "effective control� over the territory for various reasons, including those noted above. But the members of the commission maintained that one would have to have "an unjustifiably flexible and novel interpretation of the term 'effective control� in order to maintain that position. It would have to be based on acceptance of the fact that two different and opposing powers can exercise effective control simultaneously.�

It would also, the commission continued, need to be assessed against "the currently accepted approach in international law that occupation does not merely require military forces to be stationed in a certain territory, but also that the occupying power performs the functions of an existing government.�

The commission also argued that Israel does not maintain total control over land access to Gaza, and that neither control of airspace nor the imposition of a naval blockade amount to "effective control� over the territory.
The article, which can be read here, also summarizes the Report's answers to two additional questions: Has Israel violated its humanitarian obligations toward the civilian population of Gaza? Is Israel guilty of collective punishment in Gaza?
The Report was praised by the Commission's two international observers, David Trimble and Ken Watkin.

Posted by GI at February 9, 2011 11:47 AM
Comments
Guidelines for posting
This is a moderated blog. We will not post comments that include racism, bigotry, threats, or factually inaccurate material.
Post a comment